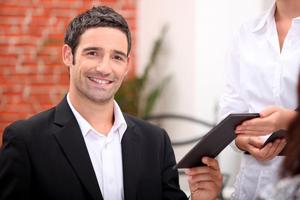 French Language Game: L'addition
Quick French language Game: "L'addition, s'il vous plaît" - The check, please.
Play 14 basic French words and phrases in the context of a mini-story.
Learn and practice asking for the check and paying in French.
With that, you're good to go even in a small village in France.
You may also want to review and practice French numbers in this context.
Always say the French out loud.
That way you'll improve your pronunciation and better remember the words and phrases.
Our games and courses are a good way for mid to high Beginners to learn and review conversational French.
Words and phrases in French Language Game
l'addition - the check
le serveur - the waiter
Voilà. - Here you are.
ça fait - that's/that makes (an amount)
vingt et un - twenty-one/21
quarante-cinq - forty-five/45
il demande - he asks [demander]
je peux - I can [pouvoir]
payer - to pay
avec une carte de crédit - with a credit card
tu veux - you want (familiar) [vouloir]
le service - the service
inclus - included
toujours - always


If you like our games, please SHARE us with your friends.
More Than a French Language Game

And don't forget: You can practice French online for FREE with our 36-Scene French 1 Travel-Story: "Daniel en France".
In it you learn and practice all the words, phrases and sentences you also hear in the podcasts.
Just login HERE.
"The Story" and easy games will let you forget that you are actually learning.
If you have any language questions - don't hesitate to contact us!