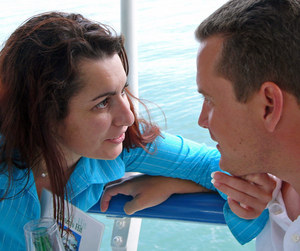 Italian Language Game: Times of Day
Italian Language Game: Times of Day. Learn and practice 8 terms for the times of day.
Knowing the times of the day will be very useful, when you are making appointments with friends or acquaintances, asking for bus or train schedules, etc.
They also happen often in conversations, so you want to practice listening and pronouncing them.
I remember that during our 5 month stay in Rome, Italy, I had a hard time remembering the Italian word for "the afternoon".
Now it is one of the Italian words that I'll always remember!
il giorno - the day
la mattina - the morning
il mezzogiorno - the midday, noon
il pomeriggio - the afternoon
la sera - the evening
la notte - the night
domani - tomorrow
ieri - yesterday


If you like our Italian games, you'll find many more by just clicking on the link on the homepage and, please, SHARE us with your friends.
For more easy games see also our post: 5 Easy Italian Language Games.
Or you can find ALL of them - over 60 by now - on the Italian Quick Language Games page.
More Than an Italian Language Game

And don't forget: You can practice Italian online for FREE with our 36-Scene Italian 1 Travel-Story: "Marco in Italia".
In it you learn and practice all the words, phrases and sentences you also hear in the podcasts. Just login HERE.
And, if you have any language questions - don't hesitate to contact us!