Posted on by

Ten years ago, GamesforLanguage started out as an experiment and family project: a language teacher and course editor, a retired engineer, a computer programmer (our son) and his graphic designer wife collaborated on what has turned out to be a fun and rewarding enterprise.
Over the years, we've had a steady stream of users and have gotten valuable feedback. We've also found plenty of incentive for our own language learning by using our own courses, joining online language learning groups and trying out other language programs and apps.
Our site is free to all - without any Google advertisements - a fact that more and more teachers and parents seem to appreciate as well. You can play our Quick Games and Podcasts, and read our Blog Posts by just clicking on the links.
Only our language Courses require a simple registration. This way, players can pick-up the story and continue learning and practicing where they last logged off.
At the beginning of a new year, we usually look back to determine what has interested our users most. Over the last few months of 2020, we've noticed a substantial increase in groups playing our Quick Games and travel-story Courses.

Registrations increased by users with an institutional email address, in particular schools. Most of the students registered that way play Courses in addition to Quick Games.
Although we don't know the email addresses of users who just play Quick Games, Podcasts, or read our Blog Posts, we are able to identify which content receives the most traffic.
Travel Story Courses
Our original purpose for Gamesforlanguage was to combine the idea of learning a new language with a travel story and fun games. Being language learners ourselves, we've used (and are still using) many different language programs.

Like most people, we want to avoid getting bored while learning. One antidote seems to be using stories. You can read about that in our 5 Top Reasons for Learning a language with Stories.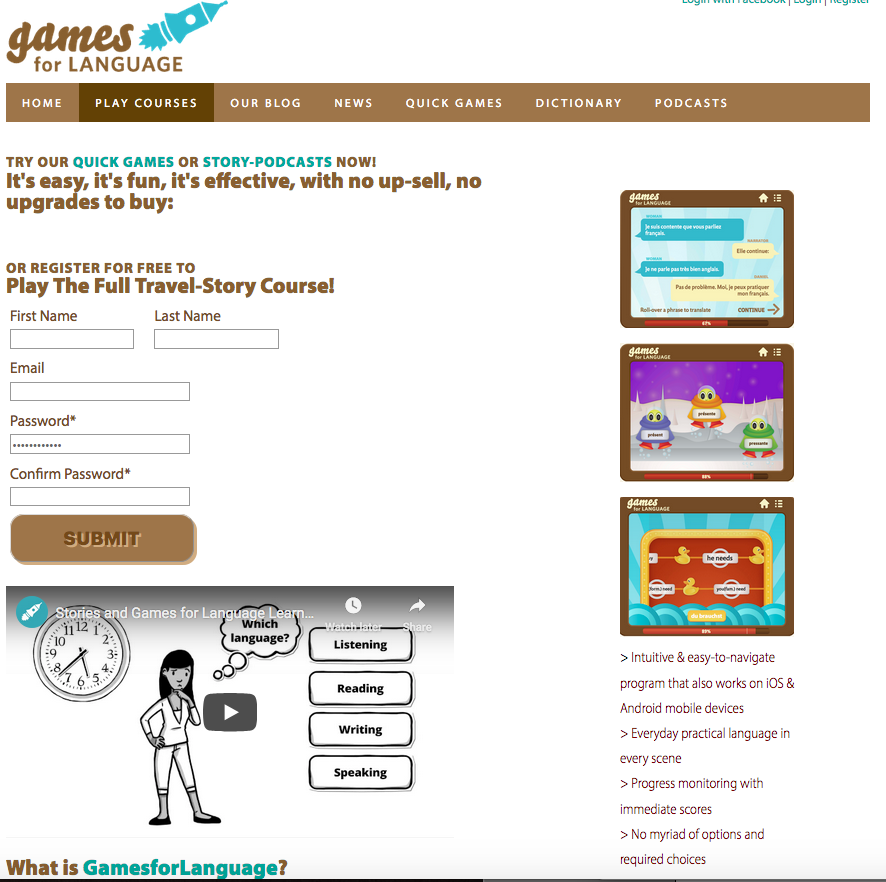 Not surprisingly, it was our German courses that had the most players from registered users last year. This may also be due to the fact that we have two(2) 36-lesson German courses, as well as an active German Facebook page.
If German or any of our other languages - French, Italian, and Spanish - interest you, click on the registration page or the screenshot above, and register. (Our Course English for Spanish Speakers is still in development and has 3 levels at this time.)
Quick Games
We currently have over 300 Quick Language Games, and we are adding new games every few weeks. These can be played by just clicking on the Quick Games link on our website and selecting the language you want to practice.
Each fun game only takes a couple of minutes or so. It helps you practice a few words, a grammar point or some typical phrases.
We post one of t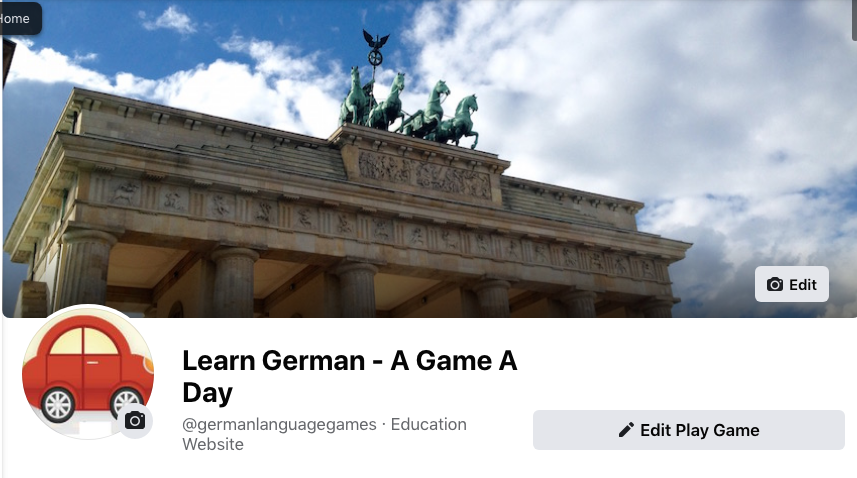 he nearly 90 Quick German Games every weekday on our German Facebook page, Learn German -A Game A Day.
Guten Morgen is the most popular German Quick Game, while Numbers 1-20 is the favorite of learners of Italian, and Numbers 21 and beyond of those learning French.
Blog Posts
Since we started Gamesforlanguage in January 2011, we've added nearly 400 Blog Posts about language learning, travel experiences, and related topics. That's an average of over 3 posts per month.

It's always interesting to see which of the older posts have become perennials.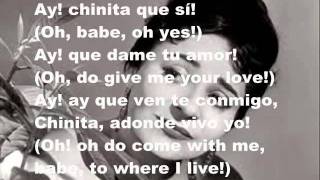 Our 2013 post about La Paloma Lyrics - Learning Spanish with a Song, was also a favorite in 2020. (And if you like that idea for learning Spanish, we can suggest one of our partner sites, Language-Zen.)
For those who have tried our travel-story based Courses, it's no surprise that we like stories for learning and practice. We are obviously not the only ones. Our 2016 post: Why Polyglots Also Use Stories for Language Learning has been very popular.
And, as it's quite a short post, we're always surprised to see the 2013 entry - Quick French: "On y va", "Allons-y!" - to be on our most read list year after year!
Podcasts
We have not yet promoted and expanded our Podcasts. (Something we're going to focus on in 2021.) Most of our podcasts are the MP3 audios and chapters of each of our courses.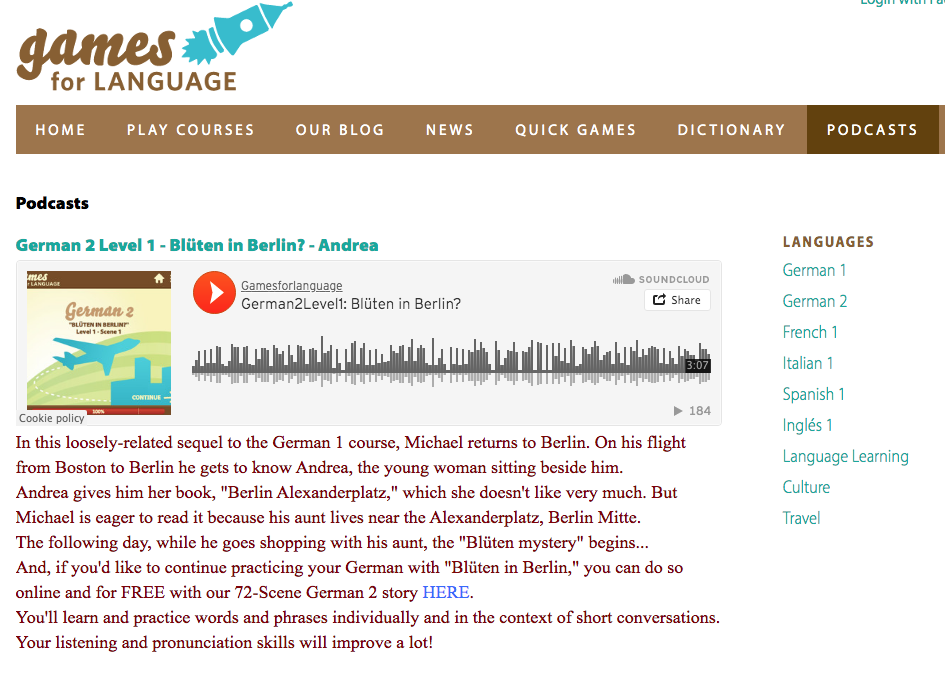 We believe that listening to the story BEFORE or AFTER playing a course lesson, helps you to internalize the sound and rhythm of the language and to memorize the phrases.
In the Podcast section, the German 2 Story "Blüten in Berlin" was the favorite in 2020. No surprise there.
We are planning to add more Podcasts about Language Learning, Culture and Travel.
We're hopeful that in the fall of 2021, we can again travel to Europe. In any case, until travel is safe again, there' s plenty of time to practice languages online, to read books, to listen to podcasts and to watch foreign movies.