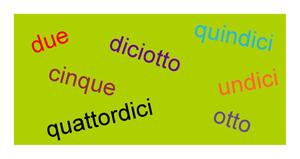 Italian Language Game: Numbers 1-20
Italian Language Game: Numbers 1 to 20. The numbers 11, 12, 13, 14, 15, and 16 in Italian are easy to remember. Always say the numbers out loud after the native speaker.
With this interactive Italian numbers game - which includes some simple additions (for example: uno più quattro fa ... ), you can learn the numbers 1-20 in Italian.
Italian Numbers 1-20
1 uno
2 due
3 tre
4 quattro
5 cinque
6 sei
7 sette
8 otto
9 nove
10 dieci
11 undici
12 dodici
13 tredici
14 quattordici
15 quindici
16 sedici
17 diciassette
18 diciotto
19 diciannove
20 venti


And, if you you want to be able to say higher numbers, for example, 65 in Italian, you'll want to continue with the Italian numbers 21 and beyond.
If you like our games, please SHARE us with your friends.
More Than an Italian Language Game

And don't forget: You can practice Italian online for FREE with our 36-Scene Italian 1 Travel-Story: "Marco in Italia".
In it you learn and practice all the words, phrases and sentences you also hear in the podcasts. Just login HERE.
And, if you have any language questions - don't hesitate to contact us!