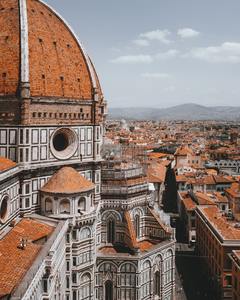 Italian Language Story: Il viaggio di Marco 4
Italian Language Story: In the Fourth part of Marco's trip to Italy (Il viaggio di Marco 4 - Firenze), he arrives at his friend's place. Alessandro's girlfriend Giulia invites him in and introductions follow.
(Photo by Herr Bohn on Unsplash)

In the next few days, Giulia and her sister Claudia show Marco around town. They visit Palazzo Ricasoli (where the American author James Fennimore Cooper had lived for almost a year). They also go to see the famous Palazzo Vecchio, and enjoy a grand view from Piazzale Michelangelo, a large square located on top of a hill.

Listen to Part 4 of Marco's journey in Italian. It contains 135 basic words and phrases, all in context.
You can play the story, or any part of it, as often as you want. Click on individual sentences to hear them again.
Repeat the Italian sentences aloud with or right after the speaker and try to understand what is said without translating.
8 Key Verbs in Travel Story: Il viaggio di Marco 4
• aprire - to open
• sperare - to hope
• entrare - to enter, go in
• visitare - to visit (a place)
• divertire - to amuse, entertain
• passeggiare - to stroll, walk
• indicare - to indicate, point out
• sapere - to know, be aware of
You can see the English translation on a desk- or laptop (but not on a phone or tablet).
To practice the individual words and phrases of the story, register or log in and go to Italian 1, Marco in Italia.