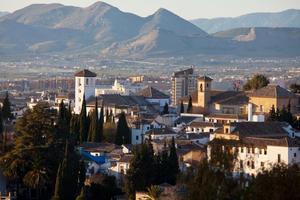 Spanish Language Story: El viaje de David 4a
Spanish Language Story: Part 4a of David's trip to Spain (El viaje de David 4a).
In Granada, David calls the number of his friend Daniel. Daniel's girlfriend Rosa takes the call and explains to David how to get to their place.
On the way there, David asks a passerby where the Reyes Católicos Street is. At the apartment, he meets Rosa and her sister. Daniel is still at school and joins them later.
Hear and read Part 4a of David's trip in Spanish. It contains 75 basic words and phrases.
Try to listen without translating the words, as you play through the story.
Say each sentence after (or along with) the native speaker to practice its music and rhythm.
10 Key Verbs in Travel Story: El viaje de David 4a
• explicar - to explain
• encontrar - to find
• buscar - to look for
• caminar - to walk
• ver - to see
• abrir - to open
• saludar - to greet
• conocer - to get to know
• tutear - to use "tú"
• estudiar - to study
You can roll over the translation on a desk- or laptop, but not on a phone or tablet.
Register or log in and go to Spanish 1, David en España, if you want to play the full 6 part story for free. You'll learn and practice 750 basic words and phases in the context of the story.