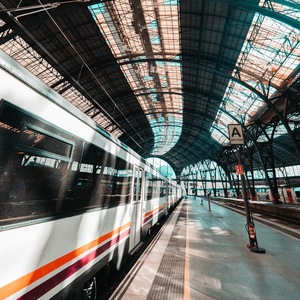 Spanish Language Story: El viaje de David 3b
Spanish Language Story: Part 3b of David's trip to Spain (El viaje de David 3b).
(Image of Barcelona-Sants Train Station by Michael Descharles on unsplash.com)
David is at the Barcelona train station and has just bought a ticket to Granada
where he'll visit his friend Daniel.
He asks the ticket agent when the train will leave and from which track.
On the train he finds a seat by the window and reads his travel guide.
Once arrived in Granada, he dials Daniels number.
Daniel's girlfriend answers.
Hear and read Part 3b of David's trip in Spanish. It contains 80 basic words and phrases.
As you play the story, listen to the speaker without translating the words.
"Shadow" each sentence by saying it along with (or just after) the native speaker.
That's an effective way to practice the sounds and rhythm of conversational Spanish.
Note: in context, words for "he, she, we" etc are often omitted in Spanish.
10 Key Phrases in Travel Story: El viaje de David 3b
• toma su billete - he takes his ticket [tomar]
• el tren sale - the train leaves [salir]
• ¿usted sabe? - do you know? [saber]
• va a la vía doce - he goes to track 12 [ir]
• comienza a leer - he starts to read [comenzar]
• oye - he hears [oír]
• llega - he arrives [llegar]
• marcar el numero - to dial the number
• ¿Puedo hablar con Daniel? - Can I speak with Daniel? [poder]
• ¿Cuándo volverá? - When will he return? [volver]
On a desk- or laptop you can roll over the translation (but not on a phone or tablet).
To practice the words and phrases of the whole story for free, register or log in and go to Spanish 1, David en España.