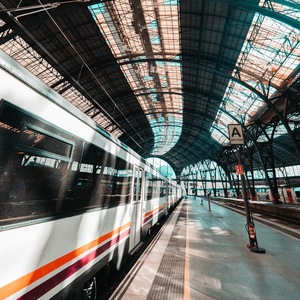 Spanish Language Story Game: 3
Spanish Language Story: Part 3 of David's trip to Spain (El viaje de David 3 - En el tren).
Level: Low Intermediate (B1).
Playing Time: 6 minutes (The Story and Word Shoot Game)
Image of Barcelona-Sants Train Station by Michael Descharles on unsplash.com

David's aunt takes him to Barcelona's train station. He buys a one-way ticket to Granada and goes to the platform to wait for the train. With the Arco train, it's a long trip. In Granada he calls Daniel's landline. He's a friend David had met as a student in Boston. Daniel's girlfriend Rosa answers and gives him directions to their place.

Hear and read Part 3 of David's trip in Spanish. It contains 120 basic words and phrases.
As you play the story, try to listen without translating the words.
To hear a sentence again, click on it (before continuing to the next screen).
Say each sentence after (or along with) the native speaker to practice its music and rhythm.
Note: in context, words for "he, she, we" etc are often omitted in Spanish unless they are needed for clarity.
Shootout Game: 10 Key Verbs
• llevar - to take, bring
• tomar - to take, grab
• salir - to leave
• saber - to know
• esperar - to wait
• llegar - to arrive
• comenzar - to begin
• contestar - to answer
• llamar - to call
• encontrar - to find
On a desk- or laptop you can roll over the translation (but not on a phone or tablet).
To practice all of the words and phrases of the story for free, register or log in and go to Spanish 1, David en España.