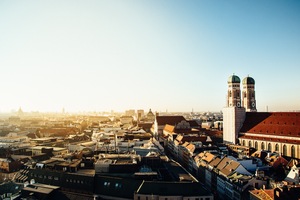 German Language Story Game 5
German Language Story: In the fifth part of Michael's trip to Germany, (Michaels Reise 5), he travels to Munich where he checks into a hotel. (photo by Philipp Bachhuber on unsplash)
Level: Low Intermediate (B1)
Playing Time: 5 minutes

He does some sightseeing and spends a day at the Deutsches Museum, famous for its masterpieces of science and technology.
In the evening, he meets up with friends to eat at the Hofbräuhaus.
Later, they take the subway to the trendy Schwabing neighborhood.
Hear and read Part 5 of his journey in this German Language Game. It contains about 120 essential words and phrases in context.
Play the story as many times as you like.
To practice your pronunciation, repeat each sentence after or along with the speaker.
After the story, you can go through Flash Cards to recall the 10 key verbs below.
10 Key Verbs in Travel Story: Michaels Reise 5
sehen - to see
helfen - to help
aussteigen - to get off (a vehicle)
brauchen - to need
aufschreiben - to write down
besichtigen - to look at, tour
hinaufgehen - to go up
versuchen - to try
verbringen - to spend (time)
anrufen - to call (by phone)
Deutsches Museum
Founded in 1903, the German Museum in Munich - Deutsches Museum - is the world's largest museum of science and technology. It's located on a small island - Museumsinsel - in the river Isar. For anyone interested in science and technology, this is a must.
Note: In German, "Deutsches Museum" changes to "das Deutsche Museum" when you add the article "the" (das).

A translation is available on the computer when you roll over a sentence. (But German only on a phone or tablet).
Register or log in and go to German 1, Michael in Deutschland if you want to practice and recall the individual words and phrases of this story.