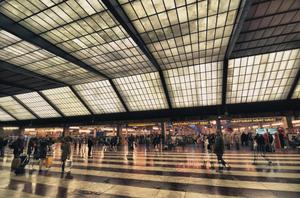 Italian Language Story: Il viaggio di Marco 3
Italian Language Story: In the Third part of Marco's trip to Italy (Il viaggio di Marco 3 - Viaggio in treno), he spends a few more days in Pisa and then takes the train to Florence to visit a friend.
Listen to Part 3 of Marco's journey in Italian. It contains 135 basic words and phrases, all in context.
Play the story a couple of times. To practice your pronunciation, repeat each sentence aloud after the speaker. By playing the story over again, you'll learn to listen without translating.
8 Key Verbs in Travel Story: Il viaggio di Marco 3
pagare - to pay
dire - to say
prendere - to take
partire - leave
cambiare - to change
trovare - to find
leggere - to read
arrivare - to arrive


You can see the English translation on a desk- or laptop (but not on a phone or tablet).
To practice the individual words and phrases of the story, register or log in and go to Italian 1, Marco in Italia.