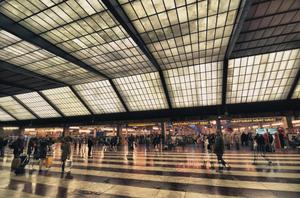 Italian Language Story Game 3: In Treno
Italian Language Story: Il viaggio in treno
Level: Low Intermediate (B1)
Playing Time: 4 minutes
Part 3 of Marco's trip to Italy (Il viaggio di Marco 3 - Il viaggio in treno).
In Part 3 of Marco's trip to Italy, he goes to the train station, buys a ticket and takes the train to Florence, where he has a friend, Alessandro.
Once in Florence, he calls his friend's place. Alessandro's girlfriend Giulia picks up and explains to him how to get to their apartment. On the way, a bystander helps him find Via Montebello.

Listen to Part 3 of Marco's journey in Italian. It contains 135 basic words and phrases, all in context.
Play the story a couple of times. To practice your pronunciation, repeat each sentence aloud after the speaker. By playing the story over again, you'll learn to listen without translating.
Key Verbs in Travel Story: Il viaggio di Marco 3
• dire - to say
• prendere - to take
• partire - leave
• cambiare - to change
• trovare - to find
• leggere - to read
• arrivare - to arrive
• rispondere - to answer
You can see the English translation on a desk- or laptop (but not on a phone or tablet).
To practice the individual words and phrases of the story, register or log in and go to Italian 1, Marco in Italia.
For easy games (Beginner, A1) see our post: 5 Easy Italian Language Games.
Or you can find ALL of them - over 60 by now - on the Italian Quick Language Games page.