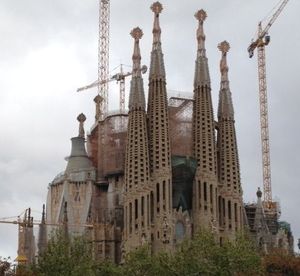 Spanish Language Story: El viaje de David 1
Spanish Language Story: In the first part of David's trip to Spain (El viaje de David 1), he flies from Boston to Barcelona.
Hear (and read) Part 1 of his trip in Spanish.
It contains 120 basic words and phrases, all in context.
Play the story as often as you like.
To practice your pronunciation, repeat each sentence after, or with the speaker.
10 Key Verbs in Travel Story: El viaje de David 1
hablar - to speak
volar - to fly
dar - to give
practicar - to practice
aprender - to learn
visitar - to visit
estar - to be
quedarse - to stay
recoger - pick up, get
vivir - to live


The English translation is available on a desk- or laptop (but not on a phone or tablet).
To practice the words and phrases of the story, register or log in and go to Spanish 1, David en España.