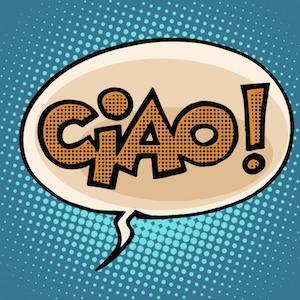 Italian Language Game: Hello Goodbye, etc
Italian Language Game: Hello Goodbye. Learn and practice online- 9 words and expressions for greeting, thanking, saying goodbye, etc.
Level: Beginner (A1)
Time to Play: 3 minutes
Always repeat the Italian OUT LOUD.
Look at the list before you play, or you can even write out the Italian by hand on a sheet of paper or on cards to make flashcards.
But then the most important thing is to SAY the words several times out loud after the speaker.
Ciao - Hi
Buongiorno - Good morning
Benvenuto - Welcome
Per favore - Please
Grazie - Thanks
Prego - You're welcome
Bene - Okay
Mi scusi - Excuse me
Arrivederci - Goodbye


Please share us with your friends who also want to learn Italian or one of our other languages.
More than an Italian Language Game

If you like our Italian games, you can practice Italian - online and completely for Free - with our 36-Scene story "Marco in Italia" by just logging in, or registering HERE.
And remember, all our Quick Games and Podcasts can be played without even registering, just by clicking on the links.
(We only ask you to register for the Courses, so you can continue where you left off, when you return!)
Posted 18:45PM on March 20 2018 by Ulrike Rettig
Categories:
Italian