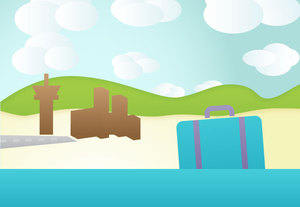 Spanish Language Game: Yo también
Spanish Language Game "Yo también" (I also /Me too).
Learn and practice 16 Spanish words and phrases in the context of a mini-story.
The setting is the baggage claim at the El Prat Airport of Barcelona, Spain, where the young traveler David runs into the woman who sat beside him on the plane.
This mini-story is part of our Spanish 1 course. (You can play the full Spanish 1 course for FREE by registering HERE.)
Always say the words and phrases OUT LOUD.
It's a great way to become familiar with the sounds of Spanish. You'll also improve your pronunciation and listening skills.
Words in Spanish Mini-Story Language Game
recoger - to pick up
alguien - someone
va a recoger - s/he is going to pick up
mi/su tía - my/your aunt (your: formal)
me recoge - s/he's picking me up
¿dónde? - where
vive - s/he lives
vivo - I live
la calle - the street
yo también - I also
Qué coincidencia - What a coincidence
ahí - there (when pointing to a location)
ahí está - there (it) is
la maleta - the suitcase
bueno - okay
adiós - goodbye


Please share us with your friends who also want to learn Spanish or one of our other languages.
More than a Spanish Language Game

If you enjoy our Spanish games, you can practice Spanish - online and completely for Free - with our 36-Scene story "David en España" by logging in, or registering HERE.
You can find more resources for learning and practicing Spanish on FREELANGUAGE.ORG and with our Partners.
With our FREE Spanish 1 course you can learn and practice Spanish playfully - with easy games based on the travel story of a young man in Spain.