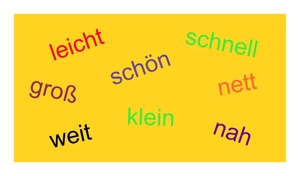 German Language Game: 8 Easy Adjectives
Quick German Language Game: 8 Easy Adjectives.
These adjectives are frequently used in everyday German.
Learn and practice them with this fun interactive online language game.
See and hear them in the context of full sentences.
8 Easy Adjectives
klein - small
einfach - easy
schön - beautiful
müde - tired
nett - nice
groß - big
schlecht - bad
weit - far

If you like our games, please SHARE us with your friends.
More Than a German Language Game
Don't forget: You can practice German online for FREE with our 36-Scene German 1 Story: "Michael in Deutschland" and our 72-Scene German 2 Mystery Story Sequel: "Blüten in Berlin?".
(If you already know that "Blüten" means blossom in German - you'll learn that Blüten has still another meaning...). Just login HERE.
And, if you have any language questions - don't hesitate to contact us!