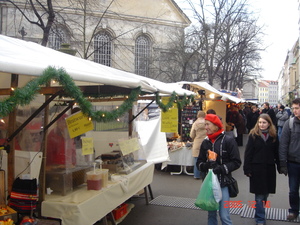 German Language Game: gehen
German Language Game: "gehen" (to go, walk).
Learn and practice the present forms of "gehen" and four verbs that combine with "-gehen".
You'll also put together four simple sentences.
Always repeat out loud after the speaker!
Vocabulary in German Language Game
ich gehe - I go, walk
du gehst - you go, walk (familiar)
er geht - he goes, walks
wir gehen - we go, walk
ihr geht - you go, walk (pl, familiar)
sie gehen - they go, walk
Sie gehen - you go, walk (formal)


weitergehen - to walk on
weggehen - to go away
hinaufgehen - to go up
vorbeigehen - to walk by, go by


Ich gehe weiter. - I walk on.
Er geht nicht hinauf. - He does not go up.
Kannst du bitte weggehen. - Can you please go away.
Wir gehen beim Bäcker vorbei. - We're going by the baker's.

Note: The verbs "weitergehen", "weggehen", "hinaufgehen", and "vorbeigehen" are "separable prefix verbs".
This means that in a sentence where the verb is conjugated, the prefix (the first part of the word) goes to the end.
In its infinitive form, the two parts of the verb stay together.

Examples
Ich gehe weiter.
Ich möchte weitergehen.


Er geht nicht hinauf.
Er will nicht hinaufgehen.


Du gehst weg.
Kannst du bitte weggehen.


Wir gehen beim Bäcker vorbei.
Wir wollen beim Bäcker vorbeigehen.


If you like our games, please SHARE us with your friends.
More Than a German Language Game

And don't forget: You can practice German online for FREE with our 36-Scene German 1 Story: "Michael in Deutschland" and our 72-Scene German 2 Mystery Story Sequel: "Blüten in Berlin?".
(And - if you already know that "Blüten" means blossom in German - you'll learn that Blüten has still another meaning...). Just login HERE.
If you have any language questions - don't hesitate to contact us!