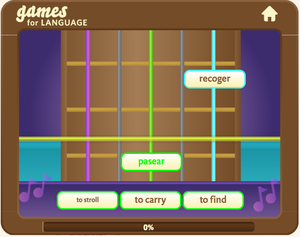 Spanish Language Game: Practice 15 Common Verbs
Spanish Language Game: 15 Common Verbs.
Play this fun interactive Word Hero Game to test yourself on 15 useful daily verbs.
What's your Score? [Click on the English AFTER the Spanish word passes the bar.]

aprender - to learn
pasear - to stroll,
esperar - to wait
ayudar - to help
comer - to eat
enseñar - to show
dormir - to sleep
llevar - to carry
escribir - to write
mirar - to look at
llamar - to call
preguntar - to ask
necesitar - to need
comprar - to buy
encontrar - to find


A Word Hero Game is included in all of our Spanish 1 lessons for fun recall practice!
Please share us with your friends who also want to learn Spanish or one of our other languages.
More than a Spanish Language Game

If you like our Spanish games, you can practice Spanish - online and completely for Free - with our 36-Scene story "David en España" by just logging in, or registering HERE.
You can find more resources for learning and practicing Spanish on FREELANGUAGE.ORG.
Our FREE Spanish 1 course will let you learn and practice Spanish playfully - with a travel-story of a young man in Spain and easy games.