Posted on by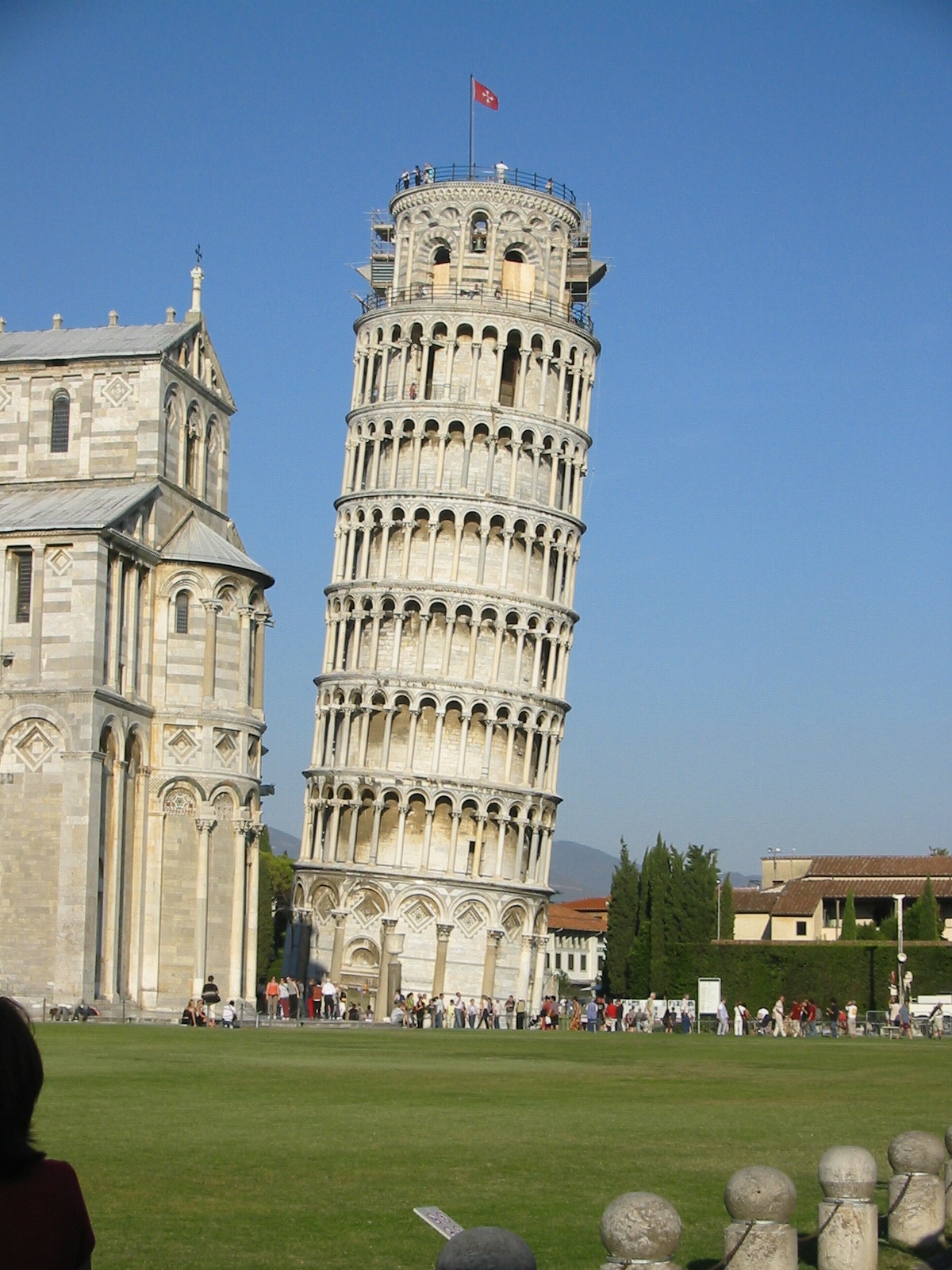 The Italian Travel Memories expand on our GamesforLanguage travel-story based courses, which use the cities' real street names, places, restaurants, hotels, etc. We visited many of them ourselves and tell you a little more about each Italian city.

With this post we'll now cover the first city that our Italian traveler Marco visits on his trip through Italy. (Previous travel memories posts followed our German traveler Michael in Frankfurt, Daniel in Paris and David in Barcelona.)

The travel stories, which are the basis of our GamesforLanguage courses, use real street names, places, restaurants, hotels, etc., many of which we visited ourselves. In future blog posts, we'll provide additional details for the other cities our young travelers visit in Germany, France, Italy, and Spain.

Marco flies from Boston to Pisa. On the plane, he chats with a woman who sits next to him. Read and listen to the Italian Language Story: Il viaggio di Marco 1 - Sull'aereo.

Pisa is Marco's first stop in Italy, a university town with a long history, and known the world over for its Leaning Tower. Read and listen to the Italian Language Story: Il viaggio di Marco 2 - Pisa.

Visiting Pisa? Here's a short introduction to this historic Tuscan city to help start your own Italian travel memories. We'll follow Marco's discoveries in Pisa, for those of you who have done or are doing our Italian 1 course: Marco in Italia.
In our travel-story course, you learn everyday conversational language. We've added a few useful terms in Italian that will help you in your travels.
Quick Facts about Pisa
The city of Pisa is located in Tuscany, one of Italy's 20 Regions.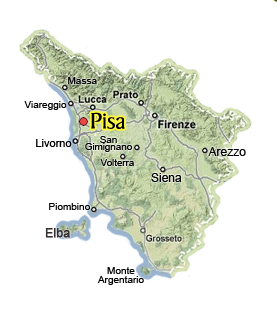 It lies near the mouth of the Arno River about 50 miles west of Florence and around 5 miles from the coast of the Tyrrhenian Sea. (Note: Italy is further divided into 96 provinces, with the city of Pisa being the capital of the Province of Pisa.)

Pisa's origins date back at least to the time of the Etruscans, 5th century B.C. Later, it became a Roman colony and rose to the status of an important port city. During the early Middle Ages, the Republic of Pisa developed into a powerful maritime nation, involved in lively trade and power struggles around the Mediterranean.

Pisa's decline was accelerated after the 15th century when the Arno River started to silt up. Now a quiet university town of around 90,000 inhabitants, the city of Pisa is renowned for its art and architecture.

[Please Note: PISA is also an anagram that stands for The Programme for International Student Assessment. That has nothing to do with the city. PISA is a recurrent study that measures the scholastic performance of 15-year-old pupils worldwide.]
Pisa Airport
Marco Magini is a young student who learned some Italian at home and later studied it in school. However, this will be his first visit to Italy. During his flight to Pisa, Marco chats with the flight attendant and with the woman who sits next to him - all in Italian. It's a perfect way for him to practice his language.

His flight lands at the Pisa International Airport, also named Galileo Galilei Airport, and the main airport in Tuscany. Marco continues to use his Italian as he goes through passport control. He explains to the officer why he is traveling to Italy and how long he'll stay.
Corso Italia and Ponte di Mezzo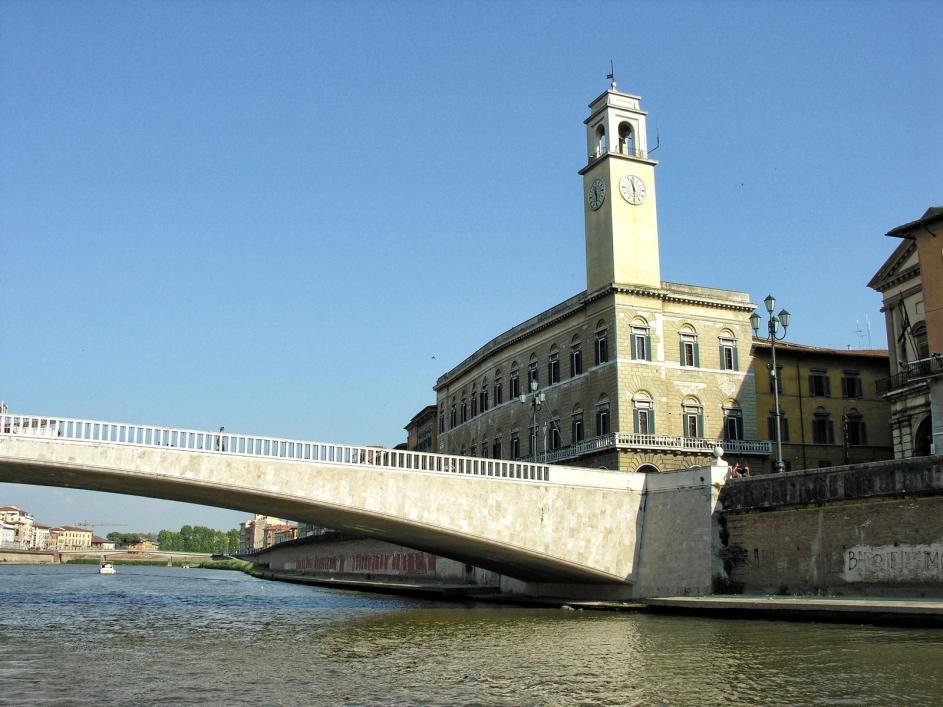 Marco's aunt, uncle, and cousin Valeria live on Corso Italia, which leads through the city center, from Piazza Vittorio Emanuele II to near Ponte di Mezzo.(see picture)

If you're in Pisa at the end of June, you could watch a traditional spectacle, the Battle of the Bridge (called "Gioco del Ponte") which takes place on the Ponte di Mezzo. Two teams battle it out: the Mezzogiorno (the neighborhoods south of the Arno) against the Tramontana (the neighborhoods north of the Arno). It's Pisa's most important annual event. (Find more information HERE .)

The centrally located Ponte di Mezzo takes you over the Arno River to the other side of the city. Standing on the bridge, you get a stunning view of the river bank and the shops and buildings there.
Useful Italian Vocabulary
• la città - the city
• la bocca - the mouth (of a river)
• mezzo - central, half, halfway
• il gioco - the game
• il mezzogiorno - the south, midday, noon
• la tramontana - the north, north wind
Travel Memories in la Piazza dei Miracoli
No Italian travel tips about Pisa without the Leanin Tower! It's just a 15-minute walk from Ponte di Mezzo to the Piazza dei Miracoli (also called Campo dei Miracoli).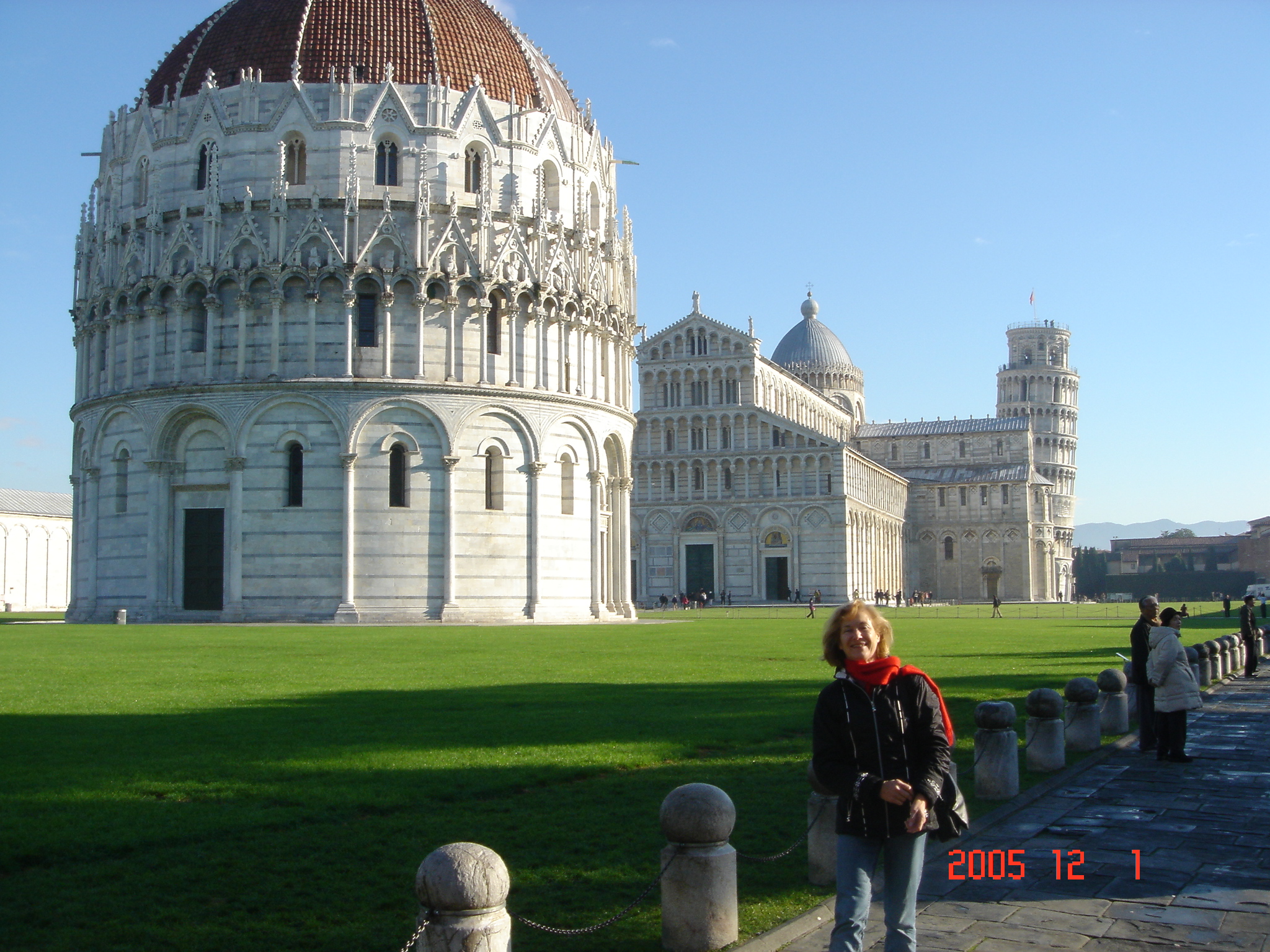 The Piazza dei Miracoli includes a number of magnificent buildings: The Cathedral (begun in 1063), the Baptistry (built between 1153-1284), the Campo Santo cemetery (started in 1278), and the Leaning Tower (completed in 1350). The buildings combine Moorish elements (arabesques) with Romanesque colons and spiky Gothic niches and pinnacles.

Apparently all of the buildings on the Piazza dei Miracoli lean to some extent (which you can see on the picture above). They're constructed on soft soil composed of mud, sand and clay, which started settling soon after building began.

Because of its height, the Tower was most in danger of eventual collapse. It was closed to the public from 1990 to 2001, as an international team of engineers found a way decrease the lean and to stabilize the tower.
Useful Italian Vocabulary
• la passeggiata - a walk, stroll
• 15 minuti a piedi - a 15 minute walk
• l'edificio - the building
• il campo - the field
• il duomo - the cathedral
• la torre - the tower
• pendente - leaning
• il campanile - the bell tower
• la terra - the soil, earth
Borgo Stretto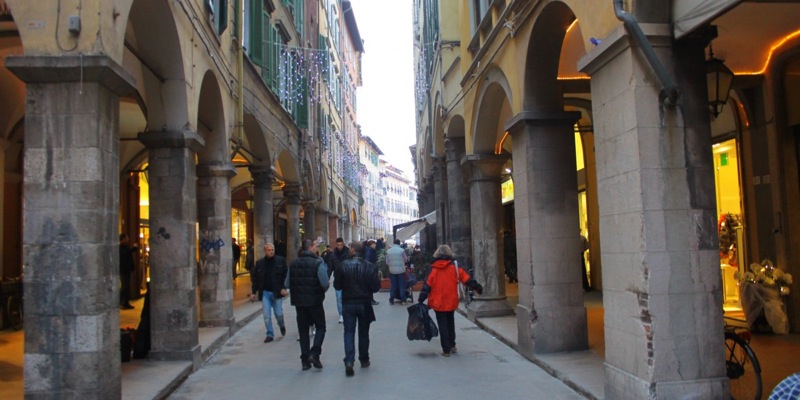 On the way back to Corso Italia, Marco and his cousin Valeria stop at Borgo Stretto, a picturesque street with shops, bistros, and cafés, on the northern side of the Arno. There, Marco buys a travel guide.

Afterwards, they go to a café for an Italian-style coffee and pastry: Marco orders "un macchiato," Valeria "un cappucino," and they both have "una crema di mascarpone con i cantuccini." (And, if you are like us: Many travel memories come back with the food or drinks, we tried while there.)
Useful Italian Vocabulary
• il borgo - the borough, district (in a town), village
• stretto - narrow, tightly bound
• la strada - the street
• i negozi - the shops
• una guida turistica - a travel guide
• un macchiato - an espresso with a "stain" of milk
• macchiare - to stain, add a splash (of sth)
• crema di mascarpone - dessert made of Italian cream cheese
• cantuccini - twice-baked almond cookies, biscotti
Other Places to visit in Pisa
Piazza dei Cavalieri (Knights' Square): Historically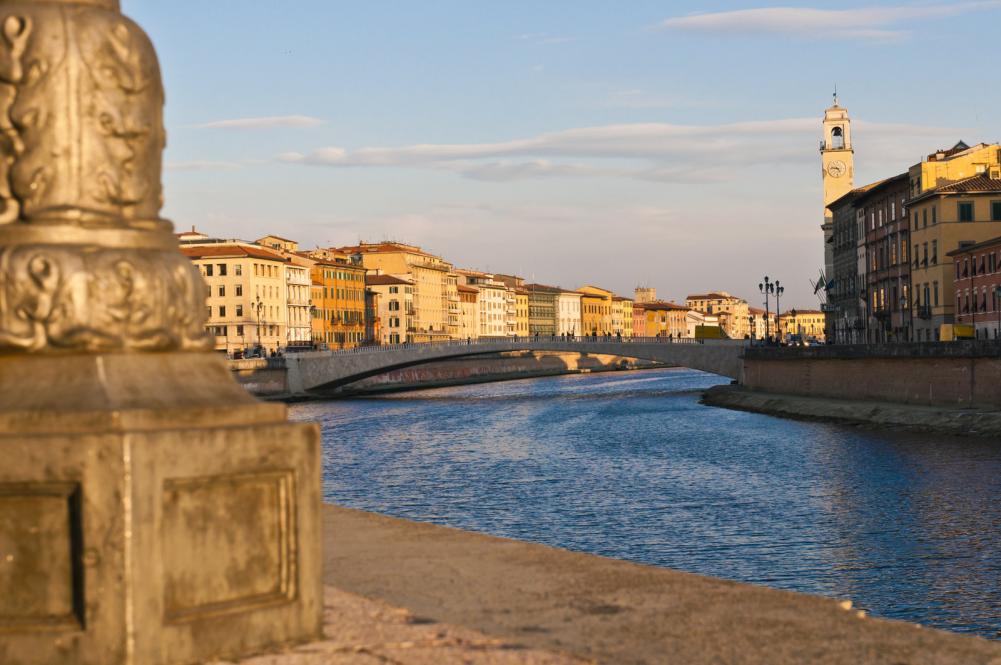 the headquarters of the Order of Knights of St. Stephen, the square is located in Pisa's student quarter.

Banks of the Arno: A walking tour along one of the banks of the Arno River is especially beautiful in early evening.
Mural "Tuttomondo" by the artist Keith Harding: 1989, painted on the back facade of the church of St. Anthony. It shows 30 characters put together like a puzzle, each one representing an aspect of the world in peace.
Museo delle Navi Antiche (Museum of Ancient Ships): Archeological museum of ancient ships with nine well-preserved Roman ships, discovered during an excavation in 1998.
Marco's Next Stop
From Pisa, Michael takes the train to Florence. There he gets together with a friend he had met in Boston.
Have you been to Pisa and have more travel memories and suggestions? We'd love to hear from you! Register, or log in again and continue with the Italian 1 course.
Bio: Ulrike Rettig is the co-founder of GamesforLanguage.com. She's a lifelong language learner, growing up in Austria, the Netherlands, and Canada. You can follow her on Facebook, Twitter and Instagram, and leave any comments right here!