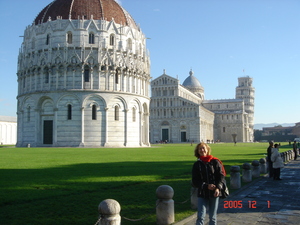 Italian Language Story Game 2: Pisa
Italian Language Story: Marco in Pisa
Level: Elementary (A2)
Playing Time: 4 minutes
Part 2 of Marco's trip to Italy (Il viaggio di Marco 2 - Pisa).
In Part 2 of Marco's trip to Italy, he stays with his aunt and uncle in Pisa.
His cousin Valeria shows him around town.
They walk to la "Torre Pendente" (the Leaning Tower), and do some shopping in Borgo Stretto, a famous shopping street.
In a café they enjoy "un caffè macchiato" and "crema di mascapone".

Listen to Part 2 of Marco's journey in Italian. It contains 130 basic words and phrases, all in context.
Play the story a few times. To improve your pronunciation, repeat each sentence aloud after the speaker. By playing the story several times, you'll start listening without translating.
Key Verbs in Language Story: Il viaggio di Marco 2
essere - to be
mangiare - to eat
bere - to drink
portare - to carry
dormire - to sleep
chiedere - to ask
scrivere - to write
comprare - to buy


You can roll over the English translation on a desk- or laptop (but not on a phone or tablet).
To practice the individual words and phrases of the story, register or log in and go to Italian 1, Marco in Italia.
For easy games see our post: 5 Easy Italian Language Games.
Or you can find ALL of them - over 60 by now - on the Italian Quick Language Games page.