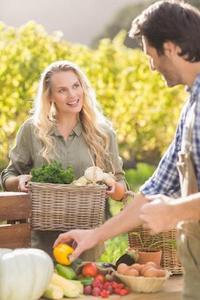 German Language Game: Kaufen, Zahlen
Quick German Language Game: kaufen, zahlen (to buy, to pay)
Level: Beginner (A1)
Playing Time: 3 1/2 minutes

Play a quick German language game to learn the verbs "kaufen" and "zahlen" and to combine them with basic vocabulary into short sentences.
In the sentences, note the German word order. It's a little different from the English.
When you play the game, say the German out loud. It's the best way to improve your pronunciation.
Vocabulary
• kaufen - to buy
• zahlen - to pay
• ich möchte - I would like
• ich muss - I have to
• jetzt - now
• später - later
• bald - soon
• etwas - something
More Than a German Language Game

And don't forget: You can practice German online for FREE with our 36-Scene German 1 Story: "Michael in Deutschland" and our 72-Scene German 2 Mystery Story Sequel: "Blüten in Berlin?"
(If you already know that "Blüten" means blossom in German - you'll learn that Blüten has still another meaning...).
Just login HERE.
If you have any language questions - don't hesitate to contact us!