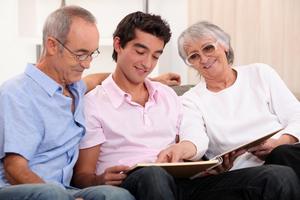 Spanish Language Game: ¿Tienes fotos?
Spanish Language Game "¿Tienes fotos?" (Do you have photos?)
Learn and practice 15 Spanish words and phrases in the context of a mini-story.
The context: During dinner with his aunt and uncle in Barcelona, David asks if they have family photos.
This short episode also comes up in our Spanish 1 course, which consists of a series of brief stories.
In the course you learn and practice 750 basic words. (The full Spanish 1 course is available for FREE by registering HERE.)
By repeating or anticipating the Spanish OUT LOUD, you practice your pronunciation.
Click on the Spanish sentences to hear them again.
Words in Spanish Mini-Story Language Game
tienes - you have (familiar) [tener]
los fotos - the photos
tus abuelos - your(fam.) grandparents
¿por qué? - why?
me gustaría - I'd like [gustar]
escribir - to write
la historia - the story
de nuestra familia - of our family
esa/ese - that (f/m)
una buena idea - a good idea
aquí está - here is ...
nuestra/nuestro - our (f/m)
viejo - old (m)
el álbum de fotos - the photo album
el abuelo - the grandfather

Please share us with your friends who also want to learn Spanish, or Italian, German, or French.
More than a Spanish Language Game

If you like our Spanish games, you can practice Spanish - online and completely for Free - with our 36-Scene story "David en España" by just logging in, or registering HERE.
You can find more resources for learning and practicing Spanish on FREELANGUAGE.ORG.
Our FREE Spanish 1 course will let you learn and practice Spanish playfully - with a travel-story of a young man in Spain and easy games.