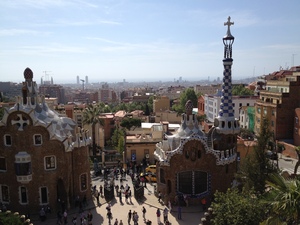 Spanish Language Story: El viaje de David 2
Spanish Language Story: In the second part of David's trip to Spain (El viaje de David 2), he visits his aunt and uncle in Barcelona. His cousin María shows him around the city.
Hear and read Part 2 of his trip in Spanish. It contains 130 basic words and phrases, all in context.
Play the story several times and try to listen without translating the words. Say each sentence after (or along with) the native speaker.
20 Key Verbs in Travel Story: El viaje de David 2
gustar - to like
comer - to eat
beber - to drink
enseñar - to show
llevar - to take, carry
dormir - to sleep
despertar - to awaken
llamar - to call
preguntar - to ask
tener - to have
escribir - to write
necesitar - to need
mirar - to look, look at
caminar - to walk
venir - to come
comprar - to buy
encontrar - to find
hacer - to do, make
tomar - to take, drink
invitar - to invite


On a desk- or laptop you can roll over the translation (but not on a phone or tablet).
To practice all of the words and phrases of the story, register or log in and go to Spanish 1, David en España.