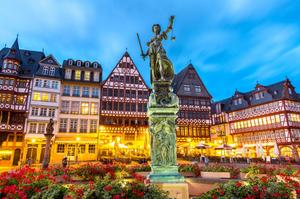 German Language Story Game 1
German Language Story: The first part of Michael's trip to Germany, (Michaels Reise 1).
Level: Elementary (A2)
Playing Time: 5 minutes
On his flight from Boston to Frankfurt, Michael orders something to drink and chats with the woman who sits next to him.
Once landed, he meets her again at the baggage claim and finds out that she lives on the Leipziger Straße (on the same street as his aunt).
At Passport Control, the agent is surprised that he speaks German.
Finally, he sees his aunt Monika, who has come to pick him up at the airport.

Hear and read the first part of his journey in this German Language Game. It contains 125 essential words and phrases in context.
Play the story as many times as you like.
To practice your pronunciation, repeat each sentence after, or even along with the speaker.
After the story, you can play Word Shoot and then try the Flash Cards to recall the 10 key verbs below.
10 Key Verbs in Travel Story: Michaels Reise 1
trinken - to drink
sprechen - to speak
üben - to practice
lernen - to learn
fliegen - to fly
besuchen - to visit
bleiben - to stay
abholen - to pick up, get
wohnen - to live, reside
winken - to wave


You can roll over the text to see the translation in English on a desk- or laptop (but not on a phone or tablet).
To practice the individual words and phrases in the story, register or log in and go to German 1, Michael in Deutschland.