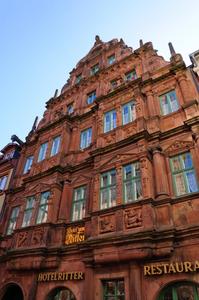 German Language Story Game 4
German Language Story: In the fourth part of Michael's trip through Germany (Michaels Reise 4), he goes to his friend Karl's place in Heidelberg.
There he meets Karl's girlfriend and is invited to use the informal "du".
Level: Low Intermediate (B1)
Playing Time: 5 minutes

Hear and read German Part 4 of Michael's journey through Germany in this German Language Game. It's about 4 minutes long, and contains 145 words and phrases in context.
Speak every sentence after (or along with) the native speaker to practice the rhythm of naturally spoken German.
After the story, you can go through Flash Cards to recall the 10 key verbs below.
10 Key Verbs in Travel Story: Michaels Reise 4
erklären - to explain
suchen - to look for
folgen - to follow
öffnen - to open
begrüßen - to greet (someone)
sich freuen - to be pleased, glad
duzen - to say "du", use informal "you"
treffen - to meet, get together
denken - to think
bestellen - to order


A translation is available on the computer when you roll over a sentence. (German only on a phone or tablet).
Register or log in and go to German 1, Michael in Deutschland if you want to practice and recall the individual words and phrases of this story.