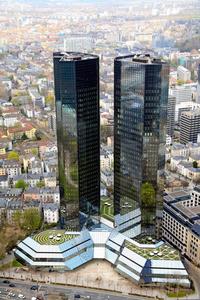 German Language Story Game 3
German Language Story: Michaels Reise 3. Von Frankfurt nach Heidelberg.
Level: Low Intermediate (B1)
Playing Time: 4 Minutes
In the third part of Michael's trip to Germany (Michaels Reise 3), he visits family in Frankfurt.
He walks through the city and goes to a café with his cousin Julia.
After a couple more days of sightseeing, he takes a train to Heidelberg.
There he calls a friend he had met back home in Boston.
Hear and read Part 3 of Michael's journey through Germany in this German Language Game. It contains 140 words and phrases in context.
After the story, you can go through flash cards to recall the 10 key verbs below.
10 Key Verbs in Travel Story: Michaels Reise 3
zahlen - to pay
fragen - to ask
spazieren - to walk, stroll
nehmen - to take
fahren - to go (by vehicle)
gehen - to go, walk
warten - to wait
lesen - to read
hören - to hear
ankommen - to arrive


As you follow the story, repeat every sentence after, or along with the native speaker.
You can see the translation on the computer by rolling over a sentence.
(On a phone or tablet you can hear and see only the German story.)
Register or log in and go to German 1, Michael in Deutschland if you want to practice and recall the individual words and phrases of this story.