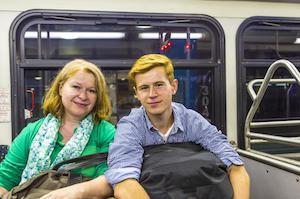 French Language Game: C'est gentil
Quick French Language Game: "C'est gentil" - It's nice.
Learn and practice 10 French words and phrases in the context of a mini-story.
The setting is the arrival hall of the Charles de Gaulle Airport in Paris.
Daniel's aunt has come to the airport to pick him up.
This mini-story is also part of our French 1 course.
(You can play the full French 1 course for FREE by registering HERE.)
Say the French OUT LOUD at all times. This will boost your pronunciation and your listening skills.
Words in French Mini-Story Language Game
je suis contente (de) - I'm glad (f)
te voir - to see you (fam.)
c'est gentil de ta part - it's nice of you (familiar)
de venir me chercher - to come pick me up
Pas de problème - No problem
le neveu - the nephew
pour la première fois - for the first time
en France - in France
les parents - the parents
passer le bonjour - to send regards, say hello
If you like our games, please SHARE us with your friends.
More Than a French Language Game

Don't forget: With our 36-Scene French 1 Travel-Story: "Daniel en France," you can practice French for FREE.
In it you learn and practice all the words, phrases and sentences you'll also hear in the podcasts.
Just login HERE.
"The Story," and fun and easy games will let you forget that you're in fact learning French!
If you should have any language questions, or just want to tell us how you're doing - go ahead and contact us!