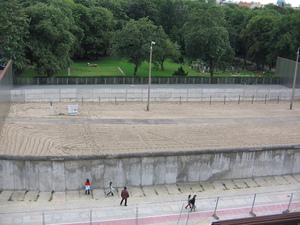 German Language Game: The Berlin Wall
German Language Game: The Berlin Wall.
Learn and practice some 15 German terms and phrases that relate to the Berlin Wall.
Use them for your next party conversation - in German - about the Berlin Wall, which was built in August 1961 and came down in November 1989.
Most Germans from that time - and many Americans too - remember where they were, when they heard the surprising news that the Berlin Wall was being torn down.
That point in time is usually referred to as "die Wende" (the turning point) in German.
Vocabulary in "Berliner Mauer" Language Game
die Mauer - the wall
der Fall - the fall, destruction
die Erinnerung - the memory
ich erinnere mich - I remember
die Regierung - the government
der Bau - the construction
der Mauerbau - the building of the Wall
die Rede - the speech
das Tor - the gate
das Brandenburger Tor - the Brandenburg Gate
die DDR - the GDR/East Germany
die Wende - the turning point
vor - ago
Wann war der Fall der Berliner Mauer? - When was the fall of the Berlin Wall?
Vor fünfundzwanzig Jahren. - 25 years ago.
Ich erinnere mich daran. - I remember it.
Ich nicht. - I don't., Not me.


You can also read our Blog: The Berlin Wall and Memories of a Frightened Teenager..., with some more about "Die Mauer" and memories when I returned from East Berlin in 1965.
If you like our games, please SHARE us with your friends.
More Than a German Language Game

And don't forget: You can practice German online for FREE with our 36-Scene German 1 Story: "Michael in Deutschland" and our 72-Scene German 2 Mystery Story Sequel: "Blüten in Berlin?".
(If you already know that "Blüten" means blossom in German - you'll learn that Blüten has still another meaning...). Just login HERE.
If you have any language questions - don't hesitate to contact us!