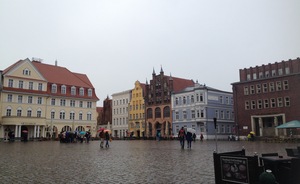 German Language Game: Wie weit?
German Language Game: "Wie weit?" (How far?)
Level: Beginner (A1)
Playing Time: 3 minutes

Learn and practice 8 words and phrases that are useful for asking directions.
With our interactive games you learn German in small chunks.
Words / Phrases in German Language Game
Wie weit? - How far?
der Platz - the square
der Markt - the market
zu Fuß - on foot
mit der U-Bahn - by subway
fünf Minuten - 5 minutes
fünfzehn Minuten - 15 minutes
Wie weit ist der Marktplatz? - How far is the market square?
Nur fünf Minuten mit der U-Bahn. - Only five minutes by subway.
Und fünfzehn Minuten zu Fuß. - And fifteen minutes on foot.
More Than a German Language Game

And don't forget: You can practice German online for FREE with our 36-Scene German 1 Story: "Michael in Deutschland" and our 72-Scene German 2 Mystery Story Sequel: "Blüten in Berlin?".
(If you already know that "Blüten" means blossom in German - you'll learn that Blüten has still another meaning...).
Just login HERE.
If you have any language questions - don't hesitate to contact us!