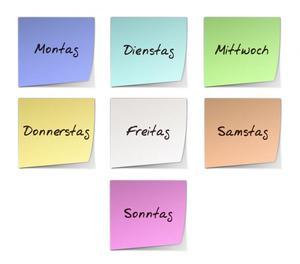 German Language Game: Days of the Week
Quick German Language Game: Days of the Week
Level: Beginner (A1)
Playing Time: 4 minutes

Play a fun online German language game and practice the days of the week.
Add to your vocabulary and improve your pronunciation! As you play, say the German OUT LOUD!
Learn and play with our fun Say It, Snap Cloud, Deal no Deal?, and Word Hero game sequence, until you know all the words inside out!
Note: German days of the week are all masculine (m), and capitalized.
German Days of the Week
der Montag - Monday
der Dienstag - Tuesday
der Mittwoch - Wednesday
der Donnerstag - Thursday
der Freitag - Friday
der Samstag - Saturday
der Sonntag - Sunday


If you like our games, please SHARE us with your friends.
More Than a German Language Game

And don't forget: You can practice German online for FREE with our 36-Scene German 1 Story: "Michael in Deutschland" and our 72-Scene German 2 Mystery Story Sequel: "Blüten in Berlin?".
(If you already know that "Blüten" means blossom in German - you'll learn that Blüten has still another meaning...).
Just login HERE.
If you have any language questions - don't hesitate to contact us!