Posted on by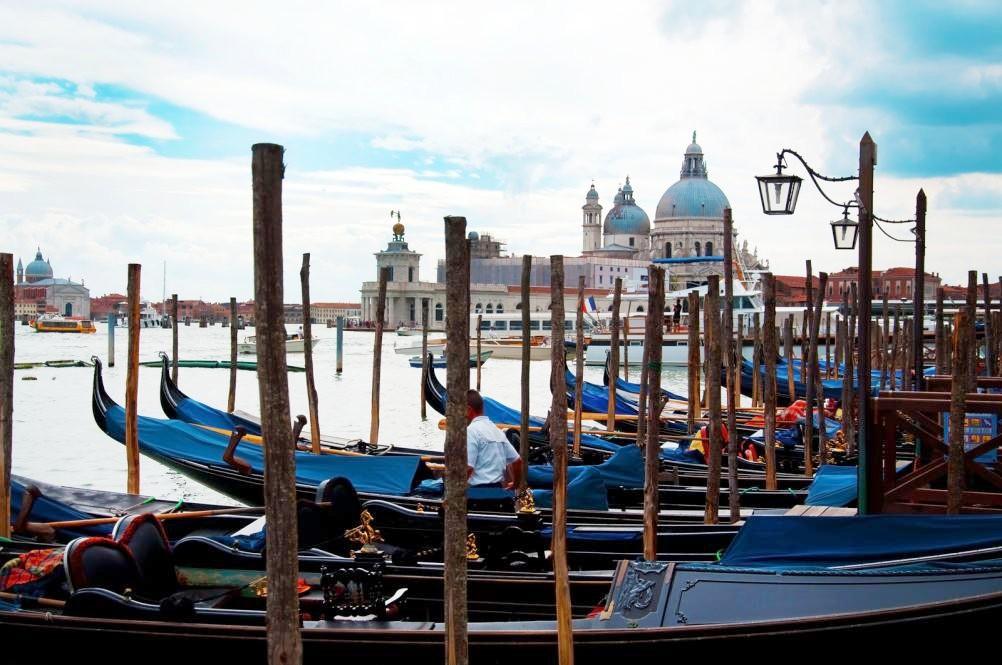 Do you have Italian travel memories or are you dreaming about visiting Venice? Exploring this romantic and historic city will leave you with lots of wonderful memories.

Our first Italian Travel Memories post covered Pisa, where Marco, the young traveler in our Italian 1 travel-story course, visits his aunt and uncle. He then takes the train to Florence, and Venice is his third stop in Italy.

In this installment - Marco in Venice, we'll follow Marco's explorations of Venice. For those of you who are doing or have done our "Italian 1 course: Marco in Italia", these additional details will complement those in the course.

Our series of Travel posts tell you about our own travel as well as more about each of the cities of GamesforLanguage's travel-story based courses. We typically use the cities' names of the streets, hotels, squares, restaurants, etc. and we've been to many of them ourselves.

In our free travel-story courses you learn everyday conversational language. Here, we've listed a few additional basic words and phrases in Italian that will help you in your travels.
Brief Facts about Venice
The city of Venice is located in the northeast of Italy. It is the capital of the Veneto, one of Italy's 20 regions (regioni). Venice is also a Metropolitan City (città metropolitana), which includes the city of Venice and 43 other municipalities (comuni).

Venice's origins are traditionally said to date back to the dedication of its first church, San Giacomo in 421 A.D. The name Venice may be derived from the ancient Veneti people who lived in the region many centuries earlier.

Early on, the area of Venice was a Roman/Byzantine outpost. From the 9th to the 12th century, Venice developed into a city state (the other three being Genoa, Pisa and Amalfi).

With its strategic position at the head of the Adriatic, Venice became an international trade and finance center with considerable naval power.

From the late 7th century until the end of the 18th century, Venice was ruled by a Doge, who was elected for life by the city's aristocracy. The word "doge" is the Venetian dialect version of the Latin "dux" (leader) and related to the English word "duke".

After the Napoleonic wars and the Congress of Vienna (1815), Venice was annexed by the Austrian Empire. Italy was unified in 1861. In 1866, Venice became part of the Kingdom of Italy. In 1946 Italy's monarchy was abolished by a constitutional referendum.

Because of its rich cultural heritage and unusual urban layout, Venice has become one of Europe's most popular tourist destination. The city stands on an archipelago of 118 small islands that are connected by 400 foot bridges and 170 boat canals.

The lagoon and the historic part of the city are listed as a UNESCO World Heritage Site.
Marco's Arrival in Venice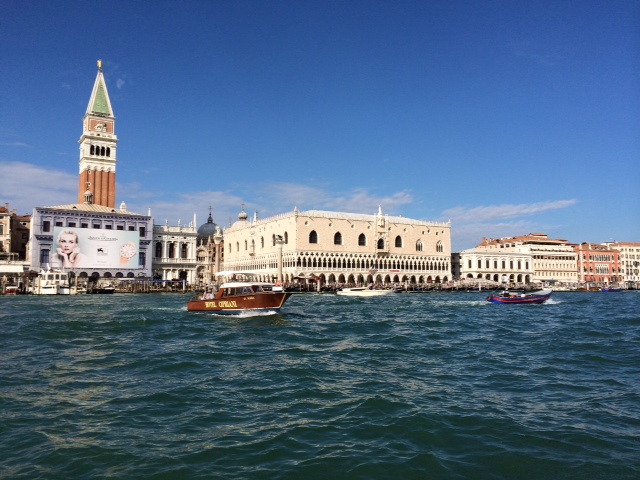 Marco's train trip from Florence to Venice takes him two hours or so. He arrives at Venezia Santa Lucia, Venice's main train station.

From there, he takes the Vaporetto - water bus - on the Grand Canal to his hotel Antica Locanda al Gambero, located on Calle dei Fabbri, just a few minutes from the Rialto Bridge. (Going to the hotel on foot would have taken him about 20 minutes.)

The historic city of Venice is divided into 6 administrative districts called "sestieri". They are: Cannaregio, San Polo, Dorsoduro, Santa Croce, San Marco, and Castello.
The hotel Al Gambero is situated in the small, historic quarter (sistiere) of San Marco, where many of the city's landmarks are. He checks in, gets a key, and finds out how he can connect to the hotel's Wi-Fi.
Useful Italian Vocabulary
• il vaporetto - the water taxi
• il sestiere - district, quarter, neighborhood
• prenotare - to make a reservation
• l'albergo - the hotel
• una camera - a room
• il passaporto - the passporto
• la chiave - the key
Piazza San Marco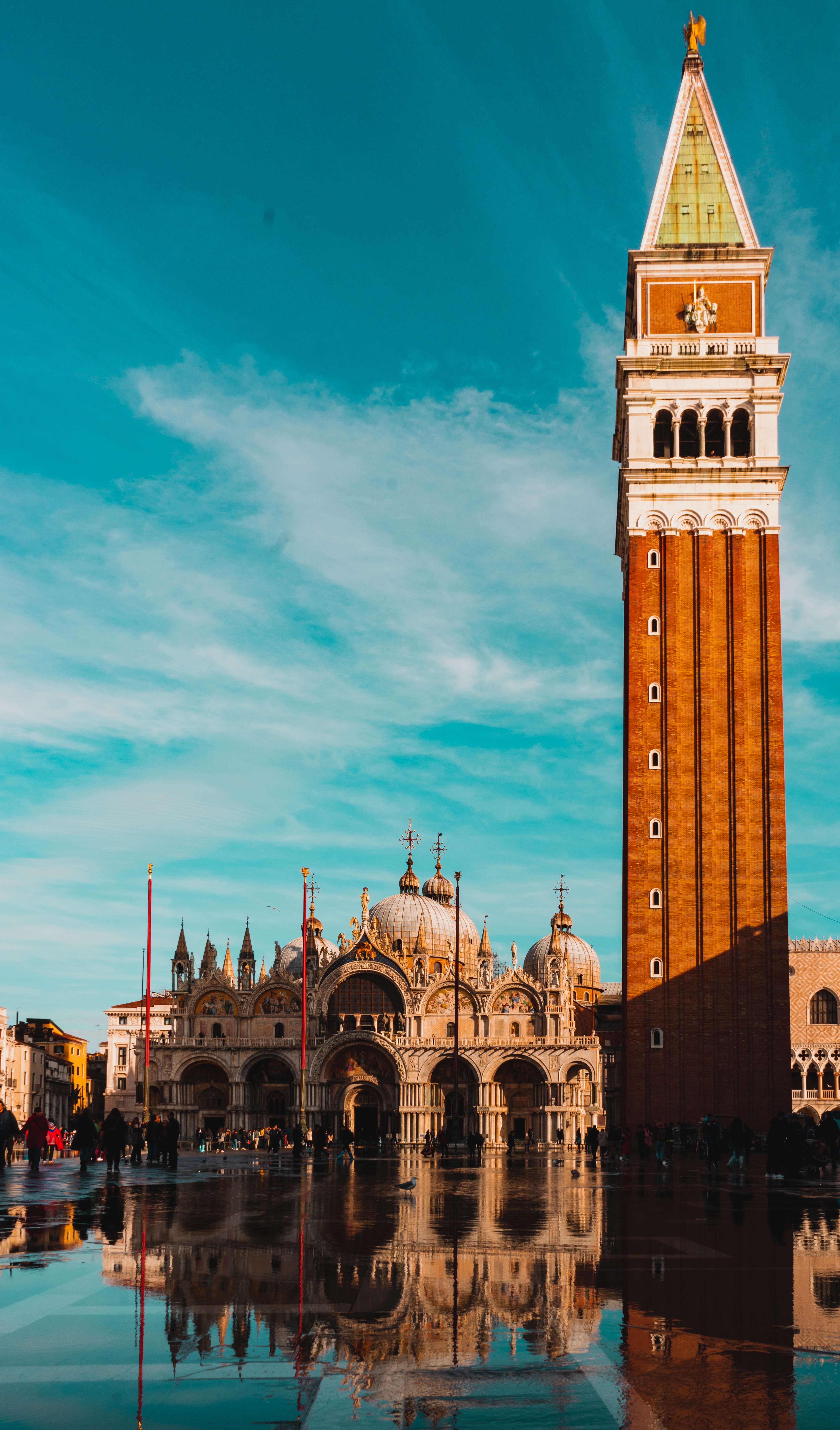 Next day after breakfast, Marco walks over to the Piazza San Marco (Saint Mark's Square). It is usually just called "la Piazza". That is because all other squares in Venice are called "campi" (fields), with the exception of Piazzale Roma. A "piazzale" is a large, open square, and Piazzale Roma serves as the main bus station for Venice and major entrance to the city.

Piazza San Marco (Photo by Francesco La Corte on Unsplash) is named after Venice's patron saint, San Marco, who received that honor in the middle of the 9th century. It was an assertion of the city's independence, and soon after, the building of the basilica began.

For a narrative of the eventful history of la Piazza, see this Wiki Link.

Piazza San Marco is a beautiful square, beloved by visitors and locals alike. At one end stands the stunning Basilica San Marco. Around the other sides of the grand square you'll find many shops, restaurants, and cafés. As you sit and sip your aperitif, it's always fun to watch what's going on: street musicians playing, kids chasing the pigeons, people hurrying about. It's a great place to linger and meet others.
Useful Italian Vocabulary
• il giorno dopo - the next day
• camminare - to walk
• la piazza - the square
• il piazzale - the (large, open) square
• il campo - the field (in certain cities: square)
• l'autostazione - the bus station
The Doge's Palace
Marco has a wonderful time strolling through the Palazzo Ducale, which is also located in the sestiere San Marco. Dating back to the 14th century, the Palazzo Ducale is considered a masterpiece of Gothic architecture, with layers of building elements added over the centuries.

Read up on its history HERE.

The inside rooms and corridors of the Palazzo Ducale are lavishly decorated and filled with collections of paintings and with statues.

Marco is especially interested in the wall and ceiling paintings of Jacopo Tintoretto (1518/19–1594) a master of the Venetian School.
Campo Santa Margherita
In the evening, Marco gets together with Claudia, a student he had met, and some of her friends. They have dinner at the storied Caffè Florian on Piazza San Marco. Then they walk to Campo Santa Margherita, which is located in the sestiere of Dorsoduro.

Originally an industrial area, Dorsoduro is now an artsy, bohemian neighborhood with museums, galleries, palazzos, churches, bars, restaurants, and of course, "gelaterias" (ice-cream parlors). Since the 18th century, Dorsoduro has attracted painters, sculptors, writers, collectors, etc. It's a great place to spend an evening and is frequented by local students and art lovers alike.
Useful Italian Vocabulary
• il pittore - the painter
• lo scrittore - the writer
• un palazzo - a large building
• una chiesa - a church
• una gelateria - an ice-cream parlor
• lo studente - the student (m)
• la studentessa - the student (f)
Saint Mark's Campanile
On Marco's last day in Venice, Claudia suggests they go up Saint Mark's Bell Tower, il Campanile di San Marco. At 98.6 meters high (323 ft), the bell tower offers a gorgeous view of Venice and the Venetian Lagoon.
Have you been to Venice? We'd love to hear some of your suggestions and travel memories!
Marco's Next Stop
From Venice, Michael flies to Rome, the last stop on his Italy trip. That's our last Italian travel memories post. From the Leonardo da Vinci-Fiumicino Airport, he finds his way by train and tram to the historic Trastevere neighborhood, where his aunt Grazia lives. As a welcoming meal, she makes "saltimbocca". After dinner, they take a little walk (una passeggiatina) to the Colosseum. The next day, they visit the famous Piazza Navona and afterwards go to a wine bar on Campo de' Fiori.