Posted on by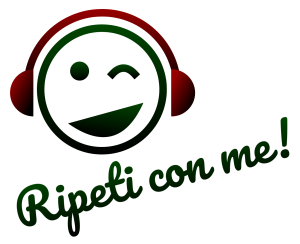 [Updated: 11/2022]
Learning Italian? Check out "Ripeti con me!", the conversational Italian audio course that gets you to Think in Italian.
For a 50% discount of your first month click HERE, scroll down to the form I WANT TO LEARN*, and enter your email. Your subscription includes "Ripeti con me" (250 audio lessons from Beginners to Advanced), "Leggi con me" (600+ short readings with audio and translation), plus a host of complementary materials. All the material is available online on a Monthly or Yearly subscription plan or as a One-off Lifetime Membership Plan.
Note: We originally reviewed Stefano Lodola's "Ripeti con me" Italian audio course in 11/ 2018. More recently, in 11/ 2020, we wrote an update of this course, which had been expanded and moved online as part of Stefano new site "Think in Italian".
When Stefano wrote to ask us about reviewing his audio course "Ripeti con me!" for learning Italian, we were happy to try it out.

Stefano is an Italian Polyglot, language teacher and translator who speaks twelve languages. He's also an opera singer, and as you'll hear on the audio, he has a clear and pleasant voice.

The description of the "Ripeti con me!" audio course and the method behind it intrigued me.
I've always enjoyed learning a language with good audio lessons. Before our 5-month stay in Italy several years ago - my husband and I completed the 3 Pimsleur Italian audio-only courses (no text), a total of 90 lessons.

We were by no means fluent when we arrived in Rome, but we felt confident enough to use our Italian on a daily basis as we explored the city, shopped at the market, went to various bars and restaurants, etc. Learning with the Pimsleur audio courses sharpened our pronunciation and gave us a good core vocabulary that we easily built on. (For full disclosure: before 2011, I was an author and development editor at Pimsleur for several of their courses.)
I've been learning Italian for a few years now and I've been looking for an Italian course to refresh and boost my Italian speaking skills. So, I am not only quite familiar with audio courses but also definitely motivated to try out a new approach and new materials.

Stefano gave us access to 15 downloadable Lessons of "Ripeti con me!", so I could review his method and the course format.
THE COURSE BASICS
In 11/ 2018, "Ripeti con me" had 60 Lessons in audio format that you could download.
Now, in 11/ 2022, "Ripeti con me!" has 250 lessons. The format of the lessons has stayed the same.
• Each Lesson is made up of 30 basic sentences, spoken at a natural pace.
• For each audio Lesson there are three files, Part A, Part B and Part C, to be done in sequence.
• The three files have you practice the same 30 sentences in three different ways.
• The sentences contain useful, conversational vocabulary and common, idiomatic grammar patterns.
• Spaced Repetition of vocabulary and grammar patterns is built into the course.
• Sentences come up again and again, but each time with small changes that show how the language works.
• The course is for Total Beginners (A0) to Advanced Learners (C1) who want to improve their speaking skills.
• In his Introduction, Stefano has detailed instructions on how to learn with his course.
The Levels are: Total Beginner, A0-A1 (Lessons 1-50); Elementary, A2 (Lessons 51-100); Intermediate, B1 (Lessons 101-150); Upper Intermediate, B2 (Lessons 151-200); Advanced, C1 (Lessons 2001-250).
WHAT WORKS FOR ME
AUDIO FORMAT
I love learning with audio. I agree with Stefano that spoken and written language are processed differently by the brain.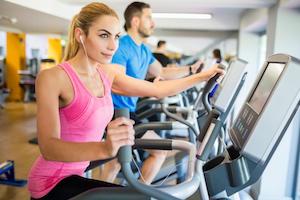 When you just listen, your brain connects directly to the sound without needing to decode the letters.

When I do a lesson for the first time, it's really effective to just sit with eyes closed while repeating and "shadowing" (i.e. speaking along with the speaker, or a split second behind him).
That way I can also pay attention to the small but meaningful sounds that connect the sentence: prepositions, negatives, endings, agreements, etc.

With Audio, you can easily take the course with you and listen and repeat on the go, while walking, jogging, cooking, waiting for a bus, etc.
PDF DOWNLOAD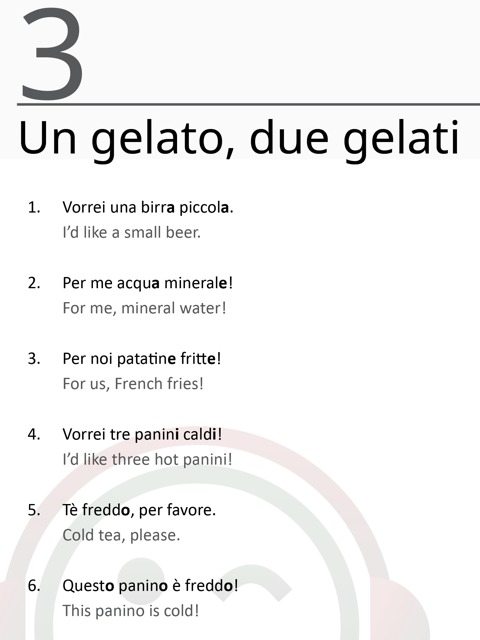 The sentences and their translations can all be downloaded in PDF. Reviewing the text is optional.

Still, I've found it very useful to look at the written sentences after doing the Audio.
The sentences and their translations can all be downloaded in PDF. Reviewing the text is optional.

That's because living in a world of the printed word, I automatically make up my own mental spelling of any unfamiliar word I hear or see, no matter what the language. I might as well learn the correct form.

Besides, I love to read. For any language that I learn, it's my goal to learn to read fluently (online news, blog posts, articles, stories, novels).

Reading is one of the most powerful ways to learn additional vocabulary and grammar patterns, and stay interested in the language.
SENTENCES AND SPACED REPETITION
In "Ripeti con me!", sentences (not individual words) are the basic building blocks. You learn and practice all vocabulary in the context of everyday, useful sentences.

By listening and repeating many sentences that use and reshuffle basic vocabulary, you become more and more familiar with typical phrases and idioms.

The application of Spaced Repetition in "Ripeti con me!" is very good. As you constantly learn to construct new, slightly changed sentences, you automatically internalize Italian vocabulary and grammar patterns.

The English translations, because they are often not literal, help you to think in Italian. For example:
Come sto con gli occhiali? - How do I look in my glasses? (literally: How am I with the glasses?)

Come fai senza macchina? - How can you live without a car? (literally: How do you make it without car?)
THREE TYPES OF PRACTICE
Practicing the same 30 sentences of the lesson in three ways is quite effective, especially if you repeat/say the Italian out loud.
Part A: After the English cue, listen and repeat/shadow the Italian sentence. (For meaning, pronunciation of words, correct intonation.)
Part B: After the English cue, say the sentence in Italian in the pause that follows. (To produce the Italian and check if you're correct.)
Part C: Shadow each of the Italian sentences. (No English. To mimic the speaker and learn to think in Italian.)
I like the technique of shadowing when I'm learning a language. I use it often when listening to audio books or going over sentences in a course.

As mentioned, shadowing means speaking along with the speaker, or a split second behind. It takes a little practice. But once you've got the knack, you'll improve the rhythm, intonation, and pronunciation of your Italian.

Don't be afraid to talk over the native speaker's voice, you'll find that you can listen and talk at the same time.
GRAMMAR PATTERNS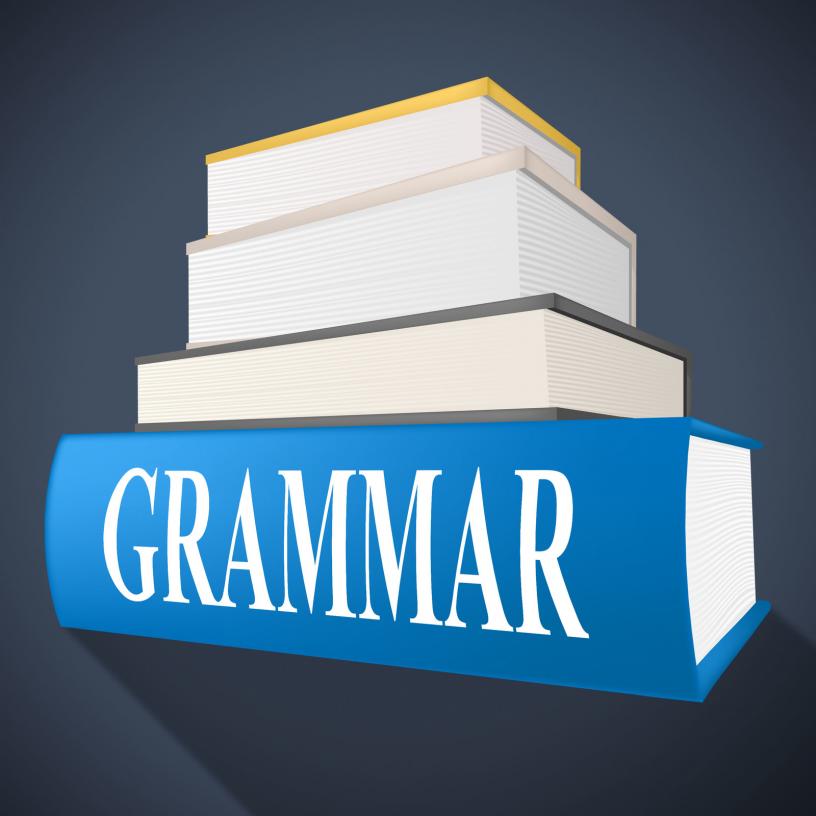 I don't really know if my brain is wired for grammar, but it's definitely wired for language patterns.

Listening and repeating many sentences that have small shifts in pattern works really well for me.

I noticed that as I practiced, more and more phrases and idioms became familiar again and I would start using them automatically. (As Italian is not a new language for me, it's also likely that I notice these patterns more than a beginner.)

Each lesson focuses on a specific grammar point, built into the sentences. (The specific grammar items are in bold on the PDF.) Here are some examples of grammar points:
In Lesson 1, there are many sentences with present forms of the verb "essere" (to be).

In Lesson 2, the sentences focus of the present forms of "avere" (to have), including common idioms with "avere".

In Lesson 3, you practice number agreement (un gelato-due gelati), and adjective-noun agreement. (see photo in PDF section)

In Lesson 6, the sentences highlight the indefinite article forms: "un', un, una".

In Lesson 13, you practice sentences with "piacere": "mi piace/mi piacciono" (I like), "ti piace" (you like), "a Giulia non piace" (Giulia doesn't like), "a voi piace" (you-all like), etc.
A WELL-PACED COURSE
It's recommended that you do a full Lesson a day. Because you're often reusing familiar vocabulary for new sentences, even a beginner can follow the pace. Still, if you don't feel ready to move on, you can easily repeat that Lesson the next day.

My spoken Italian is probably at a Low Intermediate level (while my listening comprehension and reading skills are quite a bit better).
With "Ripeti con me!", I found I can really focus on practicing to speak in Italian. I'm happy with the improvement I've noticed.
PRICING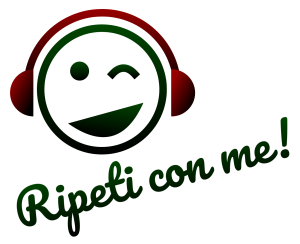 Think in Italian offers two types of lessons:
1. The audio course "Ripeti con me!", which has 250 Lessons.
2. Various Readings with audio, consisting of 600+ brief stories, conversations, news pieces, jokes, songs.
All the material is available online on a Monthly or Yearly subscription plan or as a One-off Lifetime Membership Plan. Click HERE, scroll down to the I WANT TO LEARN* form, and enter your email. You'll receive Stefano's best offers, plus a 50% discount on the first month through us.
Stefano's courses are more expensive than most language apps, but they are clearly worthwhile for motivated learners who want results.To try the lessons out for yourself, make use of Stefano's free 7-day Trial.
FURTHER THOUGHTS
No program will teach you everything you want to achieve in a language. And a program can certainly not replace speaking regularly with native speakers, a trained tutor, or good conversation partners.

A real conversation is so much more than listening and repeating. You have to understand what the other person is saying, which includes all the non-verbal signals that are part of effective communication. Plus, as you're listening and decoding what's being said, your brain is also working on an answer.

Still, good programs offer you the chance to practice specific foreign language skills. The 15 Lessons of Fluent Simple, which I did according to instructions, have clearly boosted my basic speaking fluency.

Beyond that, one can always find more ways to learn with a good program. "Ripeti con me" is no exception. Once you've gone through the course, you can go back and do other things with it. It keeps the material fresh.
MEMORIZE
For some people memorizing works. Once you've gone through the course as suggested, you can take ten sentences, for example, and just keep them in your head for the day.

Say them to yourself from time to time, as you walk to work, take a break, or take the bus home. It's a good way to become totally familiar with certain sentence patterns.
DICTATION
I've always enjoyed dictation and have used it a lot in my language teaching and learning. In "Ripeti con me!", Part C of each Lesson is perfect for this. Write down the sentence as you hear it, and stop the audio if you need to.

At the end, you can check what you've written against the correct sentences on the PDF file. For one, dictation strengthens the sound-letter correlation. Plus for me, writing something down by hand helps me remember.
WRITING
Journal writing for learning a language has become very popular. Even as a beginner, keep a daily journal by using the sentences that you've learned. Or you can even try out new variations of some of sentences.

Do this just from your head, without looking up anything. Because of the many-sentence structure of the course, you'll have lots of possible sentences ready. It's a great start for beginning to write.
Italian is a wonderful language to learn, and you can do it at any age. Think about Italian culture and history, Italy's historic cities, villages, and beautiful countryside. And there's Italian music, and the world of Italian food, fashion and movies.

Besides, learning a language is good for your brain and learning Italian may inspire you to visit. Go for it!
Bio: Ulrike Rettig is the co-founder of GamesforLanguage.com. She's a lifelong language learner, growing up in Austria, the Netherlands, and Canada. You can follow her on Facebook, Twitter and Instagram, and leave any comments right here below!
Disclosure: We added "Think in Italian" to our Partners' list. Should you decide to purchase through our link above, Gamesforlanguage will receive a small commission - at no cost to you - which will help us keep our own site ad-free.