Posted on by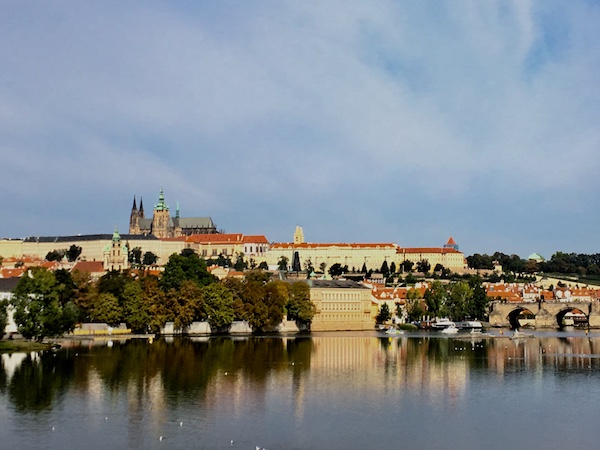 Fifty years ago, I was in Prague as a young student. As luck would have it, that visit coincided with the Soviet-led Invasion on the night of August 20-21, 1968. (see also: Memories of the Soviet Invasion of Czechoslovakia, August 21, 1968)

Whatever little sightseeing my travel friend and I had done on the preceding day - Charles Bridge, the Castle (see picture), Wenceslas Square, Old Town Square - was eclipsed by the chaotic events of that night and the next day, when Warsaw Pact and Soviet tanks rolled into the city.

The dissolution of the Soviet Union in December 1991 was followed in January 1993 by the split of Czechoslovakia into two countries: the Czech Republic and Slovakia, both parliamentary republics.

Since that time, Prague has become one of the most popular tourist attractions in Europe. It was high time for me to go back and see what I had missed 50 years ago. We rented an apartment for a week in the New Town (Nové M?sto).

Getting ready for a trip is always fun and interesting. My husband Peter and I like to read up on the history of a country and its language. (For anyone who'd like to learn more about the history of Czechoslovakia and the Czech Republic, I can only recommend Mary Heimann's "Czechoslovakia: The State That Failed".)

For our Prague trip, we were also bent on learning some Czech language basics. In fact, I was particularly motivated to learn some Czech because my grandfather was born in Bohemia in 1880, when the region was still part of the Austro-Hungarian Empire.

He was born in the village of Netrebice (near Cesky Krumlov). He spoke only Czech as a child before being sent to live with an uncle in the neighboring, German-speaking region of Styria, Austria. He was five at that time. And that's how my father's family came to Austria.
WHY LEARN SOME CZECH
In our past travels, we've often found that English has its limits, that learning some of the local language has huge benefits. For Czech, we spent fifteen minutes or so a day for three months learning to say and understand basic phrases and to practice pronunciation.

In Prague, we noticed that older people - those not in the tourist industry - often did not speak any English. That was quite understandable because during the Soviet era, Russian was the compulsory foreign language taught in all schools in Czechoslovakia.

We also noticed that younger people did tend to speak English. But, if they weren't working in the tourist industry, it sometimes had its limits.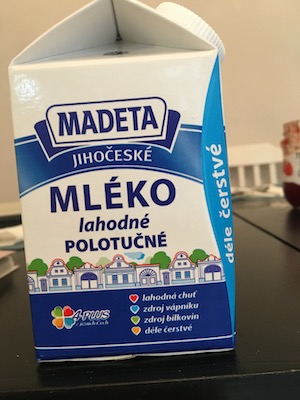 This became clear the first night when we tried to buy some breakfast items at a small neighborhood market. The young man at the cash register was able to say in English how much we owed. But he did not understand the English words jam/marmalade, butter, cereal, etc. Nor could he explain to me what the word "polotucne" on the milk carton meant. (I wanted to make sure I wasn't buying skim milk. In fact, it means "half fat" or "part skim.")
In all though, we got by very well with English and, occasionally with German.
Still, learning some Czech before the trip was worth every minute. People would greet us automatically in Czech and only switched when we spoke English. By using greetings and polite phrases in Czech, we were making an effort that was clearly appreciated.
I can well imagine, that locals in Prague are sometimes overwhelmed by the hordes of tourists constantly present in their city, and by the barrage of English that often confronts them.
Don't we expect visitors to the US to greet and address us in English and not in German, French, Czech, Danish, Italian, Chinese, Japanese, etc.?
Prague well deserves its popularity as a travel destination. There is lots to do and to discover.
In addition to the exhibits, museums, and public art works that we saw – the Caltrava and Kupka exhibitions, the Mucha, Kafka, and (new) National Museum, the often controversial David Cerny sculptures, – here are six (6) more highlights of our stay.
1. A WALKING TOUR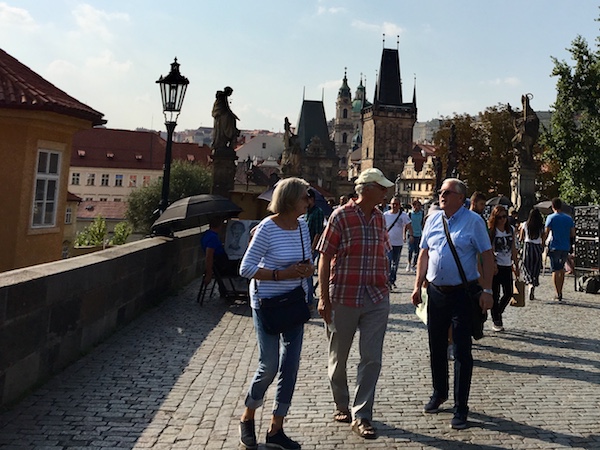 Walking is a great way to get to know a city. Peter's sister, who had joined us in Prague, speaks German and French. So we arranged for a German-speaking guide for a four-hour walking tour the first day of our stay. (see photo on Charles Bridge)
Vaclav, whose Austrian-tinged German was delightful, took us first through the Lesser Town of Prague. With him we discovered special places we may not have found on our own.
He showed us Wallenstein's Garden, the Kampa Island, the Maltese and Grand Priory Squares, etc., and entertained and educated us with many historical facts (the fate of the Templars, the Hussites, etc.) and stories, some of them quite personal.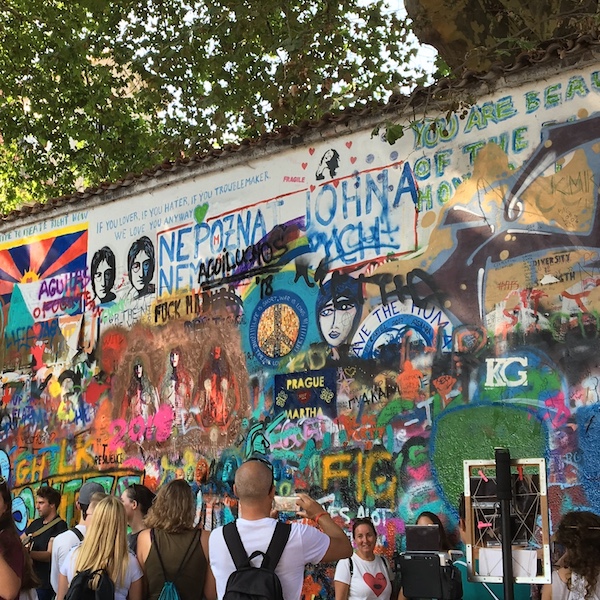 Vaclav The John Lennon wall (see photo) had very special memories for him:Vaclav related to us how scared he (and his parents) were when they were visited one evening by a policeman. Together with some classmates Vaclav had been part of a demonstration at the Lennon Wall during the "Prague Spring" and had not realized that they were all being filmed or photographed. He was a fourteen-year-old school boy at that time. The policeman's "advice" was easy to understand: If Vaclav wanted to finish school – he should stay away from demonstrations!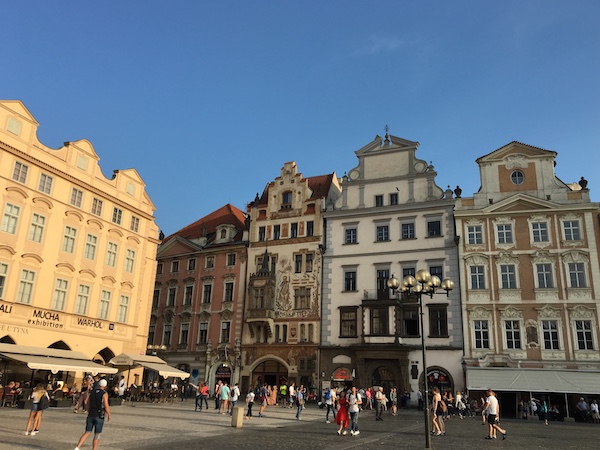 After the tour of the Lesser Town, we went over the Charles Bridge, to the Jewish Quarter, and finally to Old Town Square (see photo). We waited for the famous Astronomical clock to ring at 6 PM, but in vain – it was still being repaired.

Since there were just three of us taking the tour and Vaclav's approach was quite casual, it felt like we were just having a conversation with him, not getting a tour lecture. Such a very personal introduction to Prague at the beginning of our seven-day stay was wonderful.
2. TOUR OF PRAGUE CASTLE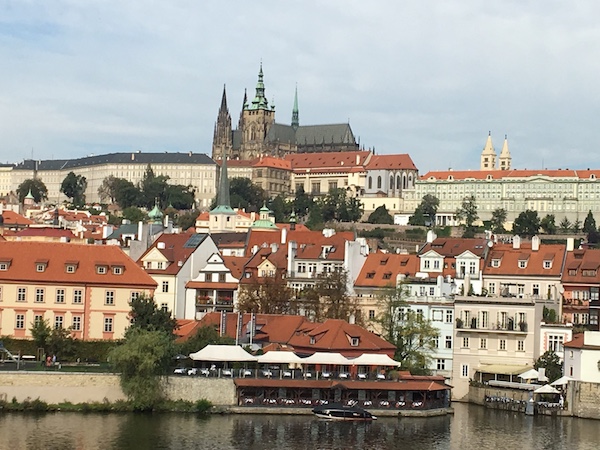 With Prague's Castle complex towers high over the river Vltava, the original building dating back to the 9th century, the Castle area was built and rebuilt over the centuries. It now holds several palaces, three churches, a monastery, defense towers, and gardens.

It was fascinating to walk around the Castle complex. Its buildings combine architectural styles from several historical periods: Romanesque, Medieval, Renaissance, Baroque, Mannerism and Neo-classic. For art lovers, the Castle's Picture Gallery and the collections in the Lobkowicz Palace are a special treat.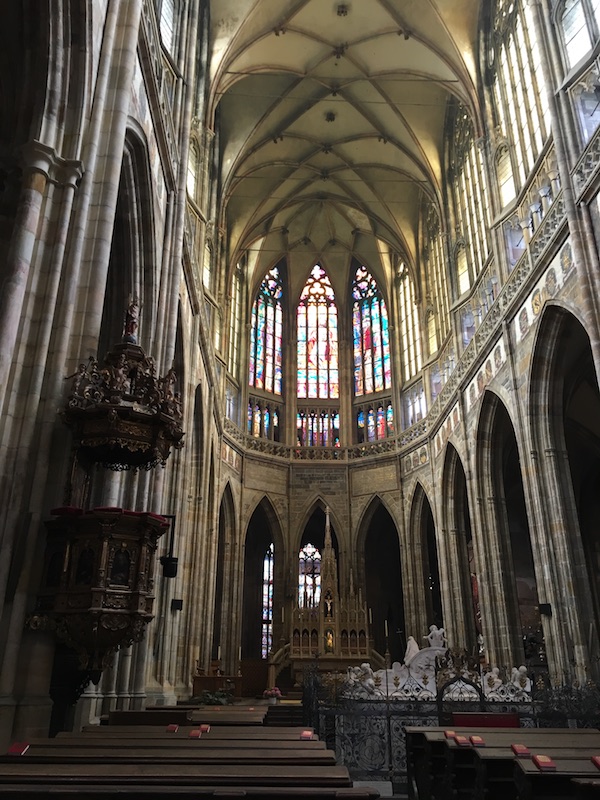 St.Vitus Cathedral - whose spires give the castle its distinct presence is not to be missed. Begun in 1344, the stunning Gothic/Neo-Gothic cathedral was finally finished in 1929. The work by the early architects, Peter Parler and his sons, Wenzel and Johannes Parler, is particularly interesting. The so-called Parler vaults (or net-vaults) are said to have heavily influenced Gothic architecture in Slovenia, Austria, and Croatia. And, art historians speculate: Did St. Vitus Cathedral influence English Gothic, or was it the other way around?

The gorgeous stained glass windows of St. Vitus Cathedral were created by Czech artists of the early 20th century. A sweet discovery was the new window in the north nave, designed by the famous Art Nouveau artist Alphonse Mucha. (It was installed in 1931.)
The way out of the Castle area took us past the Golden Lane, a narrow street with small colorful houses. Built in the late 16th century in the Mannerism style, they housed the families of Castle guards. Somehow it seemed fitting to me that Kafka lived in one of them for a year (number 22).
3. A TRAM RIDE TO VYSEHRAD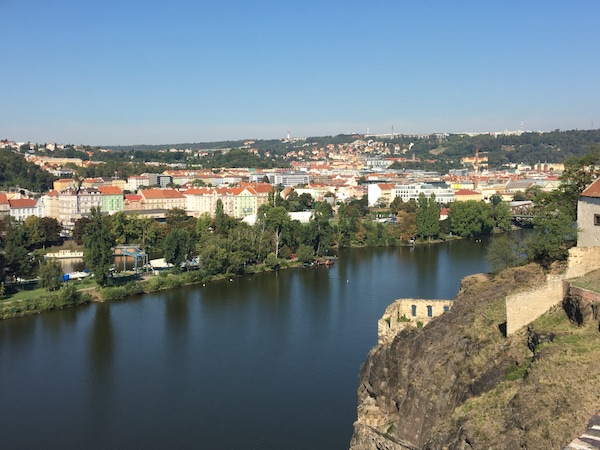 We made extensive use of Prague's public transportation system. With all three of us having passed the 70 year milestone, we could use it entirely for FREE! (We could first not believe it when we wanted to buy a ticket!) Vysehrad was only a short tram ride away along the scenic Vltava River.

Originally an 11th century fortress, Vysehrad has great historical significance for Prague. Legend has it that the fort was the first seat of Czech dukes. It stands on a hill surrounded by a large park. From the walls of the fortress, you have a fantastic view of Prague and the Vltava River. The Basilica of St. Peter and St. Paul is part of the Vysehrad complex.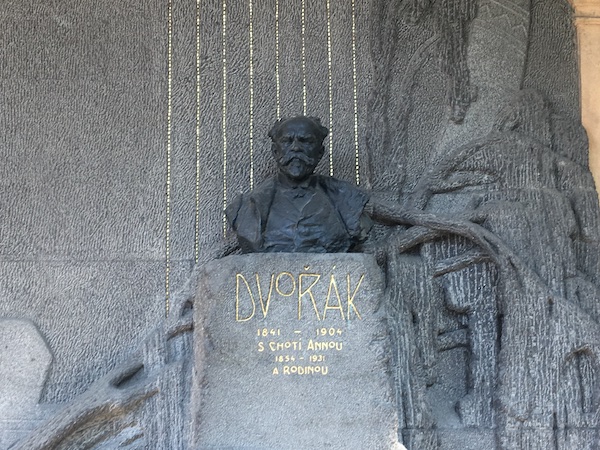 Inside, besides more traditional art, you'll find amazing Art Nouveau frescoes covering the walls. They are by the painter Frantisek Urban and his wife Marie Urbanova-Zahradnicka (done in the early 1900s). We toured the cemetery, where many Czech luminaries are buried, including the composers Smetana and Dvorak. (By the way, Dvorak's name is a good example of how the Czech "accented-r" is pronounced: it's "r-zh", that is r + zh, as in "measure". Sorry, but my font doesn't support Czech accents.)
On the way back down to the tram stop, we had lunch at a small bistro that was obviously a favorite with locals.
4. DAY TRIP TO PILSEN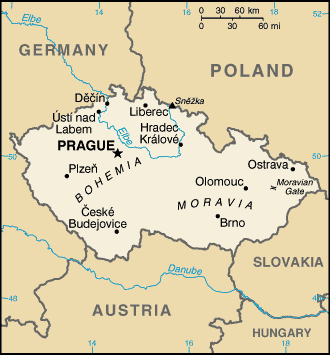 On one of the days, we took a train to Pilsen, home of the famous Pilsner Urquell. The town is located about 90 kilometers (56 miles) southwest of Prague. Trains go every hour and it takes about 90 minutes to get there.
At the Pilsen train station, we looked for a tram to take us to the center of town. We didn't see a ticket dispenser, so we tried to buy tickets from the driver as we got on. There was clearly a problem. It turned out that she had run out of tickets, so we rode free again.
We've been to plenty of breweries before, so we skipped the one in Pilsen. Instead, we took a 2-hour walking tour through the historical center of town. Tatjana, our guide, started us out on Republic Square. In its center stands the Gothic Cathedral of St. Bartholomew with ist high spire. (The cathedral is currently undergoing extensive renovations.)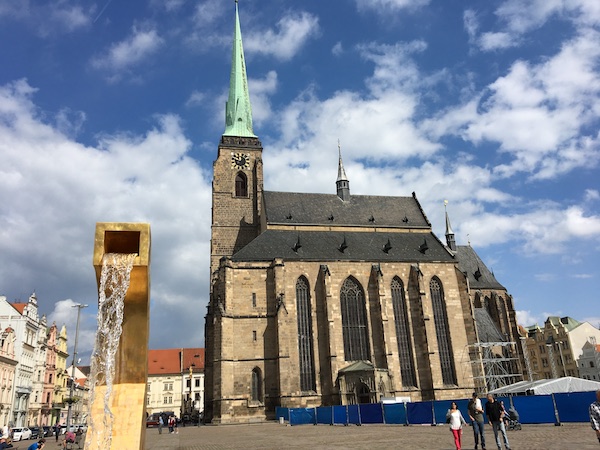 Around the square are buildings from varying periods, including an impressive Renaissance Town Hall. A curious contrast to the historical buildings are the three modern gilded fountains (built 2010) standing at three corners of the square. They symbolize three motifs from the Pilsen coat of arms (Camel, Greyhound, and Angel), and have caused plenty of controversy. (The one on the picture is the Greyhound.)
Pilsen, with 178,000 inhabitants is the Czech Republic's fourth largest city, and capital of the Pilsen region. After the hustle and bustle of several days in Prague (1.4 million), we enjoyed the more relaxed and quiet day in Pilsen. Our tour was also quite "private", as it only included a young couple from Germany besides us.
5.VIDEO EXHIBITION: INVAZE 68 (Invasion 68)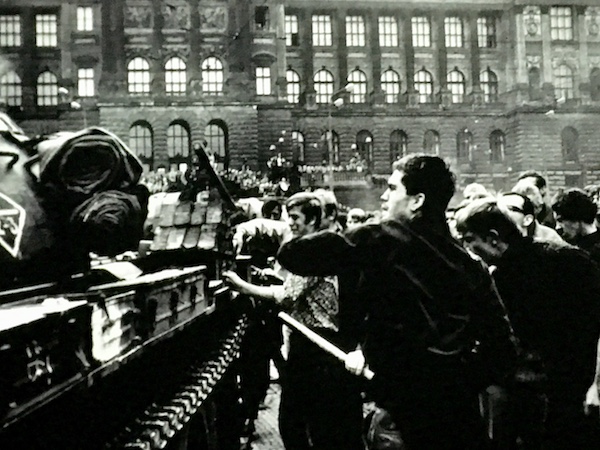 Invasion An exhibition of the Soviet-led Warsaw Pact Invasion of 1968 at the Fair Trade Palace was just being held as we were in Prague. The exhibition marked the invasion's 50th anniversary. The show included a videoinstallation based on photographs by the Czech-French photographer Josef Koudelka, together with authentic sound recordings.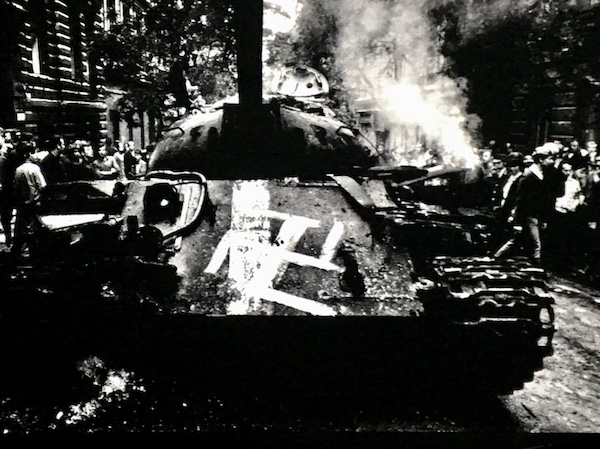 Jan Archival footage of the 1968 invation, by the classic filmmaker Jan Nemec was also part of the exhibit. The powerful images of burning tanks and trucks together with the sound recordings of gunfire brought back to me how chaotic those days were.
And how lucky my travel friend and I were to be able to get out of Prague in time.
6. WALK UP TO PETRIN PARK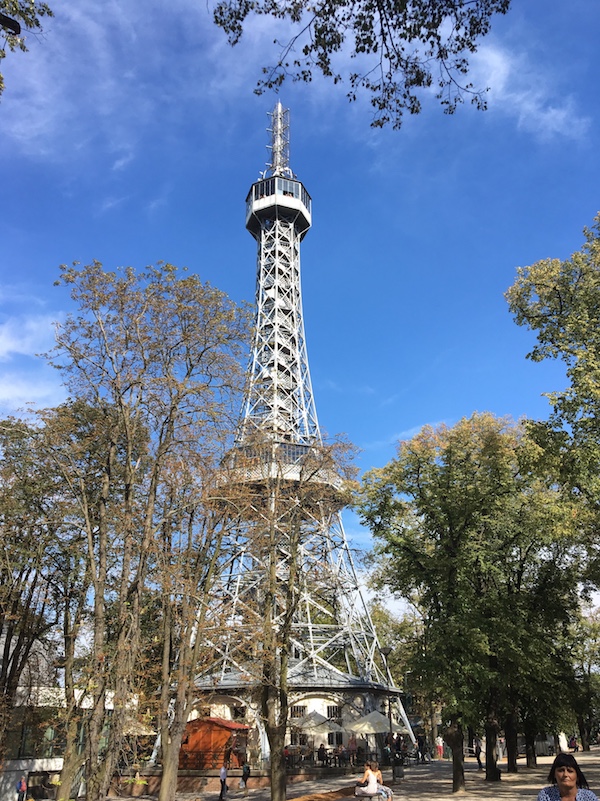 There On the last day of our one-week stay in Prague, we walked up to the Petrin Park to take a last look at the city from above. There is a Funicular Railway to the top of Petrin Hill, built for the national Jubilee Exhibition of 1891. We passed up the ride, however, for a leisurely but invigorating walk.
The path led us up through woods, past several open spaces and along the "Hunger Wall". The story behind the name of the wall (of which about 1,300 yards remain) goes back to 1360 when Charles IV began its construction during a period of famin. At the top of the hill stands the Petrin Lookout Tower, a small version of the Eiffel Tower.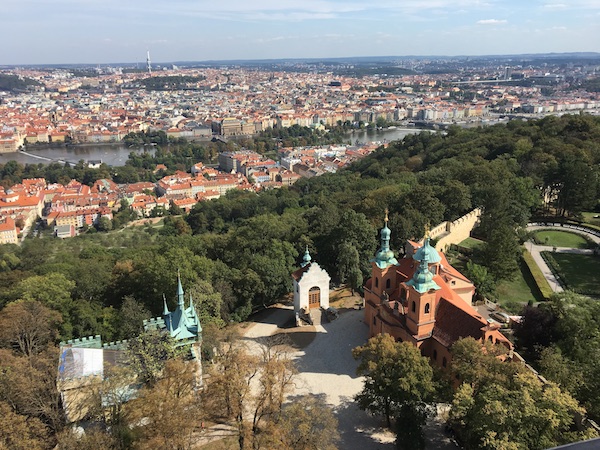 The Petrin Tower was built as part of the 1891 Exhibition, only two years after the completion of the original. At 200 feet high, this famous Prague landmark is about one-fifth of the height of the real Eiffel Tower.
We took the lift up the tower, though you can also walk up via 299 stairs.
The view from the lookout platform was magnificent. We had hit a clear day and could see far and wide beyond Prague into the verdant region of Bohemia.
OTHER THOUGHTS
I was glad to have visited Prague again. My memories of tanks, people running, long lines of shoppers in front of dark facades and buildings in disrepair have been replaced.
What I remember now is a modern city, with modern architecture, side by side with well-restored Romanesque, Gothic and Baroque buildings and the charm of times passed.
The Czech Republic was only born in January 1993 after the peaceful dissolution of Czechoslovakia. However, this year the country also celebrates the 100-year anniversary of the formation of Czechoslovakia, the initial multi-cultural state that formed in 1918 after the collapse of the Austro-Hungarian Empire.
We heard that relations between Czechs and Slovaks are better now than during the 75 years when they both were part of one country.
For anyone visiting Prague, we can only recommend staying in New Town. There are fewer tourists, and you can walk and use public transport to wherever you want to go.
And, if you are a beer lover, you'll like both Czech beers and their prices.
Postscript:
After our stay in Prague we continued to Hungary, where we stayed in Budapest for a few days. As we did not learn any Hungarian words and phrases beforehand, we felt quite handicapped not even knowing the basic greetings and "essentials", such as yes, no, thank you, please, etc.
In Duolingo and many other apps and online programs it often takes a while before you can get to or even find such language "essentials".
We therefore started Lingo-Late.com and plan to add - over the weeks and months - 50-100 essential words and phrases for most of the European languages.
Initially, each lesson post will have 10-15 words and phrases, with translation, audio and voice recording feature. Later-on we we may add some simple dialogues and games.
We'll start with French, German, Italian and Spanish, add Portuguese, Icelandic, then Dutch etc.
Bio: Ulrike Rettig is the co-founder of GamesforLanguage.com. She's a lifelong language learner, growing up in Austria, the Netherlands, and Canada. You can follow her on Facebook, Twitter and Instagram, and leave any comments right here below!