Posted on by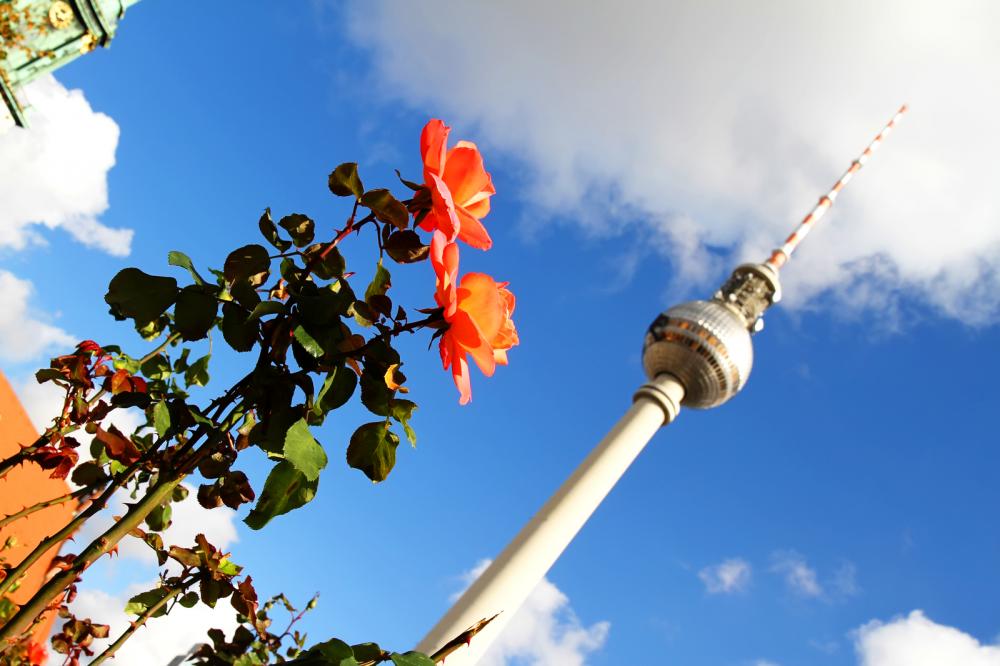 In 2014, we added a German 2 course: "Blüten in Berlin?" (Picture left: "Blüten" in front of Berlin's TV Tower). It is a continuation of our German 1 course "Michael in Deutschland."

Readers of our 2014 post Learning German with a Story: Blüten in Berlin? will remember that "Blüten" in German means "blossoms," but in colloquial language the word also means "funny money."
Language Magazine
Since adding German 2 in 2014, we made quite a few changes. But the summary, which appeared in Language Magazine's October 2014 edition, describes the course so well that we are citing it in full again below: Due to popular demand, GamesforLanguage.com is adding a German 2 course.

In this sequel to the German 1 course, Michael Mueller, a young traveler, returns to Berlin, where he is faced with a baffling mystery. After he is caught paying with a counterfeit Euro bill ("Blüte") in German,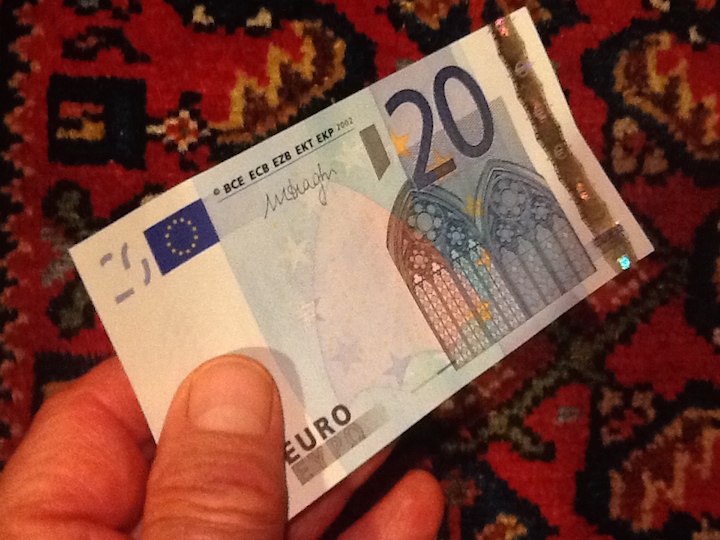 he sets out to find the young woman who has slipped him the note on the plane from Boston to Berlin.

By playing dynamic games while following a mystery narrative, users are motivated to learn by the fun of it. To solve the mystery of the "Blüte," they must collect enough points to move on to the next scene. They hereby learn and practice useful German phrases and sentences, which – because of the engaging story context – they'll remember.
All lessons begin with a short story dialogue. The sentences are then broken down into their component words and phrases, which layers practice in various games. Finally, players are prompted to reassemble the sentences from the dialogue.

A "Say It" sequence emphasizes the importance of repeating and speaking words and phrases. With games like "Word Invaders" or "Shootout," players practice translations and word order."Word Hero" and "Shooting Gallery" games help recall the vocabulary of previous lessons.

GamesforLanguage's courses (German, French, Italian, and Spanish) are all online and free. Courses and Quick Games are accessible on most tablets.
72 instead 36 Lessons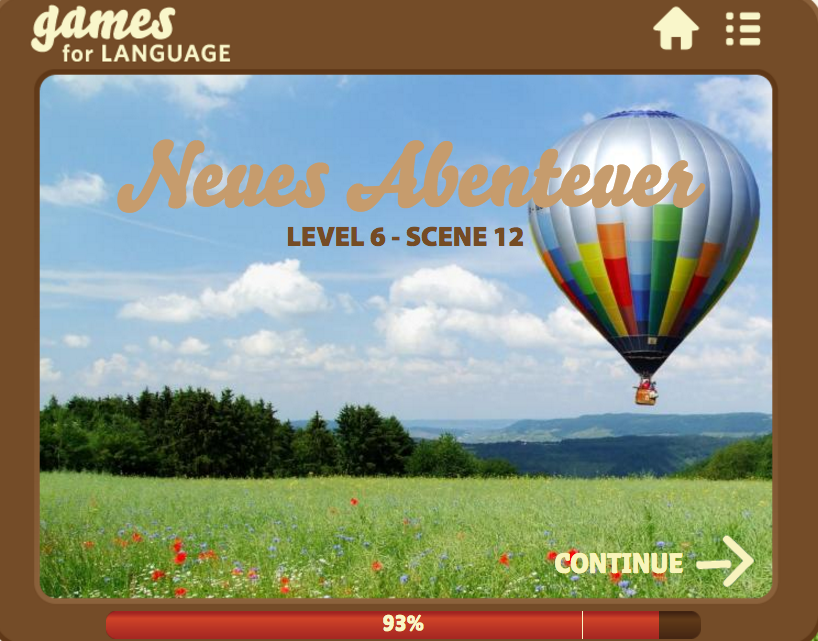 German 2 builds your mastery of idiomatic language, helps you understand and use those hard-to-pin-down filler words (ja, schon, noch, doch, denn, eigentlich, mal, etc.), and has you practicing "conversational past" and "simple past" verb forms. Returning players will notice a change in our lesson format.

Each of the six levels of German 2 now has 12 lessons or Scenes, for a total of 72. Based on user comments, we've made various changes from the German 1 course.

We're introducing only 8 new words or phrases per Scene and are combining various games to make learning and practicing even more fun and effective. Many of the German words and expressions used in both courses can also be practiced with the more than 70 German Language Games (Quick Games), which can be played without even registering.
Is German 1 a prerequisite for German 2?
German 1 is NOT a prerequisite for German 2. The course format allows anyone with basic knowledge of German to jump right in.
Bio: Ulrike Rettig is the co-founder of Gamesforlanguage.com. She is a lifelong language learner, growing up in Austria, the Netherlands, and Canada.
You can follow her on Facebook, Twitter and Instagram, and leave any comments with contact.