Posted on by
During our stay in Spain we became cognizant of how identical the payment process in restaurants and cafes is in the four (4) regions (of 17) we have visited - Catalonia, Andalusia, Castilla-La Mancha, and Madrid.
Getting your Check
Whether you are making the international sign for your wish to pay across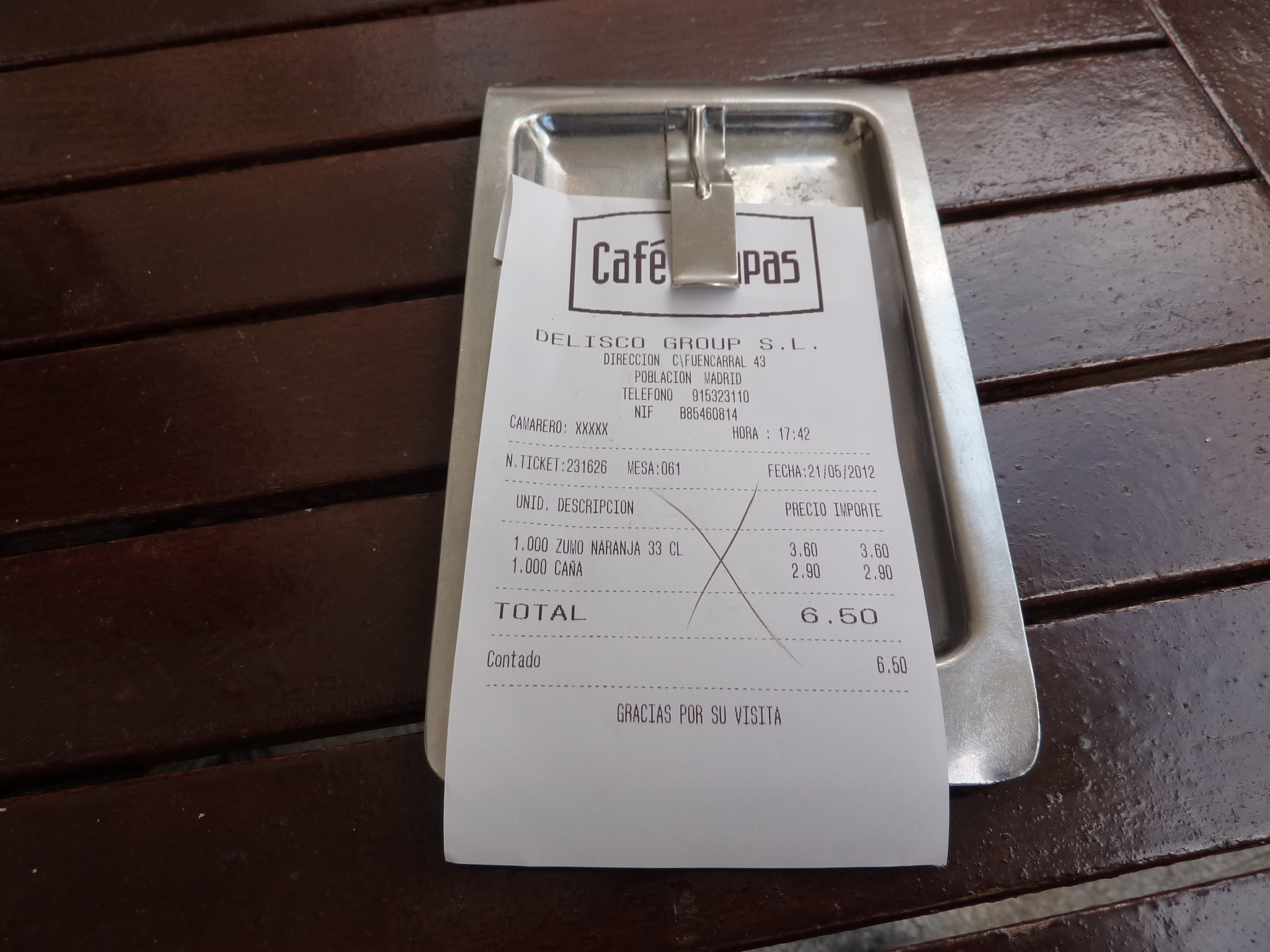 the room or on a terrace - pretending to write with one finger in the palm of your other hand - or whether you say "la cuenta, por favor": your waiter or waitress will go back to the register and produce a check, which she or he will present to you most likely on a plate, held by a clip.
Getting your Change
Unless you immediately put your euros onto the plate, the waiter will leave again, and return after a (short or long) while. S/he will then take the plate with the payment and return with the change. This is even true, if the waiter has to cross a street from an open air terrace, or if the register is located on another floor.The reasons for this method may range from the taxing authorities' precise requirements, to a distrust of the waiter's ability/honesty to handle the payment on his or her own.
Swiss and German Ways
Recent trips to Germany and Switzerland made us aware of the differences: In Switzerland any order of a coffee or a meal in a restaurant is typically accompanied by a small register slip, which is placed in a little glass when the item ordered is brought to the table. When the check is requested, the waiter just adds up the slips - sometimes in his/her head, sometimes on paper - then collects the (cash) payment and returns the change from a pouch he/she is carrying. (Visitors to Europe will also have noticed that any credit card payments are done at your table with a wireless gadget. Your credit card stays in sight!)
In Germany you may encounter the same methods as in Switzerland, or the waiter may just add up your check right at your table, either from memory or by consulting the menu.
(It should be noted that the "Spanish process" - as we may call it - is also typical for cash payments in hotels or finer restaurants in Germany or Switzerland.)
What we are finding interesting here in Spain is the fact that the check/payment process has never varied - whether we were in a little sandwich shop on the road or in a hotel in the city.
Posted by Ulrike Editor at 08:12PM on May 31 2012
Yes, it's interesting to compare how things are done in various regions. We've been to Sicily, Sardinia, Corsica, and Nice, as well as 5 months in Rome. I don't call much consistency with receipts in those places, but the regions we visited in Spain all "behaved" consistently with receipts in the way described. Talking with locals, we heard much about the regimented culture dating from the Franco era. I wonder whether Franco's iron regime left traces in the receipt culture …

It always takes some effort and dedication to get a language back; you did German in college, maybe? You look like a candidate to play video games right in German. Our games aren't games – games like that, but Pascal (our HTML5 techie) is working on making them more fun and interactive. On of the challenges is how to make the grammar transparent (think about all those German endings). If you ever have a German grammar question … it's my hobby.

I agree, listening to music is a great way to absorb the melody of a language. (I do this with Eros Ramazotti for Italian) For Spanish now, I'm looking for a good singer.
---
Posted by Ulrike Editor at 08:11PM on May 31 2012
Thanks for your comment!
if you are the same person who once registered at our site, the answer is:
in the 7 weeks that we spent in Spain (Barcelon, then Andalusia, and Madrid) we don't remember not getting a register receipt, even if we just had a beer, a glass of wine, or a mineral water. Does that surprise you? Maybe you have had a different experience?
---
Posted by Luca Zanzi at 11:25PM on May 27 2012
Thanks for the quick reply. Yes, I am the same person who has obviously not been very good at doing his German homework, but I promise I will try it this week. The little German I knew years ago has been slowly fading, although I have found that listening to music is a good way to keep the ear sharp. Back to the matter at hand:
Let's call it regional curiosity, or a study of compare/contrast. I asked specifically about Spain because my experience with other Mediterranean countries has not been the most pleasant regarding receipts.
---
Posted by Luca Zanzi at 07:33PM on May 27 2012
Out of curiosity: were you ever not presented with a receipt while in Spain? And by this I mean a printed receipt from the register.

Categories
Recent Posts
Archives