Posted on by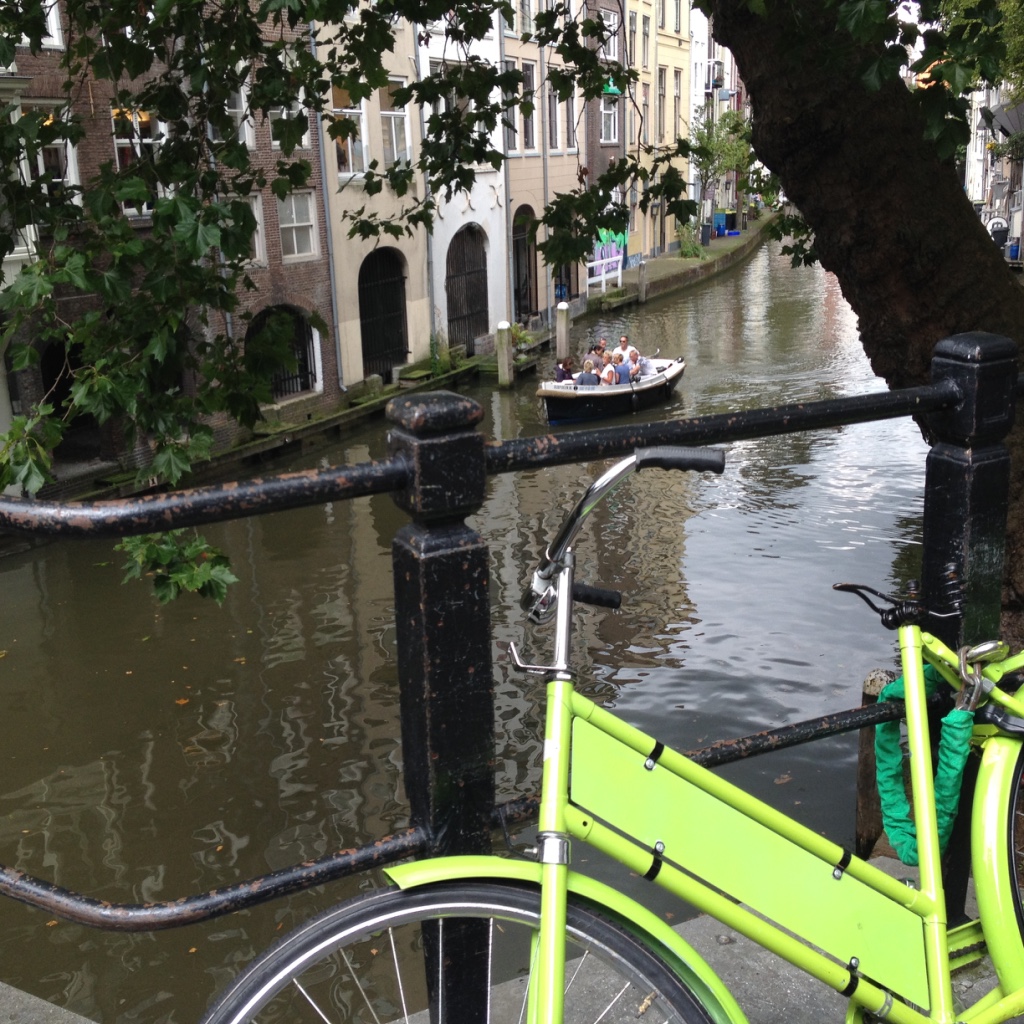 With our Dutch family reunion near Utrecht behind, (see photo of Utrecht Gracht, left) we headed to Westphalia to visit friends we had not seen in a while. Westphalia also has some special significance for me, as my great-grandfather was born in Werden, Westphalia, 1836.
After deciding that priesthood was not his calling, he packed his bags and became a teacher at a newly created HBS or "Hogere Burgerschool" (which intended to provide a "practically oriented education for higher functions in industry and trade") in Maastricht, the Netherlands.
I always wondered how my great-grandfather had managed to make such a quick language switch - and that at the ripe age of thirty-one! One of my Dutch cousins explained it this way: "For Germans, Dutch is really easy to learn."
How close are Dutch and German?
Right! The Dutch have a hard time with German articles, cases, and the many word-ending variations. By comparison, Dutch seems pretty simple to Germans. At the same time, producing authentic Dutch sentences that aren't just German-pronounced-the-Dutch-way is not an automatic skill.
As he described in an earlier blog post, my German-born husband, Peter, has been learning Dutch online – on and off since the beginning of the year. His "proficiency test" came in the form of attending our Dutch family reunion in Utrecht a couple of weeks ago.
No surprise: Peter obviously could not converse fluently in Dutch, but he understood most of the Dutch conversations around him. Also, he could function just fine with basics: greetings, pleasantries, ordering "een biertje," asking for the check, reading information labels in museums, etc.
The Lure of the North, but the "Ruhrgebiet" First
I spent my childhood in Austria. In my early twenties, I lived and worked for two years in Freiburg, Germany, and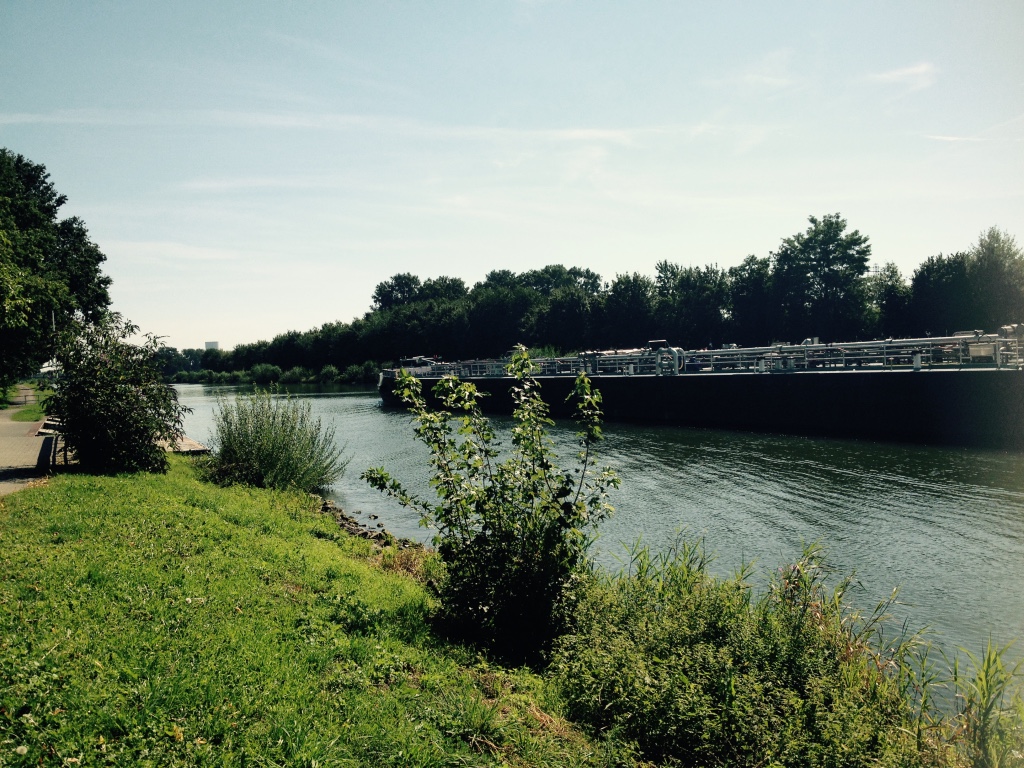 from there traveled around southern Germany. However, I never took the opportunity to explore the north.

Peter, too, knows the south of Germany much better than the north. So, after our family reunion was over, we picked up a rental car in Utrecht and headed towards the "Ruhrgebiet," (Ruhr) where our friends lived. (The Ruhr lies in the center of North Rhine-Westphalia.)

"Das Ruhrgebiet," named after the river "Ruhr," had been Germany's industrial coal and steel powerhouse until the early 70s. Duisburg, Essen, Bochum, and Dortmund are the major cities of a very densely populated area of over 8.5 million people.

Somewhat notorious in Germany for the air and water pollution caused by its coal and steel industries, the Ruhr region underwent a radical transformation after the oil crisis in 1973. With coal and steel industries no longer competitive, the Ruhr area went from heavy industry to high tech and service industries. With that, air and water pollution have become a thing of the past.

However, the old industries also caused the area to be crisscrossed by a series of navigable canals (see picture of barge on Dortmund-Ems canal above) that still today link to waterways connecting the North and Baltic Seas, to the Black Sea, and even to the Mediterranean Sea. This obviously requires numerous locks and boats lifts. One of them is our first Travel Tip:
Travel Tip #1 Schiffshebewerk Henrichenburg
One amazing link in Germany's waterway system is the Schiffhebewerk/Boat lift Henrichenburg near Waltrop. The boat lift facilitates a change in elevation of 42 feet of the Dortmund-Ems-Canal. Built in 1899 and used till 1962, when it was replaced with a new boat lift, this elevator for ships is a marvel of mechanical engineering.

Five giant floats, connected through a massive steel structure were able to lift and lower a basin carrying water and ship weighing over 1,000 tons in only two and a half minutes, much faster than with a typical lock. (Click HERE, if you are interested in more information.)
While the rivers and canals are frequented for recreational boating, there is still a fair amount of barge traffic, mainly for bulk goods such sand, gravel, cement, oil, but also grain, wood, etc.
From the "Ruhrgebiet" to Münster and the North Sea
The north-west of Germany has a number of picturesque university towns.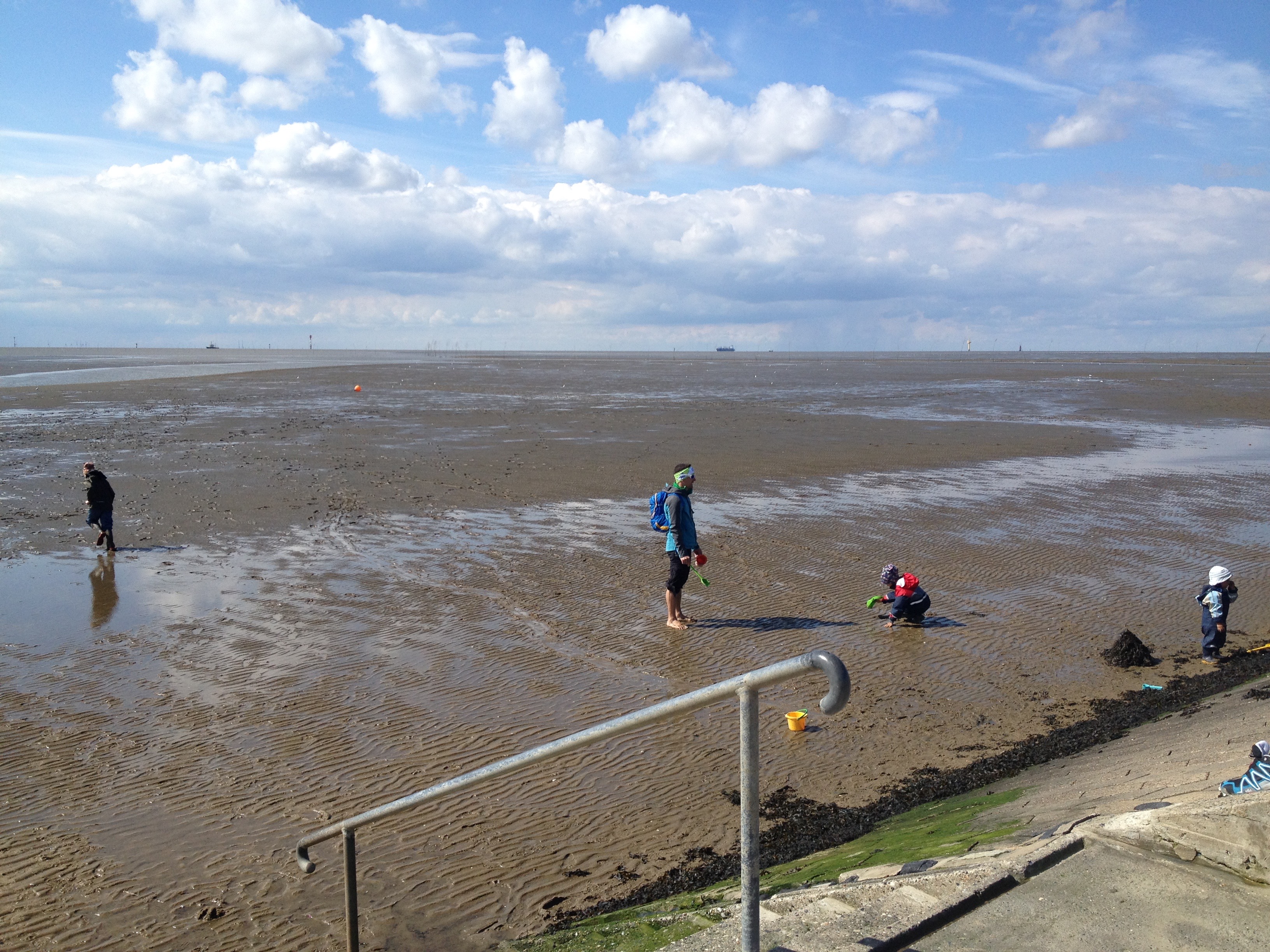 On our way north, we stopped in the city of Münster, the cultural center of the region called Münsterland. We enjoyed the old city with its medieval and baroque architecture, and lively market-place cafés.

From Nordrhein-Westfalen, we headed up to Niedersachsen (Lower Saxony) and visited Wilhelmshaven, Bremerhaven, Cuxhaven, Stade, and finally, the city state of Hamburg.

The "Wattenmeer," (see picture) or North Sea tidal flats, are a special experience: Now a national park, reaching from the border with the Netherlands to the banks of the outer Elbe river, they are an amazing eco-system, second only to a rain forest, with nearly 4,000 plant and animal species.

And while we, like other tourists, explored these and many other attractions, we also paid special attention to the various dialects we heard.
Dutch and Low German
Although standard High German is generally spoken by the people in these regions, and used in the media, local Low German dialects still have a presence. They have left their distinct mark on local everyday language, especially on the sound and intonation of speech.

Low German, also called "Platt," in fact shares a number of features with Dutch. Most importantly, although they are "Germanic" languages: English, Dutch, and Low German did not experience the "High German consonant shift." What does this shift look like?
Three examples of the high German consonant shift:
1. -k- to -ch-: make (Eng.); maken (Dutch & Low German); machen (High German)
2. d- to t-: day (Engl.); dag/Dag (Dutch & Low German); Tag (High German)
3. -t- to -ss-: eat (Engl.); eten (Dutch & Low German); essen (High German)
I had an interesting experience in Hamburg. We happened to be there during their annual "Theater Night" - an evening during which you can go from theater to theater and sample 30-minute performances.

We included the Ohnsorg-Theater, which stages plays in Platt. At first, I understood nothing. But then I said to myself "pretend that it's Dutch." Once I had tuned my brain to expecting to hear Dutch, I in fact understood quite a bit!

I suspect that my great-grandfather still spoke the local Westphalian (Low German) dialect, and that this had made it easier for him to learn Dutch.
Here's a taste of Münster Platt.
You can compare it to Ina Müler's "De Wind vun Hamburg" in Hamburg Platt.
Travel Tip #2 Emigration Center and Bremerhaven Harbor cruise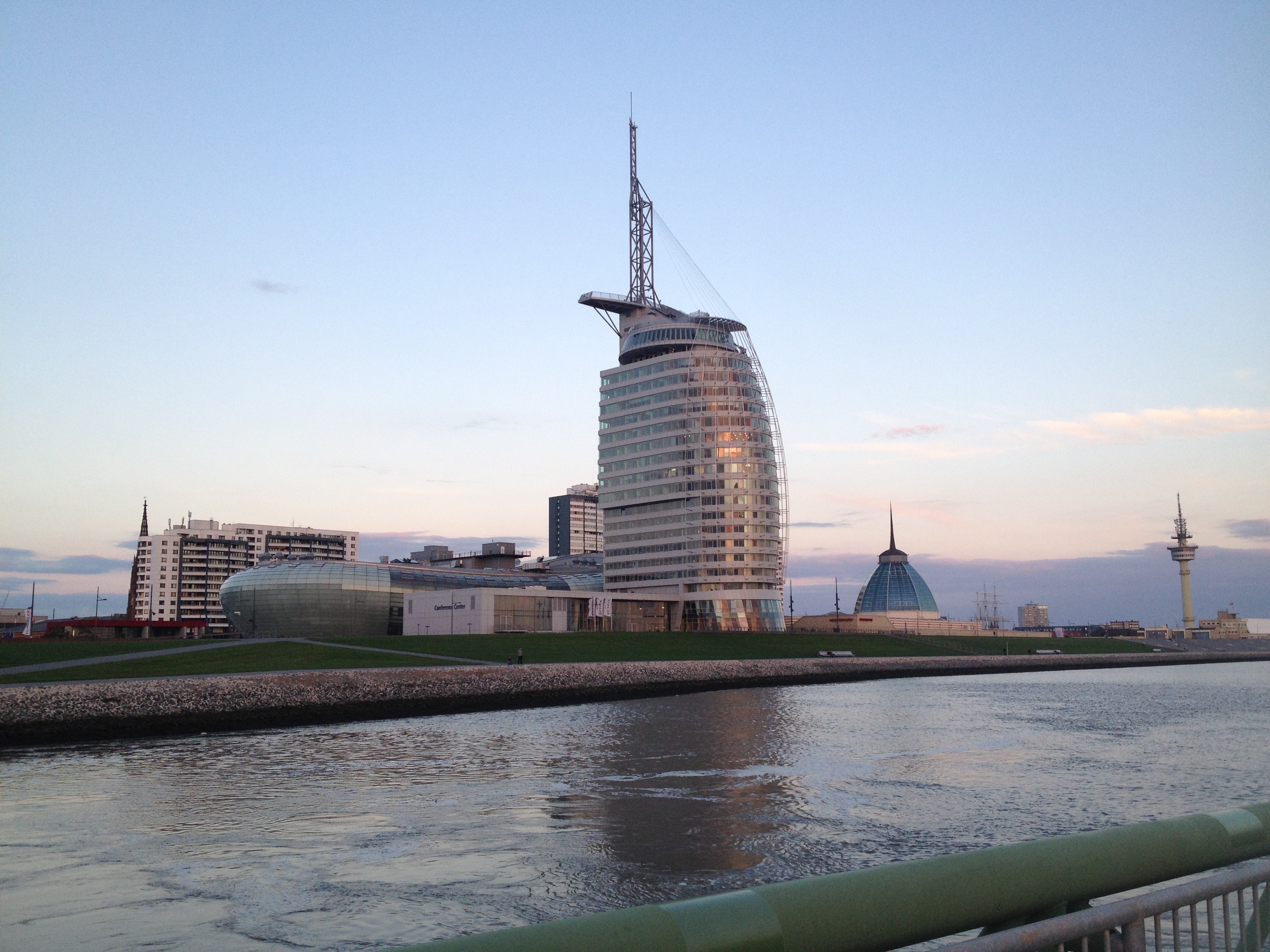 Germany's largest emigration harbor is Bremerhaven. This city, founded 1827,and located at the mouth of the Weser River on the North Sea, was an important link in the Hanseatic Trade routes. (see picture of Bremerhaven waterfront, left).

However, it was also known as the "Brücke nach Übersee" (Bridge to Overseas). Between 1830 and 1974, over seven million emigrants shipped out of Bremerhaven to destinations overseas, with the highest number of people emigrating at end of the 19th century.

The German Emigration Center ("Deutsches Auswandererhaus") opened in 2005 and has been building a database of information about emigrants that shipped out via the harbor.

To get a sense of the importance of the Bremerhaven harbor, a harbor cruise is a must. We were not only amazed by the size of the car carriers, with which thousands of cars are shipped from and to Germany, but also by the way huge container ships are loaded and unloaded. Such a harbor is a huge economic factor for a city, creating thousands of jobs and business opportunities.
Travel Tip #3: The Old Elbe Tunnel and Lift
When we approached Hamburg, the GPS in our car directed us towards what seemed like a closed street. We searched around for a while (berating the voice on our GPS) until we realized that we had reached the entrance of the (poorly marked) car lift that was to take us under the Elbe River into Hamburg proper. The car lift and tunnel were built in 1907, and frankly, did not look like it had been renovated much since then.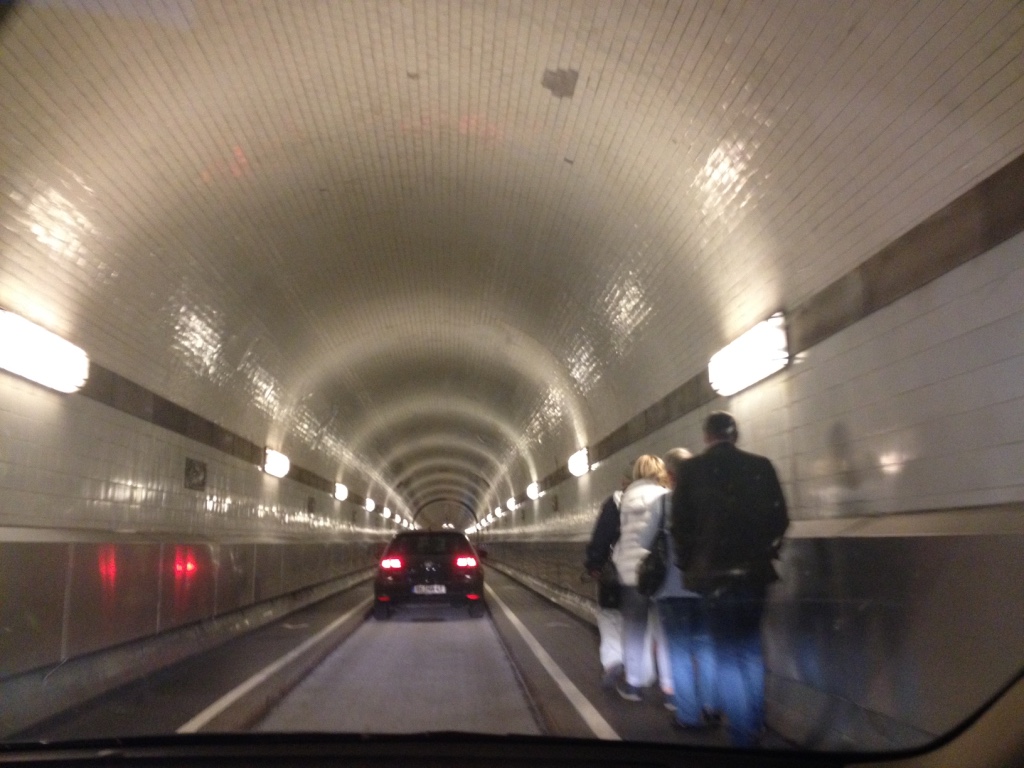 A couple of cars fit into each of the lifts, plus a number of pedestrians and bicycles.The ride through the tunnel was somewhat nerve-racking. The car lane was narrow, with the car's tires just fitting between the narrow sidewalks on each side.

Occasionally, the tires rubbed against the, maybe, three-feet wide side-walk strip on either side, where pedestrians were walking to and fro. We also did not know how to shut off the head lights of our rental car, which we were asked to do in order not to blind the pedestrians.

In any event, the car lift and tunnel provided a memorable way of entering Hamburg, taking us right to the "Landebrücken," the center of the maritime traffic in Hamburg. Ferries and tourist boats come and go there continuously throughout the day and evening.

The Old Elbe Tunnel has been declared a monument and houses a museum. Thousands of cars, cyclists, and pedestrians use this way to arrive at the Landebrücken part of Hamburg every year.

Hamburg has much to see and admire. The Elbe and the two Alster lakes, the Binnenalster and the Außenalster, give Hamburg its particular flair. You also notice the many green spaces and trees. (A tour guide claimed that Hamburg has so many trees that there are 36 trees for each dog.)

The next leg of our northern Germany trip will take us to Lübeck and near the border to Poland - but more about that in a later post: From Hamburg to Wismar.
Bio: Ulrike Rettig is the co-founder of Gamesforlanguage.com. She is a lifelong language learner, growing up in Austria, the Netherlands, and Canada. You can follow her on Facebook, Twitter and Instagram, and leave any comments with contact.