Posted on by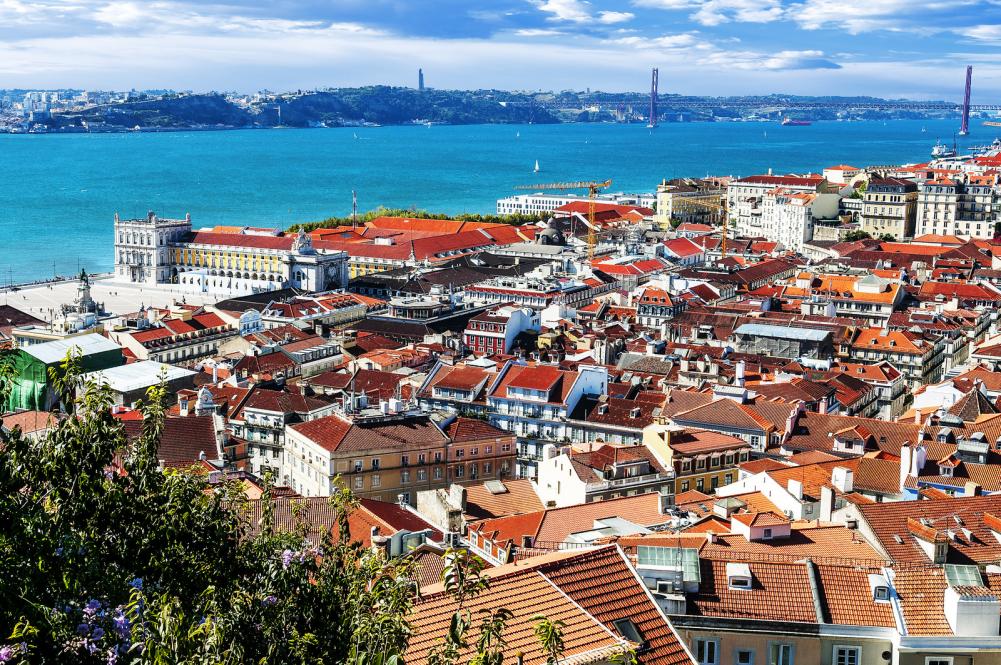 It was first the sound of Portuguese that I loved, a language we often hear spoken in the Boston area and in a small New Hampshire village where we vacation. The intriguing part: Portuguese looks very similar to Spanish but sounds so different.

So, before a March visit with family in French Switzerland, we discussed the idea of going to Lisbon for a week from there. We had just started our site, Lingo-Late. Why not seize the opportunity to test its basic premise: Learning about 20-30 essential phrases before traveling to a new country is not difficult - even if you do it late, just before your trip - and adds to the fun and pleasure of the visit.

Unless you're a dedicated Polyglot, you probably cannot become fluent in every language you try to learn. But, you can definitely master basic greetings, polite phrases, learn some easy "where is..." questions and a few directional words and phrases.
That's what we did for Portugal and you can do as well with Learn Portuguese For Travel!

A BRAZILIAN IN PORTUGAL

Our nonstop flight from Geneva to Lisbon took about 2 1/2 hours. From the Lisbon Portela Airport, we took an Uber into town. (Uber is available throughout the city.) Our driver Eduardo was from Brazil and clearly eager to practice his English. We, in turn, took the opportunity to ask him about the differences between Brazilian and European Portuguese.

Was the language a problem for him? Oh, he said, no problem with the language: Brazil versus Portugal is similar to US versus UK. The big difference is that Brazilians speak with open vowels, in contrast to speakers from Portugal, who "eat their vowels".

And, he added, you have to be careful about a dozen words or so, since they have different (sometimes offensive) meanings, depending on the country you're in. He also said that speakers of Portuguese can understand Spanish quite easily. But, Spanish speakers usually have trouble understanding Portuguese.
MY LANGUAGE BOOKLET
As always, I had a little notebook along. In it were written down all the phrases I had practiced on Lingo-Late. The key for me is to practice saying words and phrases often and with a kind of spaced-recall practice. (For example, I recall/test myself the next day, then four days later, then after a week, etc.)

I like having the option to record my voice (easily done on Lingo-Late), and then to play back and compare. For a new language like Portuguese, it feels a little awkward at first, but with time I get used to my own voice trying out unfamiliar sounds.

Once the sounds of the essential phrases are solidly in my head, I find it easy to pick up new words and phrases that I hear or see during my travels.
SEVEN HIGHLIGHTS
Lisbon is a beautiful, cosmopolitan city with a wealth of things to do. Here are seven places and activities we especially enjoyed.
1. Exploring Bairro Alto
Our rental apartment was in a building on Travessa da Espera, in Lisbon's Bairro Alto (Upper District). It's a trendy neighborhood where many restaurants and bars line the narrow streets. Most evenings, we found a restaurant nearby.

At a couple of them, we definitely needed our basic Portuguese phrases, as the owners barely spoke any English. Our best and most fun experience was at the small restaurant A Nossa Casa, which features an amazing array of "petiscos" (the Portugese version of "tapas").
2. Praça do Comércio
On our first day, once we had lunch and studied the city map, we headed to the historic Praça do Comércio, a generously laidout U-shaped square.

There, at the Story Center, we learned about the different periods in Lisbon's history, from the early sea explorers of the 15th and 16th centuries, the devastating earthquake of 1755, to Salazar's dictatorial rule (1932 to 1968), and the 50 years since then.
3. Miradouro das Portas do Sol
Later that first day, walking back to Bairro Alto, we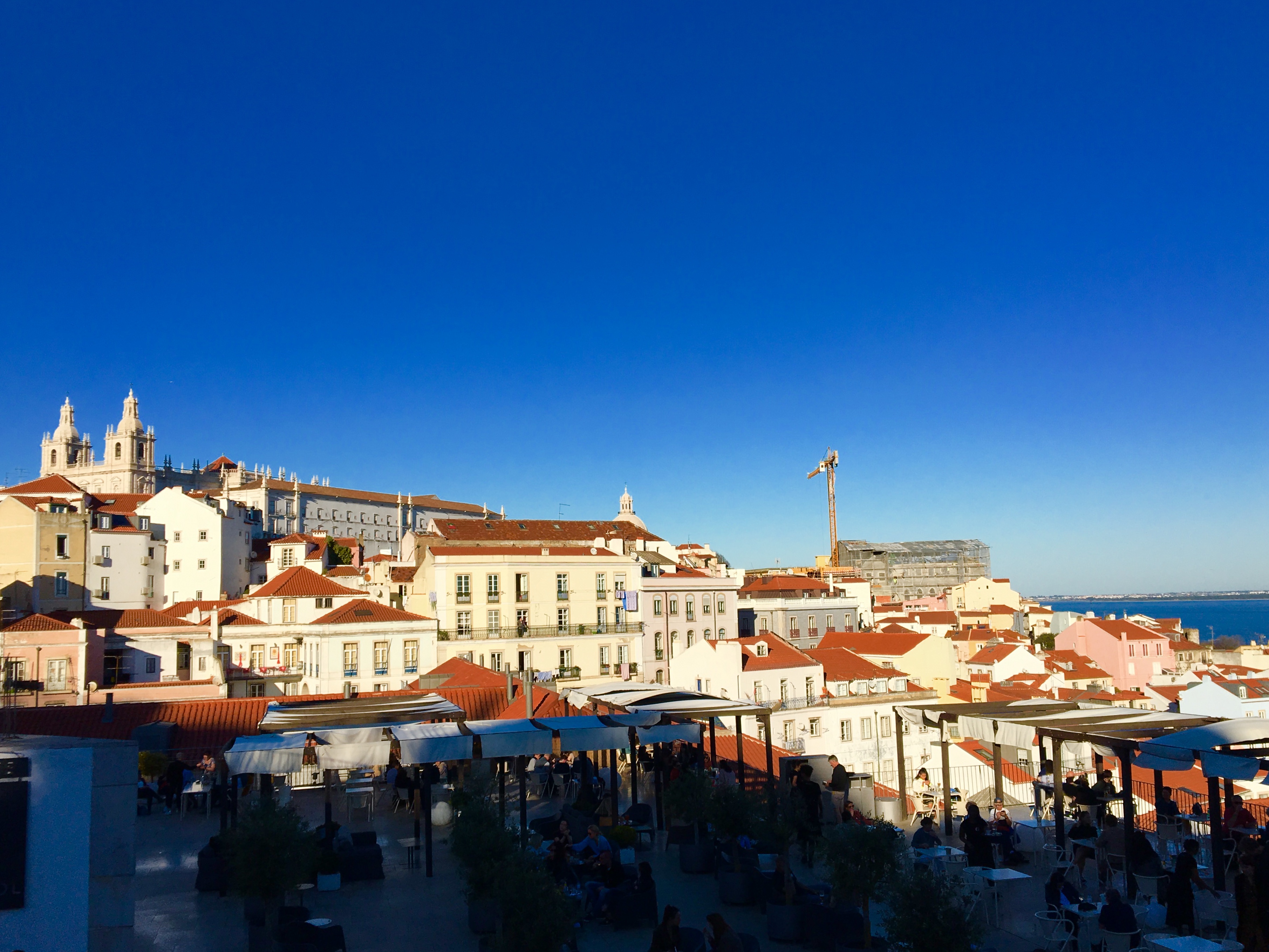 were talked into a 90 minute e-TukTuk tour that turned out to be perfect. Lisbon is built on seven hills. The narrow streets go up and down and up again. In her quiet electric cart, our guide Maria drove us through several different neighborhoods.

In her fluent French - the preferred tour language of our little group - she told us stories about Lisbon's history and its people.
Because of its hilly cityscape, Lisbon has a number of Viewpoints (Miradouros) scattered throughout. Maria took us to the Miradouro das Portas do Sol (Doors of the Sun).

The soft late-afternoon sun gave us a stunning first view of the city and the Tagus River (Rio Tejo). Over the next days, we were always on the lookout for other such viewpoints.
4. Day Visit to Belém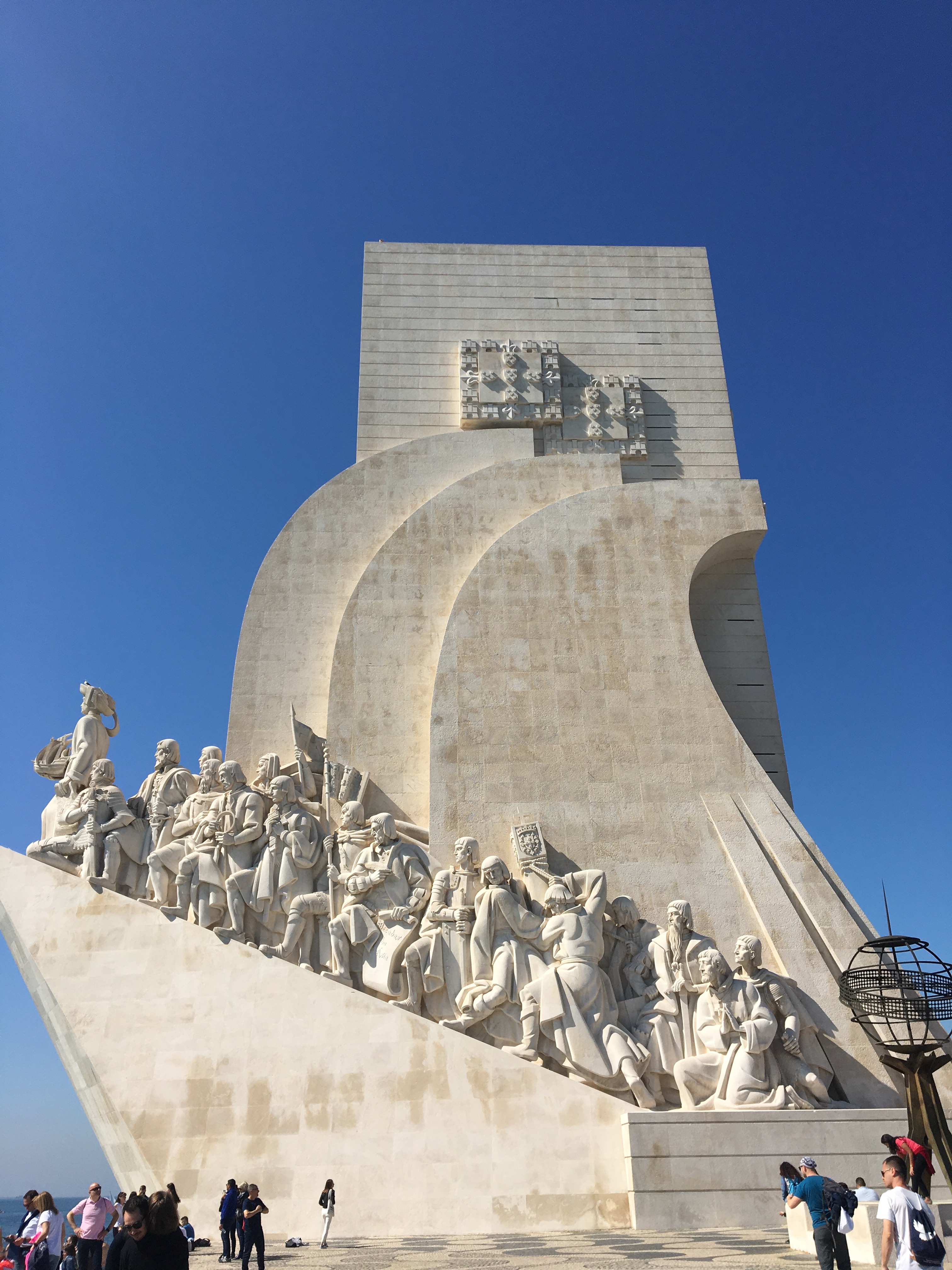 Once we had figured out the city's transit system, we took a bus to Belém (the Portuguese word for Bethlehem). The bus was crowded mostly with locals and the ride took about 30 minutes.

Our reward was a wide, open promenade that stretches along the Tagus River. On it stands the Padrão dos Descobrimentos, a stone monument celebrating the achievements of the Portuguese Explorers of the 15th and 16th centuries. It is a 52 meter high ship's prow and has on it more than 30 statues of historical figures of the time.

The one best known is that of Henry the Navigator, (1394-1460), a prince who financed many of the explorations, but who is also known for founding the European slave trade. The excellent Marine Museum in Belém tells the story of Portugal, the seafarer nation.
5. Train Trip to Sintra
To get to Sintra, famous for its 19th century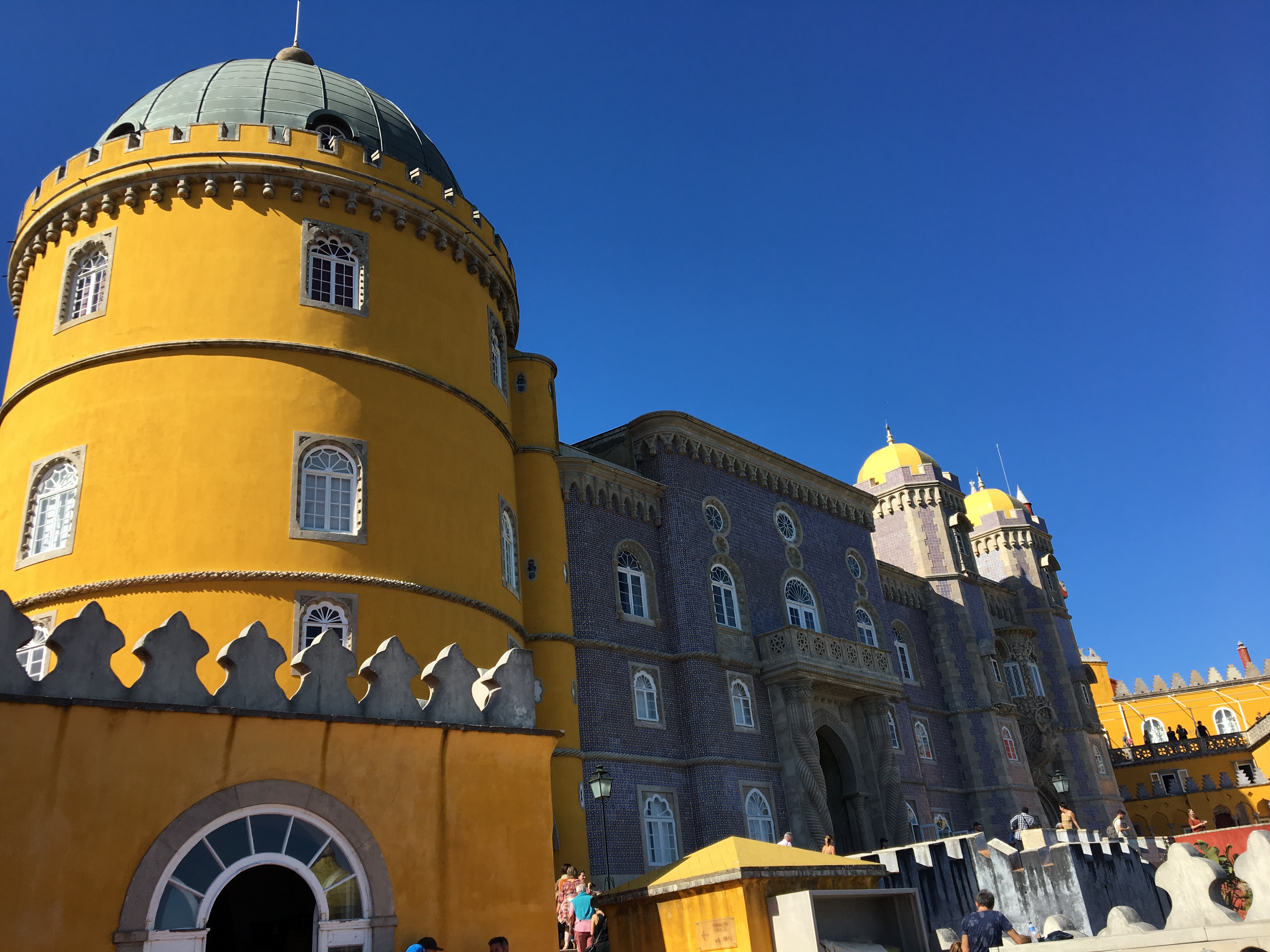 Romanticist architecture, we took a suburban train from Rossio Station. Sintra, a UNESCO World Heritage Site, is only 27 km (16.5 miles) from Lisbon but the trip took about 45 minutes, since it's a commuter route with many stops.

Exploring Sintra (on foot and by local bus) took us into the world of somewhat eccentric architecture. We were glad we could ask in Portuguese where the bus stop was for the bus to the palace - and understood the directions.

The Palace of Sintra is in the lavish Mujédar style of architecture (Moorish revival); the old center of town, a little higher up, consists of narrow streets, stairways, and quaint mansions; still higher up, you have the ruins of the Castle of the Moors; and finally, on top there's the colorful Disney-style Pena Palace.

Best of all, the large terrace at Pena Palace opens up an incredible view of the countryside.
6. A Walk through the Maurario and Alfama Districts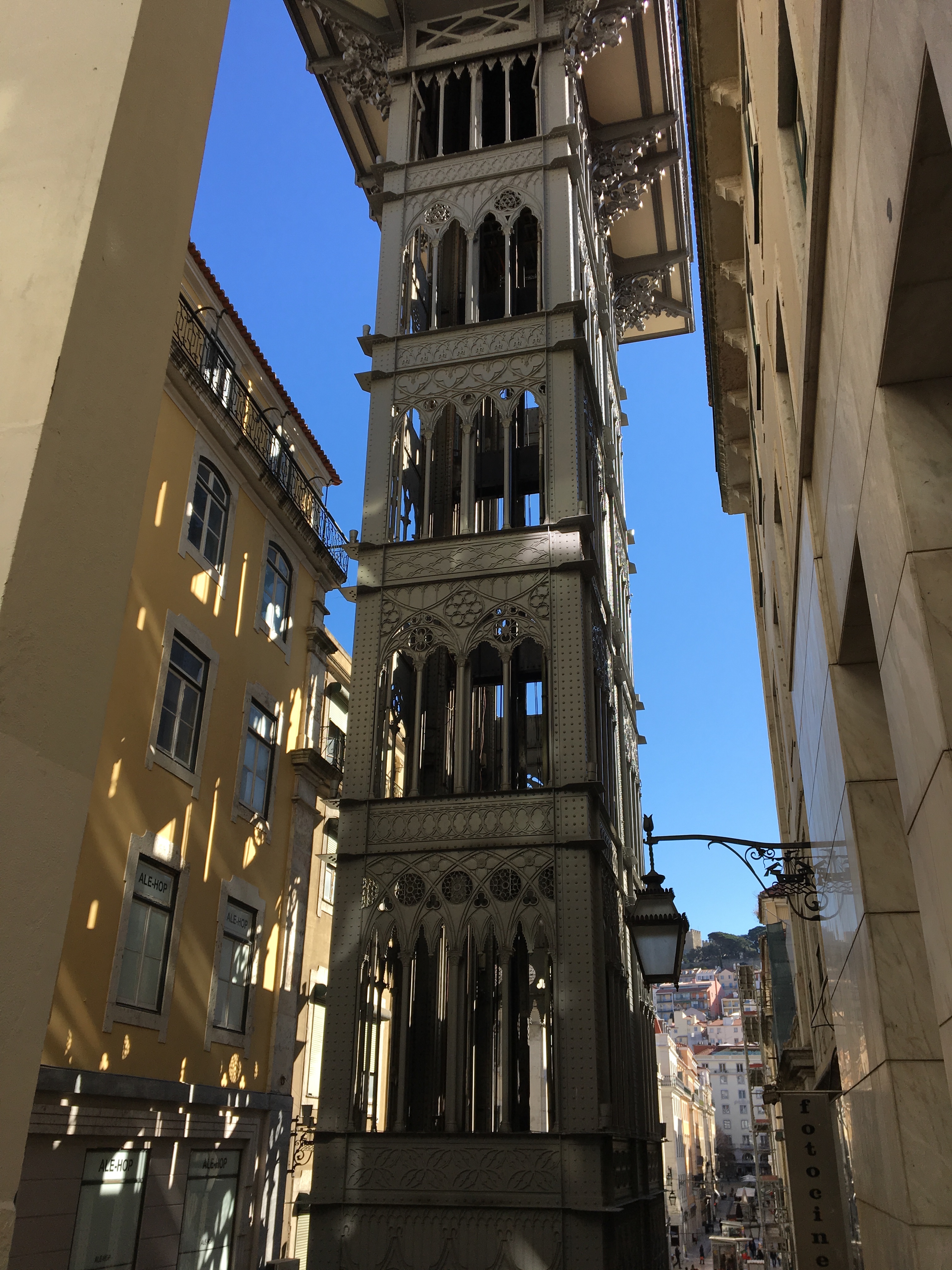 We took a day to do some casual sightseeing on foot. We walked to the top platform of the Santa Justa Lift from a hill (we didn't take the lift because of long lines).

From there, we slowly made our way through the hip Maurario district, with its street and tile art, and into the historic Alfama district, going past the city walls and ending up at the Castelo de São Jorge.
7. Ferry to Cacilhas
On our last day,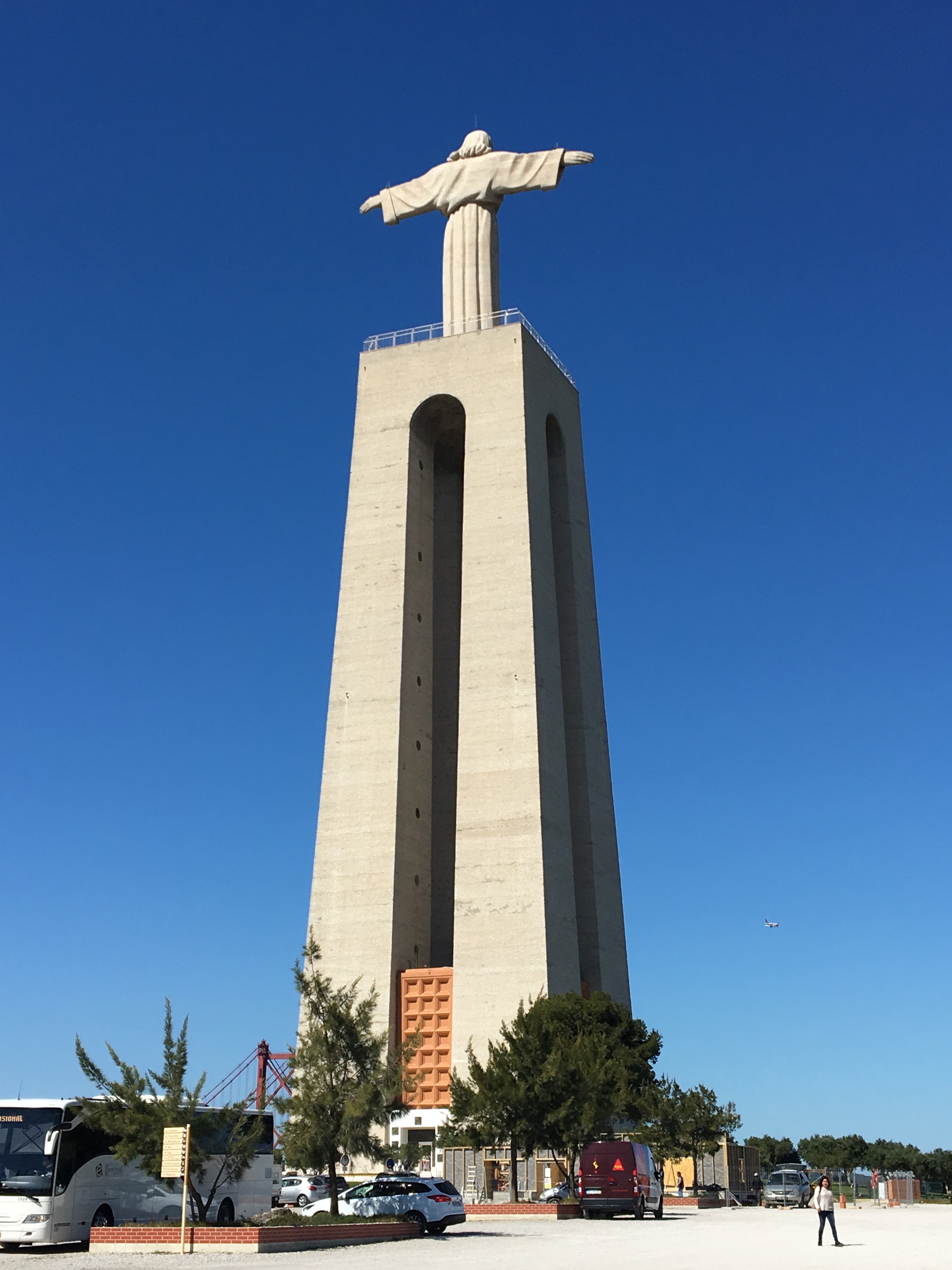 we took the ferry across the river Tejo to Cacilhas on the other side. Then we caught the local bus to Cristo Rei - a monumental statue inspired by the Christ statue in Rio de Janeiro.

An elevator takes you up to a 80 meter high platform, from where you have a panoramic view of the entire Tagus Estuary, the 25th April suspension Bridge, and the seven hills of Lisbon.

Afterwards, we took the bus halfway back to the town of Olho de Boi, rode the Boca do Vento (Mouth of the Wind) elevator from cliff-top down to the river's edge, and walked the 15-minute path along the river back to the Ferry Terminal.
Because we had learned and practiced greetings in Portuguese, asking for directions, and ordering in a restaurant, we tried these out whenever we could. For sure, we weren't even close to being fluent.

But, people appreciated our willingness to use Portuguese, rather than immediately throwing English at them. Because of our persistent attempts at using the local language, we had many a conversation that otherwise would not have happened. It clearly added to the enjoyment of our stay in Lisbon.