Posted on by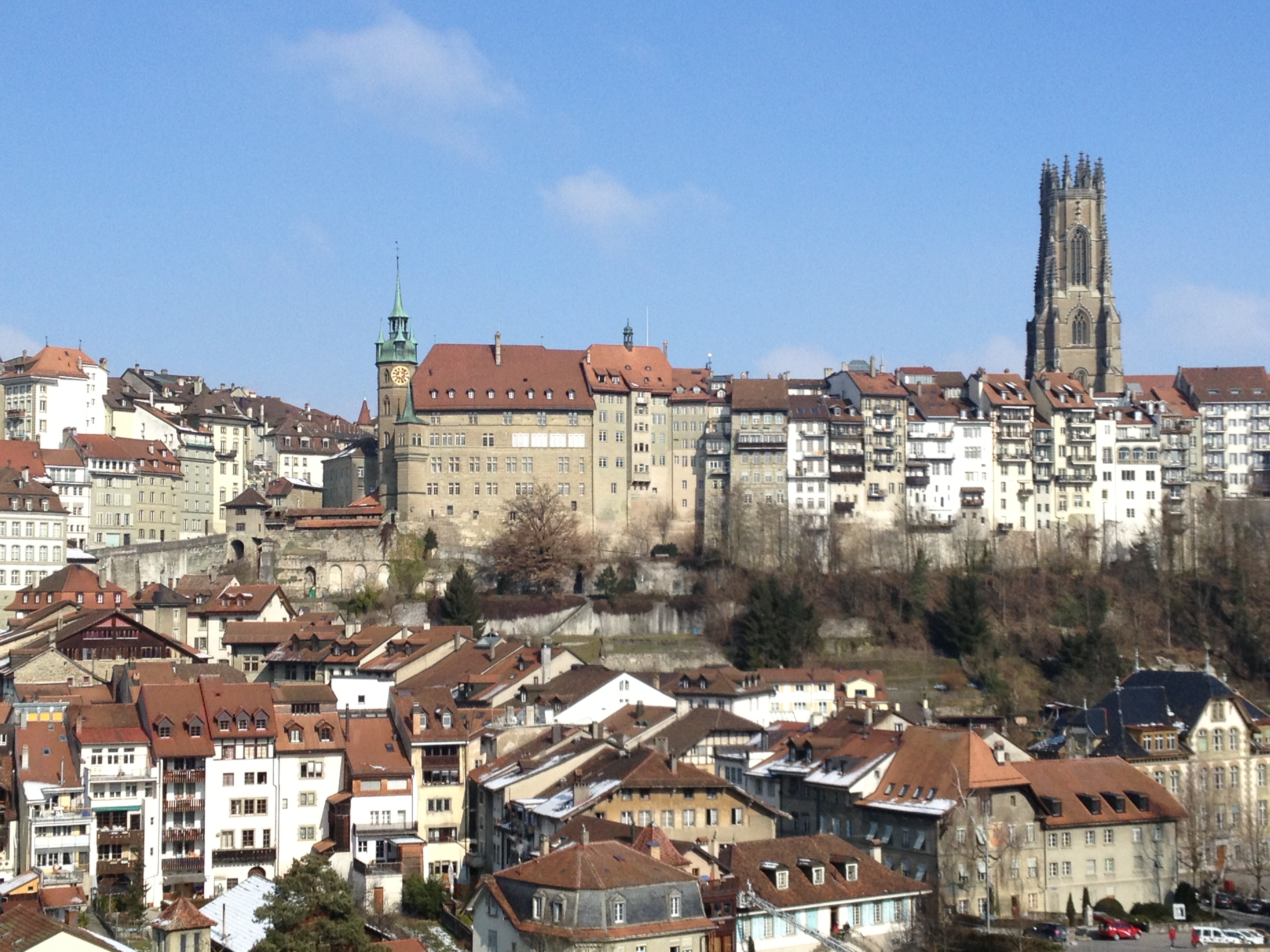 You may never have heard of the "chemins de fer du Kaeserberg". And unless you live in Europe or are familiar with Switzerland, you may draw a blank when you hear the name Fribourg, or its German name, Freiburg ("im Uechtland").

Perhaps you're more familiar with the city's German cousin Freiburg ("im Breisgau"), a picturesque university town located in Southern Germany's Black Forest.

Well, Fribourg is the capital of the Canton of Fribourg, (see picture above). It is located on the cultural border between German- and French-speaking Switzerland and the seat of the country's only bilingual university.

Every February, for over ten years now, Ulrike and I have visited my sister in Fribourg before heading to the Berner Oberland for some skiing. While in the city, we always make some new discoveries. This year it was the "Chemins de fer du Kaeserberg". And, we always take advantage of learning more about languages and enjoying Swiss food specialties. Our Swiss experience typically begins in Zurich after an overnight flight from Boston.
Zurich Airport to Fribourg
One of the pleasures of traveling in Switzerland is the ease of train travel.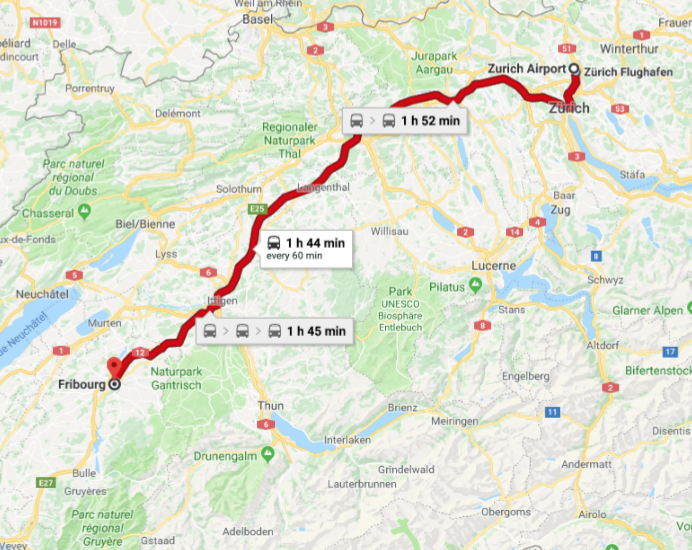 We now know that there is a direct train from Zurich Airport to Fribourg that runs every hour. We often don't have to wait long after buying our train ticket.

A few years ago though, we didn't have time to buy a train ticket. So we just boarded the train. The conductor didn't come by until after the next stop, which is Zurich Main Station. We told him that we had boarded the train without tickets at the airport. He sold us the tickets and was nice enough to waive the penalty fee.

Now you can no longer purchase tickets on the train, and penalties have increased if you're caught without a ticket. However, if you don't have time to buy a ticket at the counter or ticket machine, you can now easily purchase the tickets online with your smart phone.

Just download the free SBB Mobile app for iOS or Android devices to check time tables, purchase tickets, make seat reservations, etc.
Our 2018 Fribourg Discovery: Chemins de Fer du Kaeserberg
Over the years we have visited many of Fribourg's sights, the Cathedrale St-Nicholas, the picturesque lower town you can get down to with a Funicular, the Espace Jean Tinguely-Niki de Saint Phalle in the Musee D'Art et D'Histoire Fribourg, the Musee Gutenberg, etc.

During our visit this year,we spent a whole afternoon at the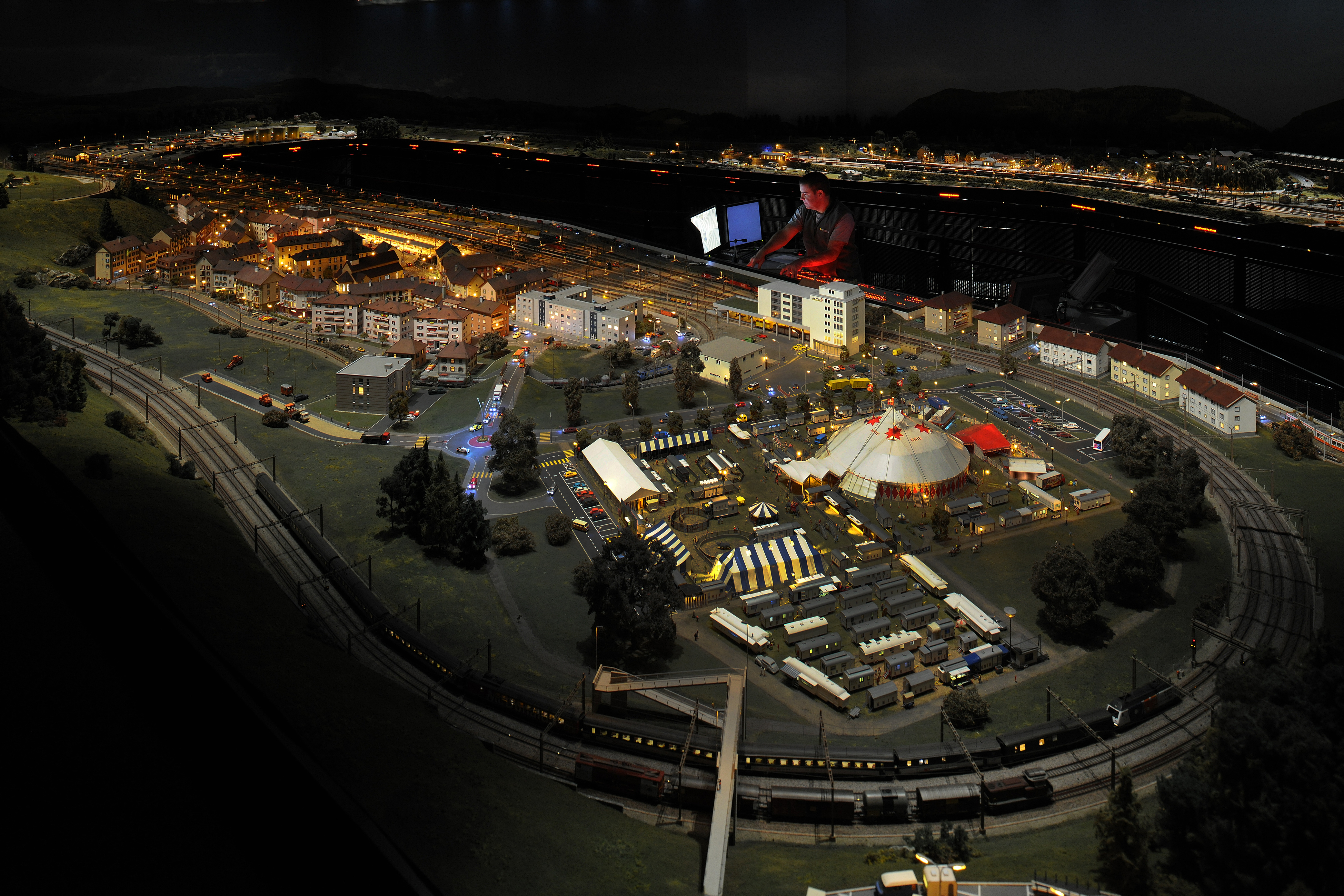 Musee des Chemins de Fer du Kaeserberg. If you're a model railway enthusiast, the railway museum is nothing short of a feast. But anyone from 4 to 90 years old will enjoy this technical marvel.

The model railway was a childhood dream of Marc Antiglio. He had taken over the family construction business as a young man and worked on his dream throughout his adult life. (I had met Marc over 40 years ago when I worked for a few years in Fribourg as a structural engineer.)

It took Marc 17 years to fully realize his dream: A model railway exhibit on three levels, in a custom-designed, multi-level, state-of-the-art building with solar collectors, a geothermal heating system. All of this was completed just a few years ago.

Built at a scale of 1:87, the model exhibit occupies an area of about 6,500 sf, with currently over 6,000 ft of rails (both H0, 16.5 mm, and H0m, 12.0 mm). The rolling stock consists of 300 locomotives and 1,650 wagons and cars, many of which are stored and can be accessed on the depot/station, the first level the visitor encounters when entering.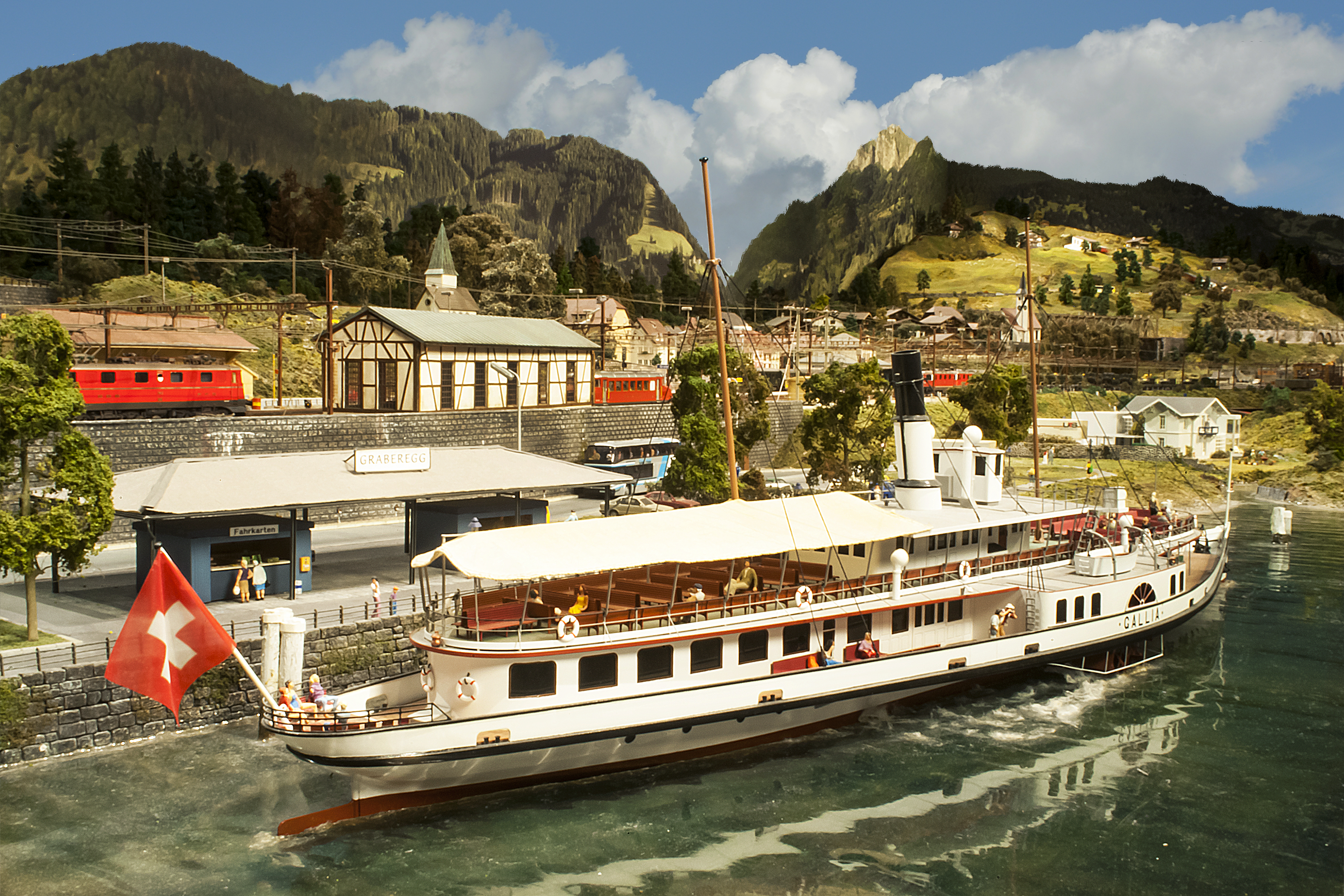 The attention to detail in building and landscape design is amazing. The model imagines a Swiss landscape around 1990, with villages, buildings, railway stations, cars,and people, plus circus tents, lakes and ships – so realistic - that you need to look twice to see that they are not real. Even the background photos of sky and mountains blend in seamlessly.

The introductory video for the visitors we saw was in French with German subtitles. In it, Marc Antiglio recalls how he got fascinated by trains as a little boy. He explains the many challenges he and his team of dedicated professionals and volunteers had to overcome to create the model. (Marc speaks with a slight "Fribourgois" accent. If you want to learn more watch this video on French accents and and French pronunciation.)

We had a wonderful time watching the many trains going through tunnels, over bridges, stopping at and leaving the stations. In the night mode, the changing lights created magic images.
The exhibit is open to the public at certain days during each week, and private visits can be arranged on other days. Check the website for the opening days and hours.

(If you wonder about the name "Kaeserberg" - it has nothing to do with the German word "Käse/Kaese" (cheese), but is the name of Marc Antiglio's late friend, who was instrumental in supporting Marc's passion.)
More about Fribourg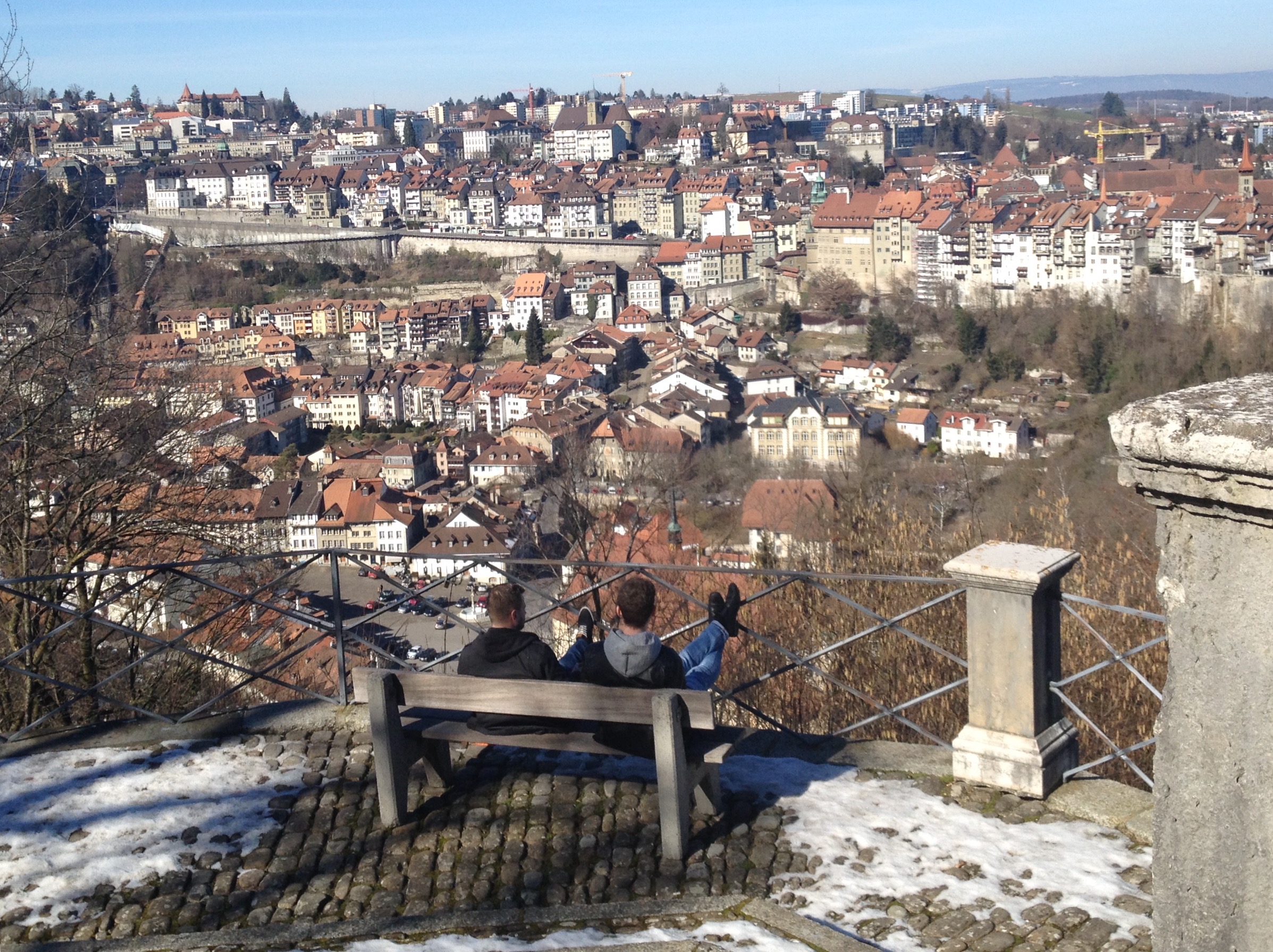 In the past, the language lines in the city of Fribourg were drawn rather clearly: In the lower town, since the city's founding in the 12th century, people spoke mostly a Swiss German dialect. In fact it was the official language until about 1800.

In fact, today the language spoken on the streets of "la basse-ville" (lower town) is a mix of Swiss German and French called "le bolze". This swissinfo.ch article - "Nei, dasch zvüu, tu me connais!" - (No, that's too much, you know me!) not only gives some wonderful examples of typical bolze expressions, but also more details of Fribourg's linguistic history. (Sorry, the article is in French and does not solve the origin mystery of French "bolze" or German "bolz".)

With the industrialization and the influx of French immigrants, the French population in the upper town became the majority in the 19th century. (see picture of upper and lower town). By the year 2000, nearly 64% of its 38,000 inhabitants spoke French as their first language, and only 21% German. Italian was third with about 4%.

In restaurants, cafes, and shops, etc. you hear a mixture of French, Swiss German, and Swiss standard German, which curiously is called "Schriftdeutsch" (written German). Increasingly, you also hear other languages. In 2008 nearly 32% of the population were resident foreign nationals.

The term "Schriftdeutsch" - written German - is used to distinguish Swiss standard German from the spoken Swiss German dialect. Swiss German children learn to speak Swiss German at home. They start to learn "Schriftdeutsch" in first grade and likely French a couple of years later. That's about the same time that Swiss French-speaking children learn "Schriftdeutsch" as a second language. Also, in many schools children learn English already in fourth grade.

From discussions with family, friends and acquaintances in Fribourg, we've gained the impression that there are more German speakers who are fluent in French, than French speakers who are also fluent in German.

We don't know why that would be. Maybe it's because French speakers are now the majority in Fribourg, or learning French as a third language (after "Schriftdeutsch) is "easier" for Swiss German speakers, or maybe Swiss Germans feel a more personal or economic need to be bilingual than their French speaking compatriots.

A visit to the local market provided a non-representative sample, as most of the Swiss German-speaking farmers easily switched to French, while French-speaking bakers and butchers had more difficulty speaking German.
Language can still be a divisive issue
While the casual observer may be pleasantly surprised by the city's apparent bilingualism, language in Fribourg - as in other Swiss cities and towns that are located on a language and cultural fault line - is often still a divisive issue.

Not much has changed since swissinfo.ch covered this issue in 2004, citing both Biel (where French speakers are the minority of the population, with 28 %) and Fribourg as examples. Family connections, social status, school locations, etc. all influence parents' decisions which language path their children should pursue.

In 2017 the Swiss Bilingualism Foundation awarded Rapper Greis (alias for Grégoire Vuilleumier) that year's "prize for bi- and plurilingualism". Listen to his "Enfant des Etoiles" song which switches between Swiss German and French.

It certainly seems that in a small country like Switzerland (about 8 million inhabitants), being bilingual or at least being fluent in two of the major languages, German and French, should have great professional and personal benefits.

A couple of years ago just as we were visiting Fribourg, the local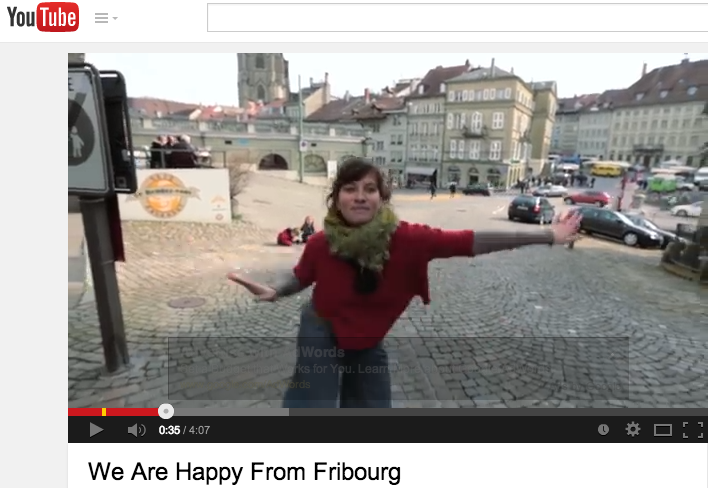 newspaper, La Liberté, reported that local film makers had adapted Pharrell Williams' song"Happy" from the movie "Despicable Me 2" to Fribourg, similar to what other Swiss cities have done. You can watch the YouTube video which shows many images of Fribourg.
(You may recognize Ulrike in one of the video's scenes while she was at the weekly farmer's market.)
Now Our Swiss Tradition: Cheese Fondue or Raclette
Before heading to Gstaad and Schoenried (more about that in a future post), we typically will have a Cheese Fondue or Raclette with our family.
La Fondue (au fromage)
Probably the best-known dish of Switzerland is a cheese "fondue". The word is French and comes from the verb "fondre" meaning "to melt". Used as a noun, "fondue" is the feminine form of the past participle "fondu". (larousse.fr)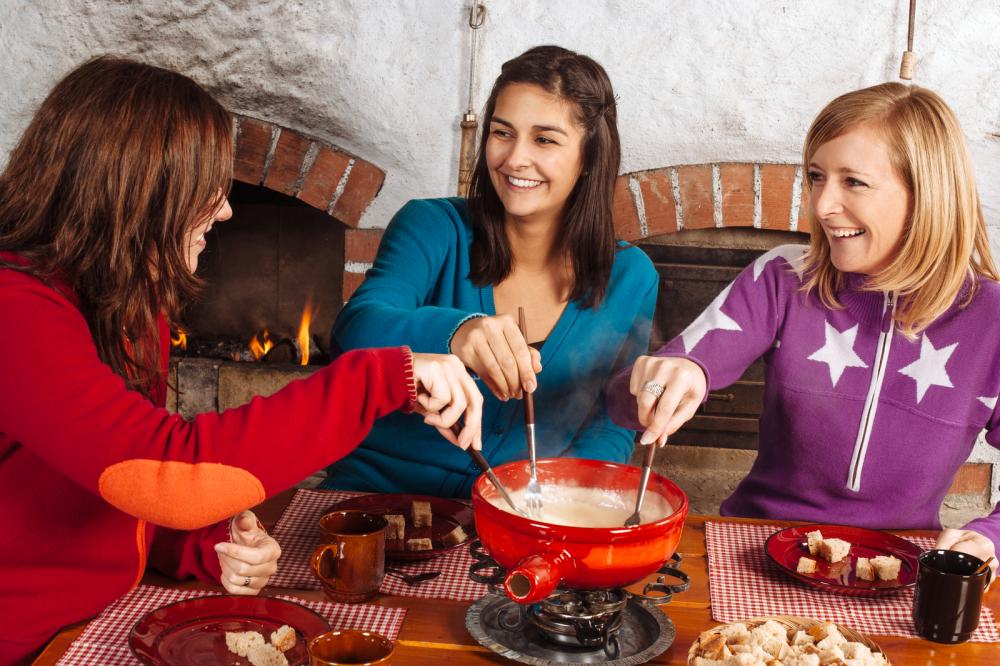 Fondue has a lengthy history in Switzerland. The recipe "Käss mit Wein zu kochen" (cheese cooked with wine) was first mentioned in a Zurich manuscript in 1699.

"La fondue" showed up in 18th century culinary literature as "oeufs brouillés au fromage fondu", scrambled eggs with melted cheese (as noted in the dictionary, Le petit Robert). The dish was particularly popular in the western French-speaking cantons, and there mostly among city dwellers who could afford the rich cheese.

Fondue, as we know it, dates back to around the middle of the 19th century and by 1875, it was named a Swiss national dish. In the 1930s, the Swiss Cheese Union (Schweizerische Käseunion) used the idea of a national dish for its own marketing purposes. That kind of promotion was continued after WWII. Fondue was popularized in the US in the 1960s, helped by being showcased in the Swiss Pavilion at the 1964 World's Fair in New York.

The traditional fondue is served in a fondue pot (un caquelon), which is kept warm over a chafing dish (un réchaud). To make the fondue smooth, you add cornstarch to the cheese mixture as it heats. Each one of you gets a long thin fork for spearing chunks of bread (or sometimes potatoes), which you then dip into the cheese. Eating fondue is definitely a social event that also includes plenty of white wine and/or tea.

Various traditions are observed: for example, if you drop your bread into the pot, you pay a round of wine, or a pot of hot tea.
Cheese Fondue Variations
Many of the Swiss cantons have their own version of fondue, using different combinations of cheeses. For those who want to try, this Epicurious post will give you the recipe for making a perfect traditional Swiss Fondue. Being frequent travelers to Fribourg, the two fondues we know best are the Fondue Fribourgeoise, and the Fondue Moitié-Moitié.
Fondue Fribourgeoise
Fondue Fribourgeoise is prepared with 100% local Vacherin cheese.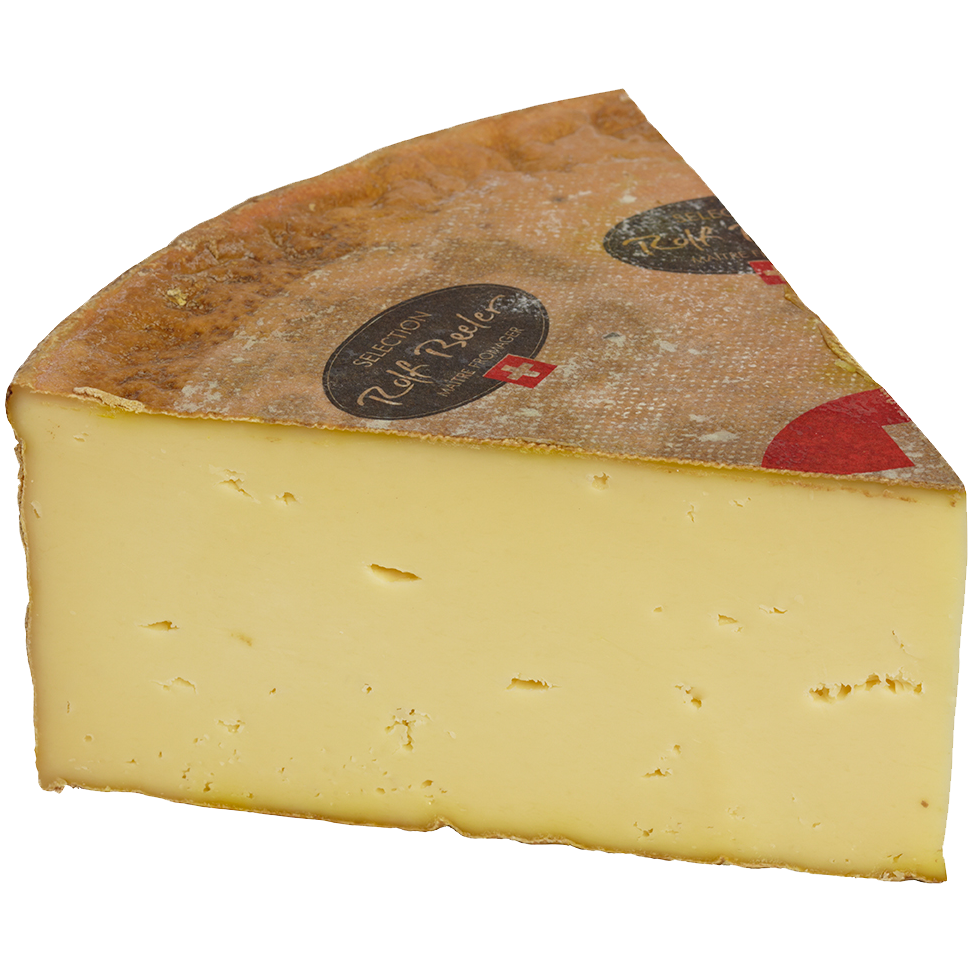 Vacherin is a medium-firm cheese made from cow's milk, as the name - vache (cow) - implies.The cheese is melted in a few tablespoons of water over low heat. To our knowledge, this is the only cheese fondue that does not use wine. Often you dip pieces of potato instead of bread.
Fondue Moitié-Moitié
Moitié-Moitié (or half-half), as its name states, uses Gruyère and Vacherin cheese in equal parts. This fondue is made with white wine, (dry and high in acid) and for flavor a shot of kirsch is often added to the mixture. You eat it by dipping chunks of bread.
La Raclette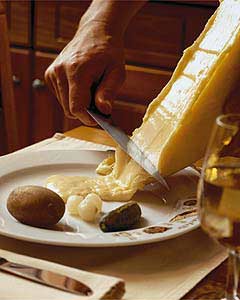 Our foray into the world of melted (Swiss) cheese would not be complete without mentioning the "Raclette". The name is derived from the French "racler", meaning "to grate or scrape" and that clearly describes the method in which it is served: The melted cheese is scraped off the roasted/heated end of a large piece, most commonly a half a wheel of cheese (as in this picture).

The Raclette Suisse site traces Raclette's origins to the 13th century. In the German-speaking cantons, convent writings mention "Bratchäs" (roasted cheese - note the Swiss spelling of "Käse") already in 1291 as a nutritious food for mountain cow herders. Raclette cheese is made of raw milk and many variations exist. Only the "Raclette du Valais" is a protected brand under Swiss law.

The traditional method melts the half-wheel of cheese, either right at an open fire place, or in restaurants, with an electric heater. The Raclette cook/server scrapes the melted cheese off unto each customer's plate. (see photo above, courtesy of: Grcampbell-Wikipedia Commons).

The modern, self-serve version uses small pans in which to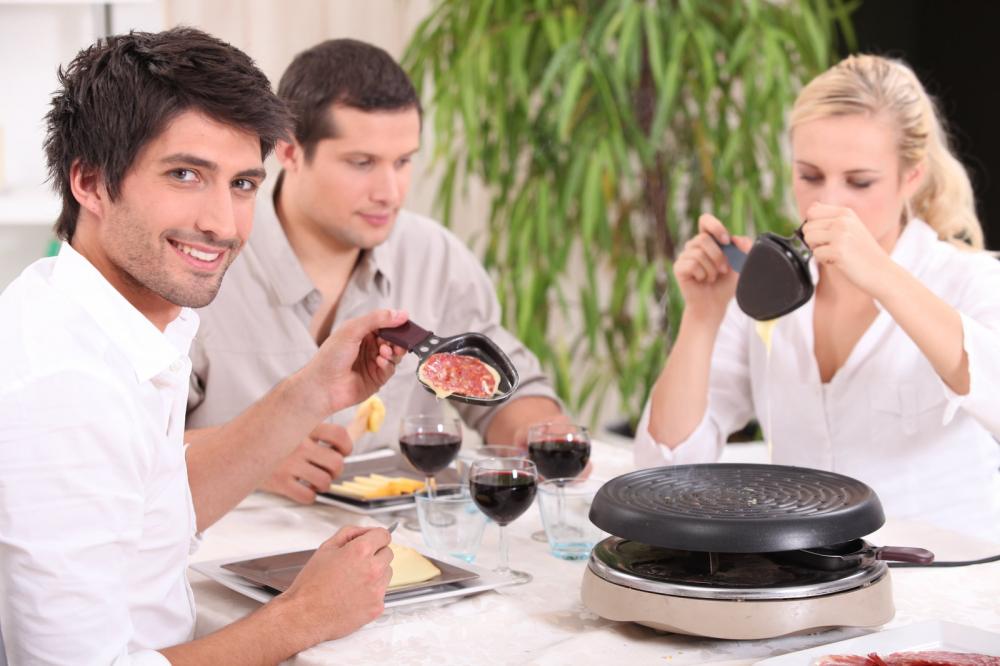 heat Raclette cheese pieces right at the table with a special gadget (as in this picture). In eithercase, "Gschwellti" - Swiss German for potatoes boiled in their skin - are served with gherkins, pickled onions, and often preceded or accompanied by dried meat, such as "Bündnerfleisch" or "viande des Grisons" or "jambon cru".
A Raclette evening, during which the meal is served the traditional way to a large table, is a social event that can last for hours. As with cheese fondue, locals will warn you not to drink cold water. It doesn't mix well with the hot cheese. However, hot tea, a "Kirsch" (cherry), "Poire" (pear), or "Framboise" (raspberry) Schnaps come highly recommended.
Raclette and Fondue (whether the cheese or meat variety) always make for a lively, social dining experience.

Even after the taste and smells of melted cheese have faded in your memory, you'll certainly remember the fun you had with your family and friends sharing such a meal in a warm and cozy mountain hut after a hard day of skiing, snowboarding, or hiking.
The best kind of travels are those where you can linger in a place, make discoveries, learn new things, and try out new tastes. It's a kind of "slow travel" that lets you soak in some of the local language, history, and customs. You have time to explore different neighborhoods, go to various cafés, bars and restaurants, and visit local shops and markets.

And if you've learned a new language for your trip, you'll have the chance to try out what you've learned. That's one of the great pleasures of travel: Get that sense of accomplishment as you stretch your boundaries.
Bio: Peter Rettig is the co-founder of Gamesforlanguage.com. He is a lifelong language learner, growing up in Austria, Germany, and Switzerland. You can follow him on Facebook, Twitter and Instagram, and leave any comments with contact or below.