Posted on by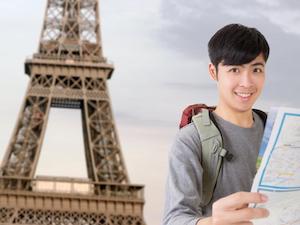 As our readers know, we at GamesforLanguage typically like to stay in a city for more than a few days, as we did last fall in Copenhagen. We still travel with little luggage, but now mostly with rolling carry-ons.

Recently our sons reminisced about their backpacking days, when they crisscrossed Europe during one long fall after college.

They both had backpacks. When they met their friend Chris at the airport, they were surprised however, by his large rolling suitcase. (Memories differ as to whether it was the friend or his mother who had felt that a backpack could not hold all his "essentials".)

In any case, they all three still chuckle how Chris lugged his suitcase through the cobble-stoned streets of Munich, Rome, Paris, Barcelona, etc. being embarrassed by the noise and by not looking cool.

So when Yogi and Suchna of The Backpacker Co. suggested a post about backpacking in Europe, we thought that their experience could be helpful to our younger readers. Find out what Yogi and Suchna consider the "Essentials for Backpacking in Europe" below:
All set for your European trip?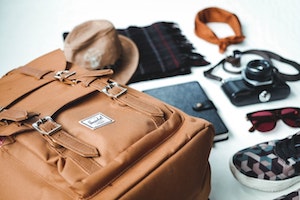 If yes, you've probably arranged your lodgings for the first few nights and may have sipped a few "going away drinks" with your friends. But understandably, you may still be agonizing about what to pack!

Believe me, figuring out the perfect backpacking list is a daunting task indeed, especially if you're doing it for the first time. Quite a few first-timers make the mistake of carrying too much gear and that makes their travel tiresome. It's difficult for them to keep track of their belongings and it can leave them at the mercy of thieves as well!

But don't worry! Our tips regarding essentials for backpacking in Europe will guide you through this stressful time and will help you decide what type of things you should carry and how to pack light.
1. Travel light
Our most important tip is to ensure that you travel light. Nothing will make your travels more uncomfortable than having to carry an incredibly heavy backpack along winding streets in Europe. We would recommend that you keep the weight of your backpack ideally under 10 kilos (or 22 lbs) or at the most, under 15 kilos (or 33 lbs).

Besides, if the weight of your luggage is over 10 kg (roughly, 22 lbs), you may run the risk of exceeding the weight limit set in budget airlines such as RyanAir.
• You'll surely acknowledge that your clothes make up most of the weight in your backpack. If you can, stop yourself from buying too many things as most inexperienced travelers do. Just remember that it makes little difference whether you pack for a fortnight or for a couple of months. You'll be able to do laundry almost every week of your stay in Europe.

• Think of dressing in layers rather than carrying a few bulky coats. A combo of thermal inside base, full-sleeve shirt or T-shirt, sweater or fleece jacket is a much better option. You can add or subtract layers as needed.

• As a backpacker, there will invariably be limited space in your travel bag. So, don't carry an outfit you're going to wear only once, no matter how fashionable it may look. Carry some simple clothes that will make you look good when worn together and which are appropriate for multiple uses.
2. Pack your backpack to maximize space
How you actually keep your belongings inside your backpack is another important thing to consider.

You may think of a number of techniques to maximize the space inside your bag, such as rolling your clothes, keeping undies in your shoes, stuffing your socks etc.

Backpacks with compartments or use of packing cubes is an excellent idea to remain organized and save space at the same time. These are durable yet lightweight and are good companions for any traveler.

It will take some experimentation until you find the best way to pack all that you want to take with you. And that often requires some hard choices.
3. Clothing Tips for Backpacking in Europe
Socks and Undies
• Consider carrying good quality and comfortable ones as you'll be wearing these close to your skin.
• You'll probably need to do a lot of walking and thus will sweat a lot. Buy moisture–wicking socks, which will keep your feet dry and save you from blisters.
• Get socks and undies that dry overnight.
Shirts /Tops
• Avoid those that need high maintenance
• Get dark-colored ones, as most Europeans prefer these and thus will help you blend in well with the locals. Also, they'll hide stains better.
• Choose wrinkle-free fabrics.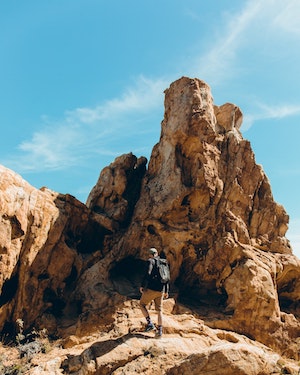 • Go for the easily washable ones.
• Pack casual yet versatile ones that would go equally well when you visit churches, cafes, museums or bars.
Pants
• Dark-colored jeans will match well with almost everything. Also, you can wear them without washing them too often.
• You could opt for light-weight chinos in case you're not accustomed to wearing heavier denim.
• It's not very common for European adults to wear shorts. Avoid wearing these if you want to blend in better with locals and don't want to be pegged as a stereotypical American tourist.
Shoes
While traveling in Europe, you're bound to be on your feet quite a lot. It's thus imperative to have a sturdy, yet comfortable pair of shoes for sightseeing.
• If hiking is part of your agenda, make sure to take along hiking shoes with water-proof and all-terrain soles.
• If you want to go to beaches, rubber flip flops will do the job for you.
• If you're in Europe in spring and summer, a pair of sturdy walking sandals will do a world of good as you won't have sore feet even after walking all day long.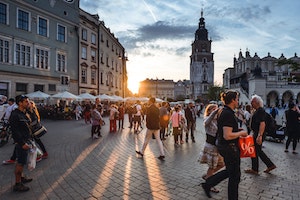 Electronics
• Europe has a lot to offer. Make sure to carry plenty of extra memory cards for your digital camera.
• Have your phone unlocked to make it compatible with any European SIM cards.
• Carry universal plug adapters for all European countries.
Miscellaneous
• Microfibre towels
• Small first-aid kit
• Wet wipes
• Keychain flashlight
• Small notebook
• Swiss Army knife (if you don't check your backpack check with your airline)
A backpacking list for Europe never seems to be complete. We have simply tried to list the things you just cannot afford to travel without.
Enjoy your travels in Europe!
Bio: Yogi and Suchna believe in taking the road less travelled and stumbling upon some hidden gems along the way! For over a decade, they've mapped their way across various continents, sniffed out unusual routes, discovered new flavours and stayed at quirky hostels.
Disclosure: Gamesforlanguage.com and I have no business relationship with The Backpacker Co or Yogi and Suchna other than publishing what they consider the "Essentials for Backpacking in Europe". See our Privacy Policy and Terms of Use for further details.