Posted on by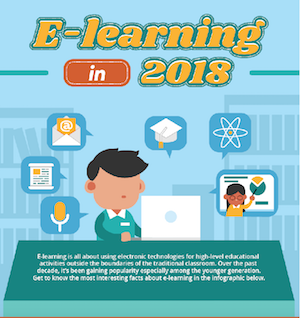 The internet has made so many great things possible in our lives. One of them is the ease it has brought to the dissemination of useful information. Gone are those days when you had to travel to other parts of the world to discover things.

Yes, you can still use your local library to learn things. But even there, almost any form of knowledge will be at your fingertips as long as you can get access to the internet. And the internet also brought us electronic learning (or e-learning).

With it, you don't need to move to San Francisco to get a degree at Stanford University. You can apply for courses online!

E-Learning is applicable to just about anything you need to learn. As long as there is a teacher and a learner, the internet is an able medium of communication.
E-Learning Saves Money and Time
E-Learning has many advantages over conventional methods of learning. To start with, it saves cost.
You can take courses that are being taught anywhere in the world without leaving your home. This saves you a lot of money on transportation and hotel/hostel bills.

In addition, you're also not constrained by time as most online courses are asynchronous, which means that they are not ongoing in real time. You can access them whenever you want. But do note that there are also synchronous courses where the teacher and the student are at different devices at the same time.

As the world is fast becoming a global village, traditions are getting interwoven. More people are learning to speak more than one language.
E-Language Learning
And with e-Learning, you can learn a foreign language without even visiting the country. There are many online platforms that offer training on different languages and in a wide variety of formats.

It doesn't matter if you prefer learning by talking with a native speaker or you would like to start with learning the alphabets and then sentence structure. Whichever your preference, you'll find an e-Learning platform that caters to it.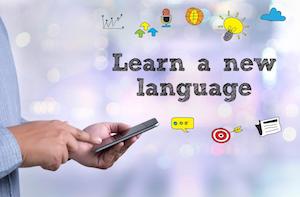 Some language learning platforms take even more interesting approaches like building in interactive games and simulations in their training process. This method is referred to as gamification.

It is fast gaining in popularity because research shows that interactive games help learners retain information up to 10 times better.
The education site Udemy alone has well over 700 languages courses focused on different aspects of linguistics, and language acquisition using different models of learning.
E-Language Fluency
Another approach is using social media. In this case, a platform is created where people who speak languages fluently come together. Take for instance, a Japanese CEO who is trying to polish his spoken English. He registers on this platform as does a native US English speaker. The platform links them so they can make video calls at their convenience and interact in English.

This helps people communicate with native speakers in the language they are interested in learning, thereby helping them speed up their proficiency. E-Learning has made the acquisition of skill more affordable and accessible. It's another feather in the cap for human ingenuity and has come to stay.
It will only grow bigger, better and more useful as you will see from the infographics below.
Bio: Tarun Reddy is Digital Marketing Manager at 16best.net, expert in Market Research, SEO, Inbound marketing, content marketing, and lead generation.
Disclosure: Gamesforlanguage.com has no business relationship with 16best.net or Tarun Reddy other than publishing Tarun's article and infographics.
URL: https://www.16best.net/blog/e-learning-in-2018-infographic/


https://www.16best.net/blog/e-learning-in-2018-infographic/