Posted on by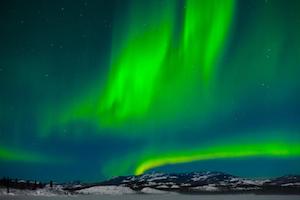 Several years ago we experienced the Northern Lights when we visited Norway in September. We took a Hurtigruten Ferry from Bergen to Kirkenes.

Our ship, Kong Harald, stopped at various towns along the way, including Ålesund, Trondheim, Tromsø, to finally reach Kirkenes, a town right on the Russian border.

When we crossed the Arctic Circle, we all got a handful of ice down our backs as a gesture of respect to Neptune. That night, the sky lit up with a beautiful play of northern lights.

It was Galileo Galilei who coined the term "Aurora Borealis" in 1619 after Aurora, the Roman goddess of morning.

While he was wrong that sunlight reflected from the atmosphere would cause the streaks of light, the term, or a slight variation of the Latin original, is still used in Romance languages:
Italian: aurora boreale
Spanish: aurora boreal
French: aurore boréale
Portuguese: aurora boreal
"Northern lights", the more descriptive term, is used in Germanic languages (which includes English).

The Finnish word "revontulet" means "fox's fires" and goes back to the Finnish legend that the northern lights are a reflection of the fox's fur.

Interested in taking pictures of the northern lights yourself? Here's an article by Charles Wade, on Night Sky Pix: How to Photograph the Northern Lights - the Ultimate Guide (2020).
What causes the Northern Lights?
Northern lights (there are also "Southern lights") develop when electrically charged particles from the sun - a "solar wind" collide with the gases contained in the earth's atmosphere, especially nitrogen and oxygen.

A good and more detailed description of Auroras can be found in this article of Space.com: Aurora Borealis: What Causes the Northern Lights & Where to See Them.

Some of you would also like to experience these spectacular displays of nature, perhaps. We are therefore happy that Saumya Tiwari describes seven options for you below:
Where to Find Northern Lights?
The Northern Lights are one of the biggest attractions in Northern Europe. It is natural to regard them as a significant nature's wonder.

People from around the globe flock to see their glory and beauty from August to March every year depending on the place you're visiting to witness them.

Also known as Aurora Borealis or the polar lights, this scientific miracle is, if not one of the seven wonders of the world, definitely the eighth.

There are several ways to experience the Northern Lights and bask in the surreal beauty of that region. Let's dive right in and check out some of the best ways to witness the Northern Lights this year to get a complete experience!
1. Swedish Ice Hotel
The Swedish Ice Hotel is an attraction in itself and a mark of great man-made excellence.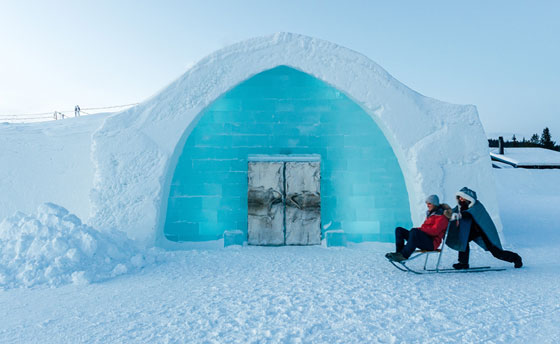 It is constructed every year from scratch and is open for guests from mid-December till March end.

The itinerary of the several tours and trips offered by the hotel also includes a trip to the Aurora Zone to witness this unbelievable spectacle.

In Swedish, "northern lights" is "norrsken".
2. Canadian Snowmobiling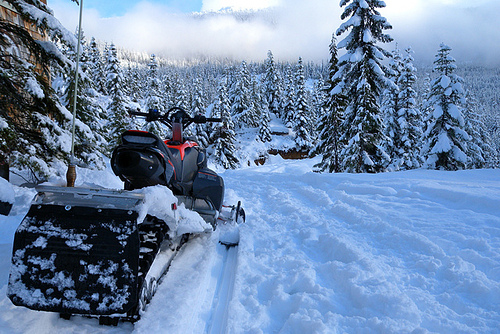 Another way to experience the Northern Lights is by traveling to the Northwest Territories and finding some warmth in the frozen landscapes there.

Between the months of December and April, you can go on a snowmobiling voyage across the Great Slave Lake that is totally frozen during these months. You can rent a remote cabin to see the polar lights from there.

You can also arrive at the Blatchford Lake Lodge by a quick 30-minute seaplane ride to enjoy several activities like ice-fishing and snowshoeing in addition to watching the Northern Lights.
3. City Tour in Iceland
Iceland has a bustling and busy city life that presents a lot of exploration opportunities for the tourists.

You can take a package trip to Reykjavik that accommodates you in a four-star hotel. This package includes the Northern Lights.

The hotel takes the guests out on an excursion to witness the Aurora in a super jeep. This natural display can be witnessed by this way between October 1 and April 8.

In Icelandic, "northern lights" is "nor∂urljós".
4. Norwegian Voyage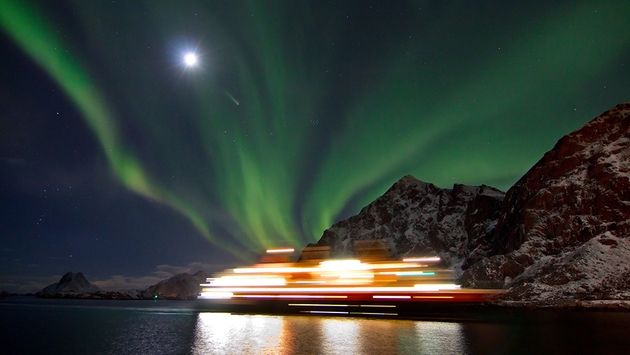 How would you feel about not just witnessing the Northern Lights but also learning all there is to know about it?

Hurtigruten, who is a Scandinavian cruise specialist takes you on an Astronomical Voyage of 12 days along with a writer and physicist.

This cruise offers a total of six departures in the months of winter and includes at least four ports of call. This Scandinavian cruise specialist promises a week-long complimentary voyage if, for some reason, the guests are unable to witness the Northern Lights.

In Norwegian, "northern lights" is "nordlys".
5. Greenland Husky Safari
Everyone has heard of the fantastic Siberian Huskies.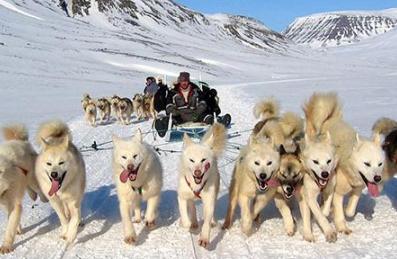 Holidays offer a Dog Sledding Expedition from Reykjavik to Greenland for a trip of 11 days.The entire triptakes place on dog sleds from South-Eastern Greenland, particularly Tasiilaq.

Dog handlers or native mushers accompany you to ensure an uneventful and safe journey through the snowy landscapes.

Your 5-day stay there promises you plenty of opportunities to experience the Northern Lights. You can stay in remote and beautiful mountain huts in the middle of nature.

However, this particular voyage would require you to possess a certain level of stamina and physical fitness.
6. Igloo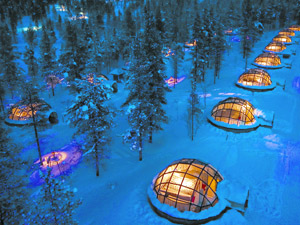 How romantic would it be to witness the Northern Lights through a glass-roofed igloo?

This would literally entail sleeping under the starry lights to witness one of the biggest scientific marvels on earth.

You get to stay in Finnish Lapland which is a beauty in itself at Kakslauttanen. It's a 3-day trip so again; there are several chances to see the Northern Lights. You can choose your preferred style of igloos above the Arctic Circle.

All igloos have a thermal and clear glass domed ceiling. They are also thermally insulated for a cozy and serene stay.

They sleep up to six and also offer a very private sauna and open log fires. You will be equipped with all the warmth you will need in there. You can choose to avail this tour from early November to early April.

In Finnish, "northern lights" is "revontulet".
7. Up in The Sky
How would you like to watch the Northern Lights up in the sky at 40,000 ft?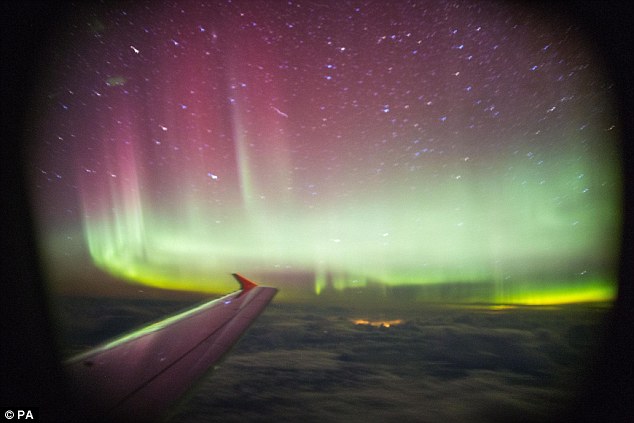 Aurora Flights UK offers a 3-hour flight from London and other regional airports to view the Northern Lights.This trip can be pre-booked from early November until late March.

This is an excellent way to view the Northern Lights as it also offers the maximum visibility. You can even enjoy snacks and astronomers onboard to guide you along the way.
Parting thoughts
Regardless of the way, it is an indisputable fact that Northern Lights are nothing short of a marvel that must be witnessed at least once in a lifetime. Choosing any one of these ways will give you an ultimate Northern Lights experience.
Author's Bio: Saumya works at The Villa Escape - Norway Northern Lights Tour From India as editor. She is a 20-something fun loving and ambitious female who loves traveling and loves to share her traveling experiences. She loves solo travel trips. If not traveling you can find her behind her laptop playing games.
Disclosure: Gamesforlanguage.com has no business relationship with thevillaescape.com or Saumya Tiwari other than publishing Saumya's article.