Posted on by
If you love music, songs provide a wealth of language learning possibilities for you. But not only that. Each culture has its own tradition, which makes it all the more interesting.

A simple word like the English "song" is a good example of how various languages may differentiate among alternative meanings (or not) for a basic concept.

And, as you get more familiar with the culture of the language you're learning, you'll also begin to appreciate different traditions of "songs".
When you google for the translation of "song" in the four languages of our Gamesforlanguage site, you'll get the following results:
French
English "the song" translates as "la chanson" (music with words) and "le chant" (song-like piece of music, song-like poem), from "chanter" (to sing).

The English language uses "chant" as a synonym for "song" or "singing," often in connection with spiritual or religious singing. We talk about Gregorian chants, not Gregorian songs, and it's the same in French.

France has a strong tradition of "art songs," which include not only beloved arias from operas by Bizet, Fauré, Gounot, and Massenet, but also poems, by Hugo, Verlaine, Baudelaire, set to music by Debussy, Fauré, Ravel, and others.

While the English "song," may or may not include any lyrics, the French "chanson" is typically a lyric-driven song.

Singers that we enjoy include Edith Piaff, Jacques Brel, Mireille Mathieu, Charles Aznavour, Joe Dassin, Georges Moustaki, and Québec's "chansonniers" Félix Leclerc, Claude Léveillé, Raymond Lévesque, and more.

The traditional French "chanson" has a long and colorful history, dating back to the Middle Ages. "Chanson" differs from other French "pop" music by reaching back to French traditions of lyrics and music (rather than following British or American trends).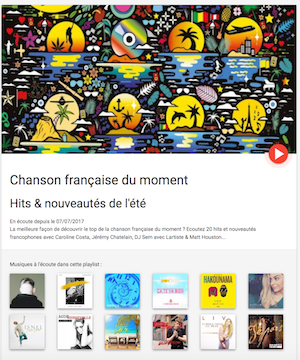 Songs in French are a wonderful way to acquire the sounds and the rhythm of the French language, and to learn words and idiomatic expressions.

By listening over and over to a French song you really like, you'll even pick up some typical grammar structures.

We are especially fond of Edith Piaf's Non, je ne regrette rien, which let's you pick up a number of grammatical clues.

Check out the "Chanson française du moment" and see if you can find one that you like. If it gets into your head, your French will surely improve.
German
The German translation of "the song" is "das Lied." This may be a little confusing as the verb "to sing" translates to "singen," and for "the singing" and you'll get "das Singen" and "der Gesang."

"Das Lied" is similar to the French "la chanson," and "Gesang" is the equivalent of the French (and English) "chant." In German, for example, we talk about the "Gregorian Gesänge" (der Gesang; pl: die Gesänge).

German music lovers will also be familiar with "Lieder" (das Lied; pl: die Lieder). These are often poems put to music by composers such as Beethoven, Brahms, Schubert, Schumann, Strauss, etc.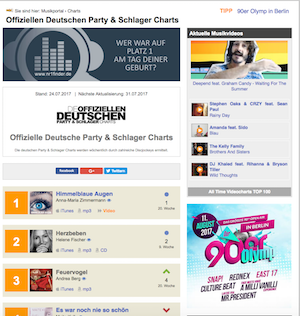 An English translation for "Lieder" may be "art songs," as these are poems set to classical music. Their tradition goes back to the 12thCentury and the German "Minnelieder" (courtly love songs).

From the 1960s on, German singer-songwriters liked to call themselves "Liedermacher" (makers of songs).

In modern German, "songs" may also translate as "Schlager," the popular German songs of the Hit Parade.

Songs performed by Marlene Dietrich and Lale Andersen (Lili Marleen) went around the world; Peter Alexander, Catharina Valente, Freddy Quinn, Udo Jürgens, and many others all had "Schlager" hits in their time.

One of our favorites is Jürgen von der Lippe's Guten Morgen liebe Sorgen.... It topped the Hit Parade list for several weeks in the 80's.

Every week, the Offiziellen Deutschen Party & Schlager Charts are updated. Take a look and see if you can't find a song that you like, and – by memorizing the lyrics - you will improve your German.
Italian
The Italian translation of "the song," is "la canzone." "The singing" translates as "il canto," derived from "cantare" (to sing). All Romance languages trace the equivalent for "song" back to the Latin word "cantio" (singing).

The Italian "canzone," (which derived from the Provençal "canso," a troubadour's love song) traditionally referred to a song of 5 to 7 stanzas with a particular rhyme scheme. The form was later made famous by the Italian Renaissance writers Dante, Petrarch, and Boccaccio.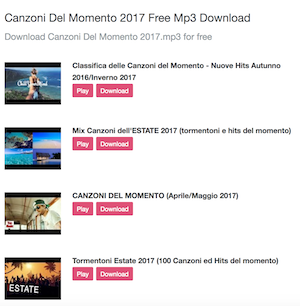 Italian opera, born in the 17th century and fashionable in the 18th and 19th centuries has been a rich source of "art songs" that are popular to this day.

Just think of the great Luciano Pavarotti singing exquisite arias from the operas of Verdi, Rossini, Donizetti, or Puccini.

In the late 1950s and 1960s emerged the "cantautori" - the singer songwriters, who wrote and sang their own songs, often in protest against the more traditional "canzone." This was an interesting and important development.

Starting out as an imitation of sorts of the French "chanson" at the time (Brassens, Brel, Ferré, etc.), the Italian "cantautori" soon succeeded in creating songs about Italian everyday life and reality. It's a trend that's strong even now.

A smash hit from 1962 that has 55 versions is "Quando, quando, quando." We featured it on one of our blog posts, "Dimmi quando..." - An Italian Song for Language Learning. Italian Pop and Rock music is often characterized as "musica leggera" (light music).

Songs by contemporary singers such as Eros Ramazzotti, Mina, Ligabue, Javanotti, Laura Pausini, and many others are good for learning and practicing Italian because the lyrics are relatively simple. The music is great and many of the songs get under your skin, which boosts language learning.
Check out the Canzoni del momento and see whether there is one you can memorize. It will certainly help your Italian.
Spanish
The Spanish translation of "the song" is "la canción" (music with words, song-like music) and "el canto" (song-like poem). "To sing" translates as "cantar." Spanish music combines a wide range of cultures that were part of Spain's past, most notably Arabic culture.

During the 17th and 18th century a Spanish form of light opera, or operetta, called "zarzuela" developed and became popular. It was a kind of music theater that combined spoken and sung storytelling, and included regional and folk elements. The Spanish full opera was much slower to develop.

Well-known Spanish "art songs" are by the composers Manuel de Falla, Enrique Granados, Fernando Obradors, though this genre did not become quite as popular as its French and German counterparts.

But we shouldn't forget Sebastián Iradier (later Yradier), who wrote "La Paloma" after he visited Cuba in 1861. "La Paloma," which has been translated into many languages, is arguably one of the best-known Spanish art songs. (See also La Paloma Lyrics – Learning Spanish with a Song, or La Paloma – Carmen – Cuba: Spanish Language Connections.)

After the Spanish Civil (1936-1939) and during Franco's repressive government which followed, regional culture and its music were banned. Rock and roll and pop music found its way into Spain only towards the end of Franco's regime.

After Franco's death in 1975, and as part of the new countercultural movement Movida Madrileña, there emerged a new, energized style of music. It resembled the British new wave and the Neue Deutsche Welle, but added flamenco passion and rhythms.

Since then, the Spanish music scene, with its centers in Madrid and Barcelona, has been nothing but innovative and exciting.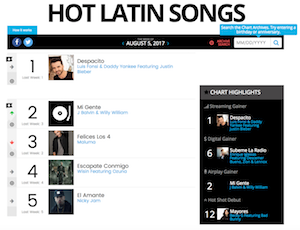 Latin Music opens a new world of diverse and beautiful sound. Check out this Latin Music History. Croonersinclude Jose Jose and Juan Gabriel, Mexico; Jose Feliciano, Puerto Rico; Leo Dan, Argentina; Jose Luis Rodriguez 'El Puma', Venezuela.

Click on Latin Music: Top Latin Songs, (see above left) and find YOUR Spanish song to practice and learn with.
Maybe you'll also like "El Perdón", the subject of a recent post. And, if you like to learn Spanish with songs, Language Zen, has a number of Spanish songs with lyrics to do just that!
If music turns you on, songs are a fantastic tool for getting the sound, the rhythm, vocabulary, and grammatical structures of a new language lodged deeply in your mind. And singing along in a foreign language is just fun and a pleasure – so why don't you find one in the language you are just learning?
Bio: Ulrike & Peter Rettig are co-founders of Gamesforlanguage.com. They are lifelong language learners, growing up in several European countries before moving to Canada and the United States. You can follow them on Facebook, Twitter, and Instagram.