Posted on by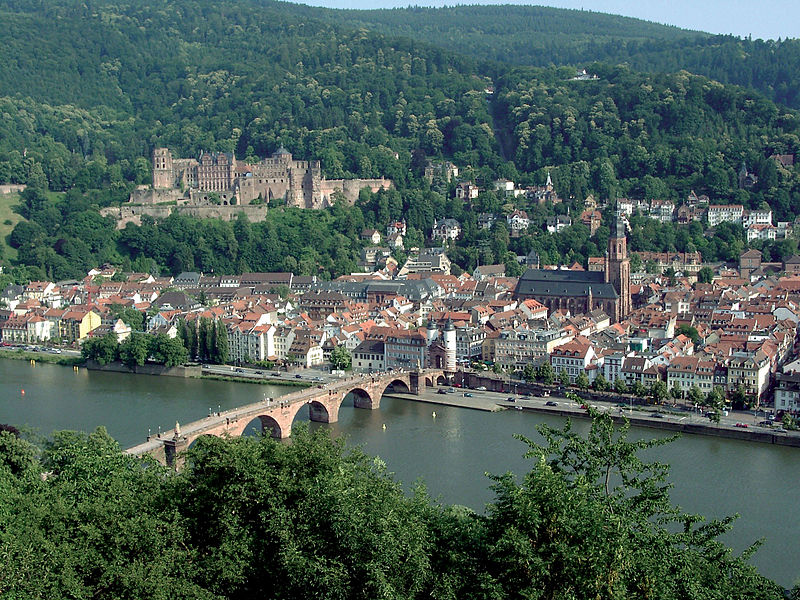 Thinking about visiting Heidelberg? Exploring this romantic and historic university town will leave you with lots of wonderful travel memories.

Our first German Travel Memories post covered Frankfurt a.M., where Michael, the young traveler in our German 1 course, is visiting family. He then takes the train to Heidelberg for his second stop in Germany.

We'll follow Michael's explorations of Heidelberg. For those of you who are doing or have done our German 1 course: Michael in Deutschland, the additional details will complement those of the course.

The Travel Memories blog posts tell you more about each of the cities of GamesforLanguage's travel-story based courses. We typically use the cities' real street names, hotels, squares, restaurants, etc. and we've been to many of them ourselves.

In future blog posts, we'll provide more details of the two other German cities Michael visits, Munich and Berlin. And we'll do the same for the cities that our other travelers visit in France, Italy, Spain, and the U.S.
In our travel-story course, you learn daily conversational language. The vocabulary listed here is a combination of some words taught in the course as well as other useful terms for travelers in German.
Quick Facts about Heidelberg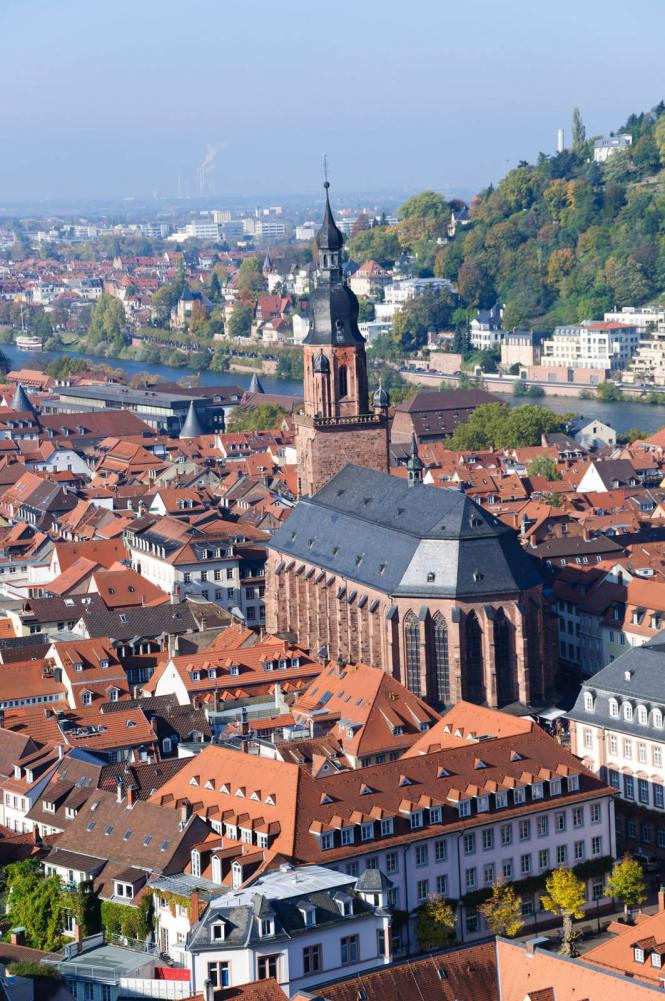 The city of Heidelberg lies on the Neckar river in the south-western part of Baden-Württemberg (one of Germany's 16 federal states). Because of its stunning location and picturesque cityscape, Heidelberg is a hugely popular travel destination.

A quintessential college town, Heidelberg has a population of just over 150,000, with roughly a quarter of its inhabitants being students.

The city is well known for its university, which was founded in 1386 and said to be one of the oldest in Germany. Over the centuries it has attracted prominent philosophers, poets, and scholars. In addition, Heidelberg is the location of numerous research institutions, among them four Max Plank Institutes.

After World War II, Heidelberg, which was situated in the American Zone, became the Headquarters of the American forces in Europe.
Vocabulary for Travelers 1
• Bundesland (n.) - federal state
• Lage (f.) - location (of a city)
• Stadtbild (n.) - cityscape
• Universitätsstadt (f.) - college/university town
• Studenten (pl. m.) - students
• Philosophen (pl. m.) - philosophers
• Forschung (f.) - research
• Forschungsinstitut - research institute
• Hauptquartier (n.) - (military) Headquarters, H.Q.• die amerikanischen Truppen - the American forces
Arrival in Heidelberg (the Weststadt Neighborhood)
From Frankfurt, Michael takes the ICE (InterCity) to Heidelberg, a train ride of less than an hour. (You can also take the S-Bahn, or a regional train.)

Heidelberg has 15 city districts. The Central Railway Station is located in Weststadt, the district next to the historic core of the city (Altstadt). It's also where Michael's friends live: on the Schillerstraße.

Weststadt is a residential district dating back to the 1830s. Starting in the 1870s and continuing into the 20th century (a period which is often called "Gründerzeit"), Weststadt experienced a residential building boom and became a highly fashionable neighborhood.

The "Gründerzeit" (literally, "founders' period") - related to the period when the German national state was consolidated under Chancellor Bismarck - coincided with rapid industrialization and economic growth in central Europe.

The architectural style of that time was eclectic and mixed diverse historical periods. So walking through the Weststadt neighborhood, you'll see buildings in various styles: Italian Renaissance, Baroque Revival, Neoclassical, Art Nouveau, etc.
Vocabulary for Travelers 2
• Hauptbahnhof (m.) - Central Railway Station
• Altstadt (f.) - historic city center
• Wohngegend (f.) - residential area
• Gründerzeit (f.) - economic phase of rapid development (lit.: "founders' period")
• Bauboom (m.) - building boom
• Industrialisierung (f.) - industrialization
• Wirtschaftswachstum (n.) - economic growth
• Baustil (m.) - (architectural) style
• Ritter (m.) knight
• Friedrich Schiller - German philospher, playwright, poet (1759-1805)
• nach rechts - to the right
• nach links - to the left
• geradeaus - straight ahead
Mark Twain's Travel Memories of Heidelberg
Michael and his friends walk through the historic of Heidelberg ("Altstadt"). One of his friends, Renate, points out a hotel, where Mark Twain supposedly stayed during his visit to Heidelberg in 1878.

In that year, Mark Twain was struggling to finish his novel Huckleberry Finn (as some journalists claim), and went on a Europe tour with his family, as a kind of working holiday. Mark Twain loved Heidelberg (as you can read in his Travel Book "A Tramp Abroad") and stayed there for three months.

Possibly, the hotel that Renate points out, is today's Crowne Plaza, built in 1838 as Hotel Ernst, and located in the Old Town on the Bahnhofstraße.

Mark Twain first notes in "A Tramp Abroad": "We stopped at a hotel by the railway-station."
Twain continues: "The weather was growing pretty warm, - very warm, in fact. So we left the valley and took quarters at the Schloss Hotel, on the hill, above the Castle."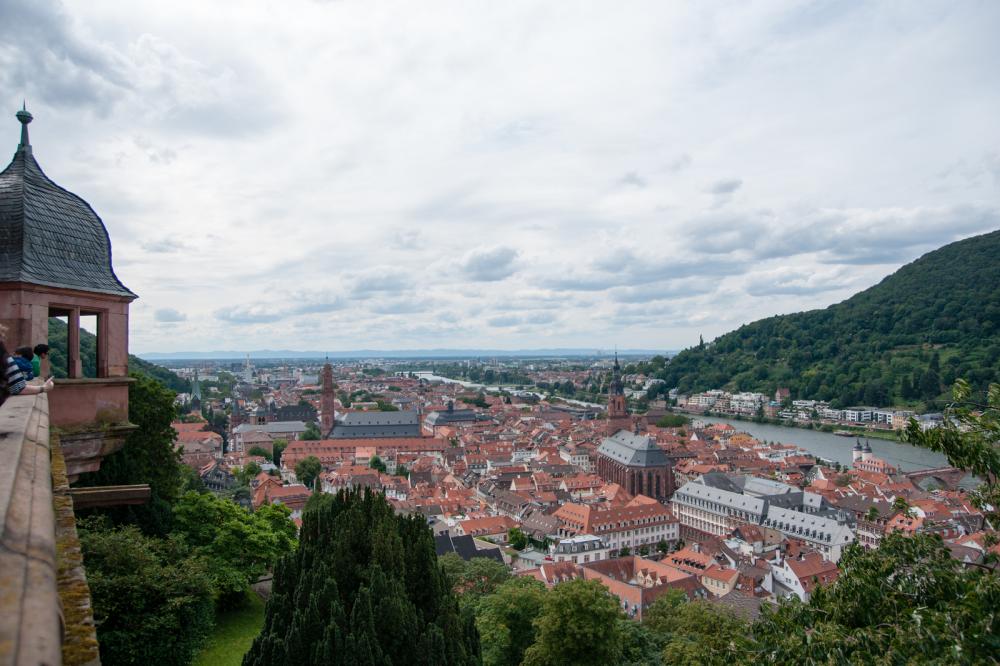 As Twain describes it, the Schloss Hotel provided him with a fantastic view: "Now if one turns and looks up the gorge once more, he will see the Schloss Hotel on the right perched on a precipice overlooking the Neckar—a precipice which is so sumptuously cushioned and draped with foliage that no glimpse of the rock appears. The building seems very airily situated. ... (see view from Heidelberg castle)

Out of a billowy upheaval of vivid green foliage, a rifle-shot removed, rises the huge ruin of Heidelberg Castle, with empty window arches, ivy-mailed battlements, moldering towers ... It is a fine sight to see the evening sunlight suddenly strike the leafy declivity at the Castle's base and dash up it and drench it as with a luminous spray, while the adjacent groves are in deep shadow."

Journalists and historians have tried to guess why Mark Twain loved Heidelberg so much. Was it because "Heidelberg" (short for "Heidelbeerenberg"), in fact, means "Huckelberry mountain" as we speculate in Why did Mark Twain like Heidelberg? More likely, Twain fell in love with the beauty of town itself, and its picturesque riverside setting.
Vocabulary for Travelers 3
• Roman (m.) - novel
• Arbeitsurlaub (m.) - working holiday
• Heidelbeere (f.) - huckleberry
• Wetter (n.) - weather
• Aussicht (f.) - view
• Schloss (n.) - castle
• Klippe (f.) - precipice
• raten - to guess
Twain had a love-hate relationship with the German language and his The Awful German Language - an Appendix to his 1880 book, A Tramp Abroad, is a fun travel memories read for anyone learning German.
Heidelberg University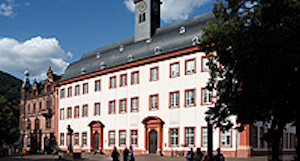 The founding of the University of Heidelberg (1386) was prompted by a curious historical event. At the time of the Great Schism of 1378 (when two popes - one French and one Italian - were elected after the death of Pope Gregory XI), German secular and spiritual leaders supported the Italian one in Rome.

As a result, German students and teachers at the University of Paris had to leave. But, the Italian Pope, Urban VI, allowed the creation of a university in Heidelberg.

During the years 1804 to 1809, a number of writers who were part of the German Romantic movement, spent time in Heidelberg for teaching and research at the university. They included poets such as Clemens Brentano and Friedrich Hölderlin.

In the 1960s and 70s, Heidelberg University became one of the main centers of left-wing student protests. Today, Heidelberg University is internationally renowned. Its building are grouped in two main locations.
1. In the Altstadt: the Old Town Campus (for humanities), some of whose buildings reach back to 1712, and the Bergheim Campus (for economics and social sciences).
2. In the district of Neuenheim across the river: The New Campus built during the 1960's (for the natural sciences and life science).
Vocabulary for Travelers 4
• Universität (f.) - university
• Gründung (f.) - founding
• Pabst (m.) - pope
• Romantik (f.) - Romantic movement in the arts and literature (late 18th-early 19th c.)
• Dichter (m.) - poet, writer
• Dichterin (f.) - poet, writer
• Linker Studentenprotest (m.) - left-wing student protest
• Ort (m.) - location, site, place
• Unigelände (n.) / Campus (m.) - campus
Das Schloss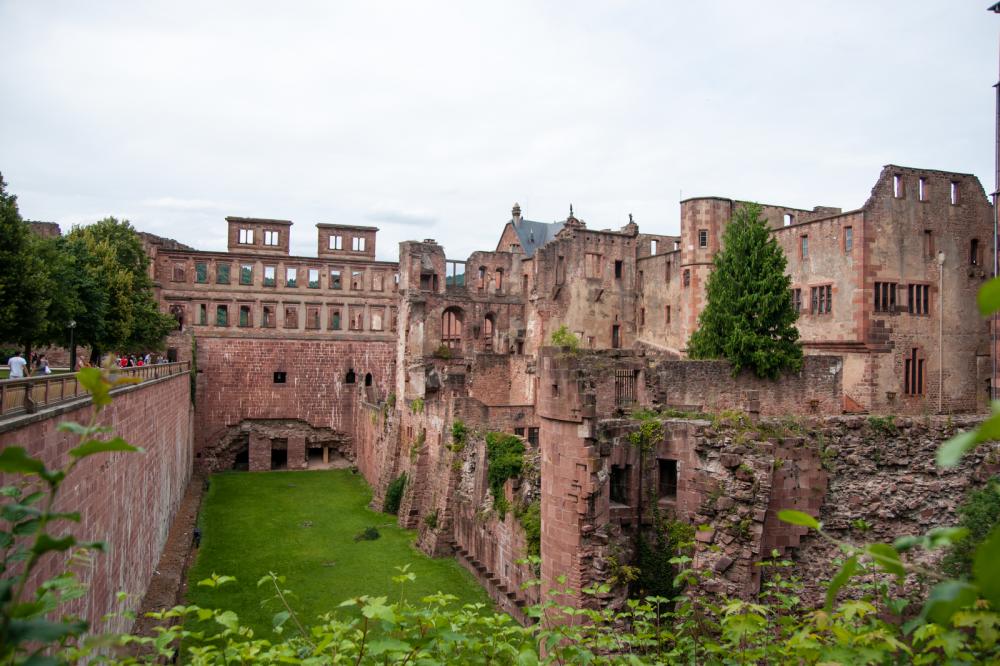 A Renaissance ruin and well-known landmark, Heidelberg Castle is nestled on the slope of the Königstuhl hill, 300 feet above the city of Heidelberg.

To go up to the castle from near the center of town, you can take a funicular to the Molkenkur station, and from there change to another funicular up to the castle. In all, it's about a 15-minute ride, and the view from the top is fantastic.

First built in 1890, the two Heidelberg mountain railways (Bergbahnen) underwent various building phases, renovations, and additions to meet current safety standards.
Vocabulary for Travelers 5
• Ruine (f.) - ruin
• Abhang (m.) - hillside
• Wahrzeichen (n.) - landmark
• Standseilbahn (f.) - funicular (cable car on a slope)
Further sights that may interest you:
Other Places to visit in Heidelberg
Studentenkarzer: The Student Prison (part of the old university), which was used from 1778 to 1914.
Philosophenweg: The Philosopher's Walk is a pathway that the university's philosophers frequented. It runs along the side of Heiligenberg and provides spectacular views of the castle and the city.
Alte Brücke: The Karl Theodor Bridge goes over the Neckar river joining the two historic parts of Heidelberg.
Königstuhl: Instead of taking the funicular up to the summit, you can also make the Königstuhl (King's Chair) a destination for hiking.
For anyone interested in poetry, click on Poems about Heidelberg (Heidelberg in der Dichtung)
Michael's Next Stop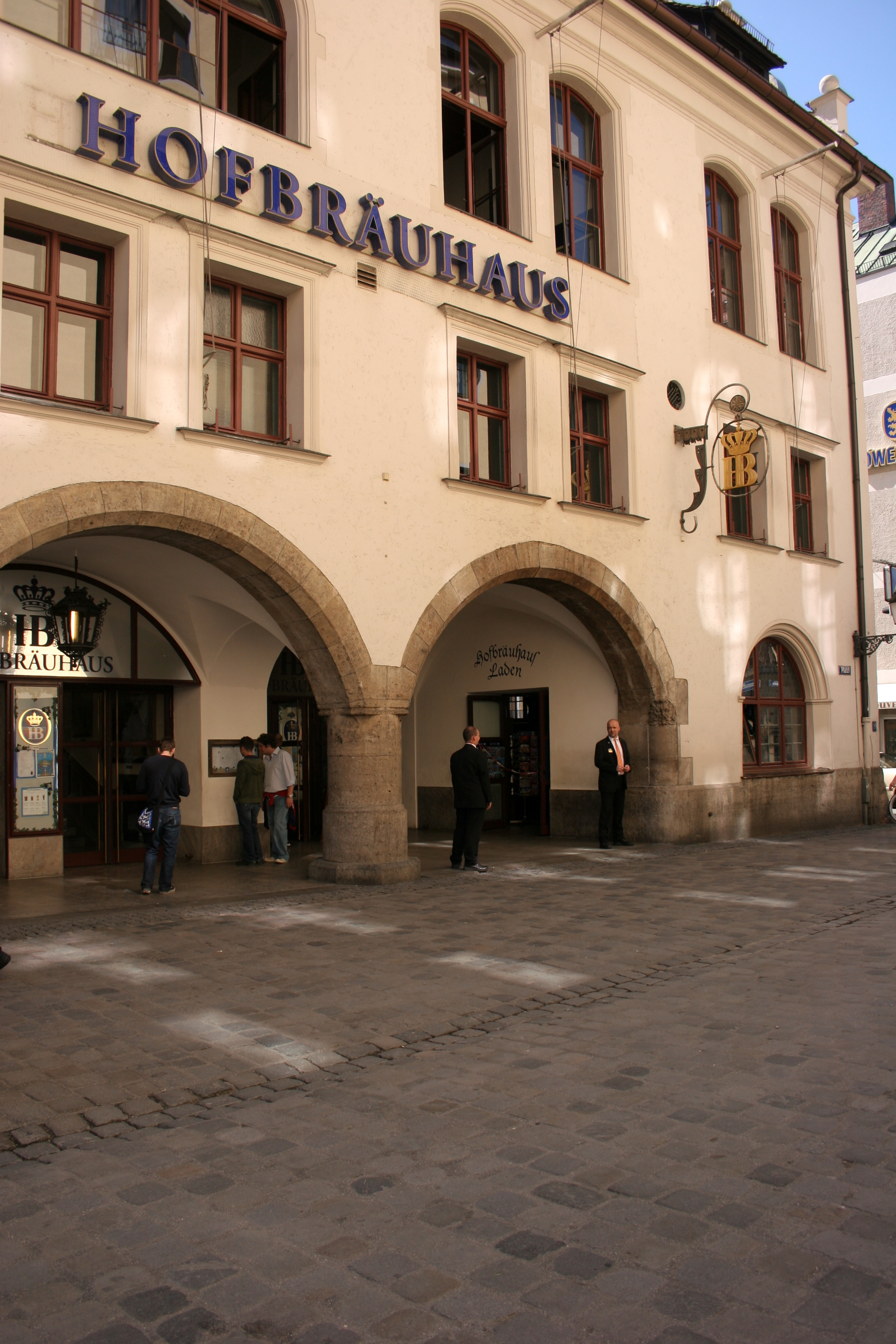 From Heidelberg, Michael takes the Intercity to Munich.

There he stays at a hotel, visits the Hofbräuhaus (see picture ), and spends the evening with friends in Schwabing, a lively student quarter.

We'll soon tell you more about Munich in our future post "German Travel Memories - Michael in Munich".

Register or log in again to continue with the German 1 course.
Bio: Ulrike Rettig is the co-founder of GamesforLanguage.com. She is a lifelong language learner, growing up in Austria, the Netherlands, and Canada. You can follow her on Facebook, Twitter and Instagram, and leave any comments with contact.