Posted on by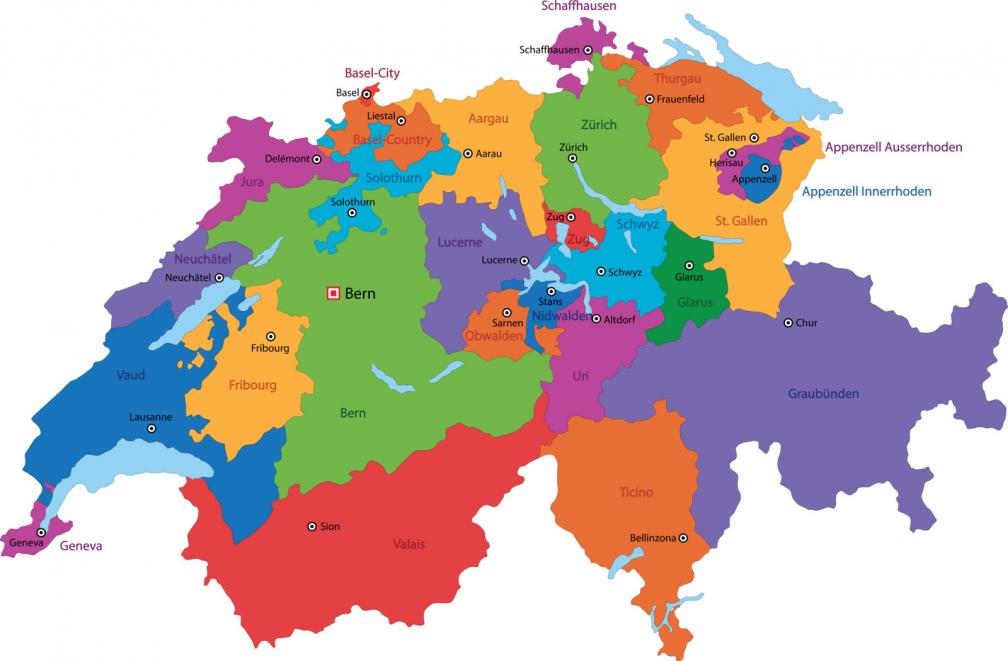 Besides German and French, there are two other official Swiss languages: Italian and Romansh. (See also our previous post: Language Learning: German and French in Fribourg, Switzerland)
Like German and French, Italian has full official status on the federal level in Switzerland: all laws and official documents have to be written in these three languages.

Romansh has "partial" official status, i.e. it is used on the federal level when needed for communication with Romansh speakers.

However, each Swiss canton and, generally, even each community can choose which language to use for its own official communication.

Italian is the only official language of the Canton of Ticino and one of the three official languages of the Canton of Graubünden.

Romansh is recognized as an official language only in the Canton of Graubünden, (the largest Swiss canton, but with less than 200,000 inhabitants, also the canton with the lowest population density).

According to an article about Swiss languages published in July 2016 by swissinfo.ch, German (both High German and Swiss German) is spoken by about 63% of the population, French by about 23%, Italian by about 8%. Romansh is spoken by less than 1% of the total population.
The Third Swiss Language: Where Italian is Spoken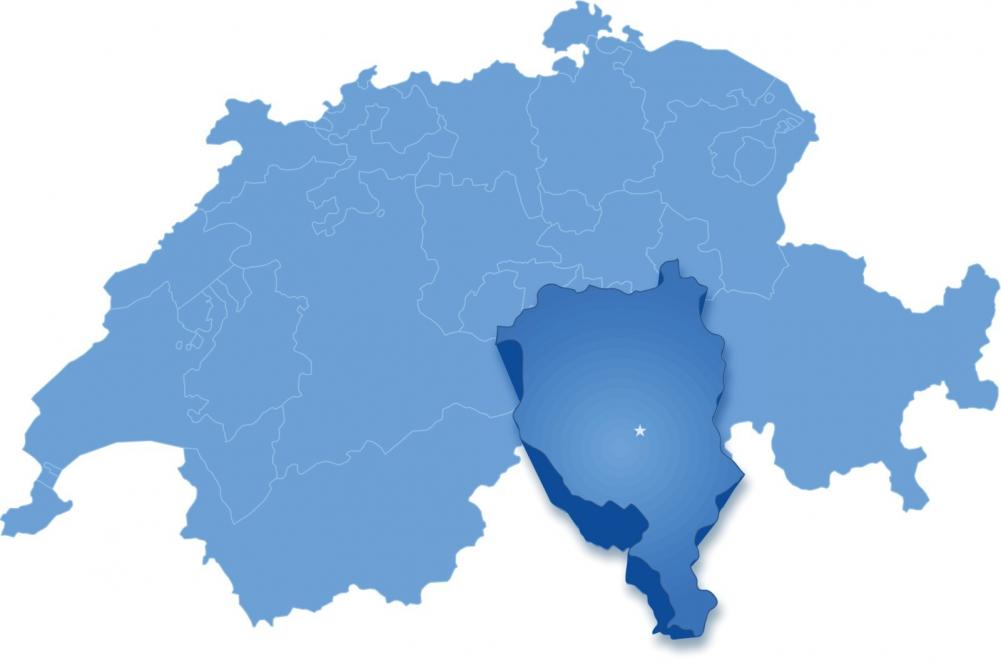 Swiss Italian is spoken in the Canton of Ticino and in the southern part of the Canton Graubünden (see map of Ticino, left and map of Graubünden below).

The territory of present-day Ticino was annexed from Italian cities in the 15th century. With the creation of the Swiss Confederation in 1803, the lands were named Ticino, after the largest river in the area. To read up on the history of Ticino: https://en.wikipedia.org/wiki/Ticino

The official name of Ticino is Repubblica e Cantone Ticino (Republic and Canton of Ticino). Because of historical ties, the people of Ticino have a strong cultural affinity to their Italian neighbors.

Ticino is the only canton where Italian is the sole official language. Over 87% of the people speak Italian as their native language, around 666,000 according to Ethnologue. (About 10% speak German, and about 5% speak French.)

In the Canton of Graubünden about 15% of the population speaks Italian (just under 30,000).
Please note: The numbers and percentages I'm quoting show some variation in the French, German, English, and Italian articles I consulted about Swiss languages.
Swiss Italian - Svizzero Italiano
Over the centuries, the Swiss Italian language has been influenced by the local Ticinese dialects and the other national languages, French and German. There are Helveticisms (words typical for Switzerland), differences in idiomatic usage and syntax, and loan words (not known in Standard Italian).
Loan words that come from French or German:
• To book, reserve (a room or table)
Italian: prenotare. Swiss Italian: riservare. French: réserver.
• Change, money back (noun)
Italian: resto. Swiss Italian: ritorno. French: retour.
• Sticker (for a car)
Italian: bollino. Swiss Italian: vignetta. French: vignette.
• Discount
Italian: sconto. Swiss Italian: ribasso. German: rabatt.

• Blind, roller shutter (noun)
Italian: taparelle. Swiss Italian: rolladen. German: Rollladen. (yes, 3x "l")
Here's a nice little YouTube podcast in Italian about the Swiss Italian language.
More Swiss Languages: Ticinese
In addition to Swiss Italien, a part of the population of Ticino speaks Ticinese, which is a group of dialect varieties of the Lombard language. For many Italian speakers, Ticinese is difficult to understand.

Ticinese has now been named an endangered language. (According to Ethnologue, there are 303,000 speakers of Ticinese in Switzerland.)

The Lombard language is also spoken in the Northern Italian regions of Lombardy, Piedmont, and Trentino.
The Fourth Swiss Language: Where Romansh /Rumantsch is Spoken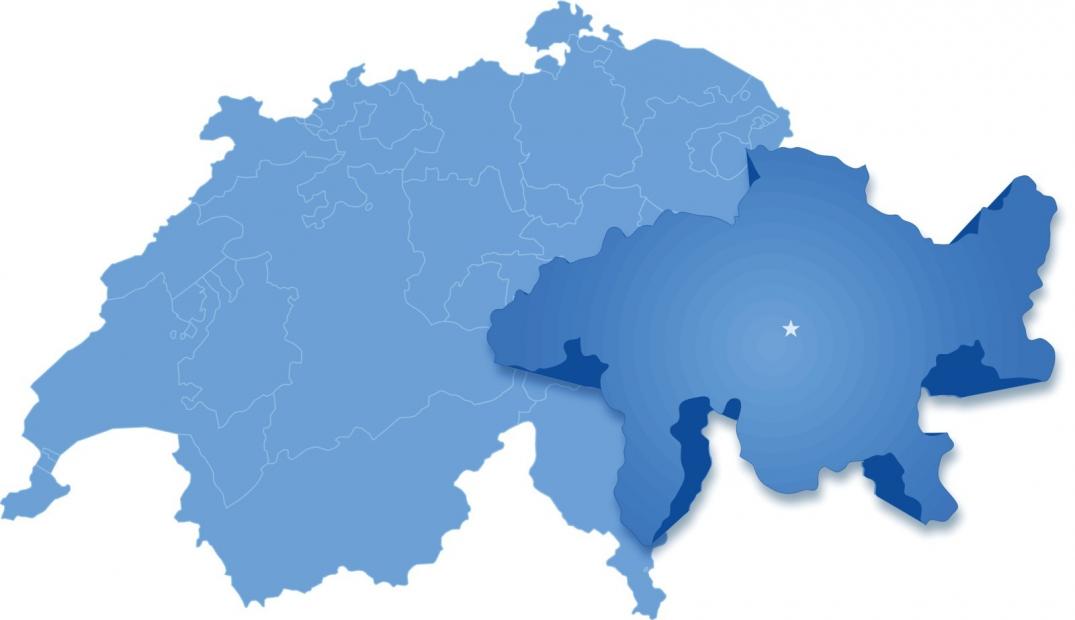 The Romansch language is spoken primarily in the southeast of Switzerland, in the Canton of Graubünden,where it has official status alongside German and Italian. (Besides the two spellings above, there are a number of other ways to spell the language.) Romansh is a descendant of Vulgar (or spoken) Latin.

In 2012, it counted just over 36 thousand people who called it their main language. At 0.9% of Swiss citizens makes it the least spoken of the four official Swiss languages.

The spoken Romansh language is generally divided into 5 dialect groups, which together form a continuum. Still, there are recognizable differences even from village to village. The most widely spoken dialect is Sursilvan, which is used by more than half of the speakers of Romansh. In addition to the 5 major dialects, there are a number of other recognized dialects.

Although they are closely related, the Romansh dialects are not always mutually comprehensible. For that reason, when speakers of different varieties talk with each other, they tend to use Swiss German rather than their own dialect. Apparently for Romansh speakers, identity is tied largely to the local dialect region.

In the 19th and early 20th centuries, grammar and spelling guidelines were developed for the regional written dialects. Now, each of the 5 Romansh dialect varieties has its own standardized written language. Romansh is taught in some of the local schools.

In 2000 a bilingual high-school diploma was introduced in Graubünden. Since then, if they wished, students have been able to follow studies and graduate in Romansh/German or in Italian/German.
Pan-Regional Rumansch Grischun
There were attempts to create a unified written Romansh language in 1867, and again in 1958, but these did not gather much support during the early days. A main criticism was that such a created language would be artificial and destroy the Romansh cultural heritage.

Nevertheless, attempts to introduce the standardized Rumansch Grischun in local schools have continued. Finally, in 2015, a hesitant compromise was reached: This unified version of the language is not to be introduced before grade 7. As expected, both supporters and opponents are unhappy.
How do the Swiss Manage?
In researching this topic, it became clear to me that accommodating these four languages and various dialects remains a challenge for Swiss communities and their government.

Resentments between language groups continue to exist. And still Switzerland, a small country of only 8.5 million inhabitants, is somehow managing.

One key may be the autonomy that the individual cantons and communities have in choosing their official language(s), and how and where the languages are taught, etc.

Maybe direct and frequent voting gives the citizens a sense of control? Maybe becoming bilingual by the time they get to school let children become more tolerant towards other languages?

Whatever the reasons, it seems to work. And it reminds me that South Tyrol may have emulated the language success of its neighbor, as we wrote in a previous post: South Tyrol – A Multicultural Success Story.
Bio: Ulrike Rettig is the co-founder of GamesforLanguage.com. She's a lifelong language learner, growing up in Austria, the Netherlands, and Canada. You can follow her on Facebook, Twitter and Instagram, and leave any comments right below!