Posted on by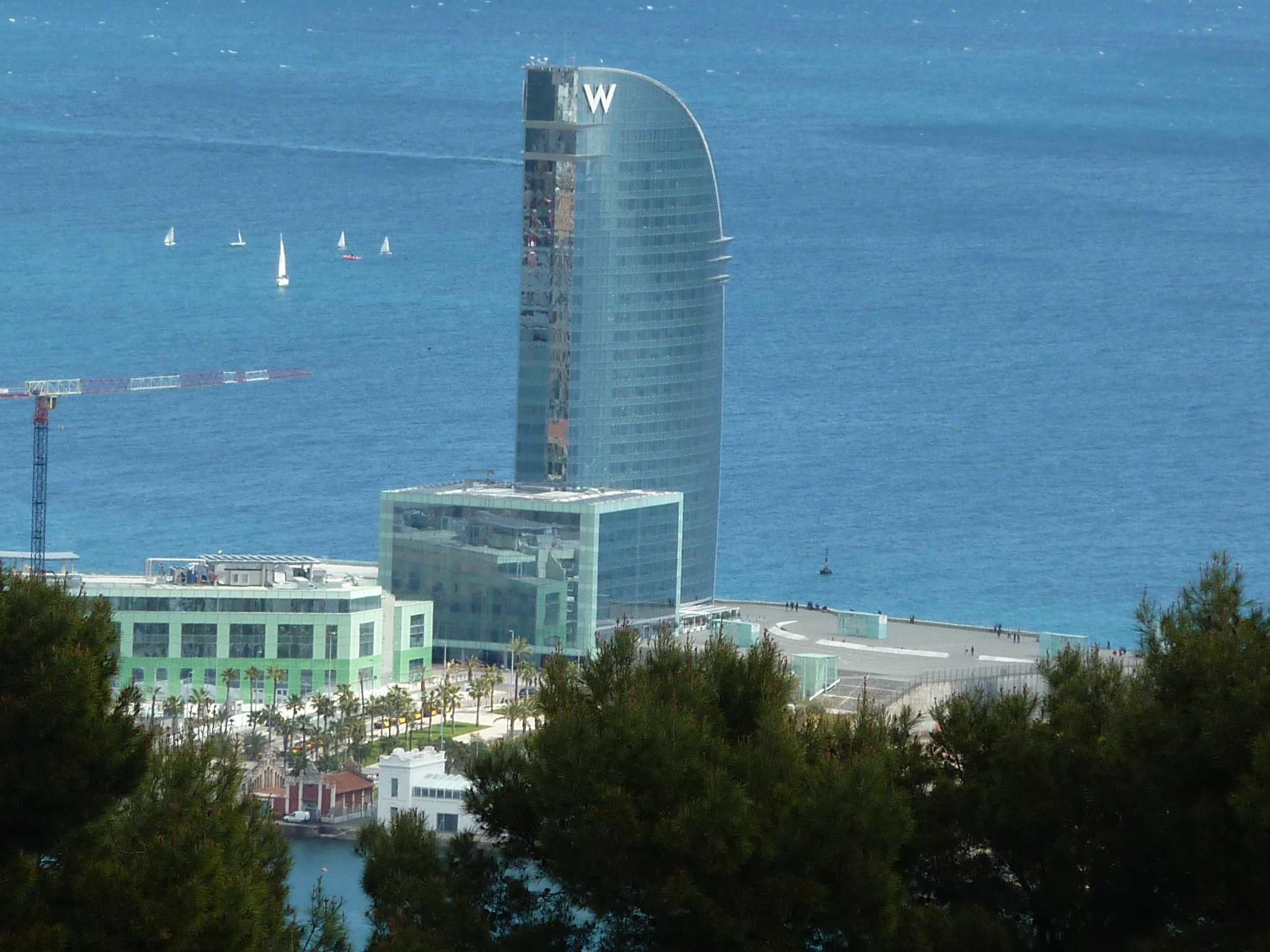 The Spanish Travel Memories expand on our GamesforLanguage travel-story based courses, which use the cities' real street names, places, restaurants, hotels, etc. We visited many of them ourselves and tell you a little more about each Spanish city.

In future blog posts, we'll provide additional details for each of the cities our young travelers visit in Germany, France, Italy, and Spain. (You'll already find posts on Frankfurt and Paris.)

David is our traveler to Spain. His first stop is Barcelona, often named as one of the top ten travel destinations in Europe. (And no, the photo above is not Dubai, but of the W Hotel right at the beach in Barcelona.)

Visiting Barcelona? Here's a short introduction to this lively, bilingual port city. We'll also list a few basic terms in Spanish and Catalan that will help you make your own travel memories.

We'll follow David's discoveries in Barcelona, for those of you who have done or are doing our Spanish 1 course: David en España.

In our travel-story course, you learn daily conversational Spanish. The Spanish vocabulary listed here is a combination of some words taught in the course as well as other useful terms. We've also added Catalan equivalents.
Carlos Ruiz Zafón's Barcelona Novels
We wish we had read these books before or during our stay in Barcelona in 2012. Zafon's novels El Juego del Ángel (The Angel's Game), La Sombra del Viento (The Shadow of the Wind), and El Prisionero del Cielo ( The Prisoner of Heaven), all are set in Barcelona. They are a combination of mystery and adventure tales. (Reading them in Spanish - maybe with the English translation beside it - will advance your Spanish quite a bit!)

The first published novel actually includes a "Walk in the Footsteps..." to "give a flavor of the setting for 'The Shadow of the Wind', and can be used as a starting point to explore more of the world of the novel, many of the locations and events." Many places that we're familiar with and our traveler David visits as well, are described in the novels which span the first half of the 20th century.
The Catalan language
Because our course teaches Spanish, we don't include information about the Catalan language. However, the city is clearly bilingual.

Catalan is a language spoken in three regions of Spain: Catalonia, Valencia and the Balearic Islands, as well as just across the border in southern France and a small community on Sardinia, Italy. It's also the official language of Andorra.

While 98% of Barcelona's population speaks Castilian Spanish, a majority, around 60%, also speaks Catalan. You'll hear Catalan spoken as you walk around town and you'll see many signs in both languages. You'll notice that many of the names of streets, parks, villa, museums, etc. on your street map will be in Catalan.

If you'd like to know more about the Catalan language and why one should not consider Catalan a "melting pot" of Spanish, French, and Italian, read this excellent post by the Spanish Linguist.
The Autonomous Community of Catalonia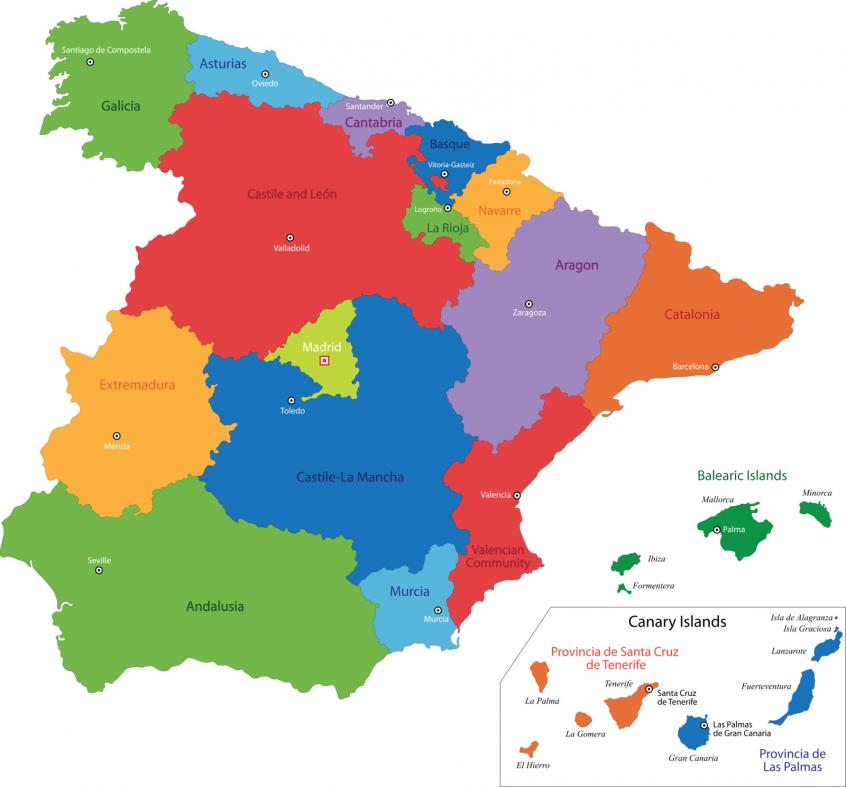 Catalonia has been in the news of late because of a recent vote by the Parliament of Catalonia for its secession from Spain. (See also our previous post: Spain and Catalonia – Not Just a Language Conflict)

The territory of Spain, according to its constitution of 1978, is organized into 17 autonomous communities, and 2 autonomous cities. (see map)

In its second article, the constitution "recognizes and guarantees the right to self-government of the nationalities and regions of which it is composed and the solidarity among them all." [Wikipedia]

While the "autonomous" label and "self-government" language in the constitution would indicate a substantial degree of independence of many communities, the tax levies and its distribution by the central government in Madrid remain an area of contention for many, not only for the proponents of secession in Catalonia.

A referendum in 2006, gave Catalonia an higher degree of autonomy than stated above. But a wish for more independence has obviously remained. And language has long been part of politics, with some bitterness on both sides.
Quick Facts About Barcelona
Barcelona, the capital of Catalonia, is a cosmopolitan port city located on the Mediterranean Sea in the northeast of Spain. It is the second largest city in Spain, with over 1.6 million inhabitants. Its metropolitan area has a population of over 4.6 million.

The history of Barcelona appears to go back over two thousand years, though details of its founding and early times remain elusive.
Ruins from Roman Barcelona (then called Barcino) date back to the 1st century AD. These can be visited in what is now the gothic part of the Barcelona's medieval city. In his Blog, the travel writer Richard Varr describes the site as "The world's most Extensive Underground Roman Ruins."

Barcelona belongs to the world's major global cities and has been called one of the world's leading tourist, economic, trade fair and cultural centers.

Catalan Art Nouveau architecture, called "Modernisme," developed between the years of 1878 and 1910, and was an expression of Catalonia's striving for its own national identity. Barcelona claims to have the greatest collection of Art Nouveau Buildings of any city in Europe.

Barcelona hosted the 1992 Summer Olympics, which revamped the harbor area and many buildings, and created a several mile-long beach area with cafés, restaurants, promenade, etc.
David Arrives at Barcelona's El Prat Airport
David is a student who learned some Spanish at home and later studied it in school. His father is from Spain and his mother from Mexico. This will be his first visit to Spain. On his flight to Barcelona, Michael chats in Spanish with the flight attendant and with the woman who sits next to him.

He arrives at the busy International El Prat Airport, which is located 12 miles from the center of the city. (Visitors using certain discount airlines may also arrive at the Reus and Girona airports, which are about 60 miles from Barcelona, so watch out! David's aunt picks him up. Otherwise, he would have gotten into town by taxi, bus, or train.

As David goes through passport control, he continues to use his Spanish. Responding to the standard immigration/passport control questions, he has to explain why he is traveling to Spain and how long he will stay.
1. Useful terms for Travelers
Following the Spanish, you'll see the Catalan equivalent in parentheses.
• the flight - el vuelo (el vol)
• the flight attendant - el auxiliar de vuelo (el auxiliar de vol)
• the airport - el aeropuerto (el aeroport)
• the passport control - el control de pasaportes (el control de passaports)
Districts of Barcelona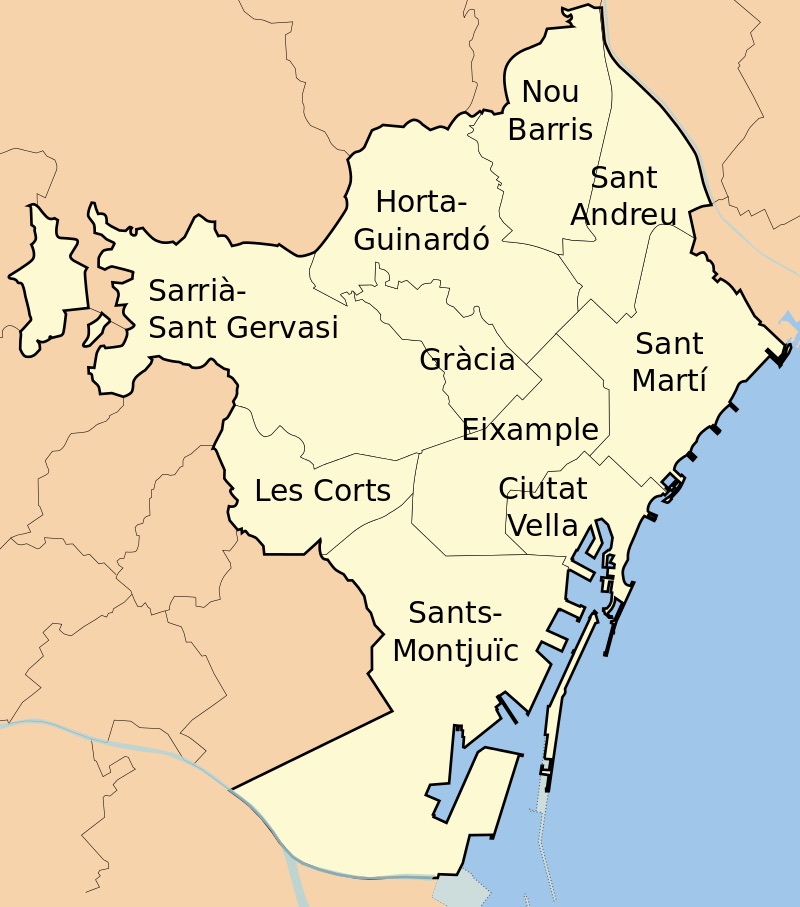 David's aunt and uncle live on Carrer de Mallorca (Spanish: Calle de Mallorca). This large street runs through the neighborhood (Spanish: barrio) of la Dreta de l'Eixample, and is close to Plaça de Cataluña and el Passeig de Gràcia.

Barcelona is divided into 10 administrative districts, which consist of 73 "barrios." Each of the 10 districts is referred to by number and a name. (see map)

The old town stretches mostly across districts 1 (Ciutat Vella) and 2 (Eixample). It's in the latter where the barrio "Dreta de l'Eixample" is located.

During our 1-month stay in Barcelona, we stayed in Gràcia, and liked this district very much. You can read about our travel memories in several blog posts.
2. Useful terms for Travelers
Some relevant vocabulary, first Spanish, then Catalan in parentheses.
• the street - la calle (el carrer)
• the neighborhood - el barrio (el barri)
• the square - la plaza (la plaça)
• the promenade - el paseo (el passeig)
• the district - el distrito (el districte)
• the old town - el casco antiguo (el nucli antic)
• the city - la ciudad (la ciutat)
Travel Memories: La Sagrada Familia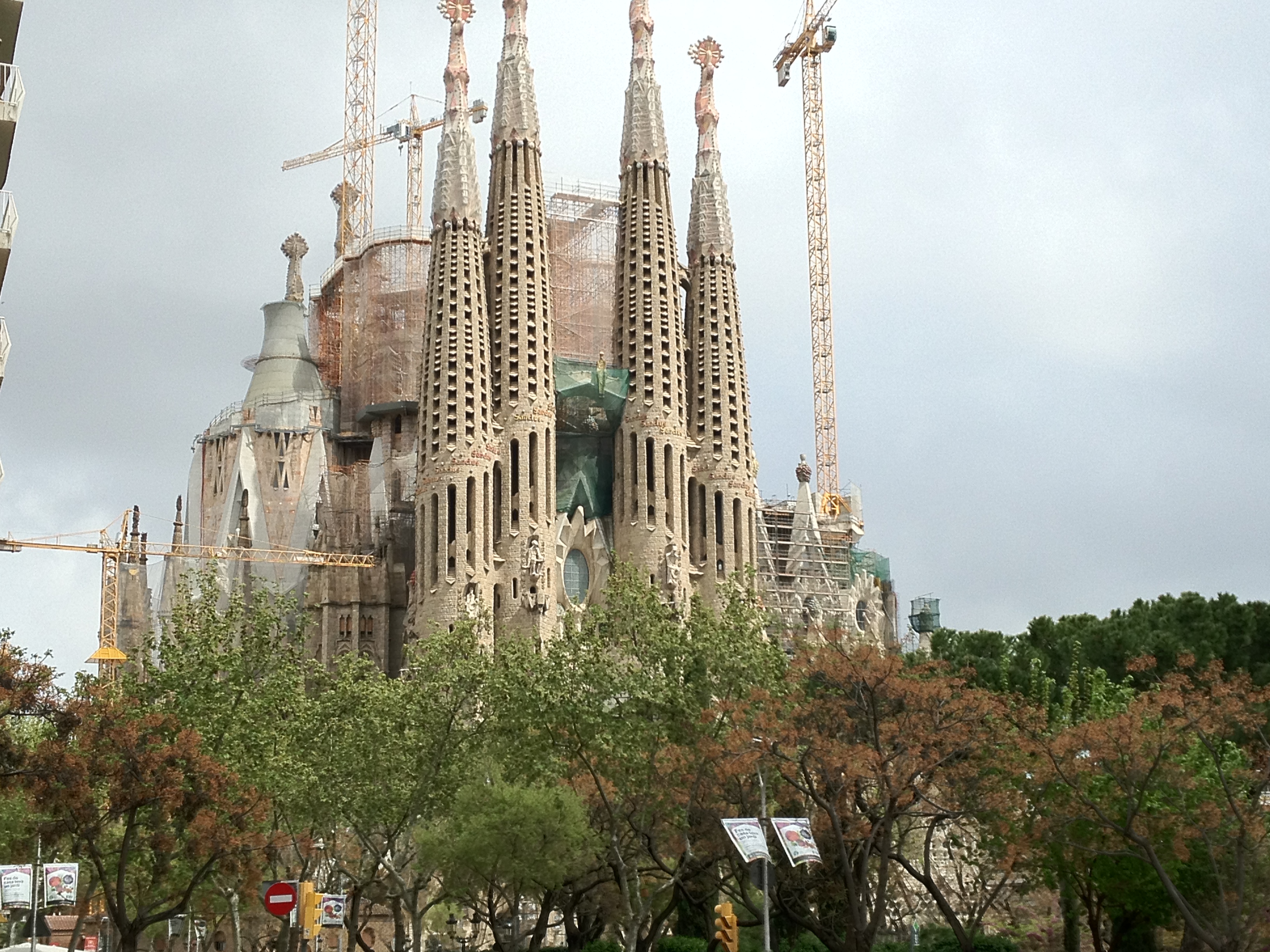 David and his cousin María walk over from Calle Mallorca to Antoni Gaudí's spectacular church "La Sagrada Familia."

Begun in 1882, the project became Gaudí's life work. At his death in 1926, only part of the church was finished. Construction resumed after the Civil War (1936-1939) during the reign of Franco, and continued after Franco's death (1975). The building is now projected to be finished in 2026.

"La Sagrada Familia" has been called the most unconventional church in Europe and will certainly be part of your Barcelona travel memories. Gaudí used the natural world and its curves for his inspiration and avoided straight lines and angles as much as he could.

For his constructions, he developed his own architectural techniques. Some of these are on display in the museum of the church as well as in the Casa Milà Exhibits (see below).
3. Useful terms for Travelers
the church - la iglesia (la església)
the Civil War - la Guerra Civil (la Guerra Civil)
the nature - la naturaleza (la naturalesa)
El Paseo de Gracia (Passeig de Gràcia)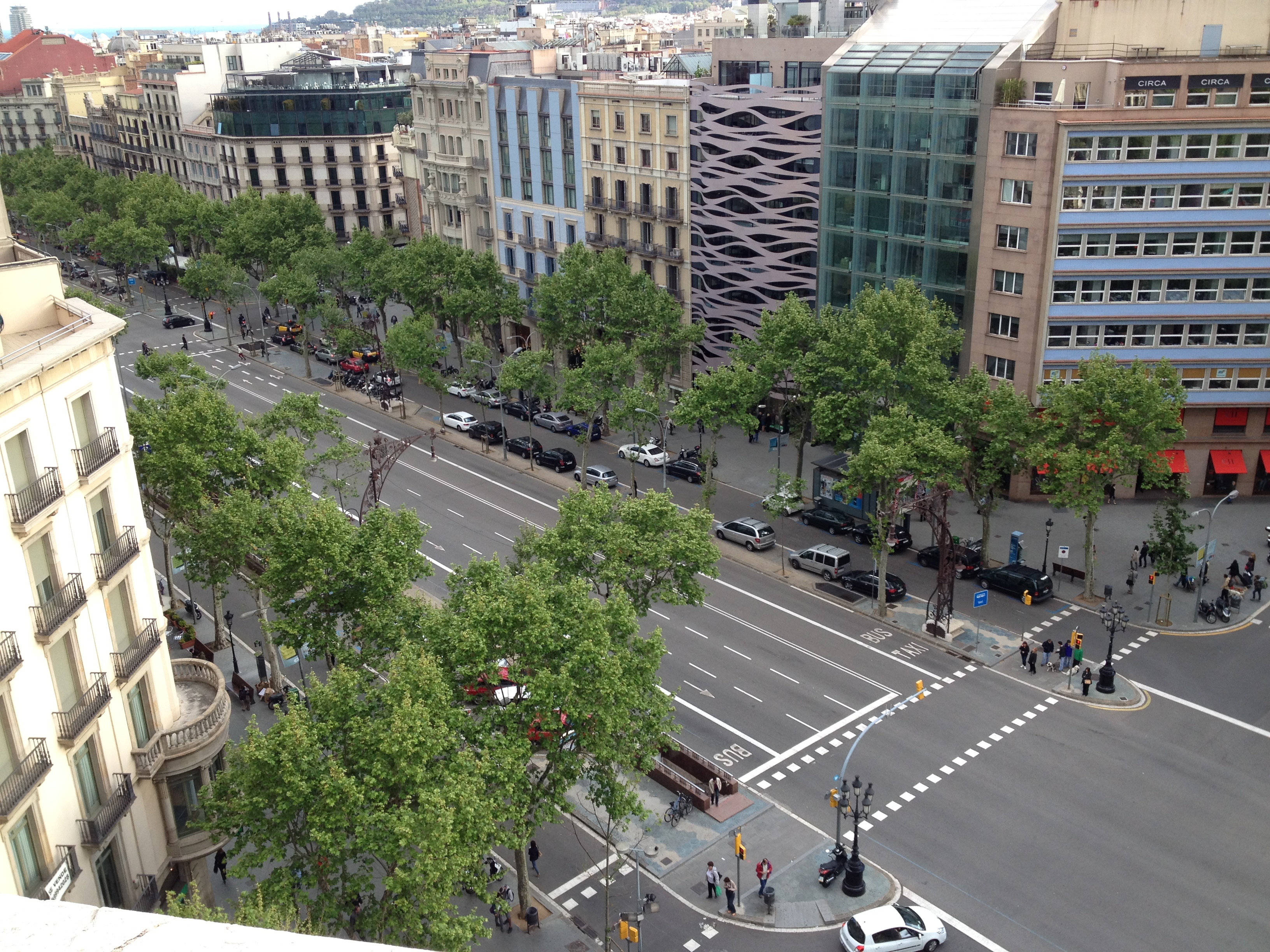 As they walk through their neighborhood, his cousin María asks David if he wants to join her for some shopping on the Passeig de Gràcia.

The Passeig de Gràcia is a wide avenue with shops and businesses that leads from Plaça Cataluña to the neighborhood of Vila de Gràcia. (The photo left is taken from the roof of Gaudí's Casa Milà, see also below)

A little history: Originally, Passeig de Gràcia was called Camí de Jesus and connected the city of Barcelona to the nearby town of Gràcia. With time, small houses, cafés, restaurants, shops, theaters, and dance halls were built along the stretch.

In 1897, the town of Gràcia was formally annexed by Barcelona. It became fashionable to live on the Paseo and to have one's house build in the Modernist style, by architects such as Antoni Gaudí, Lluís Domènech i Montaner, and others.

Today, the Passeig de Gràcia has retained its appeal. Most of the older buildings have been restored; villas, shops, and fashion houses have multiplied. Along the avenue, which is lined with trees, there are street lamps and benches.

Here is a link to more history and a walking tour along the Passeig. On the Passeig de Gràcia there are also many restaurants and cafés. In Spain, a café is called "una cafetería." David and María order "una horchata" (a tiger nut milk drink; in Catalan: orxata), "un cortado" (espresso with a dash of mik; in Catalan: tallat), and "magdalenas" (small cupcakes).
Parque Guëll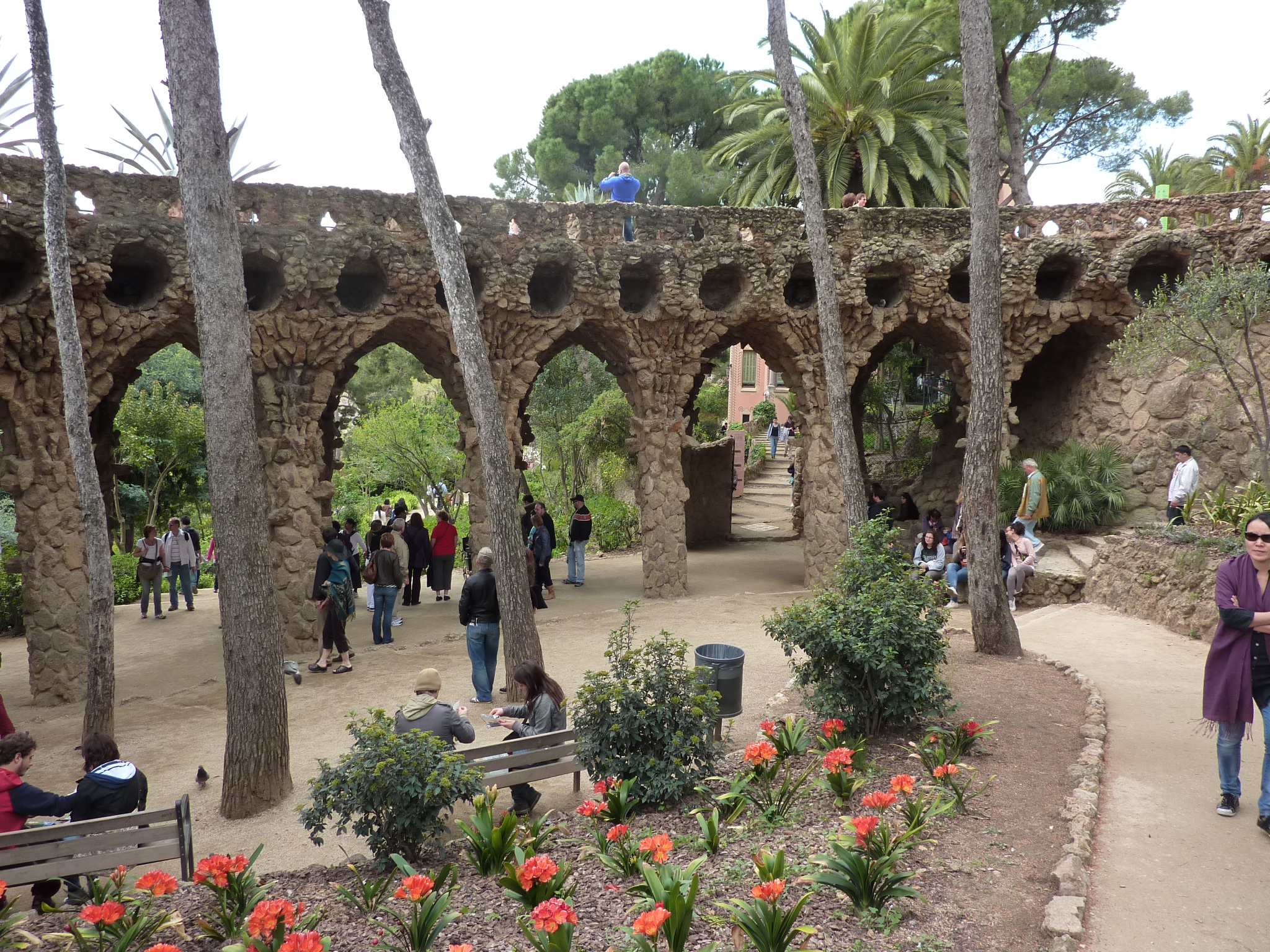 In 1900, Count Eusebi Guëll, a wealthy and influential Catalan owner, bought land in Gràcia. He employed his friend Antoni Gaudí to design an estate for the rich. The park was built between 1900 and 1914. Gaudì's imaginative designs and architectural solutions were inspired by natural organic shapes.

Only two houses were built, though neither was by Gaudì. Because the project was not commercially successful,the family Guëll gave the land to the city in 1923 as a public park. It officially opened in 1926. Gaudì lived in the park between 1906 and 1926 in a house built by the architect Francesc Berenguer. In 1984, the park was designated a UNESCO World Heritage Site in 1984.
4. Useful terms for Travelers
• the park - el parque (el parc)
• World Heritage - Patrimonio de la Humanidad (Patrimoni de la Humanitat)
• to design - diseñar (dissenyar)
Other Places to visit in Barcelona
• The Olympic Stadium (Estadi Olímpic Lluís Companys): Built for the 1929 International Exhibition, the stadium was renovated in 1989 for the 1992 Summer Olympics. It is located on Montuïc, a hill in Barcelona that overlooks the harbor.

• Casa Milà (picture left), popularly known as "La Pedrera", was Antoni Gaudì's last civil work and built from 1906 to 1912. It is an apartment building located around an inner court yard and incorporates many innovative features of its time.

The gallery in the building's attic exhibits many examples of Gaudi's design and engineering concepts. From the top you get a stunning view of the city. (see photo) The building is a UNESCO Heritage Site.

• Picasso Museum (Museu Picasso): The museum opened in 1963 and houses an extensive permanent collection of Pablo Picasso's works presented in five medieval palaces.

• Joan Miró Foundation (Fundacío Joan Mirò): A collection of Miró's art, exhibitions of contemporary art, and Espai 10 and Espai 13, a Laboratory for Contemporary Art - "where artists have the right to fail."
From Barcelona, David takes the train to Granada, for more travel memories. There he gets together with a friend he had met in Boston.

(Going from Barcelona to Granada by train, is a nearly 600-mile trip. Taking the train is the most inexpensive option, and the trip can take between 8 to 12 hours. You can, of course, also fly to Granada, which takes about an hour and a half.)
Register or log in again and continue with the Spanish 1 course.
Bio: Ulrike Rettig is a co-founder of GamesforLanguage.com. She is a lifelong language learner, growing up in Austria, the Netherlands, and Canada. You can follow her on Facebook, Twitter and Instagram, and leave any comments below or with contact.