Posted on by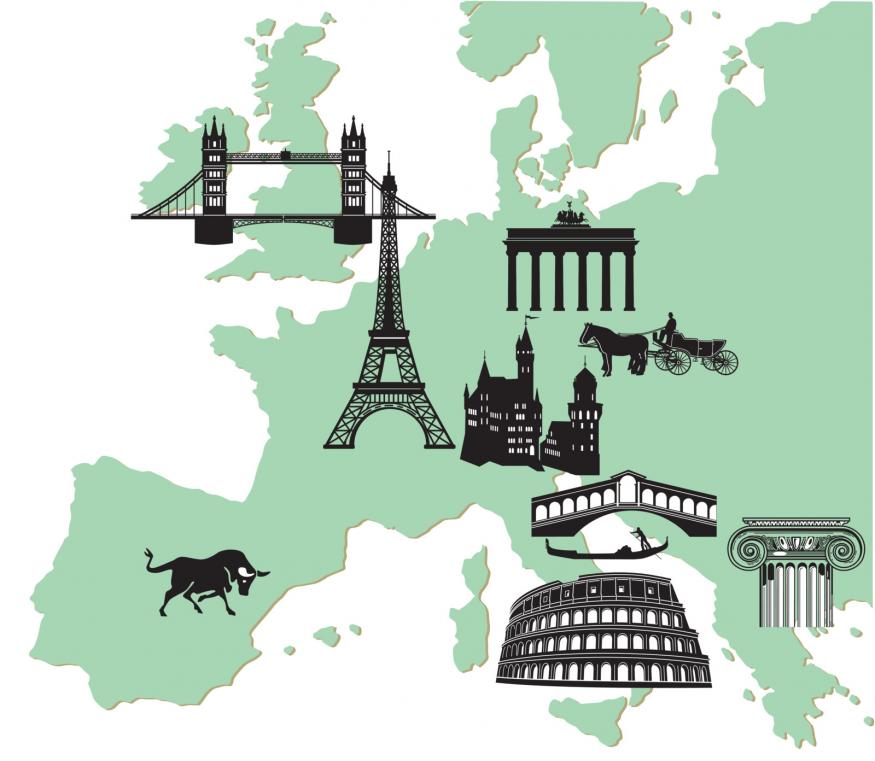 As we are planning to travel more through Europe in the coming years - mostly after Labor Day - we are starting our European Travels series with this post.
Our travels will typically start in the Netherlands, before or after a Dutch family reunion. Therefore, its subtitle - "Rembrandt, Reunion, Dunes and Fietsen" - seems quite appropriate!
Traveling to Europe after Labor Day can only be recommended. The trains are not as crowded and the interstate roads - while always busy – don't have the massive tie-ups that often occur during the main travel months in the summer.

We are lucky to be members of an international family that gets together once a year, in late summer or early fall. The reunions take place mostly in cities or villages in the Netherlands, but we've also attended gatherings in Werden, Germany, and in Brugge, Belgium.

These reunions (see last year's 3 Languages, a Pyramid, Napoleon and a Family Reunion) are not only an opportunity to touch base with family members, but they also give us the chance to use and practice our languages.
Frankfurt - Amsterdam
Our flight from Boston to Frankfurt am Main was event-less. As usual, it was easy to pass through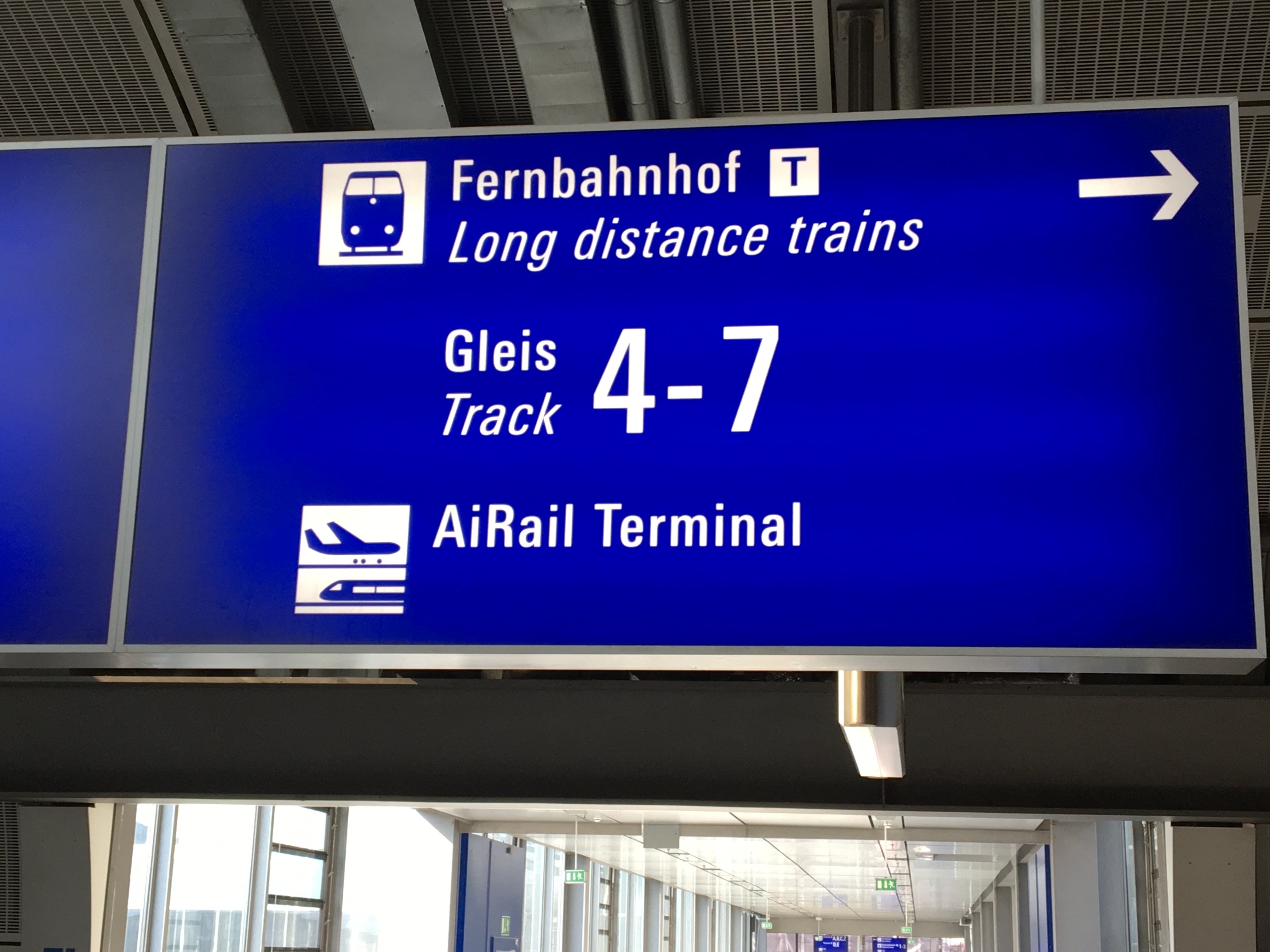 passport control, pick up our luggage, and walk over to the "Fernbahnhof" (long-distance train station) to board our train to Amsterdam.

Frankfurt has another train station, this one for local trains, as the signage makes quite clear. It's the "Regionalbahnhof," in case you just want to head into the city. (If you do, our blog post about Michael's visit to Frankfurt may interest you.)

The ICE trains are pleasant and convenient. We learned from one of the daily papers that they are now already in their 4th model series. Normally we like to select a "quiet" compartment after arriving from Europe so we can pick up on some lost sleep. (A quiet compartment is marked by a sign with a man saying "Psst" and a second one that has a cell phone with a line through it.)
Here's a quick explanation for the three terms mentioned above:
• Fernbahnhof - station for long-distance trains
• Regionalbahnhof - station for regional trains
• ICE - Intercity-Express (high speed trains that run through Germany and surrounding countries)
Amsterdam
A few hours later when exiting the "Centraal Station" (see left) in Amsterdam, we stepped into bright sunshine and 80 degrees weather. Amsterdam's central train station is an imposing building sitting right on the banks of the Ij river.

The station was designed in the Gothic/Renaissance Revival style by the Dutch architect Pierre Cuypers (1827-1921) and first opened in 1889. Cuypers is the same architect who also designed the building of the Rijksmuseum.

In front of the train station, you're immediately faced with crossing a busy street that takes you over a canal. Our Airbnb was located in the center of Amsterdam, so that's where we needed to go.

Our quarters were only a 12-minute walk from the train station. Our host must have heard our approach as he greeted us before we could ring the bell. The room was in a typical Dutch row house and situated below street level, along one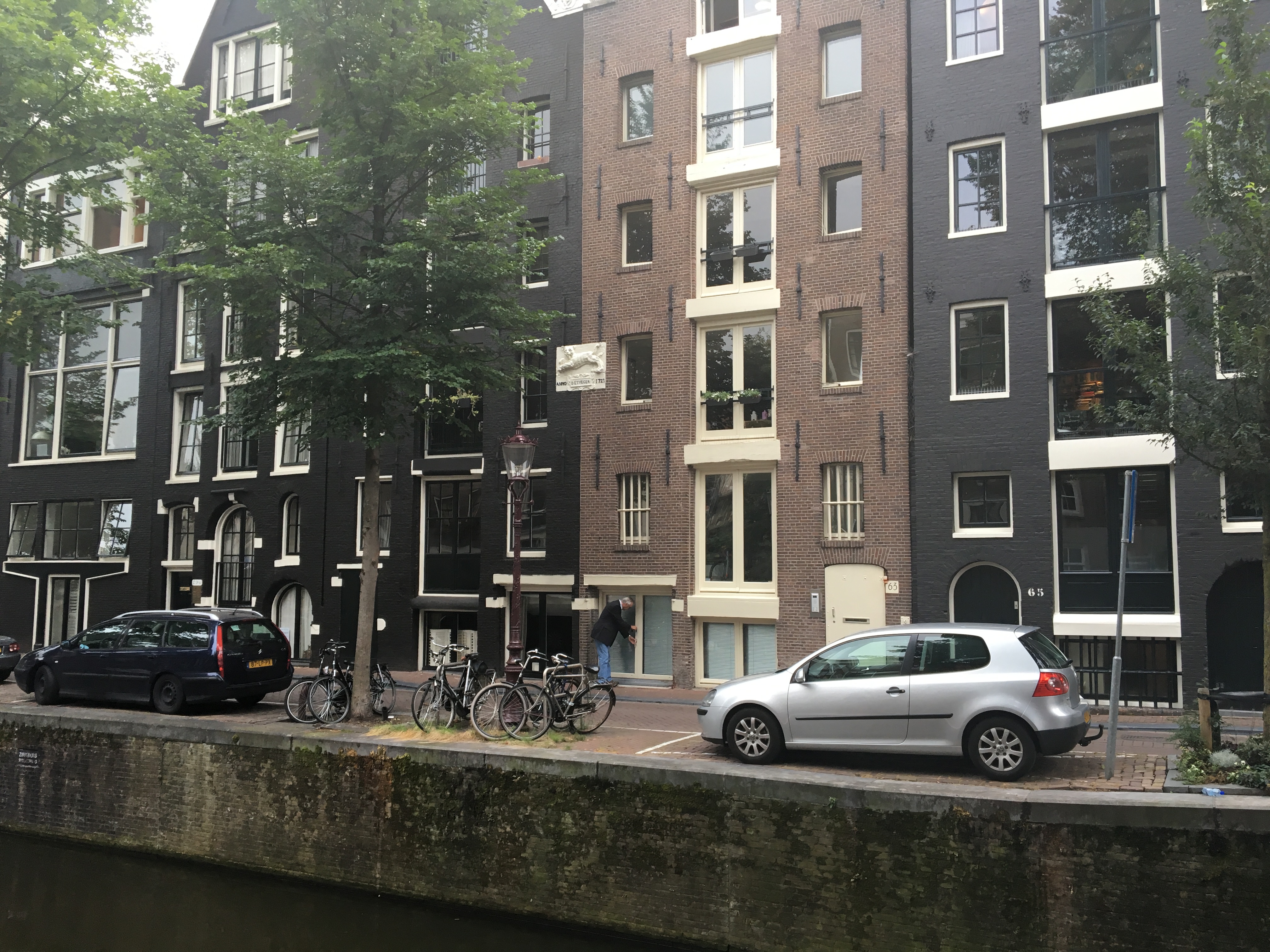 of the typical Amsterdam canals. With big windows and a glass door opening to the sidewalk and street, it looked very inviting. The inside was attractively furnished and well equipped.

Our host gave us detailed instructions: how to use the coffee maker, get Internet access, etc. He also explained that the shower and toilet had to be pumped up to the sewer line and that the water level of the canal was less than one foot below our room floor. He hastened to assure us: "Don't worry, it's safe, this building has been here for over 200 years."

A bottle of red wine was waiting for us as a nice welcome gesture and we enjoyed our two nights there.

Amsterdam is a great city for walking. From Centraal Station to the Rijksmuseum, which is at the other end of the historic center, it's only about a mile.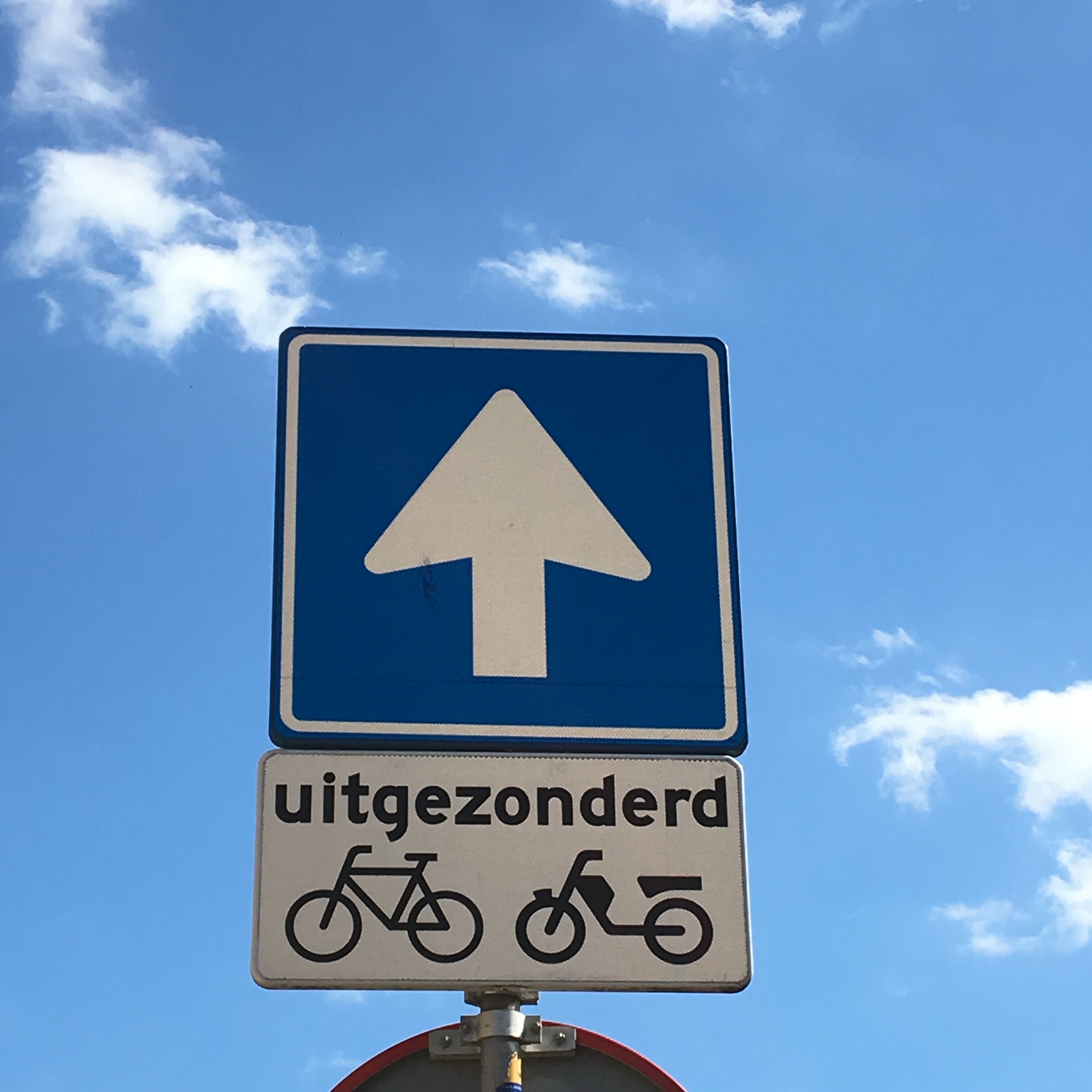 But - you have to really watch out to avoid the bike riders, who seem to attack you from all directions as you try to cross the street. They are clearly a privileged class in the Netherlands.

One-way streets? They are one-way just for cars. Bikes or mopeds are not shy about taking them in either direction, even with cars heading their way. Often there are signs that expressly make bikes and mopeds "the exception," as on this typical one-way sign, "uitgezondered" (except) for bikes and mopeds, which can still come towards you.

We'd been in Amsterdam before. This time we stayed only one day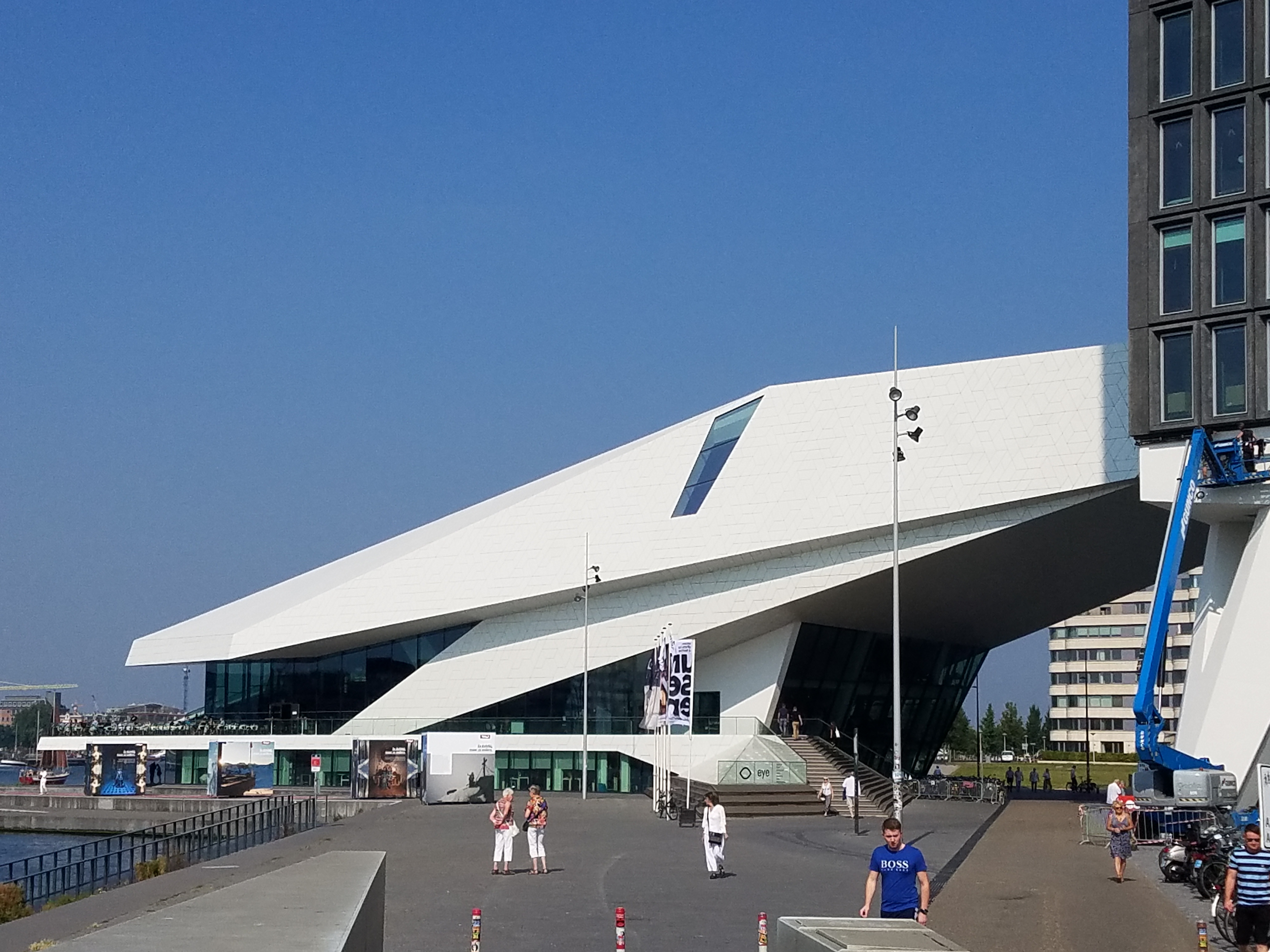 in the city as we were familiar with many of the sights and had done the must-do activities, a canal cruise, the Anne Frank house, Rembrandt House, etc. Our host suggested that we take the free ferry across the Ij river, just on the other side of Centraal Station. We did so the next morning under blue skies, together with a crowd of pedestrians, bikes, and scooters.

The spectacular structure of Amsterdam's Eye Film Institute certainly invited a look, and anyone interested in the cinema and its history will enjoy spending time in there.
Rijksmuseum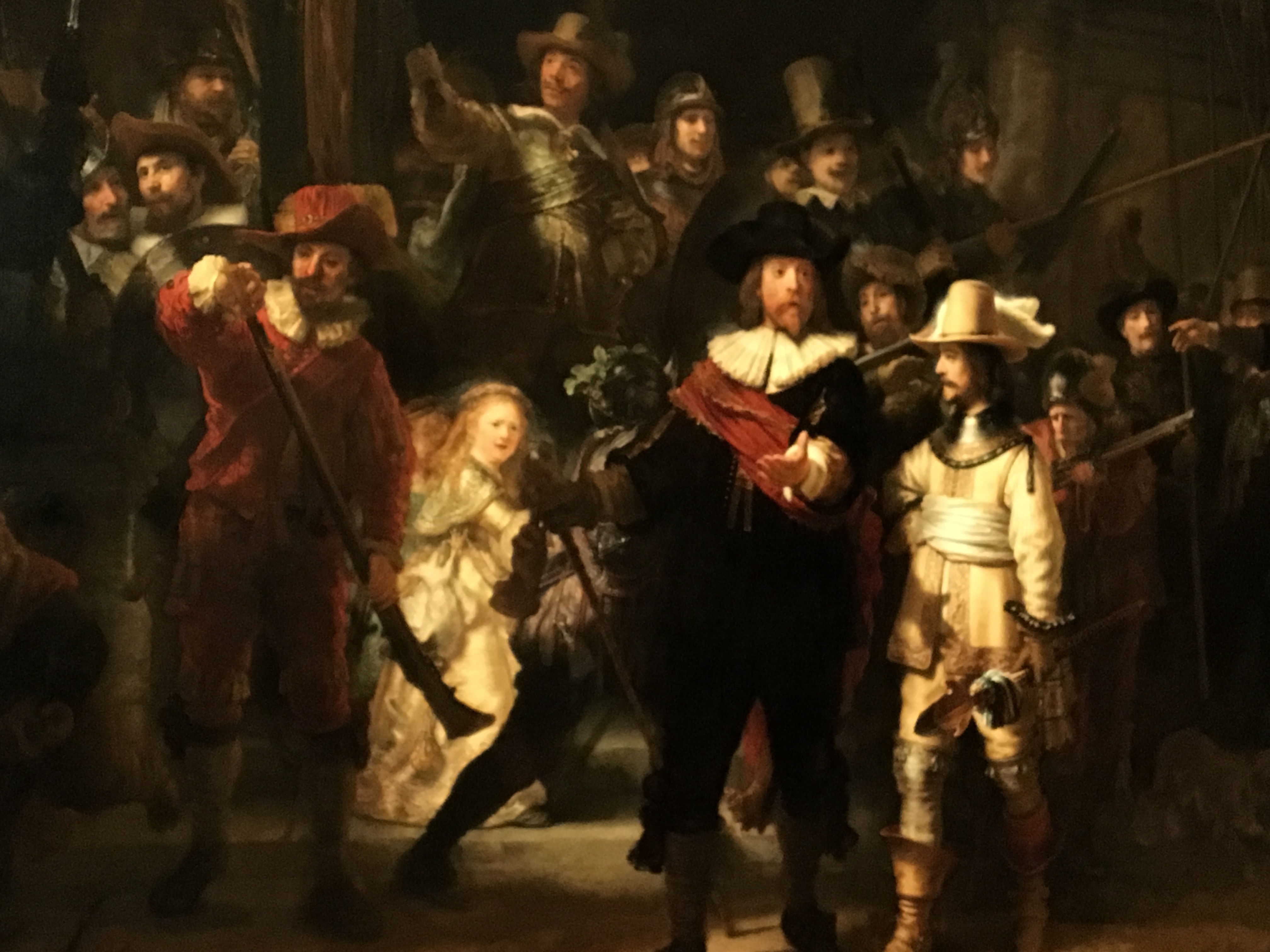 We spent the afternoon in the famous Rijksmuseum, which had been closed for several years during extensive renovations. We went straight to the Honor Gallery with its masterpieces of the Dutch Golden Age by Rembrandt van Rijn, Frans Hals, Johannes Vermeer, Jan Steen, Jacob van Ruisdael, and others.

We stood quite a bit of time in front of Rembrandt's "Nightwatch," one of the most prominently exhibited paintings.

From the available information sheet, we became aware of a lot of details that the casual observer would miss: the chicken hanging from a young girl's belt, the mascot of the guard unit, or Rembrandt's face peering out from behind one of the soldiers. The claws of the dead chicken on the girl's belt represent the "clauweniers" (arquebusiers) and the dead chicken suggests a defeated adversary.
A Family Reunion and a Roman Castellum
Soest, a small town east of Utrecht was again the location of our Dutch family's reunion. Communication is not a problem because all members speak English and often one or two other languages to boot. We always have fun distinguishing the various German, Austrian, and Swiss or the British, Canadian, and U.S. accents.

One of Ulrike's distant cousins had just moved with his wife and young child from Mexico to Amsterdam, the Netherland's capital city. While both their English was excellent, they spoke no Dutch (yet) and it'll be interesting to see their progress when we see them again. (Maybe next year?)

While my Dutch had improved substantially and I could follow many Dutch conversations, speaking fluently remains a challenge. Nearly all of the Dutch relatives' English is better than my Dutch. Besides, they're eager to practice their English.

We always learn something new about the area or city where the reunion takes place. This time we all went on an excursion to the Castellum Hoge Woerd, in De Meern, near Utrecht. This is a replica of a Roman fort with an exhibit of a recently discovered Roman river barge (below). It took us back to the time the Romans ruled in the area. (see also: http://www.castellumhogewoerd.nl)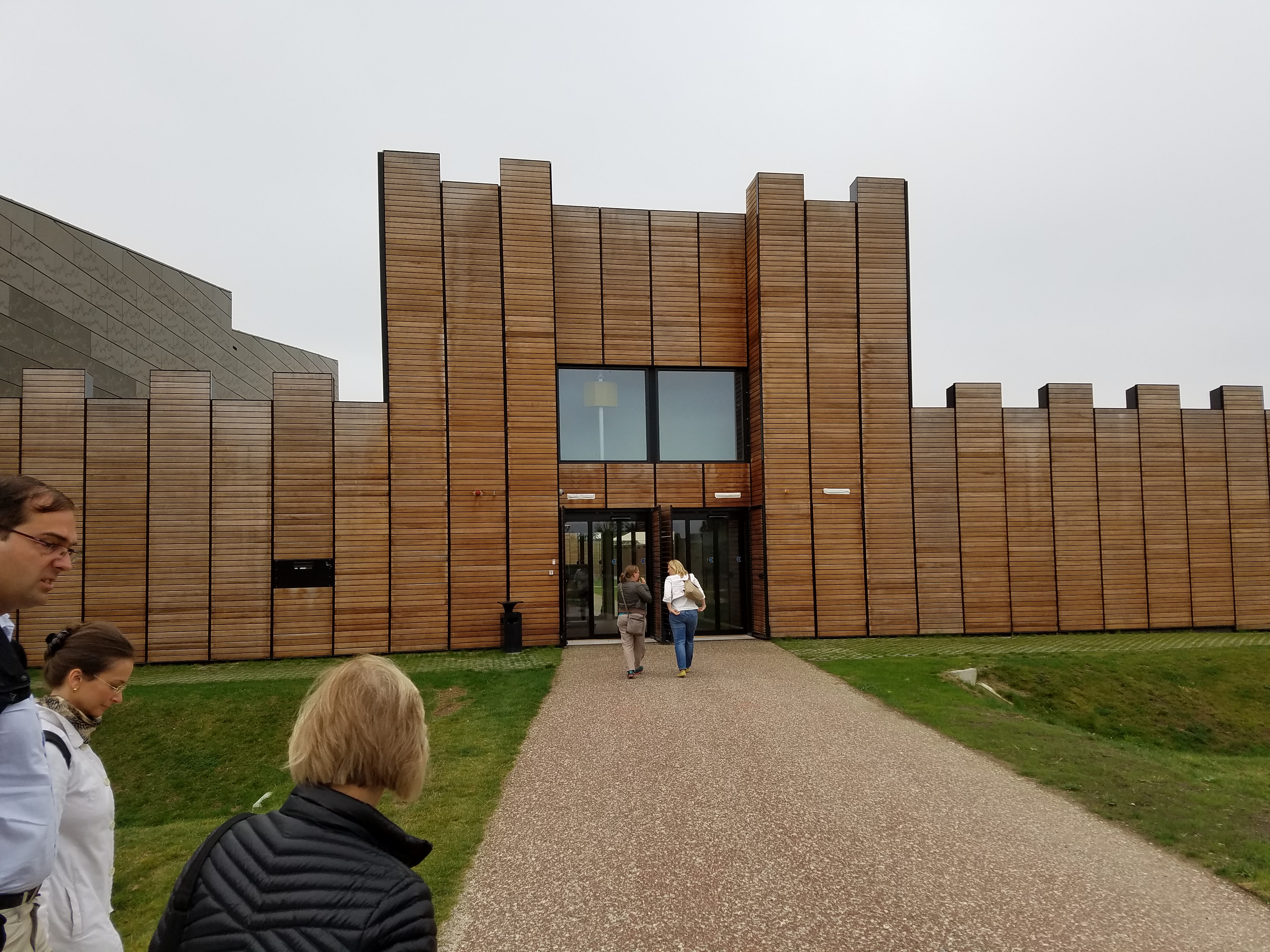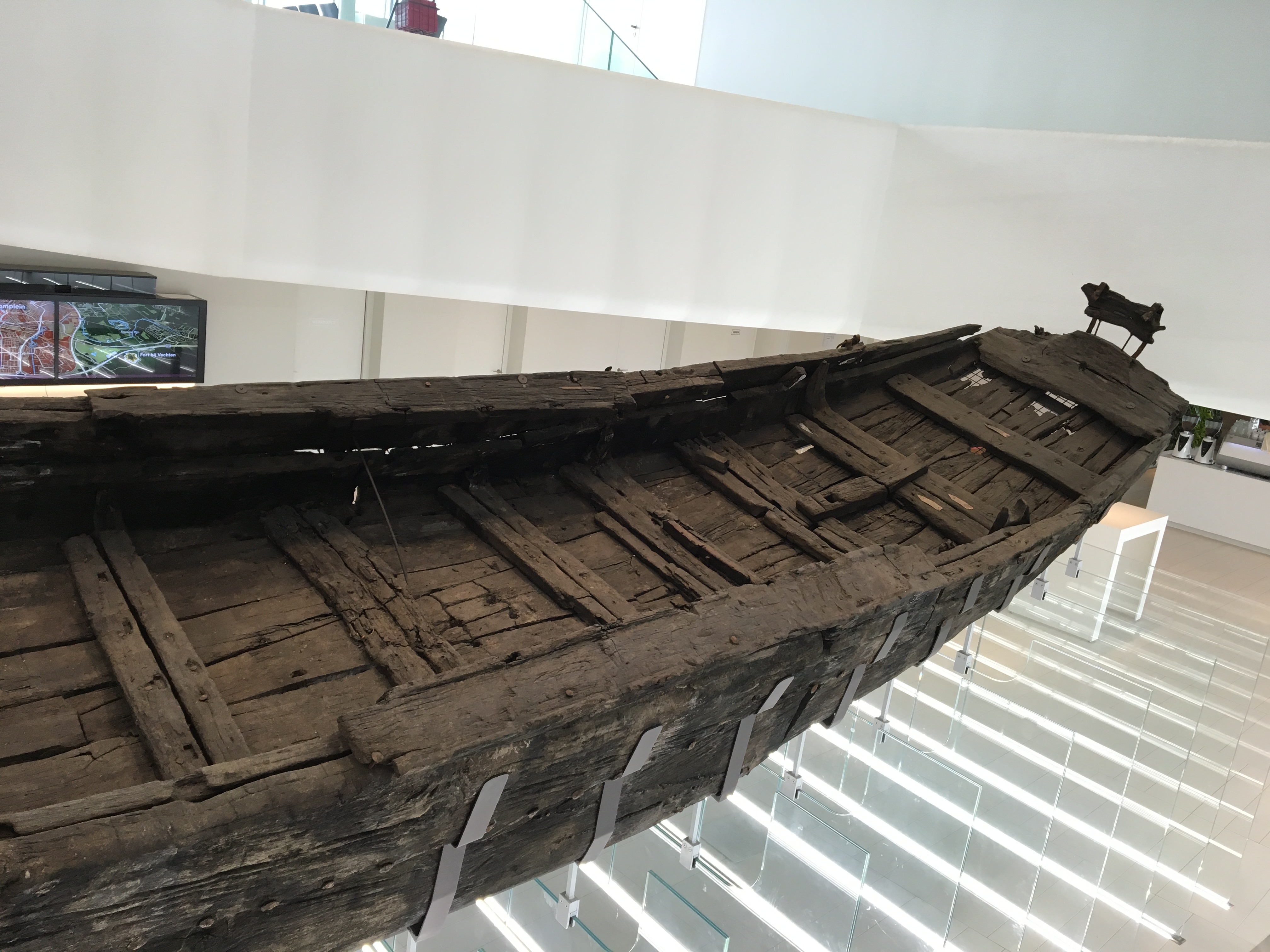 The museum is brand new, with free entrance. Interactive displays of Roman life and culture added to the interesting stories of our guide: He imagined what could have caused the sinking of the over 90 feet long barge as the Roman skipper was guiding it down the river. (The river since then has changed its course, and is now called the "Oude Rijn.")
The river's mud had preserved both the hull and the skipper's tool chest quite well for nearly 2000 years. It made this an extraordinary find and allowed for many speculations about the skipper (a veteran Roman soldier?), his skills as a carpenter, the load the barge might have carried, and his likely connection to the leader of the Roman Castellum. (Did he know him from serving with him earlier?) The barge was found close to the location of the original castle, of which only foundations remained. It was part of the Roman fortification line, the "limes" that stretched across Europe.
These excursions always present wonderful opportunities to talk with family members in the bus, during a coffee break, or when looking at something of common interest!
"Fietsen" (biking) to the Dunes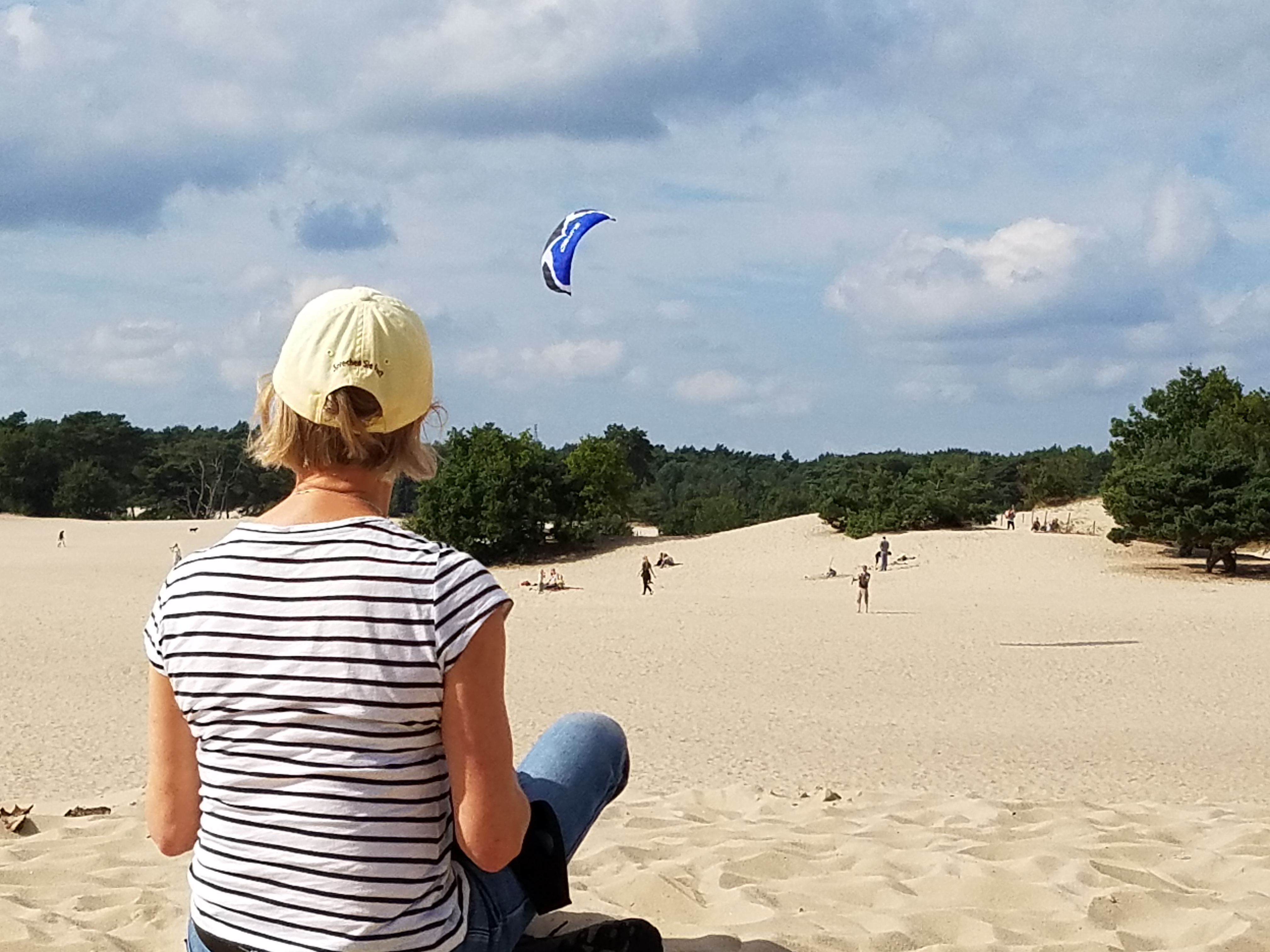 Soest lies about over 80 miles inland from the coast. Discovering large stretches of sand dunes during a bike trip therefore was quite surprising. (If you are interested in the origin of "fietsen", read our next post: European Travels 2: The Netherlands and the Dutch Language)

The dunes were created by heavy westerly winds during the second to last ice age. (see: "Soester Duinen" Dutch Wikipedia) Later, woods and heath grew around it.

The area is now a nature reserve and a popular place for bike and walking tours. It is also a beautiful spot to just sit and enjoy the stunning natural landscape. Families with children used a brilliant Sunday afternoon to enjoy the beach-less dunes, as you see on this picture.

The Dutch have developed extensive, numbered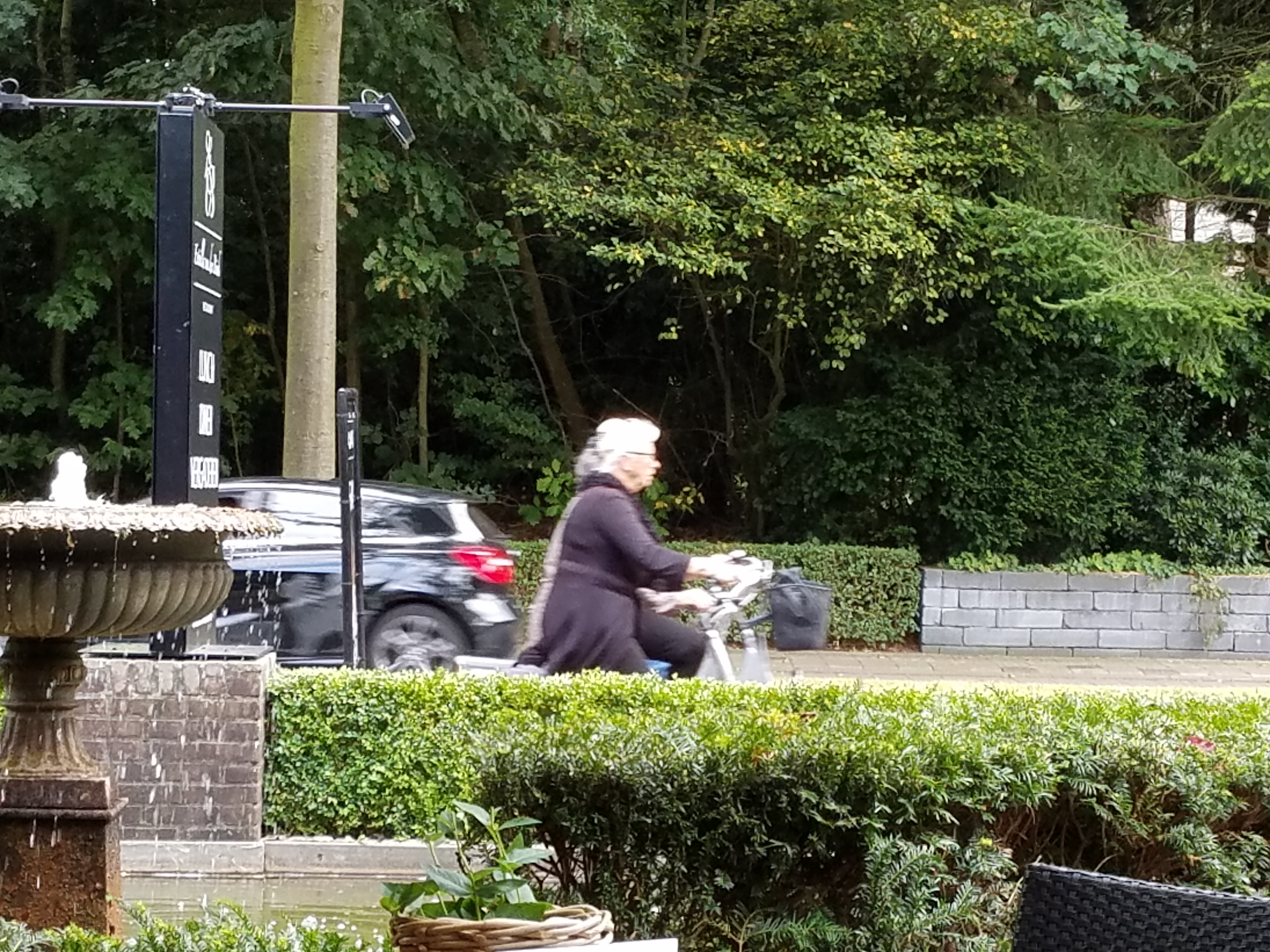 bike networks, for which already many apps exist. I downloaded the Android app "knooppunten" (junctions). It lets you plan your trip, provides a map with the bike path and numbers, and gives you various statistics.

On this Sunday afternoon, we saw a wide range of bikers on these bike paths: Families with young children on the parents' bikes or riding in front of them; groups of seniors on a leisurely outing, (see picture right) riding high on their typical Dutch bikes; teams of quite determined looking men in full gear on their racing bikes.
What was quite noticeable for citizens of the U.S.: Except for the men with their racing gear, (and maybe a few of the younger children), none of the bikers wore a helmet!
Canal Cruising
The next stage of our Europe trip this year was a week on the Dutch canals with friends from the U.S. This was the fourth time we were canal cruising in the Netherlands. Gliding through the country side at about 8 miles/hour lets you take in many sights you'll miss when traveling by car – and you can read about it in this post.
Bio: Ulrike & Peter Rettig are co-founders of Gamesforlanguage.com. They are lifelong language learners, growing up in several European countries before moving to Canada and the United States. You can follow them on Facebook, Twitter and Instagram, and leave any comments with contact.