Posted on by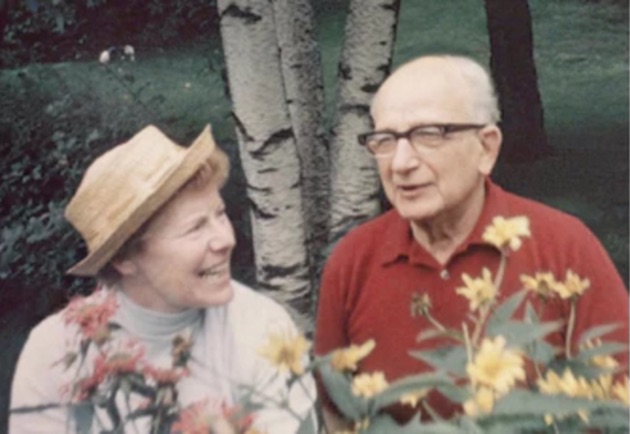 We recently joined the Kickstarter campaign for a documentary about the lives and languages of the Curious George creators, Hans and Margret Rey.

Before settling in the US they had traveled to and lived in several different countries.

The Rey's Curious George books have been translated into many languages after they were first published in the US in 1941. Curious George, the little mischievous monkey they created, had different names in other languages, but the images stayed the same.
Curious George's Other Names
Readers of this post may know Curious George by his other names, to just name a few:
• French: "George le singe"
• German: "Coco"
• Italian: "Curioso come George"
• Spanish: "Jorge, el Curioso"
• Portuguese; "George, o Curioso"
• Dutch: "Nieuwsgierig Aapje"
• Danish: "Peter Pedal"
• Swedish: "Nicke Nyfiken"
• Finnish: "Utelias Vili"
• Hungarian: "Bajkeverö majom"
I remember reading "George le singe" to my niece in Switzerland while learning French at the same time.
Margret and Hans Rey's Story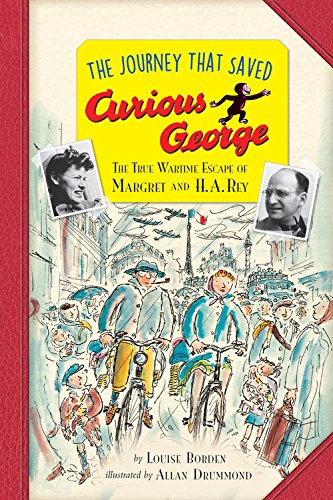 This Wikipedia excerpt summarizes the Rey's story: "Hans Augusto Reyersbach was born in Hamburg, Germany, as was his wife Margret. Hans' and Margret's fathers were German Jews; Margret's mother was not. The couple first met in Hamburg at Margret's sister's 16th birthday party.

They met again in Brazil, where Hans was working as a salesman of bathtubs and Margret had gone to escape the rise of Nazism in Germany. They married in 1935 and moved to Paris in August of that year.[3]

They lived in Montmartre and fled Paris in June 1940 on self-made bicycles, carrying the Curious George manuscript with them."
If you'd like to learn more about the Rey's wartime escape from Paris, the book by Louise Borden and Allan Drummond, The Journey that saved Curious George, tells the full story (see picture right)
Our Connection to Curious George
When our children were growing up, we read to them from several of Curious George books. They also watched some of the early animated Curious George films on TV.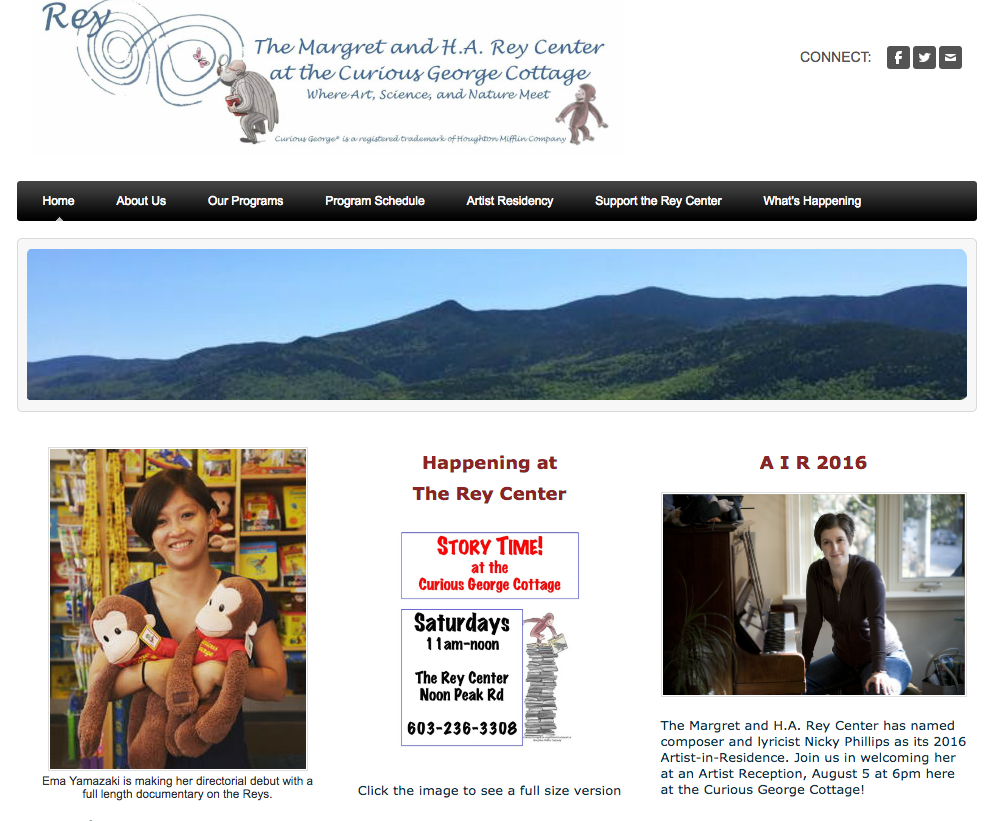 For years we've now enjoyed the programs organized by The Margaret and H.A. Rey Center at the Curious George Cottage, in Waterville Valley, NH. It's the place where we spend our summers hiking, swimming, playing tennis. During the winter months, we often come up to ski.

Just last week, we listened to the Center's 2016 Artist-in-Residence, Nicky Philips, as she explained her project for a musical about the Rey's lives.

While we never met Margret and Hans in Waterville Valley (Hans died in 1977 and Margret in 1996), we know many who did. And when we received the kickstarter invitation from Ema Ryan Yamazaki, we did not hesitate.
The Documentary Project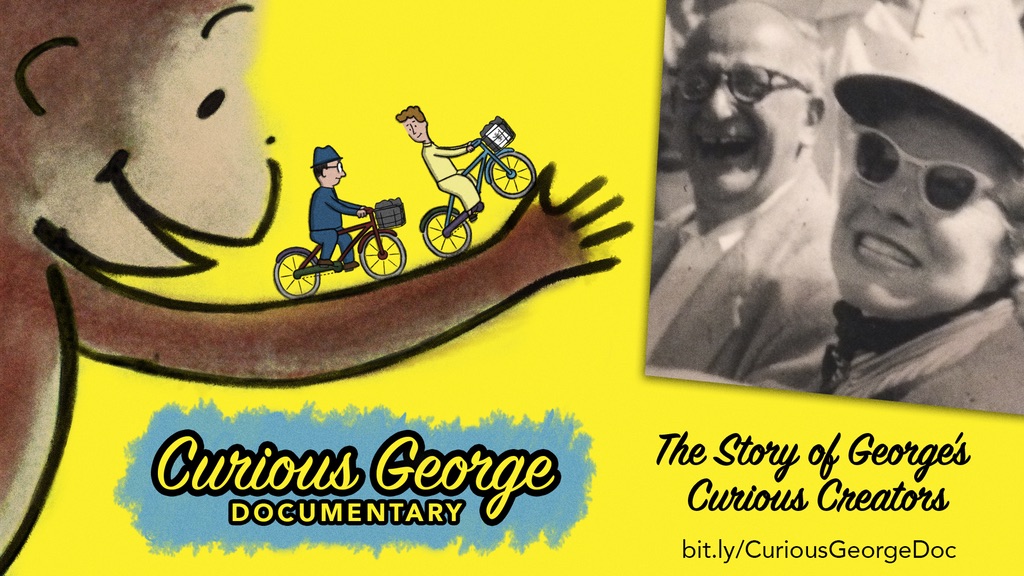 Here is Ema's description of her project as posted on the Center's website: (see also the link with video below)

"Some of you may know that I've been making a documentary about the creators of Curious George, Hans and Margret Rey. Using animation, archival materials, and interviews, the documentary explores the extraordinary lives of the Reys, who fled the Nazis on bicycles with the first Curious George book in their possession.

The documentary also features Waterville Valley, a place the Reys made their summer home, as we learn about the Reys from Waterville residents who knew them, and their experience of watching the Reys create the Curious George books.

In making this documentary, I've made three trips to Waterville Valley, including a week of filming last summer as I interviewed those who knew the Reys, as well as the beautiful landscape of the valley. Out of all the places the Reys lived in, from Hamburg to Rio, to Paris, to New York, Waterville Valley is the only place I still very much felt their presence. I can understand why the Reys picked Waterville as a place to call home – it's special, and I believe that comes through in the documentary I am making.

From Tuesday, July 26, we've launched a Kickstarter campaign to raise funds to complete the documentary. Kickstarter is an online crowdfunding platform where projects can connect with "backers" who support projects in return for rewards. We have 30 days to raise $175,000 – it's an all-or-nothing deal, meaning if we don't make our goal, we don't receive any of the funds. So we need your help!

Join us on our journey in completing this documentary. Who the Reys were is why we have George today – and I'm determined to share their story. Check out our Kickstarter campaign, pick your reward (we have quite an array of offerings, from limited editing Curious George mugs to signed movie posters!), and help us spread the word through emails and social media. We are so close in making this film a reality, and are now turning to you to make that possible."
Kickstarter Link: biy.ly/CuriousGeorgeDoc
Ema Ryan Yamazaki Director/Producer/Editor
Facebook page: https://www.facebook.com/curiousgeorgedocumentary/
Twitter: twitter.com/CuriousGDoc
Instagram: instagram.com/curiousgeorgedoc/
The Rey's Languages
At last week's talk at the Rey Center, we learned from Nicky Philips that she had visited the Grummond Children's Literary Collection in Hattiesburg, Mississippi. This Center had received the Rey's entire literary estate when Margret died in 1996.

As Nicky was researching details about Margret's and Hans' lives, she came across many letters they wrote to each other.

Both spoke German as their native language. Hans had worked in Buenos Aires as a salesman of bathtubs (and where he married Margaret) and spoke Portuguese. They both lived in Paris from 1935 to 1940 and were quite fluent in French.

Interestingly, Nicky found, when looking through the many boxes at the Grummond Center, that all of Margret's and Hans' correspondence with each other was in English.

Those who knew them in Waterville Valley don't recall ever hearing them talk to each other in German either. Maybe they abandoned their native language after having to flee their home country and then their second home in Paris from the Nazis as well?

Bio: Ulrike & Peter Rettig are co-founders of Gamesforlanguage.com. They are lifelong language learners, growing up in several European countries before moving to Canada and the United States. You can follow them on Facebook, Twitter and Instagram, and leave any comments with contact.