Posted on by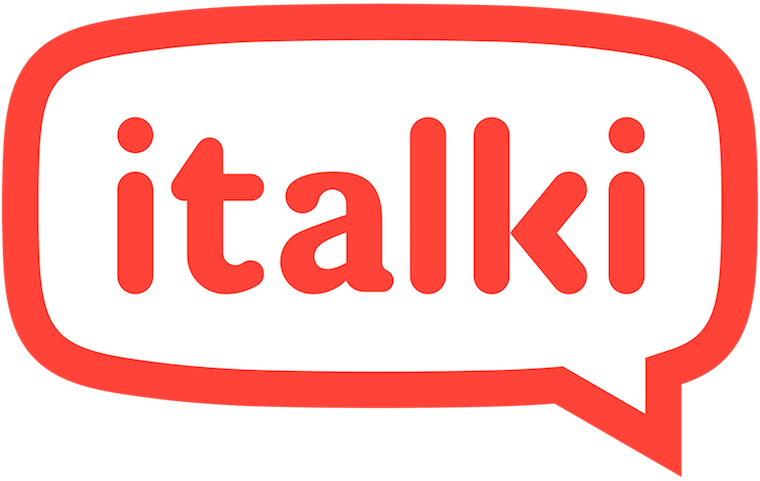 (updated 8/11/2016) I'm a latecomer to italki. There's been a lot of buzz about italki these past couple of years.

On various social media channels, I kept hearing that italki was the next best thing to having a native-speaker friend. Italki is about talking in the language you're learning.

I've been learning Spanish on my own for some time now. Most recently, I reported on my progress in Reaching Language Fluency – My Experience With Spanish (so far). And while I can understand and read Spanish quite well, I can't speak it as fluently as I would like.

It was my niece who finally convinced me to take the plunge. She told me how much she enjoyed the various options italki provides. Even more importantly, she was happy about how quickly her fluency in Spanish was improving. She'll be using Spanish in her work, for counseling families and conducting interviews.

For me, becoming conversationally fluent is a personal goal, though one that I take very seriously. So, a few weeks ago, I decided to try out italki.

The italki site is easy to navigate. When you start looking around, you'll find various free options and features that can enhance your experience on the site, besides, or in addition to taking (paid) lessons.

On your Dashboard you can see all your activity at one glance, including your schedule, your teachers, your friends, your community activities, a recommended article, as well as your "wallet."

At the footer of your Dashboard page is the heading "Browse." From there you can jump to any of the sections listed below. Once you're there, sort by language and specific options.
The Main Stay: Lessons for Speaking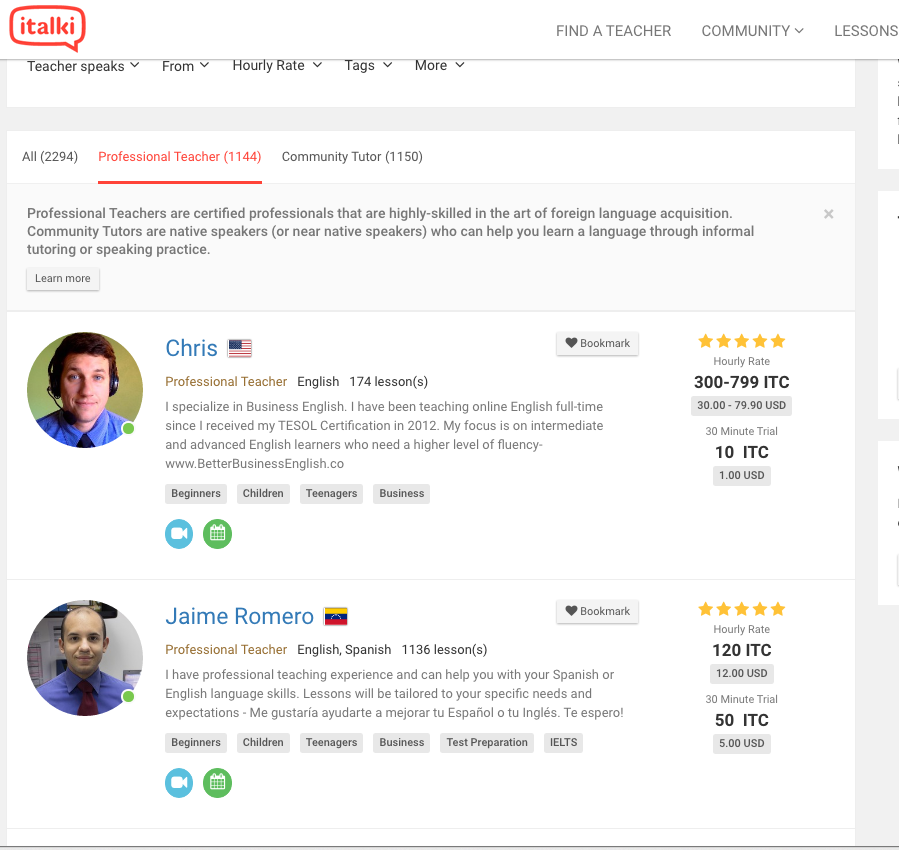 Learning to talk fluently in a foreign language and building conversational skills are the main goals for many language learners. One-on-one sessions with a skilled language teacher - be it from home, or when living where the language is spoken - are doubtless the best way to get there.

Skype or Facetime lessons are italki's mainstay. There are lots of options for everyone. You can choose between "professional teachers" (who are certified and experienced) and "community tutors" (native or near-native speakers who do informal tutoring).

For Browsing through a list for available teachers or tutors, you can set the language, the country where the teacher is from, a rate, tags (such as: beginners, children, teenagers, business, test preparation), native speaker, trial lesson, audio & video, available times (instant tutoring, or time of day, days of the week). To find the section, simply click on "Language Teachers."

italki encourages you to try out different teachers and offers three (3) 30-minutes, discounted trial sessions for their teachers and tutors. (The discounts are set by each teacher and tutor, and therefore vary.)
Four More Features
1. Informal Conversational Practice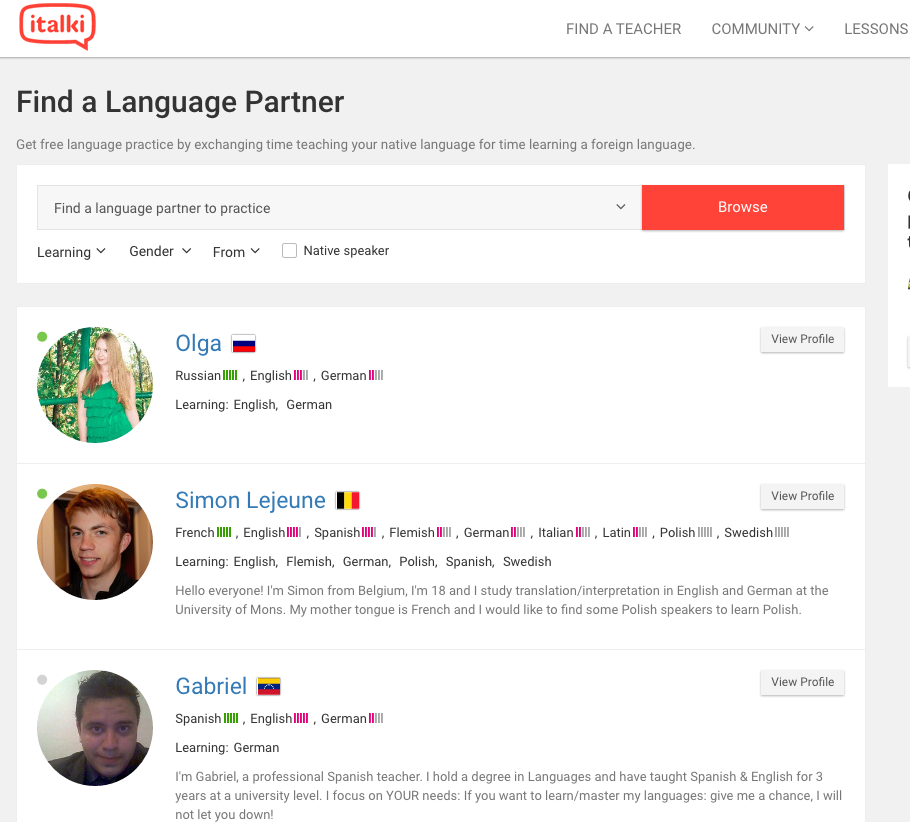 For casual practice, you can add Language-Exchange sessions, which are free. You can set up as many as you want, and with time you'll probably find some good partners and ways to make the language exchanges run smoothly.

In this section you can get free language practice by exchanging time teaching your native language, for time learning a foreign language. You can sort by language you're learning, gender, place your partner is from, and native speaker.

To get there, just click on "Language Partners." Some of the language partners are also teachers on italki. Above the profile picture, you can "Switch to Teacher Profile."

In some cases, time differences and a partner's availability make language-exchange sessions somewhat more difficult to schedule than sessions with teachers. This is a problem that many language-exchange sites share.
2. Reading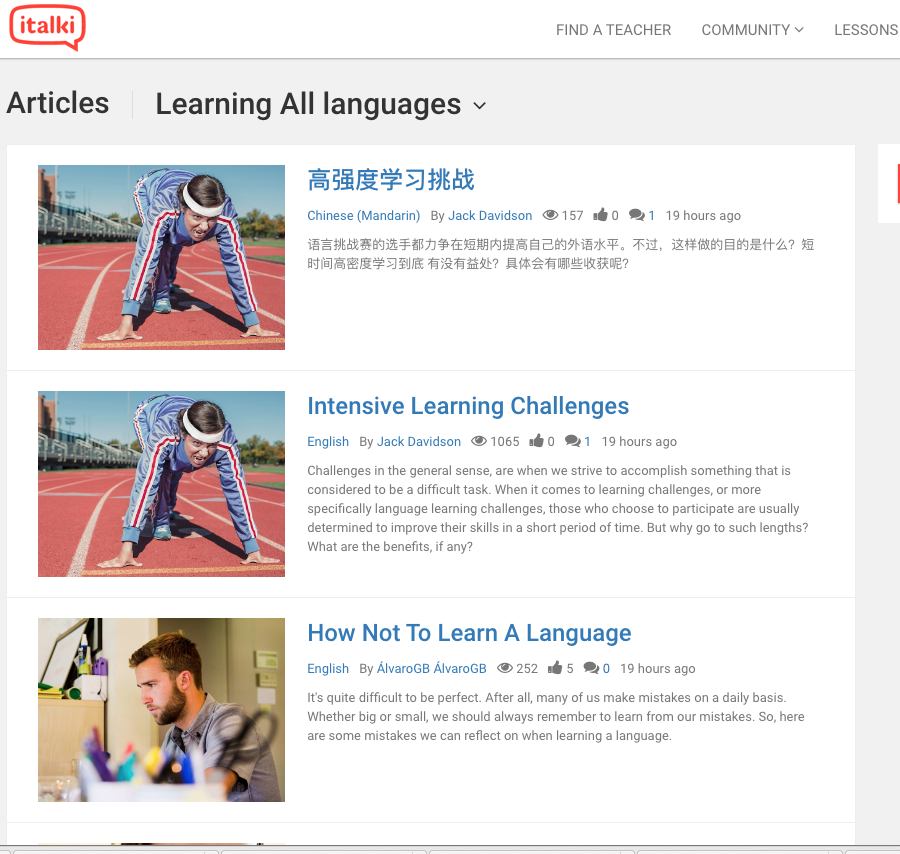 The best way to grow your (passive) vocabulary is to read as much as in your target language, and on a variety of subjects.

Italki has a free section where teachers and tutors post articles they've written. They come in a variety of languages and are mostly about learning a language, specific language topics, or cultural themes.
These articles are conversational in nature. I recommend reading the ones that are in your target language. For a learner, they are a great way to start internalizing informal language beyond basic phrases such as "how are you?" "where are you from?" "are you a student?" "what kind of work do you do?" "do you have any brothers and sisters?"
To get there, click on "Articles." Sort by language and scroll down. You'll see articles in your native and in your target language.
I find, though, that I may have a huge (reading) vocabulary in a foreign language, but still find myself tongue-tied when speaking it. So, you need to find ways to use your words and phrases in real conversations, by speaking!
3. Writing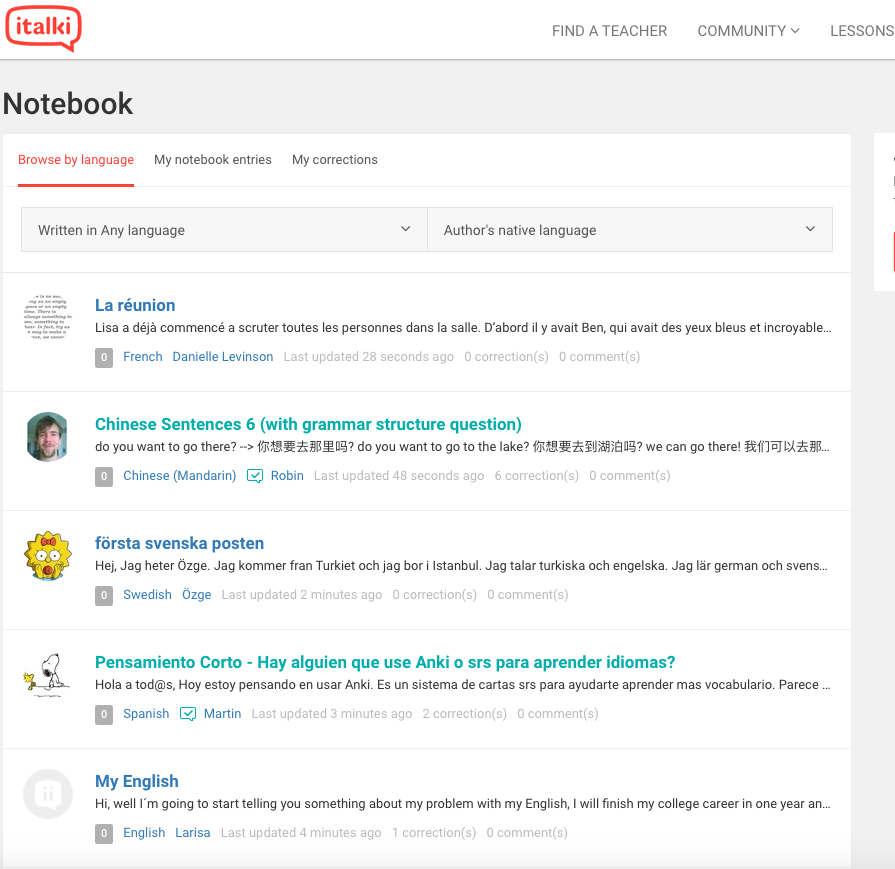 Now that there are lots of Forums, Facebook community pages, Chat options, etc. in various languages, learning to write well enough in your target language seems a good skill to shoot for.

In the "Notebook"section, on italki, you can write short journal-like entries in the language you're learning about topics that interests you or something that's on your mind.
These notebook entries are then corrected by others who are native speakers or proficient in the language. You'll sometimes get several corrections and comments. In turn, you are encouraged to correct the notebook entries of others, written in your native language or one you're highly proficient in.

This option is free and you can use it even if you haven't taken any lessons. Under Browse, click on "Notebook," sort by language.
4. Grammar and Usage
Not many language learners approach a language by just learning grammar rules and memorizing conjugation tables.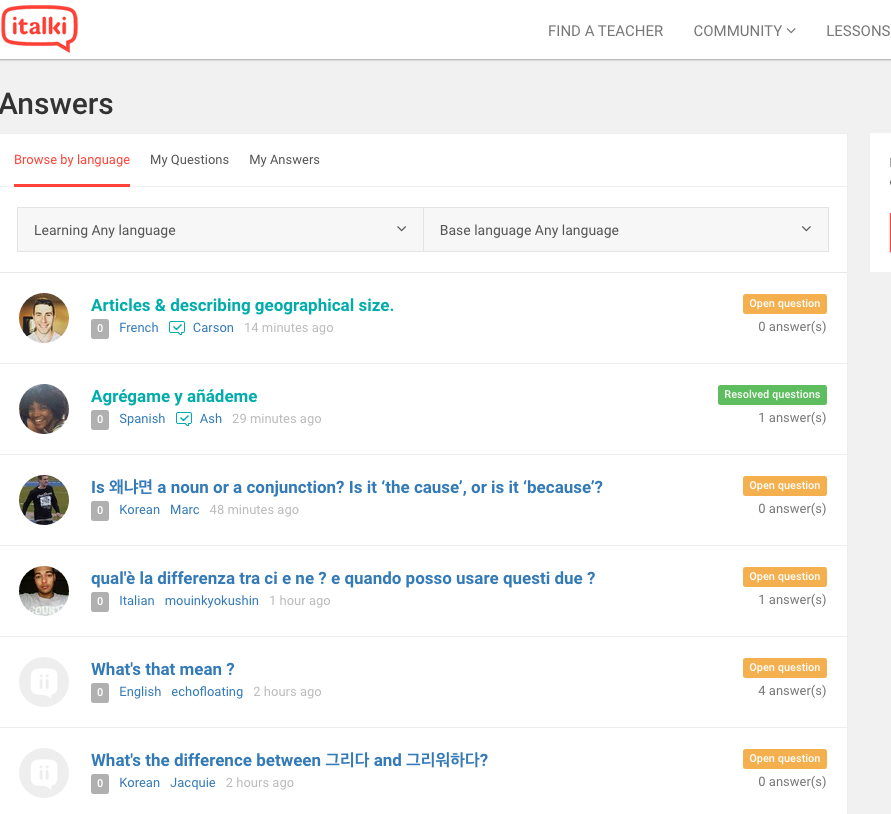 However, when you're beyond the beginner level, figuring out some of the grammar points is actually fun.

You can do that in the "Answers" section. There you can add specific questions about the language you're learning (translation, correct usage, etc.) and answer questions about a language that you speak.

To get there, go to "Answers" and sort by language. The following quote by a learner says it very well: "I've used italki to get answers for questions I don't have the courage to ask in the classroom as I'm very shy. I always get satisfactory answers, the community is really nice as far as I can tell."
Even Polyglots use italki
You may never become a Polyglot like Benny Lewis. You may not even agree with him that learning your target language is easy. Or you wonder how one can Become Fluent in 3 months, as he promises in his well-known guide. But when even Benny uses italki to keep up his fluency in the many languages he speaks, you know that italki has something going for it.

I will certainly continue to use it for the languages I want to become more fluent in.
Postscript: We recently become aware of a post that summarizes well the various options for speaking practice: Find Language Partners - Language Exchange (Step 3). You will certainly find one that works best for you.
Bio: Ulrike Rettig is the co-founder of Gamesforlanguage.com. She is a lifelong language learner, growing up in Austria, the Netherlands, and Canada and speaks German, English, Dutch, and French fluently. She intends to become as fluent in Italian, Spanish and Swedish. You can follow her on Facebook, Twitter and Instagram, and leave any comments with contact.
Disclosure: The links above to Fluent in 3 Months and italki are to a partner's program with revenue-sharing, should you decide to purchase or subscribe.