Posted on by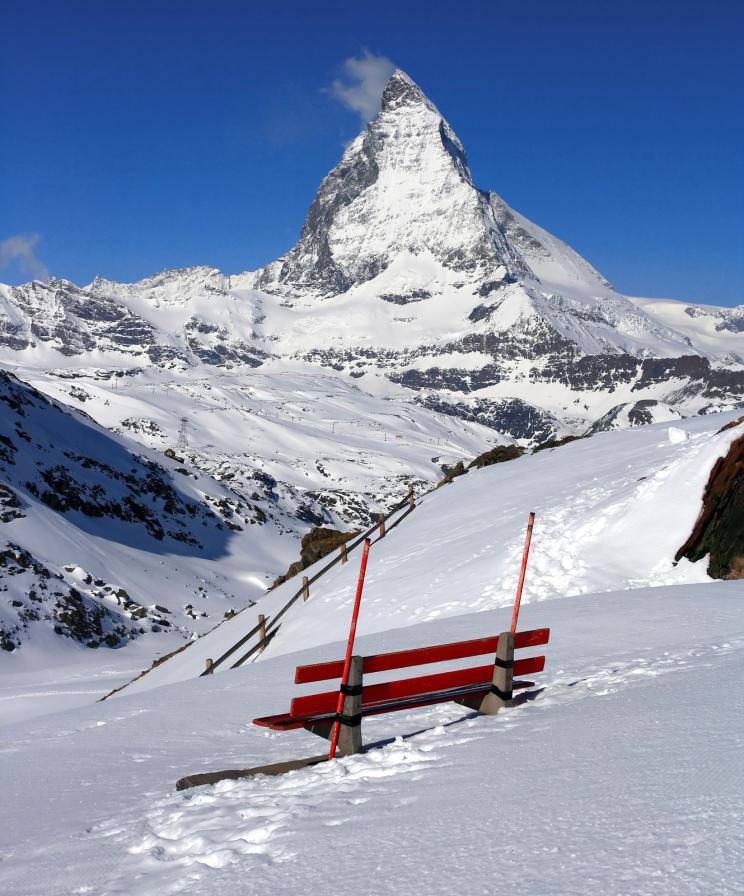 When you think of Switzerland, what comes to mind? Probably, stunning mountains (such as the Matterhorn, left) and quaint villages. But surely you'll also imagine chocolate and fondue, and maybe Rösti and Geschnetzeltes.

Our recent visit gave us reason to look into the history of some of the Swiss specialties and – being language lovers – their language roots.
Swiss Chocolate
Chocolate came to Europe from the Americas in the 16th century, first and foremost as a drink made from the cocoa bean. Linguists believe that the word "chocolate" originates from the Classical Nahuatl word xocolatl, and via Spanish, entered the English language.

By the 17th century, chocolate was produced in Switzerland. In the 1870s, two Swiss "inventions" hugely increased the popularity of chocolate. For one, the creation of milk chocolate (by the chocolatier Daniel Peter), improved the taste and appeal of chocolate. For another, the invention of the conching machine (by the chocolate manufacturer Rodolphe Lindt), allowed chocolate to be processed into smooth, solid bars.

Now chocolate became much more than just a drink. Another interesting, but not surprising fact: More than half (54%) of the chocolate produced by Swiss chocolate manufacturers is consumed by the Swiss themselves. (Being a great fan of Swiss tennis player Roger Federer, we love his Lindt chocolate commercial,see clip.)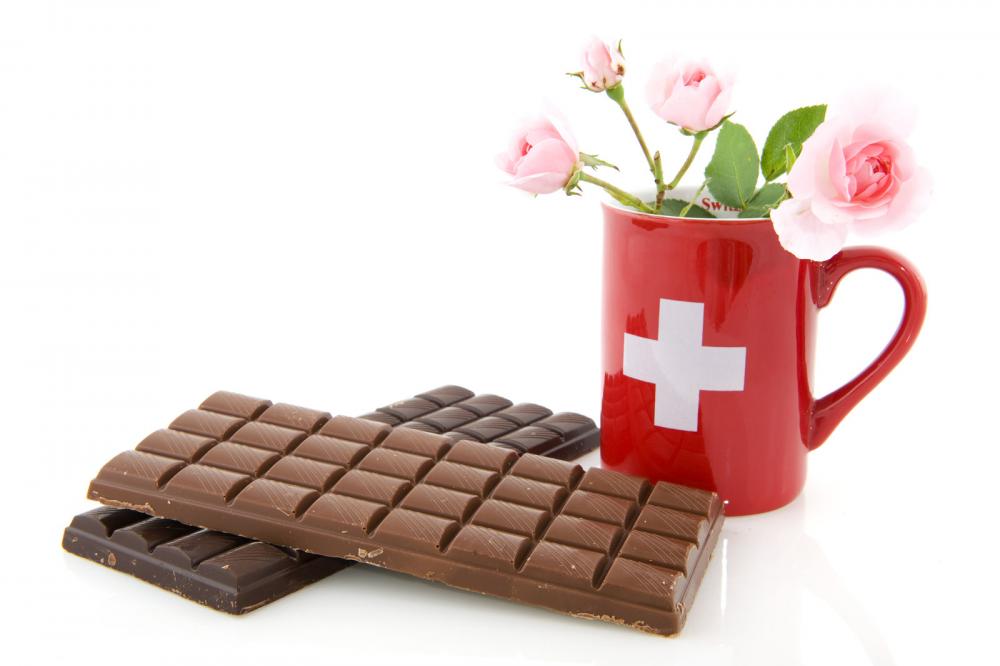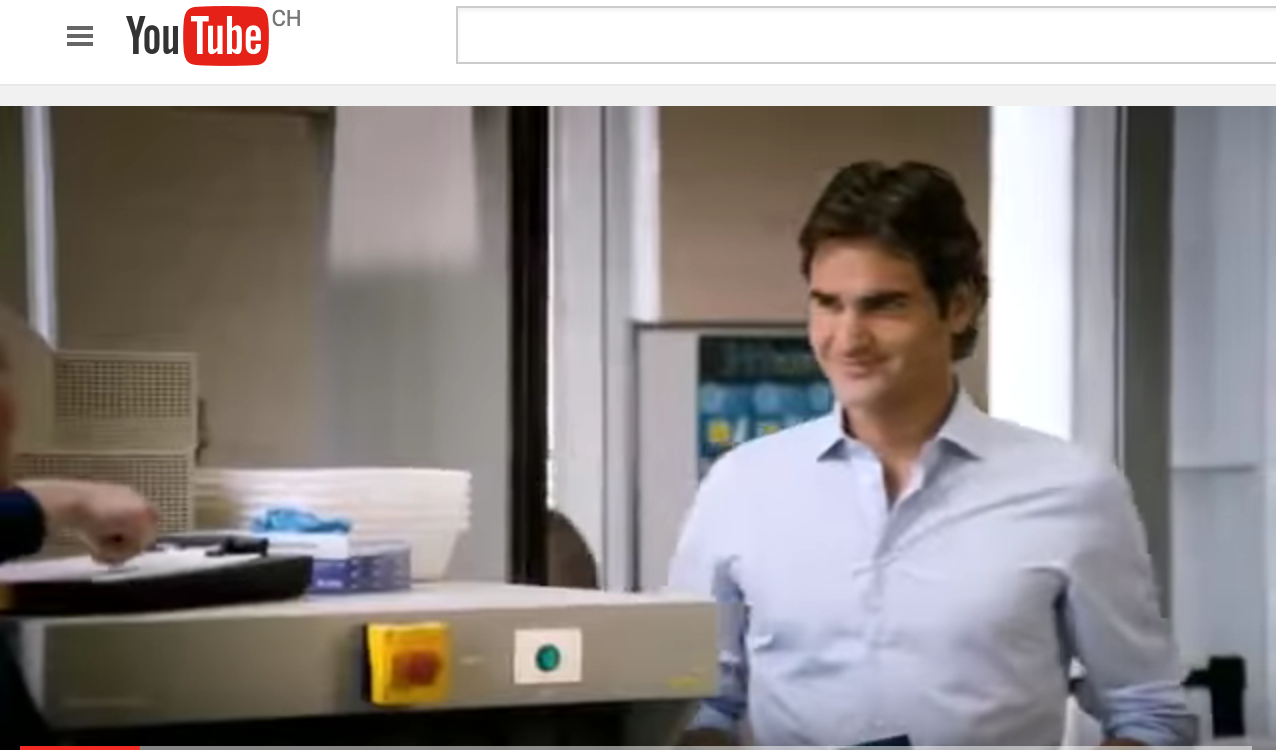 Rösti
Rösti (pronounced: rh-EUsch-ti, with a long, stressed "ööö" sound), is a flat round "pancake" made of coarsely grated raw potatoes, finely chopped onions and bacon pieces, fried in a pan. If you think of a variation of "hash browns" - you're on the right track.
It can be a main dish served with other vegetables, fried eggs,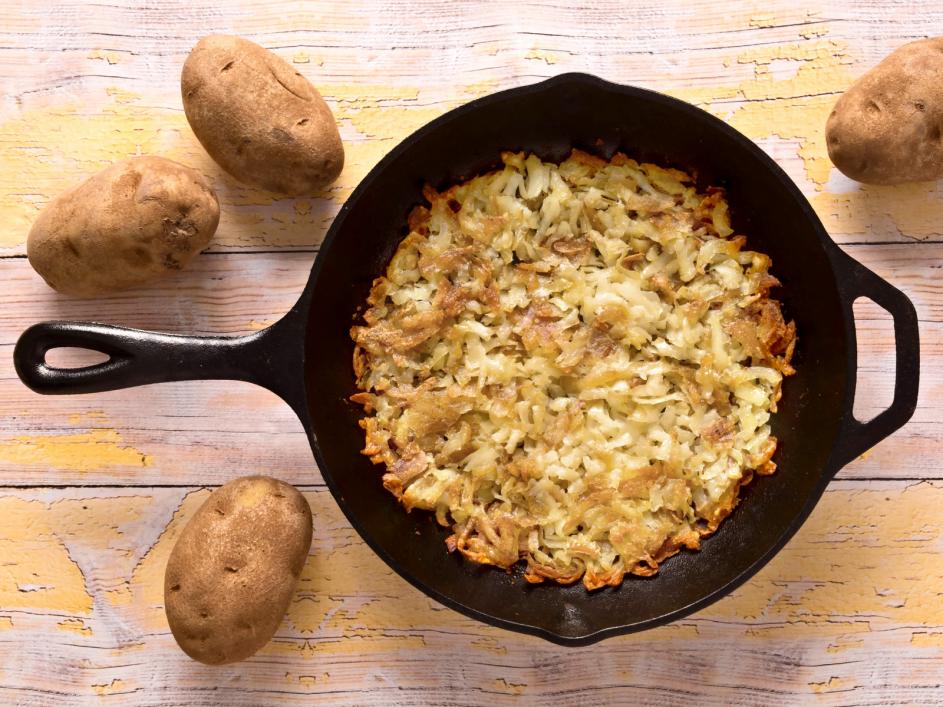 sausages, etc., or as a side dish with pork, beef, or veal such as "Geschnetzeltes" (see below). The restaurant version often uses (partially) boiled potatoes for faster results and Rösti are best prepared in a heavy iron pan.

The German word "rösten" is related to English and means "to roast, grill." A synonym for the Swiss German word "Rösti" would be "gebratene Kartoffeln" or "Bratkartoffeln" (fried potatoes).
Zürcher Geschnetzeltes
Zürcher Geschnetzeltes, in French: émincé de veau zurichoise, is a dish of thinly sliced veal stewed in a mushroom demi-glace (a rich brown sauce). Not an old recipece - Zürcher Geschnetzeltes was firs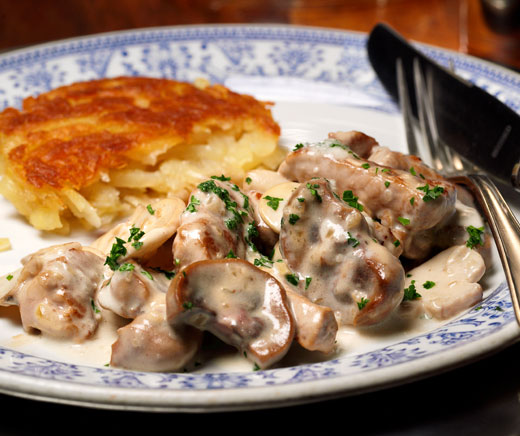 t mentioned in a cookbook in 1947 - it has become a favorite for many (including us).

As you may have guessed, the word "Geschnetzeltes" (meat thinly sliced), is related to "Schnitzel" (cutlet, escalope), and both belong to the word family that includes "Papierschnitzel" (scrap of paper), "schnitzen" (to carve), "Schnitzer" (a carver), etc. By the way, "ein Schnitzer" also has the figurative meaning of "a blunder, boob, terrible faux pas."
You can find a recipe of "Züri Geschnätzlets" on Betty Bossi's website by clicking on the image above.
Riz Casimir
Another Swiss variation of "Geschnetzeltes" is "Riz Casimir." It combines the thinly sliced veal with banana and pineapple pieces in a spicy curry sauce served over rice.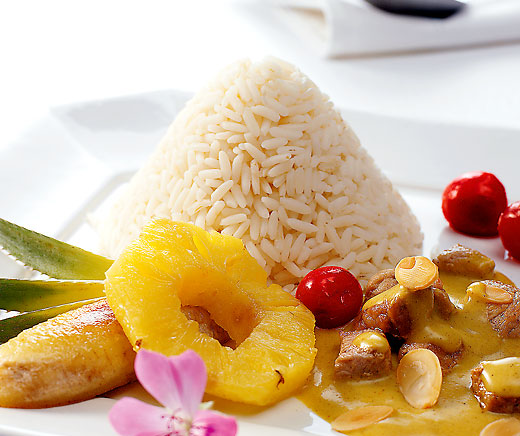 The Swiss Radio and TV (SRF) reports that Mövenpick Founder Ueli Prager first added the dish to the chain's menu in 1952. It soon became "ein Klassiker" on Swiss tables. (However, as the Wiki entry acknowledges, the recipe is quite likely based on Indian recipes of Kashmir dishes.)

You can get the original Mövenpick recipe by clicking on the SRF link above and then on "Rezept: Riz Casimir," or Betty Bossi's recipe by clicking on its image (right).
La Fondue (au fromage)
Probably the best-known dish of Switzerland is "fondue." The word is French and comes from the verb "fondre" meaning "to melt." Used as a noun, "fondue" is the feminine form of the past participle "fondu." (larousse.fr)

Fondue has a lengthy history in Switzerland. The recipe "Käss mit Wein zu kochen" (cheese cooked with wine) was first mentioned in a Zurich manuscript in 1699.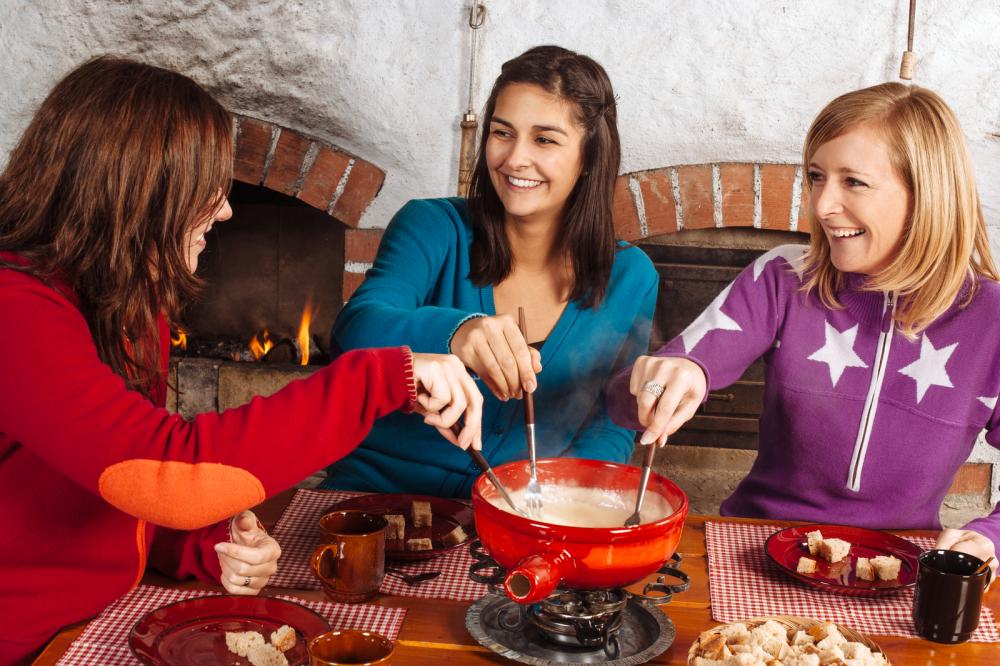 "La fondue" showed up in 18th century culinary literature as "oeufs brouillés au fromage fondu," scrambled eggs with melted cheese (as noted in the dictionary, Le petit Robert). The dish was particularly popular in the western French-speaking cantons, and there mostly among city dwellers who could afford the rich cheese.

Fondue, as we know it, dates back to around the middle of the 19th century and by 1875, it was named as a Swiss national dish. In the 1930s, the Swiss Cheese Union (Schweizerische Käseunion) used the idea of a national dish for its own marketing purposes. That kind of promotion was continued after WWII. Fondue was popularized in the US in the 1960s, helped by being showcased in the Swiss Pavilion at the 1964 World's Fair in New York.

The traditional fondue is served in a fondue pot (un caquelon), which is kept warm over a chafing dish (un réchaud). To make the fondue smooth, you add cornstarch to the cheese mixture as it heats. Each one of you gets a long thin fork for spearing chunks of bread (or sometimes potatoes), which you then dip into the cheese. Eating fondue is definitely a social event that also includes plenty of white vine. Various traditions are observed: for example, if you drop your bread into the pot, you pay a round of wine, or a pot of hot tea.
Cheese Fondue Variations
Many of the Swiss cantons have their own version of fondue, using different combinations of cheeses. For those who want to try, this Epicurious post will give you the recipe for making a perfect traditional Swiss Fondue.

Being frequent travelers to Fribourg, the two fondues we know best are the Fondue Fribourgeoise, and the Fondue Moitié-Moitié.
Fondue Fribourgeoise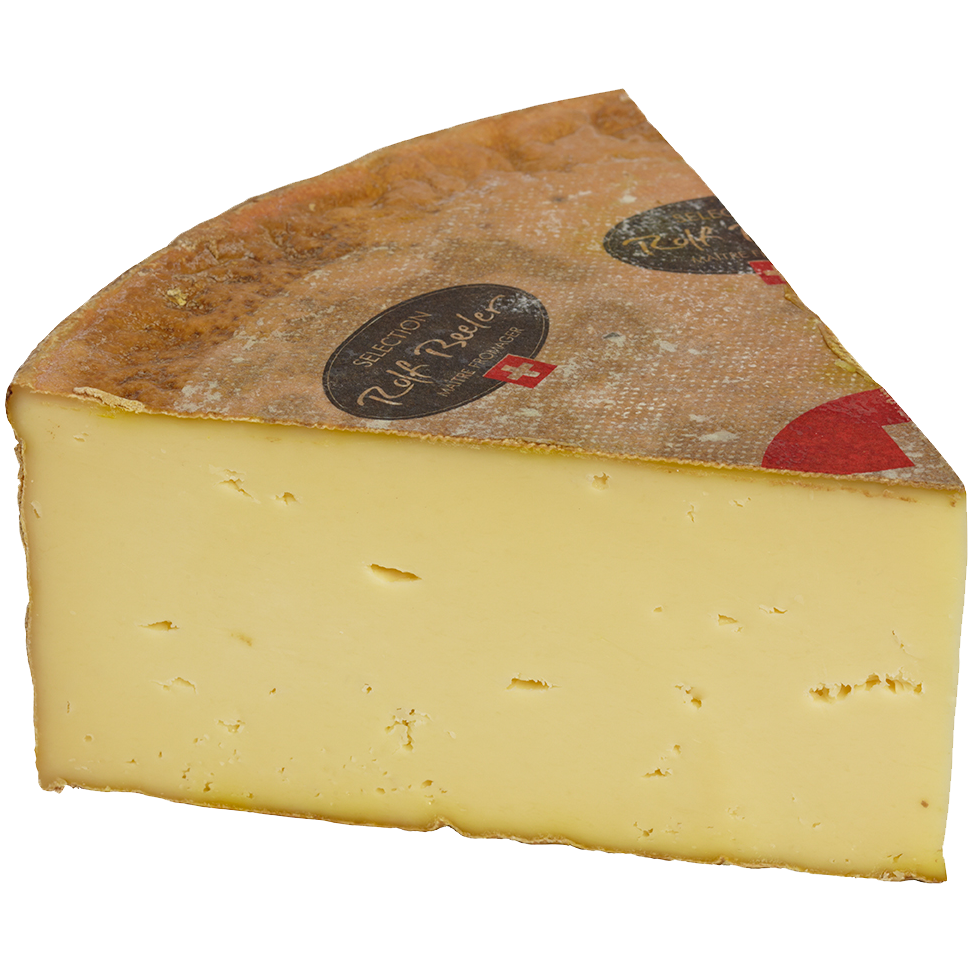 Fondue Fribourgeoise is prepared with 100% local Vacherin cheese. Vacherin from Fribourg is a medium firm cheese made from cow's milk (as the name implies). The cheese is melted in a few tablespoons of water over low heat. To our knowledge, this is the only cheese fondue that does not use wine. Often you dip pieces of potato instead of bread.
Fondue Moitié-Moitié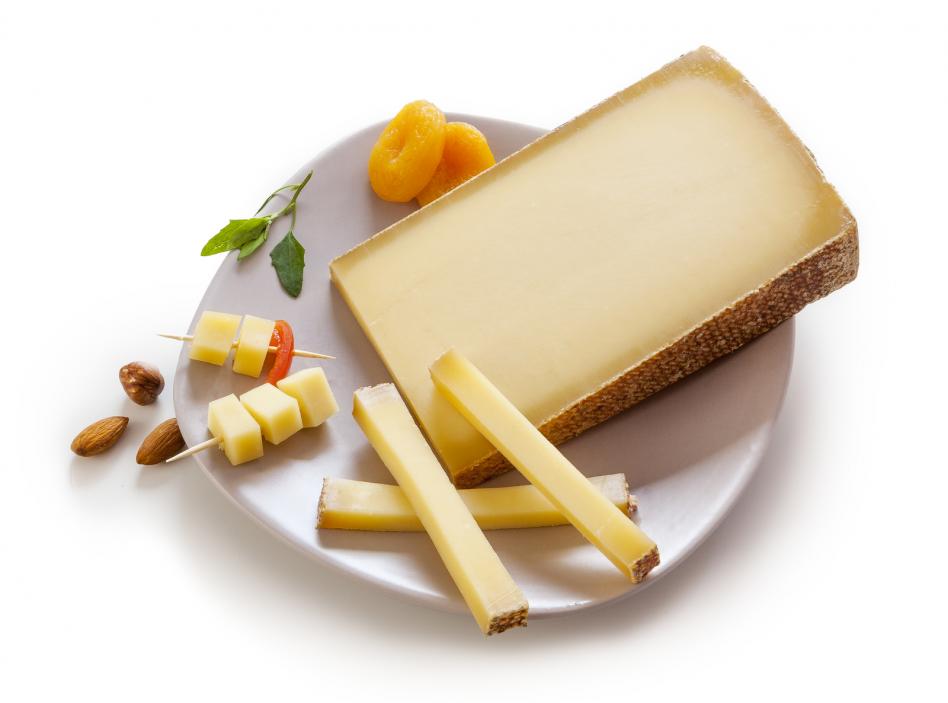 Moitié-moitié (or half-half), as its name states, uses Gruyère and Vacherin cheese in equal parts. This fondue is made with white wine, (dry and high in acid) and for flavor a shot of kirsch is often added to the mixture. You eat it by dipping chunks of bread.

We are particularly fond of the town of Gruyère, which gave the cheese its name: Gruyère is also located in the canton of Fribourg and we were married there in a small chapel just below the fortified town.

Both the little town and the castle are well worth a visit. The castle is one of the most famous in Switzerland and a heritage site of national significance. Overlooking the valley from the castle you are transported back to medieval times. One can well imagine how the Counts of Gruyère would have enjoyed looking over the valley (see picture) and their dominion from their high perch.
La Raclette
Our foray into the world of melted (Swiss) cheese would not be complete without mentioning the "Raclette." The name is derived from the French "racler," meaning "to grate or scrape" and that clearly describes the method in which it is served: The melted cheese is scraped off the roasted/heated end of a large piece, most commonly half a wheel of cheese (as in this picture).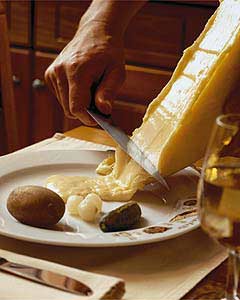 The Raclette Suisse site traces Raclette's origins to the 13th century. In the German-speaking cantons, convent writings mention "Bratchäs" (roasted cheese - note Swiss spelling of "Käse") already in 1291 as a nutritious food for mountain cow herders. Raclette cheese is made of raw milk and many variations exist. Only the "Raclette du Valais" is a protected brand under Swiss law.

The traditional method melts the half-wheel of cheese, either right at an open fire place, or in restaurants, with an electric heater. The Raclette cook/server scrapes the melted cheese off unto each customer's plate. (see photo, courtesy of: Grcampbell-Wikipedia Commons).

The modern, self-serve version uses small pans in which to heat Raclette cheese pieces right at the table with a special gadget (as in the picture).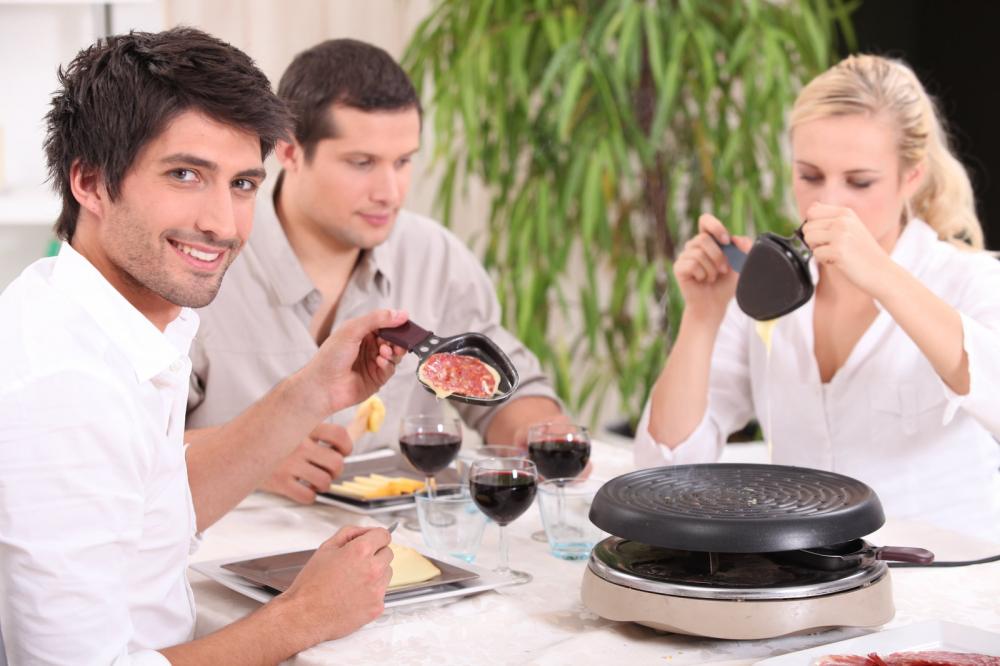 In either case, "Gschwellti" - Swiss German for potatoes boiled in their skin - are served with gherkins, pickled onions, and often preceded or accompanied by dried meat, such as "Bündnerfleisch" or "viande des Grisons" or "jambon cru."

A Raclette evening, during which the meal is served the traditional way to a large table, is a social event that can last for hours. As with cheese fondue, locals will warn you not to drink cold water. It doesn't mix well with the hot cheese. However, hot tea, a "Kirsch," "Poire," or "Framboise" come highly recommended.
Raclette and Fondue (whether the cheese or meat variety) always make for a lively, social dining experience. Even after the taste and smells of melted cheese have faded in your memory, you'll certainly remember the fun you had with your family and friends sharing such a meal in a warm an cozy mountain hut after a hard day of skiing, snowboarding, or hiking.
Bio: Ulrike & Peter Rettig are the founders of Gamesforlanguage.com. They are life-long language learners. You can follow them on Facebook, Twitter and Instagram.