Posted on by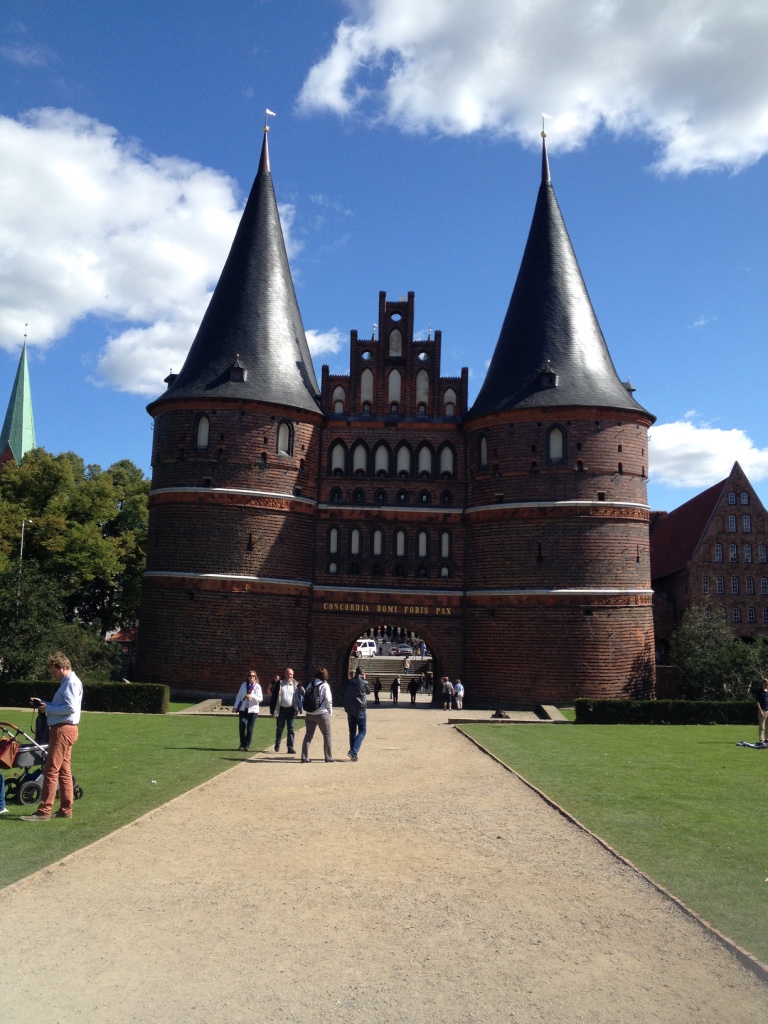 After having explored several harbors of the "Nordsee," and especially Hamburg (see also our post: From Utrecht to Hamburg), we headed to Lübeck, the first city at the "Ostsee" (Baltic Sea), and near the border of the former East Germany, we were going to visit.

Leaving the "Stadtstaat" (city state) of Hamburg, we were back into Schleswig-Holstein (Sleswick-Holsatia), the most northern of the now 16 German states, and which borders Denmark. (If you are interested to learn more about the state of Sleswick-Holsatia, click Here.)
Lübeck
After Kiel (the capital), Lübeck is the state's second largest city with a population of over 200,000. Lübeck's 711-year-long statehood as a free city came to an end in 1937, when Adolf Hitler incorporated it into the state of Sleswick-Holsatia. (Reportedly, Hitler had a personal dislike for Lübeck, after the city's elders did not allow him to campaign there in 1932.)

I had been in Lübeck once during my teenage years, but remembered little of the city. I did recall, however, its role as the leading and most powerful member of the "Hanse," the Hanseatic League. More about that below.

Lübeck's "old city" is surrounded by water and we drove to our hotel past one of its remaining signature gates (see pictures above, and right from top of St. Petri Tower).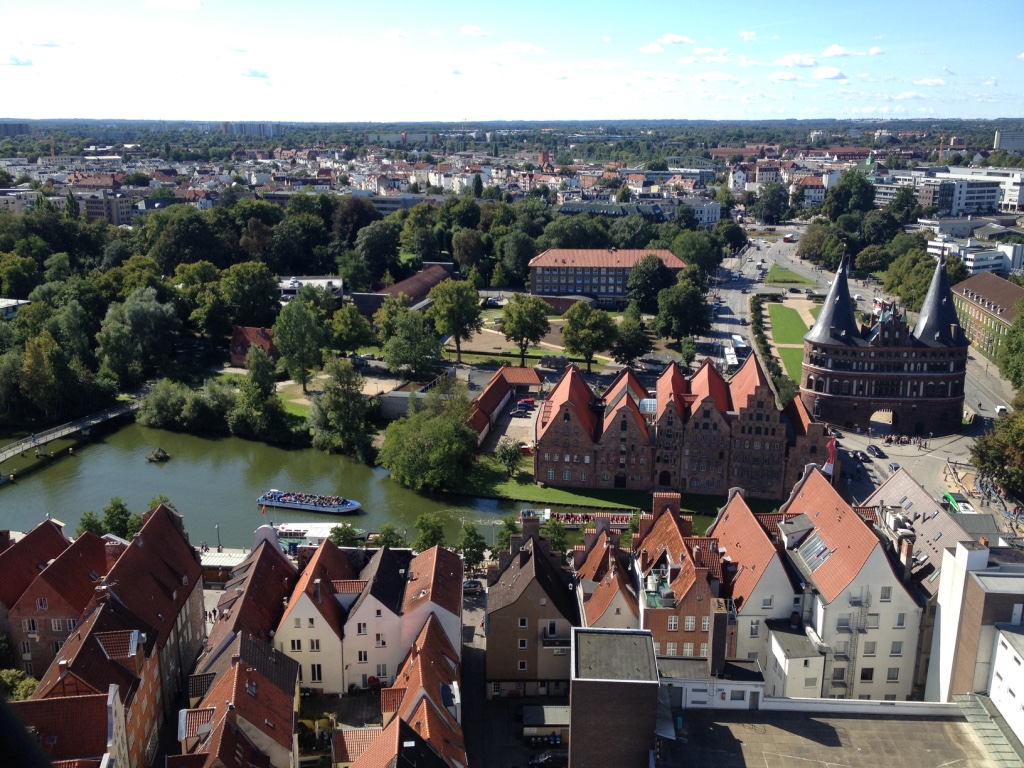 Although severely damaged from bombing raids during the last days of World War II, much of the city has been rebuilt in the old style. Lübeckwas the birthplace of the brothers Heinrich and Thomas Mann.

Those familiar with German film may recall "Der blaue Engel" (The blue Angel), based on Heinrich Mann's book "Professor Unrat." The role of "Lola" also launched Marlene Dietrich's career in film.

Thomas Mann, the more famous brother, is known for his novel "Die Buddenbrooks," the generational story of a rich merchant family. Although Lübeck is never mentioned in the book, it clearly is the city where the story of the family's decline unfolds. The book is still a staple of German courses in Germany and many other countries.

Another famous son of Lübeck is Willy Brandt, Berlin's mayor from 1957 to 1966 and Germany's chancellor from 1969-1974. Brandt had emigrated to Norway and Sweden after 1933 and returned to Germany after the war.

The first part of this video "Ostsee: Lübeck, Stralsund, Rügen, Hiddensee" by the German "Das Erste Mediathek", the German TV channel shows some wonderful images of Lübeck.
Five things we did in Lübeck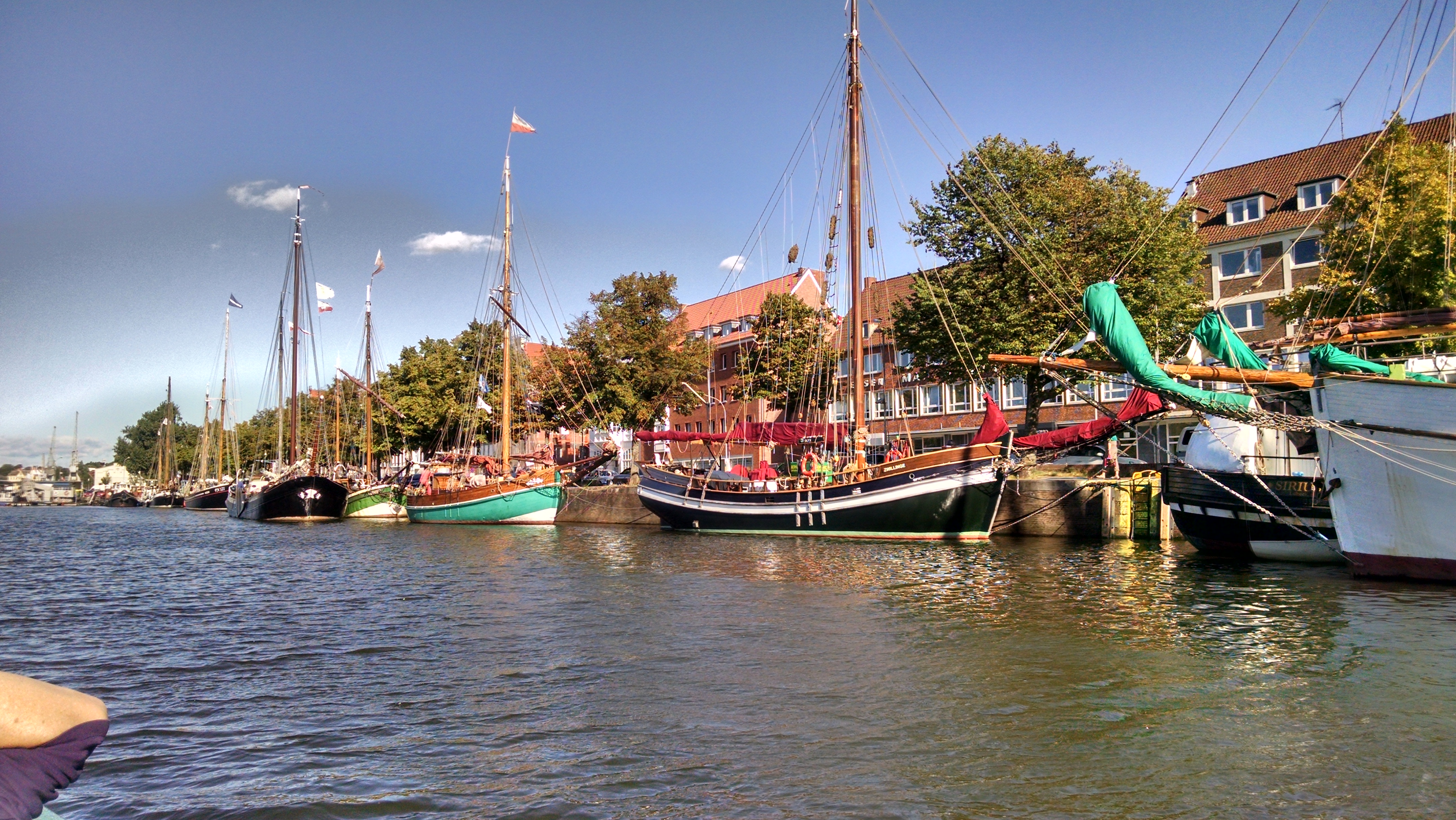 1. A boat/harbor tour
Lübeck has lost its importance as a commercial harbor, especially after Germany's reunification. A boat trip will take you in a circle around the entire old town and you'll hear many of the key sights described.

During sunny and warm weather, we'd recommend the open tour boats, (which can pass though low bridges). The waterfront evokes images of times long past.
2. Hanse Museum
Visiting the newly opened Hanse Museum was a must for us. The "Hanse" or "Hansa" (Hanseatic League) was a medieval trade association that linked many European cities during its prime, including Hamburg and Bremen, Germany's only two remaining city states.

Located at the site of a former friary, the museum presents the Hanse's history from its beginnings in the 13th century to its decline in 1669, when the last formal meeting was held. After that, the only three remaining members, Bremen, Hamburg, and Lübeck finally dissolved their pact in 1862.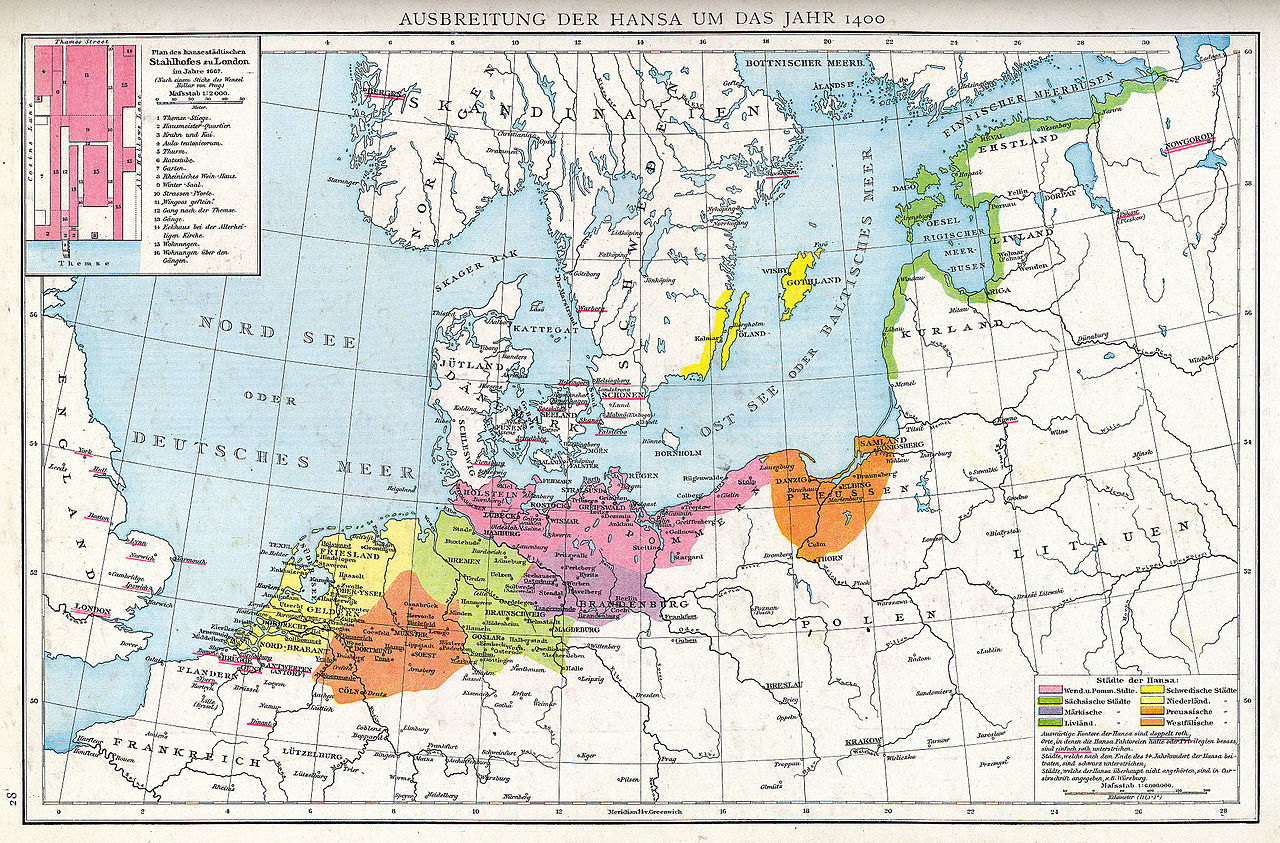 At its prime, in the 14th century, the Hanse connected nearly 200 cities in Europe from Bergen and Nyborg in the north, to Bordeaux and Lisbon in the south, and Novgorod and Smolensk in the east.

(Map: The spread of the Hanseatic League in the year 1400 by Plate 28 of Professor G. Droysens Allgemeiner Historischer Handatlas, published by R. Andrée, 188)

If you want to learn more about the Hanse, this Britannica entry gives a good summary.

Interestingly, many of the old Hanse cities have now joined again in a loose association called the Die Hanse. The organization, founded in 1980, with now 185 former Hanse cities in 16 countries, is reportedly the world's largest voluntary association of towns and cities.
3. Buddenbrook House
The house (see picture) in which the Mann brothers grew up has been converted to a museum, with rooms furnished as described in the novel. The biography of the two brothers is presented well with pictures and text.

Both knew early on that they did not want to follow in their father's merchant footsteps. But the family fortune also allowed them to pursue their calling without financial worries.
4. Günther Grass House
Any lover of post-war German literature will want to visit this museum, which served as Grass' office and contains many of his memorabilia. Although Grass was born in Danzig (now Gdansk), he lived near Lübeck from 1995 on and kept his office in the building until his death in April 2015.

In the museum, you'll find excellent presentations on Germany's 20th century history, especially war-related events, and on the controversy around Grass, who acknowledged his membership in the SS only late in life.
5. Marzipan shop
No visit to Lübeck would be complete without a visit to the Niederegger Marzipan Stammhaus (company building), which combines a shop, a café, and a museum. The history of the world-famous Lübecker Marzipan is described in an exhibition on the upper floor.

In the historic Café Niederegger, you'll find an amazing selection of delicious cakes and pastries. It's hard to choose among them, believe me. (Needless to say, we enjoyed splurging in the Niederegger shop. But happily, we found out back home that you can order most of their Marzipan products on Amazon!)
From Travemünde to (former) East Germany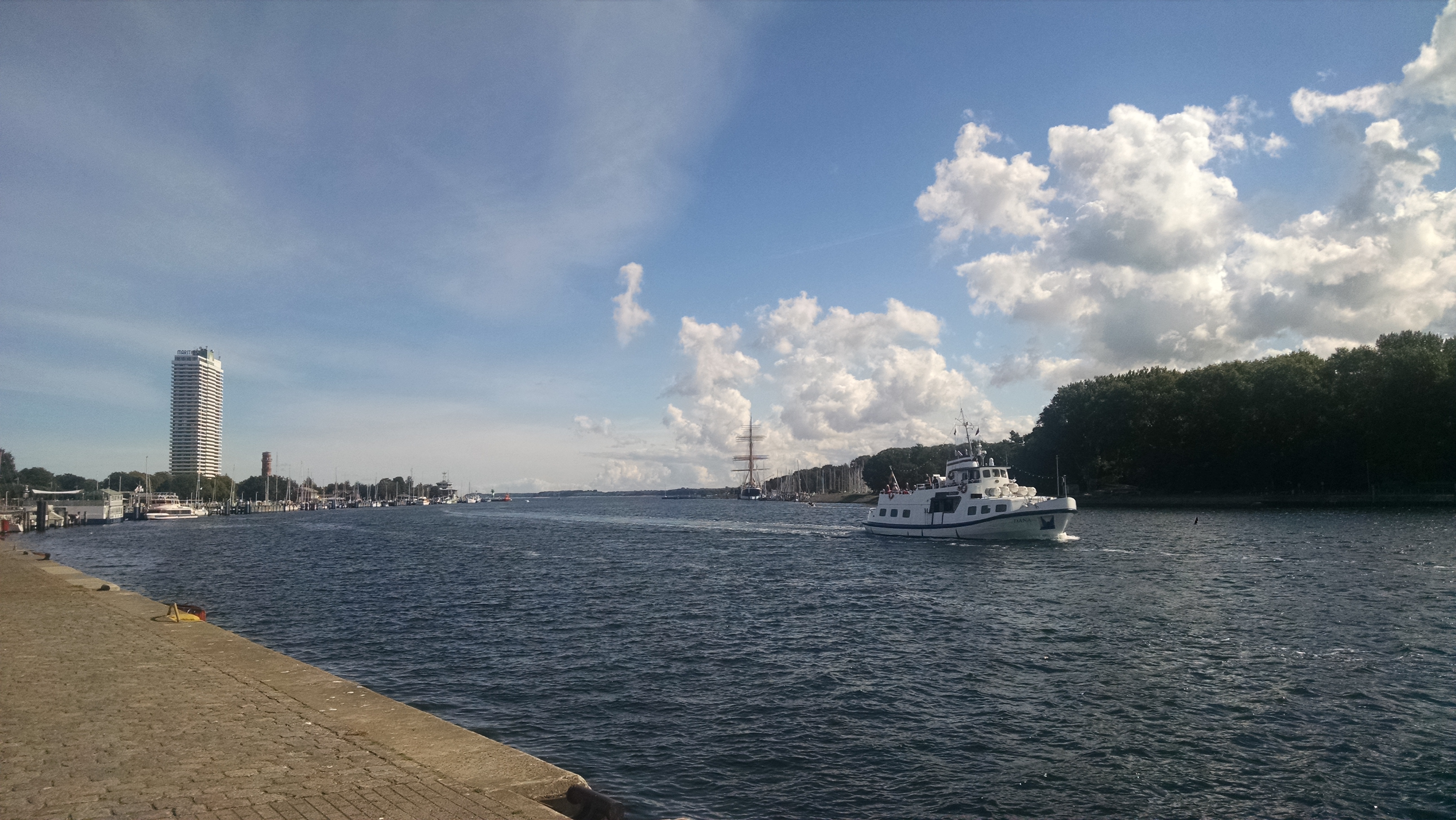 Travemünde is Lübeck's door to the Baltic Sea and is located about 25 miles downriver from Lübeck. A famous seaside resort in the 60s and 70s, it began to lose its luster to the many other German seaside towns and cities after reunification.

During earlier years, smaller cruise ships even made it up the Trave to Lübeck. Now however, only few of the bigger ships dock at Travemünde and very few go to Lübeck. Instead, they choose what appears to be one of the main competitors, Warnemünde, Rostock's Baltic Sea port.

Travemünde features the Timmendorfer Strand, which – during summer weekends – attracts many beachgoers from the Hamburg region. Remember: The mudflats ("Wattenmeer") of the German North Sea don't make for a great beach experience, while the Baltic Sea has many wide and sandy beaches.

From Travemünde, we crossed into former East Germany ("Deutsche Demokratische Republik"/DDR) on the Travemünde-Priwall ferry. Rather than taking the fast new Autobahn to Wismar, we went for the "slow road" to explore some of the seaside towns.

One of the first things we noticed was that the secondary roads became much narrower. The paved part would only accommodate one car. Both cars, when passing each other, had to use the unpaved shoulder.

One the other hand, there were also new roads, some not even shown on our recently purchased map or known by our Dutch rental car's GPS! (By the way, GPS in the Netherlands is called "Tom-Tom," after one of the manufacturers. In Germany it's called "Navi.")
Boltenhagen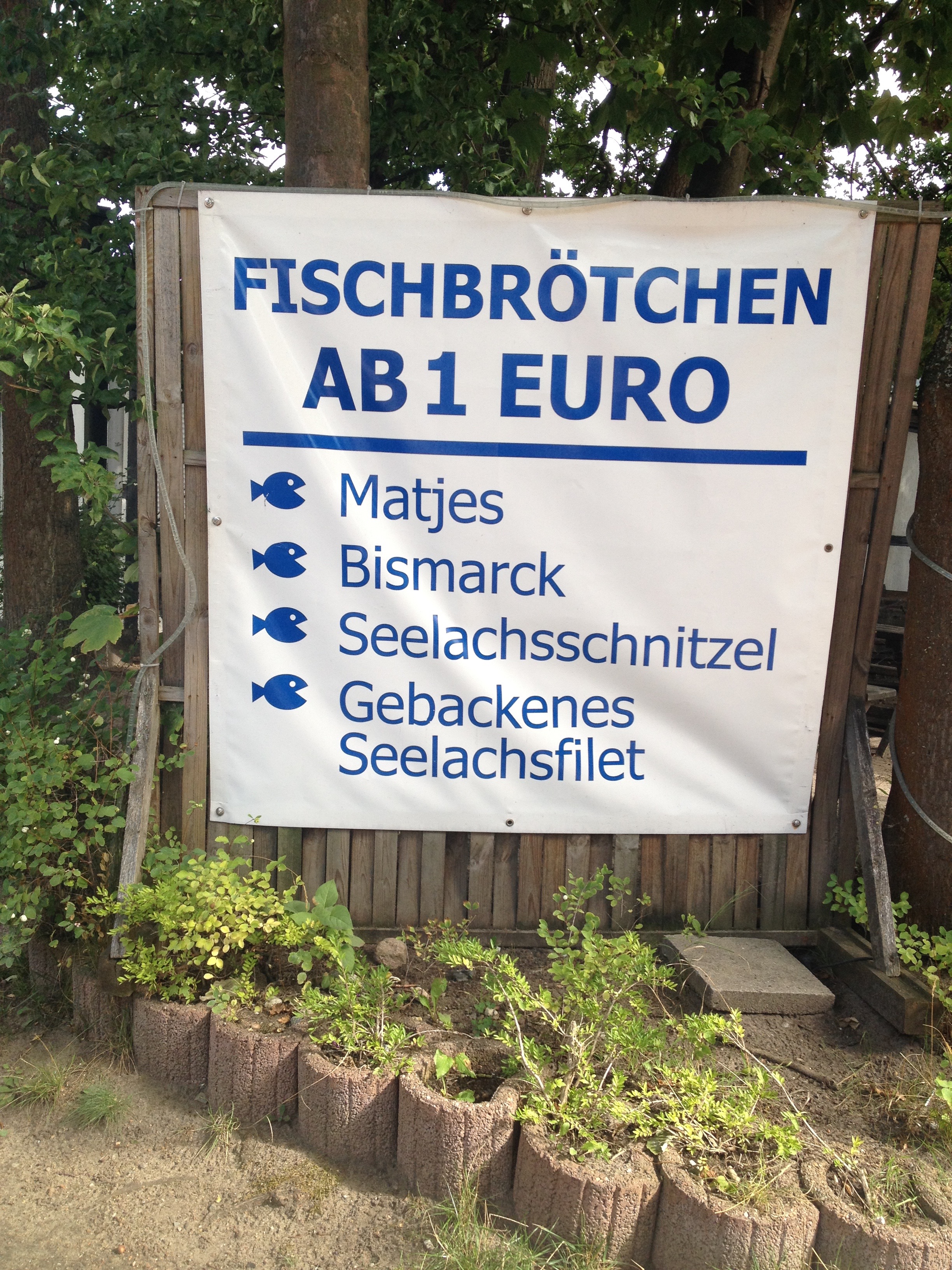 Boltenhagen is a small seaside resort town, typical of several we encountered on our travels along the Baltic sea. A long jetty allows for ships to dock and a wide sand beach can accommodate many beach lovers in the characteristic caned beach chairs.

The promenade, a combination of walkway and bicycle path, stretches out along the dunes behind the beach. Hotels, apartments, restaurants, and shops make up the next rows inland.

We were there on a Wednesday and the long beach was not crowded. But we were surprised by the many older people on the boardwalk, sitting in restaurants and cafes, or enjoying inexpensive "Fischbrötchen" (fish sandwiches). (see picture)
Wismar
Wismar, located about 45 miles east of Lübeck, and today with about 45,000 inhabitants, was also a very important Hanse city of old. It has also had a colorful and interesting history since those days. Together with the historical core of Stralsund, (we'll report on Stralsund in a later post), Wismar is a UNESCO World Heritage Site, both being typical representatives of the Hanseatic League cities with their Brick Gothic style architecture. ("Backsteingothik")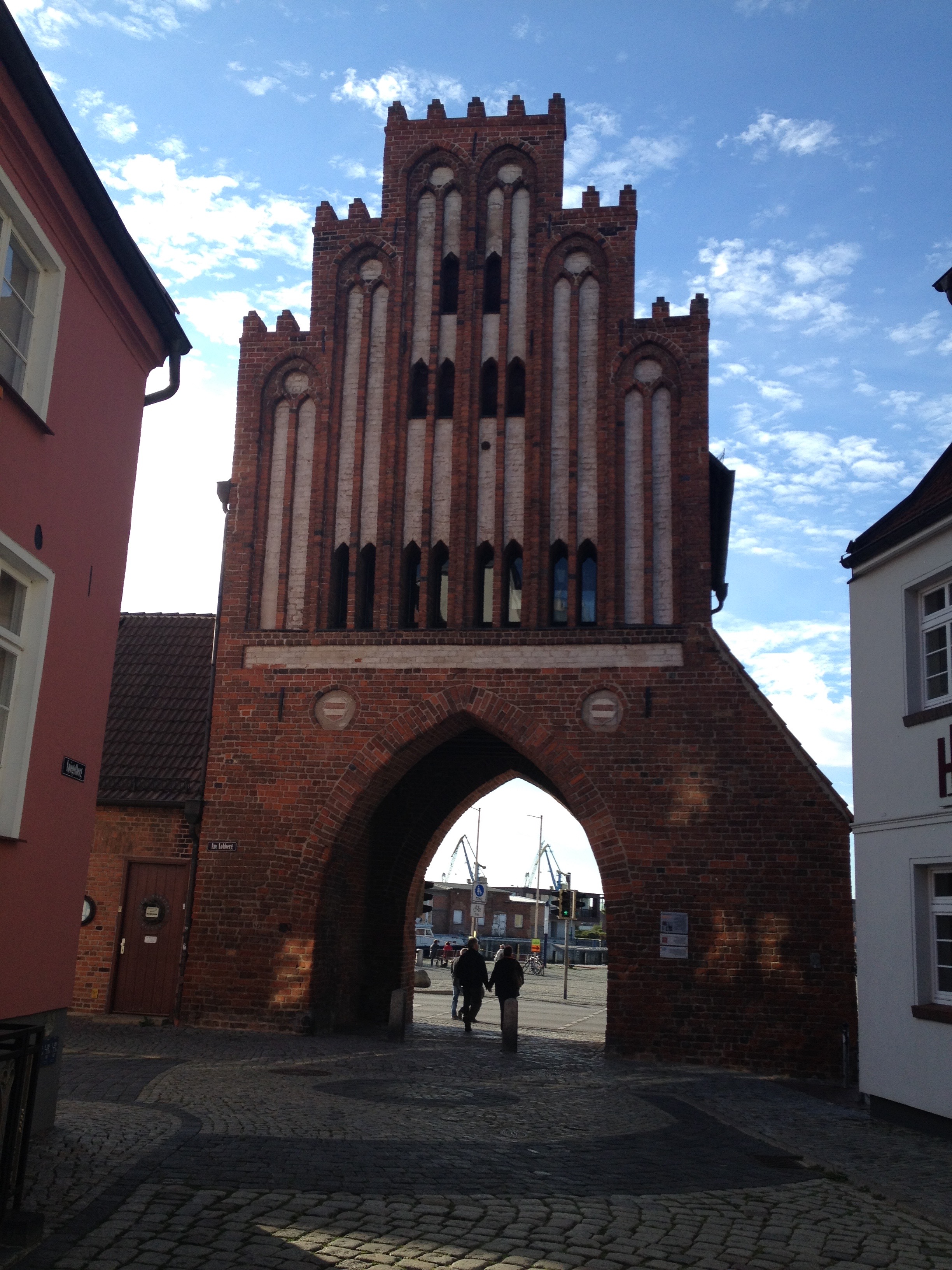 The "Wassertor" (Water Gate) is the last one remaining of the five original city gates. The gate (see picture), erected around 1450 in the late-gothic style, opens towards the harbor.

Movie lovers may recognize the gate through which the villain carried a coffin in Murnau's 1922 classic horror movie "Nosferatu".

Wismar's natural and well-protected harbor was certainly one key to the city's importance. In 1632 Swedish troops occupied the city and in 1648, at the end of the 30-year war, the city of Wismar was awarded to Sweden.

In spite of several sieges and takeovers by Danish and Prussian troops over the years, Wismar remained Swedish property and was even the seat of the highest court for Swedish properties on that side of the Baltic sea.

However, in 1803, Sweden pledged both town and lordship to Mecklenburg for 100 years and for a fee of 1,258,000 Rijsktalers. In 1903 Sweden renounced its claim and Wismar was finally returned into the fold of Mecklenburg for good.

Here is more about Wismar's Swedish Period and its significant buildings.

We very much enjoyed our stay in the city's old town, admiring the many well-restored brick buildings, observing boats and ships go in and out of the harbor, and people-watching at one of the many outside cafe's.

Our next travel posts will take you to Rostock, and on to the islands of Rügen and Usedom, which is close to the border with Poland.

We were intrigued by our conversation with a Swedish couple we had met in Lübeck. We told them that we planned to visit the island of Rügen. They suggested that we visit Prora, the "colossus of Rügen" and one of Hitler's gigantic, but never-finished vacation resorts. We had never heard of this.

Here is the link to our next travel stage: From Wismar to Rostock
Bio: Peter Rettig is the co-founder of Gamesforlanguage.com. He is a lifelong language learner, growing up in Austria, Germany, and Switzerland. You can follow him on Facebook, Twitter and Instagram, and leave any comments with contact.