Posted on by
Going to Paris? Cool! And even better if you learn a few useful phrases ahead of time.
They will immediately set you apart from those many hardy monolinguals that swarm through Paris every year. (Entrance to the Louvre, left)
A willingness to learn the local language transforms you into a much more welcome tourist - even if you've only been able to master such pleasantries as "bonjour" (hello), "merci" (thank you), "pardon" (excuse me), "de rien" (you're welcome), "pas de problème" (no problem), "au revoir" (goodbye). Besides, you'll enjoy the experience more.
For more complicated phrases, having a phrase book handy can by helpful. The booklet will back you up when you're asking for directions, ordering in a restaurant, buying a subway ticket, inquiring about opening times, etc.
And, if you're ambitious and motivated, you can learn the phrases by heart. Plus, if you're also learning online, you can practicethem by mimicking a native speaker and/or getting pronunciation feedback.
Now, if you're an even more advanced learner, just think: Once in Paris, you'll have free immersion and unlimited chances to practice with native speakers!
But, no matter what stage of learning you're at - here are my top 5 phrases to say or use when exploring Paris. They go right to the heart of what makes Paris so hugely enjoyable.
1. Faire une petite promenade (to go for a little walk)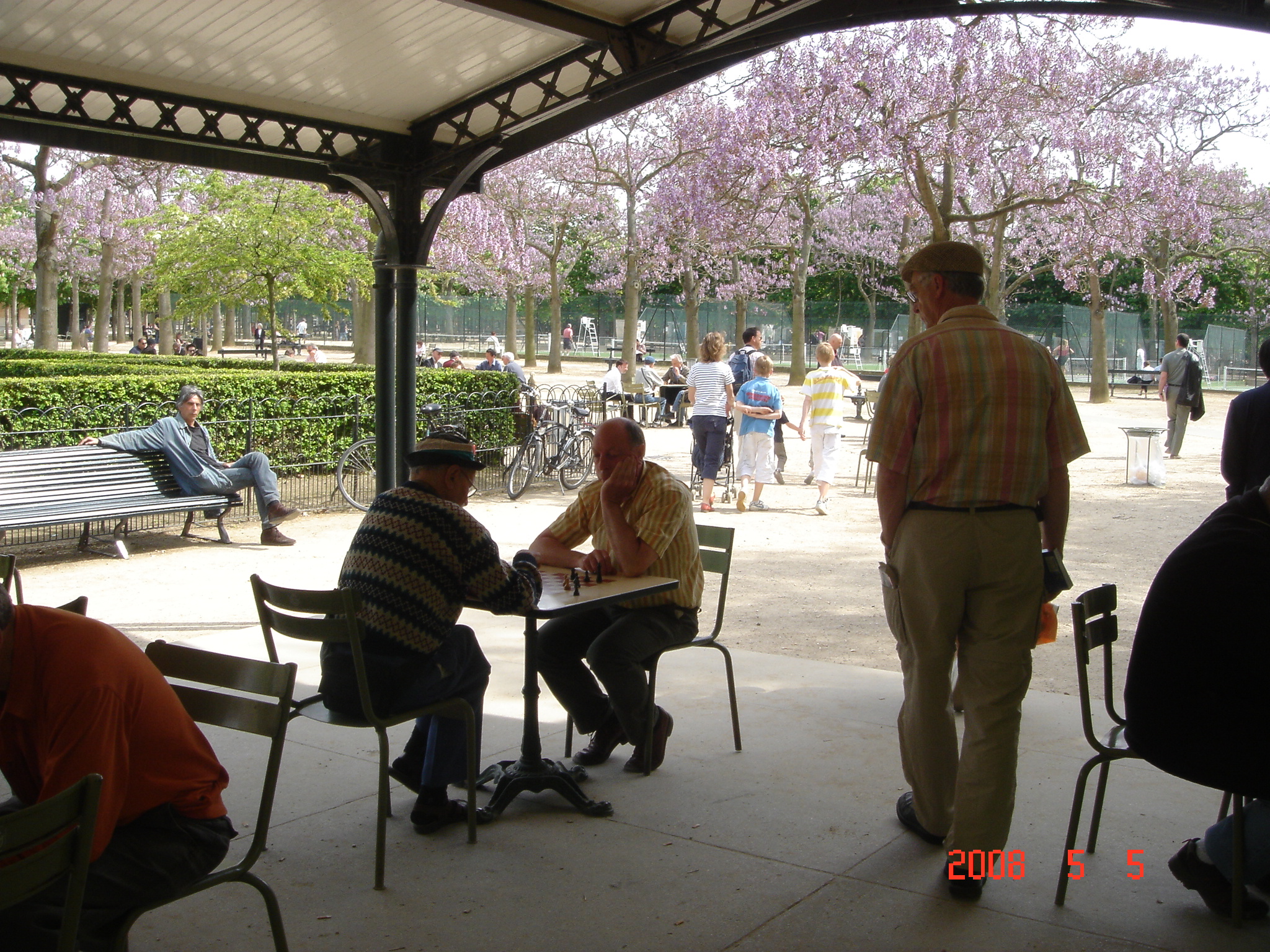 The best way to explore Paris is on foot. Walking through different neighborhoods lets you experience the cityand its people in a very direct way. Sounds, colors, textures, smells - all converge together to draw you into the moment.
My husband and I have always enjoyed strolling through the Jardin du Luxembourg (see picture, right), a spot where Parisians also love to hang out.
People sit and chat or read their newspaper on one
of the benches lining the paths. Children launch a toy sailboat on "le Grand Bassin" (the large pond). Students sit on the grass to talk, flirt, or do homework.
There are tennis courts, places to play basketball and volleyball, there's a corner for chess, and an area for boule players. There's also a large children's playground for kids 7-12, which charges a small entrance fee.
A wonderful neighborhood to explore is the district of le Marais (the Marsh). Historically the Jewish district, it has more recently become a trendy quartier with lively bars and restaurants, colorful markets, and funky small shops.
Le Marais spreads across the 3rd and 4th arrondissements, and a walking tour (on your own or with a group) will take you past posh aristocratic houses, small alleys, the incomparable Place de Vosges, trendy boutiques, great museums, and much more.
2. Louer un vélo (to rent a bike)
Exploring Paris by bicycle has a different charm and you can cover more terrain that way. Paris is generally a friendly city for cyclists, but you're still dealing with big city traffic.
There are bike paths everywhere and plenty of opportunities to rent, either from bike rental shops, or (by credit card) at one of the Paris Vélib stations (see picture, right). Vélib is a large-scale public bike-sharing system.
We rented a bike twice at a Vélib station. But rather than riding in the city itself - we like to walk, and are also a little scared of the Paris traffic - we chose two destinations on the outskirts.
Our first ride was in the vast public park, Bois de Boulogne, located on the western side of Paris, on the border of the 16th arrondissement. To get there, we took the Métro to Port d'Auteuil and easily found a Vélib station nearby.
Formerly the hunting grounds for the Kings of France, the park has - with its woods, small lakes, picnic grounds, and nature paths - 15 km of bike trails on which we rode to our heart's content.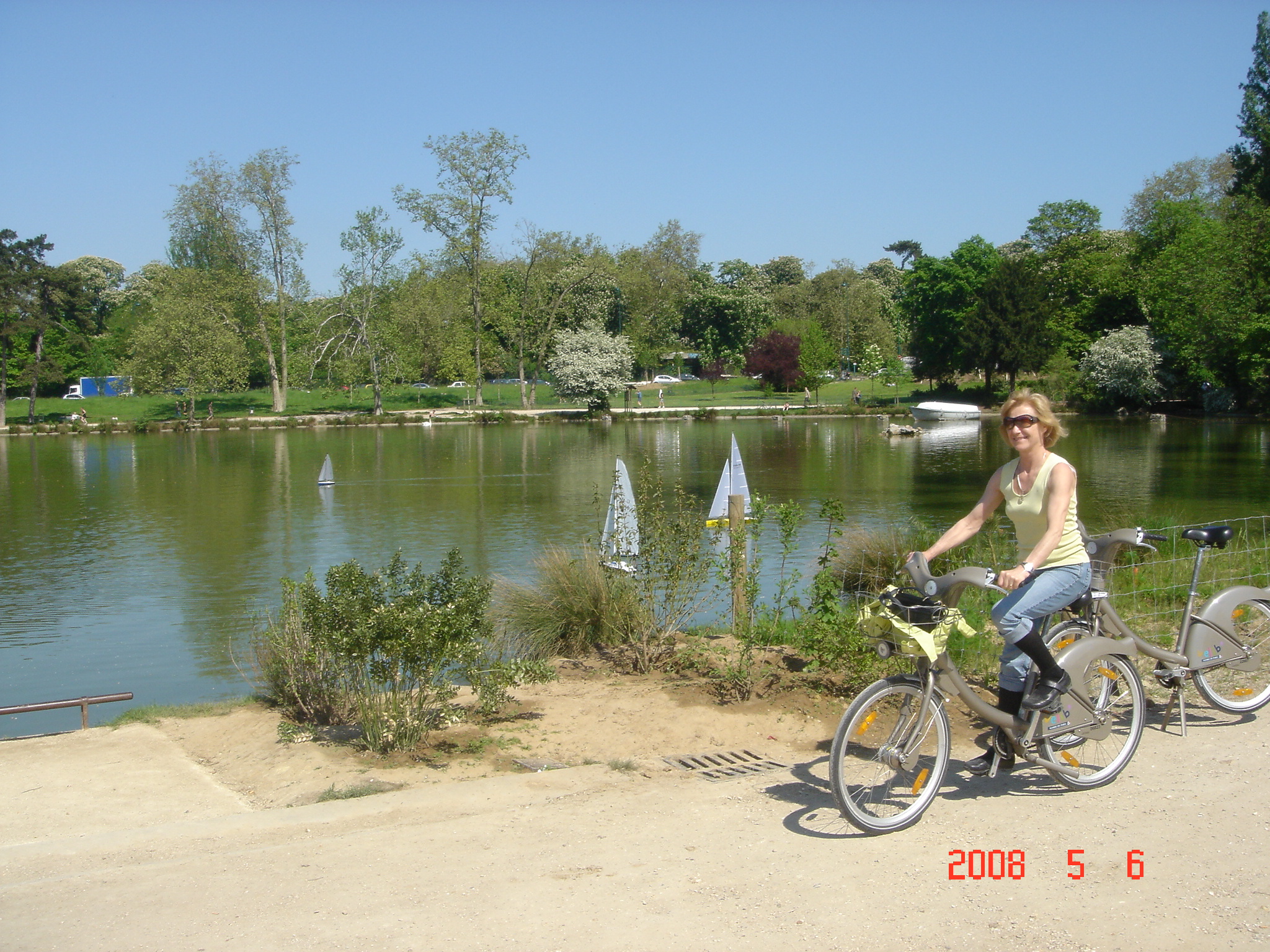 Another place we targeted was Château de Vincennes, situated on the eastern edge of Paris, in the 12th arrondissement. We went by Métro to the stop "Chateau de Vincennes."

On a bike from the Vélib station nearby, we crossed over to the Bois de Vincennes, a park that matches the Bois de Boulogne in size and beauty. With its four lakes, arboretum, botanical garden, and delightful Temple d'Amour, the park gave us another chance to experience the great Paris outdoors (picture, left).
To round off our adventure, we took a quick tour of the castle itself, a former residence of the Kings of France.
There we got our history fix of the day and learned that several well-known figures, such as the philosopher Denis Diderot and the notorious Marquis de Sade, had been incarcerated in the castle's dungeon.
3. Quelle vue magnifique! (what a Great view!)
With the limited building heights of the inner city, there are great views of the city from several choice locations.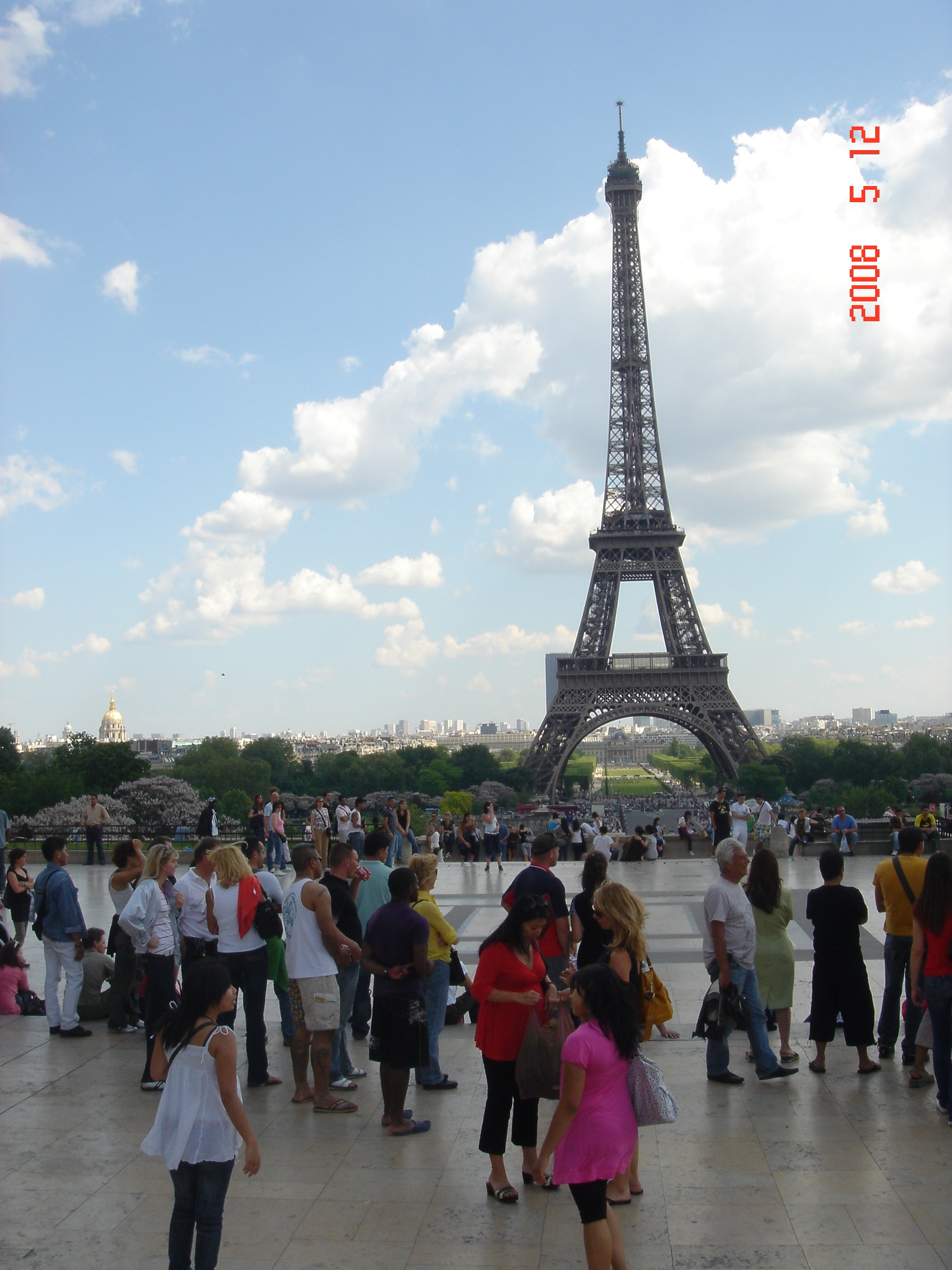 Whether you're up on the Tour Eiffel, the Tour Montparnasse, Notre Dame Cathedral, on the steps of the Basilique du Sacré-Coeur, or just on the Esplanade du Trocadéro, you're in for a visual treat.
We've enjoyed each one of these vistas. Still, we think the Esplanade du Trocadéro holds a particular charm.
It's a large platform located on the summit of the Colline de Chaillot, across the Seine from the Eiffel Tower, and even just the view it affords is worth a visit. (See picture, right)
But there's more. The whole area is full of fun and energy. Leading down from the Trocadéro towards the Seine are the lovely Jardins du Trocadéro.
On the greens people sit and socialize. Children play ball or splash around at the cascading fountains. There's always something fun going on. When we were there, we watched an amazing skateboard slalom.
The skyscrapers that you can see from the Arc de Triomphe are located at the other end of the monumental "Axe Historique." They form part of La Défense, an important business district. From the top of La Défense's Grande Arche (which housed the currently closed Computer Museum) we had a different, spectacular view of the city.
4. Prendre l'apéritif (to have an aperitif)

In the early evening when life slows down, it's a perfect time for a glass of wine at a sidewalk café and for doing some people watching.

If you pick a café that's off the beaten tourist track, you'll also hear French spoken around you. You can take your time for this important activity because dinner in Paris usually doesn't start till around 8 or 8:30.

Paris has no shortage of such cafés or bistros, wherever you may be staying.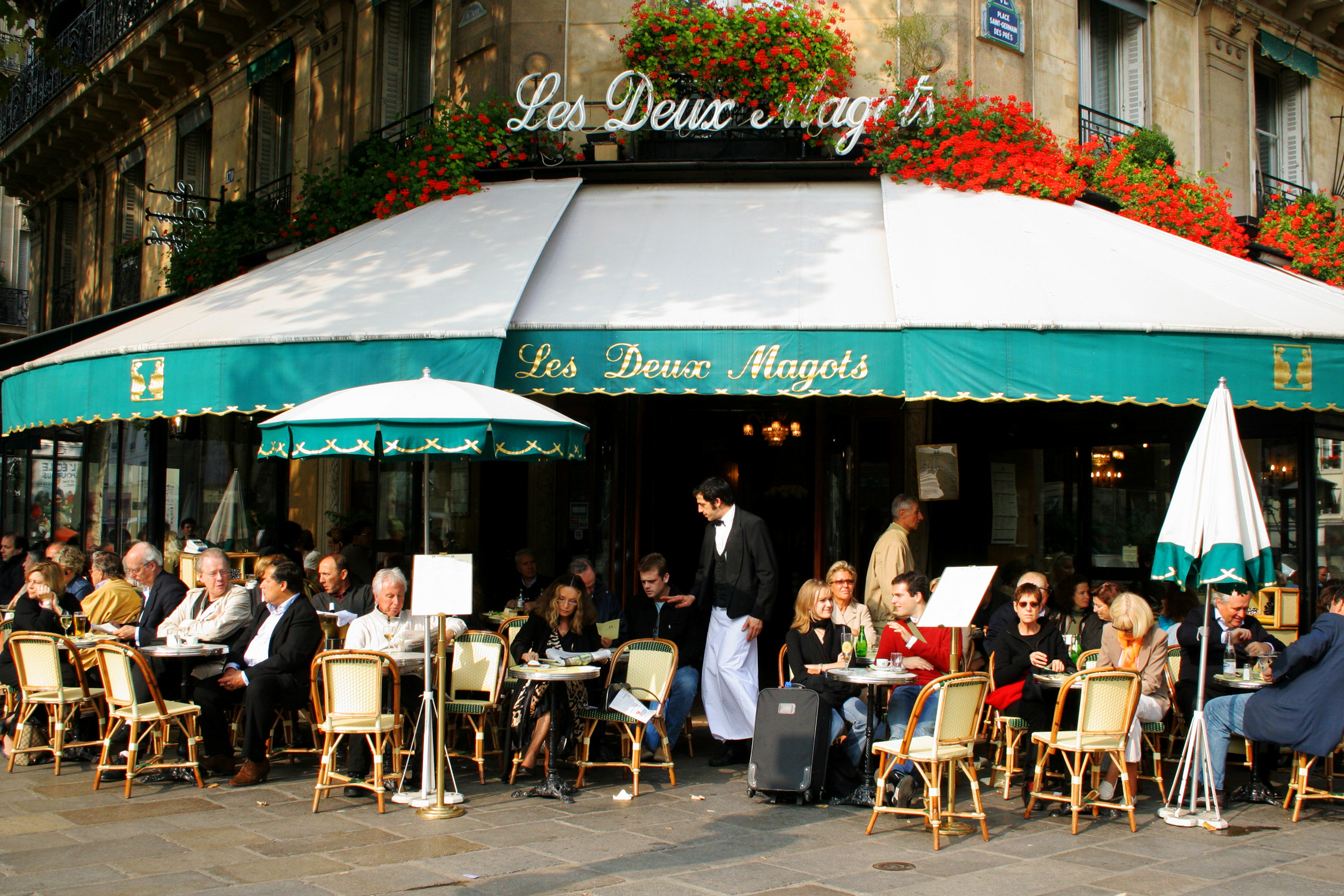 However, a visit to Paris may not be complete without an apéritif or even lunch at Les Deux Magots on the Place Saint-Germain-des-Prés. (See picture, left) Popularwith tourists and locals alike because it was a favorite haunt of writers and artists such as Hemingway, Sartre, Simone de Beauvoir, Camus, Picasso, Joyce, Brecht, Verlaine, Malraux, Rimbaud, the café-restaurant Les Deux Magots is also known for its present literary activity:
Every year the café awards the Prix des Deux Magots for a new French novel, usually one that is off-beat or unconventional, and which may not be considered for the more traditional Prix Goncourt.
5. Faire une croisière (To take a boat cruise)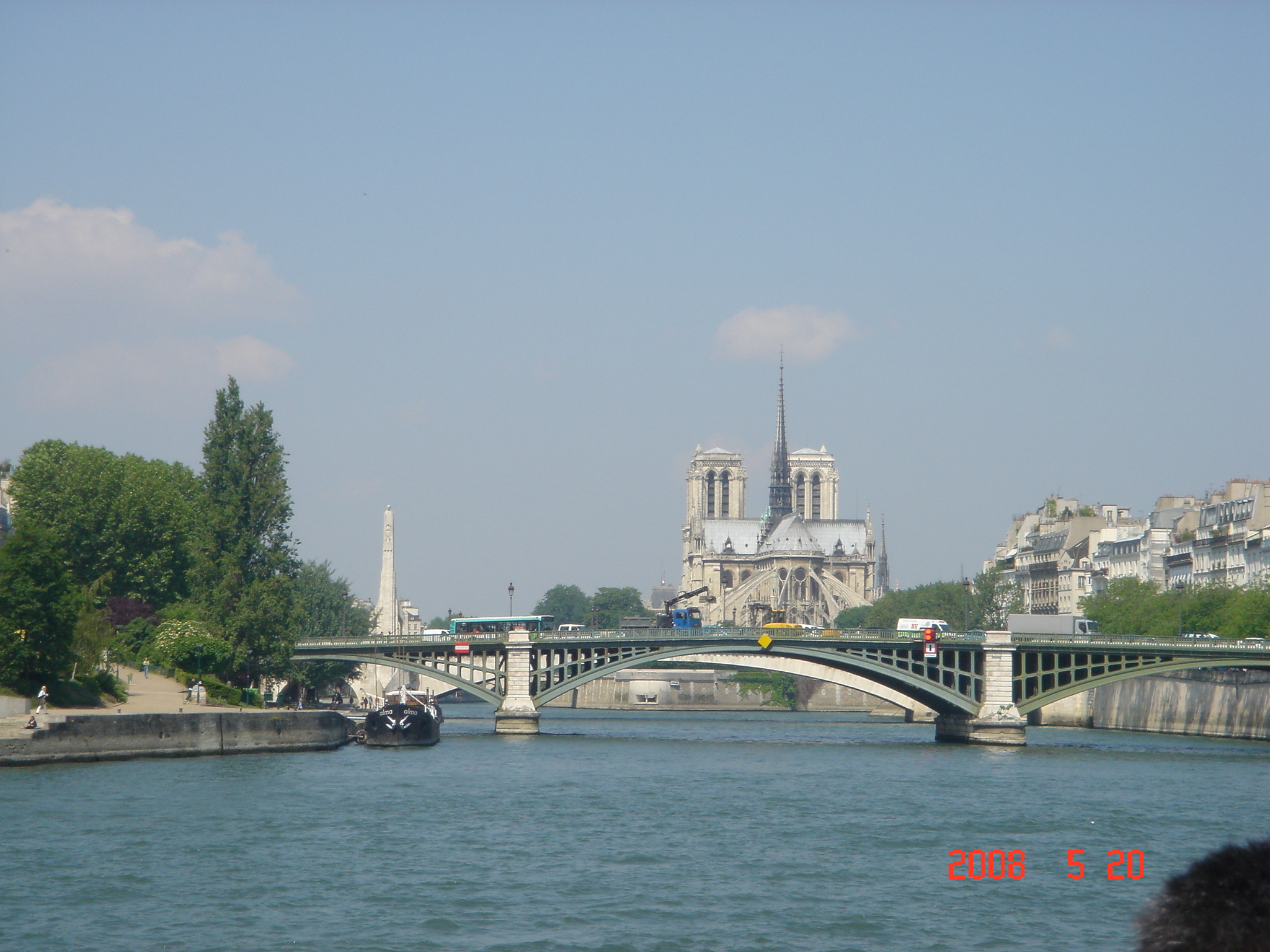 A river cruise on the Seine is not to be missed. The routes of the various boat companies are similar and most offer day and evening cruises.

What makes a Paris cruise so special is that the Seine flows through the heart of the city. The river touches on 10 of the 20 arrondissements and is lined by many great buildings and monuments. We enjoyed a day cruise on a sunny day, as the boat slowly made its grand loop and we listened to amusing historic facts and anecdotes. (See picture right with a view of the Notre Dame)
At the far end of the "rive gauche" (left bank) you'll pass by the four sleek towers of La Bibliothèque François Mitterand (an expansion of the National Library). You'll probably wonder about the politics that allowed the towers (as well as the Tour Montparnasse) to exceed the inner city's building height limits by quite a bit.
During an evening (dinner) cruise with good friends, we were vowed by the beauty of the City of Light. In my mind's eye, I still see the illuminated Eiffel Tower, as it sparkled through its gold covering.
When you're exploring Paris yourself, there surely will be other French phrases that you'll love. So don't wait, start brushing up your French and make your Paris experience a memorable one.
Bio: Ulrike Rettig is the co-founder of GamesforLanguage.com. She is a lifelong language learner, growing up in Austria, the Netherlands, and Canada. You can follow her travel memories on Facebook, Twitter and Instagram, and leave any comments with contact or below.