Posted on by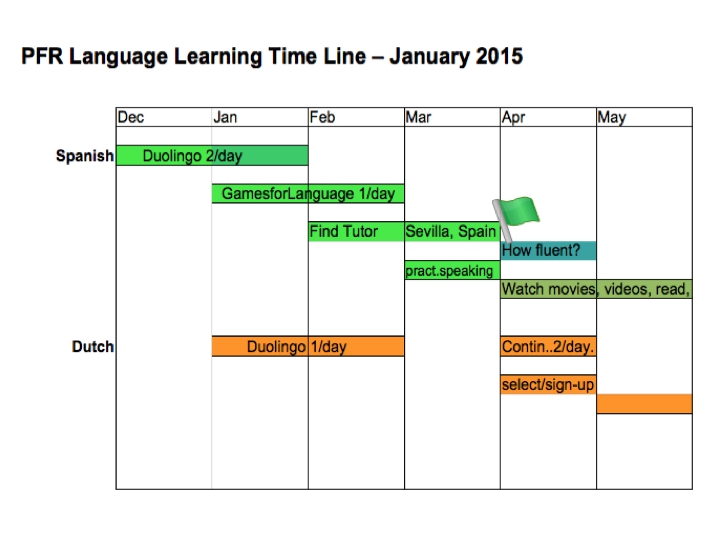 In January 2015 my post, How P.M Tools can Help Your Language Learning (and my Spanish & Dutch), suggested that some simple Project Management (P.M.) tools can help your language learning.

If we consider learning a foreign language to be a "project" that needs various resources, has a schedule or timeline, and an accomplishment or goal at the end – then some of the key elements of a project are indeed present.

In the previous post I included my simple time line (above) and here is my update on the tasks and activities shown in January:
Spanish – Duolingo
I started Duolingo – Spanish in December 2014 and have continued with it for 148 days, (see screenshot). I've completed all regular lessons and am currently on Level 13 with 5643 points. I'm continuing now with 1 lesson a day. I completed 3 Duolingo tests and progressed from 2.03/5.0 to 5/5 while in Seville.
Spanish – Gamesforlanguage.com
I did not quite complete our Spanish 1 course by the time we left for Europe in February, but reached Level 5. I listened to our Podcasts, which by that time I pretty much knew by heart (we developed them, after all). Many of the phrases and expressions actually proved very useful in Seville.

(We are currently working on tests for each of the Spanish 1 course levels to be available within the next few weeks as "Quick Games.")
Spanish – Find Tutor, Stay in Seville, Practice Speaking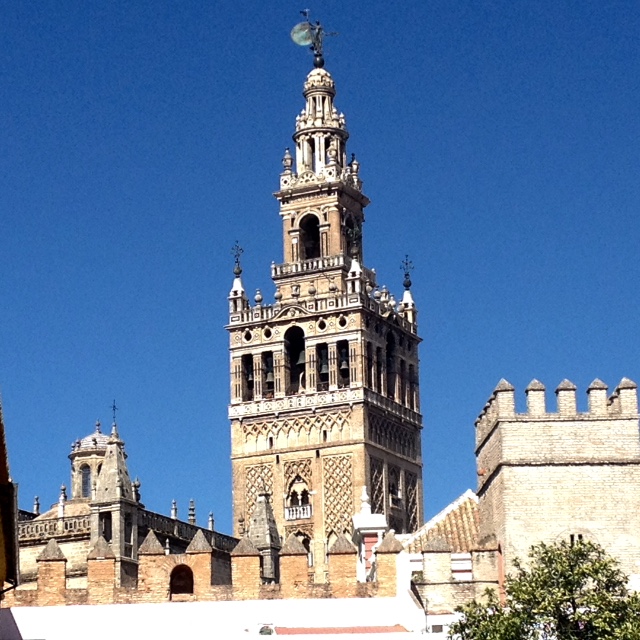 As we described in other posts, we had found three language exchange partners with whom we met repeatedly in Seville. As we described in How a Tutor Boosted our Language Fluency, we did find a tutor while we were there and found our conversations with him to be very productive.

We did not have to switch with him to English (or German), as with our language exchange partners. So, our time with our tutor proved to be very effective for improving both our listening and speaking skills.
Spanish – Watch Movies, Videos, Read, Write, Speak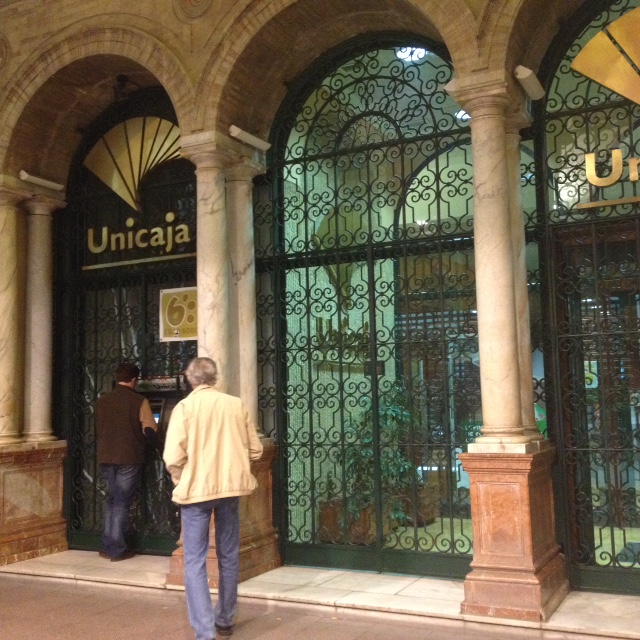 Back in the US. I continued to exchange emails in Spanish with the Unicaja bank in Seville, which had withdrawn funds from my account without delivering them to me in a failed ATM withdrawal incident.

As we reported in our post, the money was finally returned just about 30 days later. Unicaja continues to insist that the delay was caused by Maestro (Master Charge in Europe) to whom they had returned the funds.

We have also started to watch Spanish TV and movies again; currently we are watching "Comisario Rex" (actually an Italian series, dubbed Spanish) as well as a soap "Hasta el Fin del Mundo."

While our listening skills have increased substantially since our stay in Seville and we can guess much from the context, we still can't fully understand all of the rapidly spoken conversations. We find that adding subtitles in Spanish helps a lot.

We continue to read Spanish newspapers and articles online, often using a browser extension, which also boosts our vocabulary.
Spanish – Find Local Language Exchange Partner or Tutor
We are currently looking for a language exchange partner and/or tutor in our area. Becoming really fluent in a foreign language requires practice, and having regularly scheduled speaking sessions is quite important for not losing the progress we have made. Mylanguageexchange.com and conversationsexchange.com were the two sites that helped us find our partners in Seville.
How Fluent?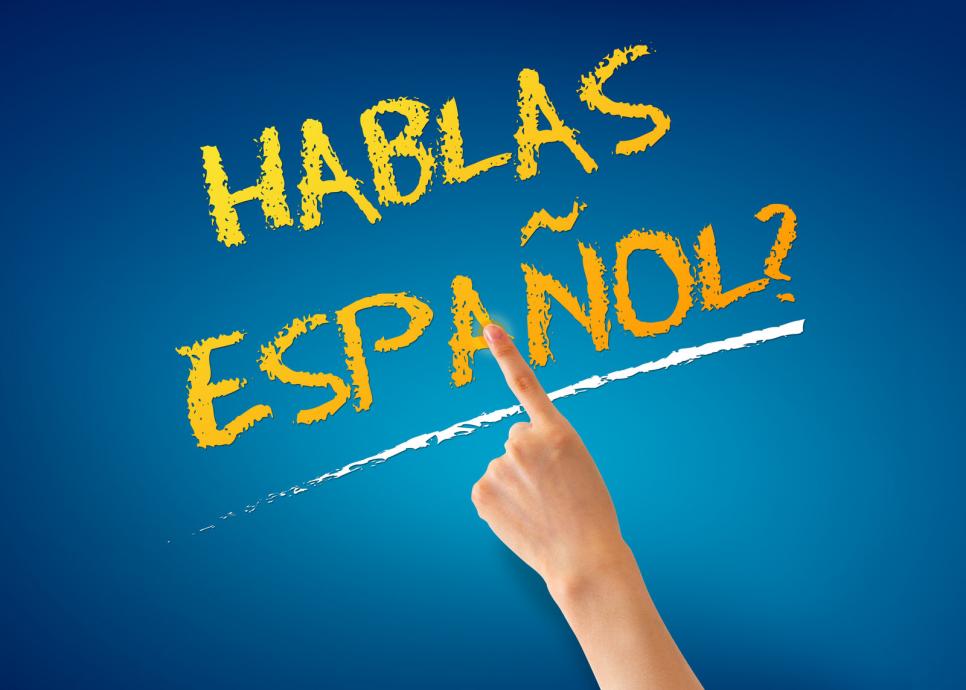 While we have not yet achieved the same fluency as in French, we are quite happy with our progress. While our topics of conversation are still limited, we have substantially increased our active vocabulary, have acquired a number of banking terms while in Seville (see our April 2015 post), can talk about Spanish elections, and quite a few other, personal or abstract topics.
Update: on April 28, 2015 I took several of the free tests which were listed on a LingQ post. These tests did not evaluate fluency, but rather vocabulary and grammar proficiency.

As I commented on the post: "I was disappointed with the Transparent Language test as it pegged me as a "Beginner", while the Language Level Test gave me a B1, the Sprach Caffe a 50/72 , and LingQ an Advanced 3 with knowing 35,500 words. (I'll do the Bridge test, when I'll have more time!)" I am currently looking for a test with which I can evaluate my fluency in a more formal way.
Dutch – Duolingo
During January and the first part of February, I indeed completed 1-2 Dutch lessons each day, but stopped during our stay in Seville. In April I again took up Dutch, but found that the 6-7 week hiatus has thrown me back quite a bit.

I have now reached Level 9, with 1844 points (see screenshot above), but find that I have to go back to much earlier lessons again. I currently mostly "strengthen my skills" with 2-3 lessons per day, and will continue to do so until I feel that I have reached my previous level.

In spite of its closeness to German (my native language), I find writing Dutch especially challenging. While some words are pronounced quite similarly to German, they are often spelled differently.
Dutch: Select/Sign Up
I am considering signing-up up for Babbel's Dutch course by May 1 as shown on the time line. We had also subscribed to Babbels' Spanish course and we'll report on our experience with it in a future blog post.

Adding another online course to Duolingo seems necessary to both expand the vocabulary and get more listening and speaking practice. I also hope that once I can formulate some sentences I will be able to practice with my wife Ulrike, who is fluent in Dutch (which she had learned while attending school in the Netherlands for two years).
Motivation and Engagement
Our motivation for improving our Spanish was both related to our planned stay in Seville, and generally to learning another language when traveling to Spanish speaking countries. Cuba and various South American countries are on our list.

By reading Spanish online as well as Spanish books (currently: the Spanish translation of "Hunger Games": "Los Juegos del Hambre", and "La Sombra del Viento" by Carlos Ruiz Zafon) and watching Spanish language movies, we're confident that we'll keep our interest in Spanish alive.
Time Line
So far, I have kept quite closely to the January 2015 time line. In September I'll know whether I have achieved my goal of understanding a good part of the conversations while participating in our Dutch Family Reunion in Utrecht. With the Dutch being so fluent in German and English, I have little hope, however, that I'll be able to practice much speaking.